Not gonna lie here, this strawberry peanut butter smoothie is hands down my favorite smoothie to make—I could easily drink it every day of the week! It's fruity and nutty, creamy and sweet. It's the perfect combination while also being packed with protein and antioxidants.
This smoothie is made with bright and tart strawberries, savory peanut butter, perfectly-ripened bananas, and creamy oat milk, all with an optional dash of cinnamon—what's not to love about this smoothie?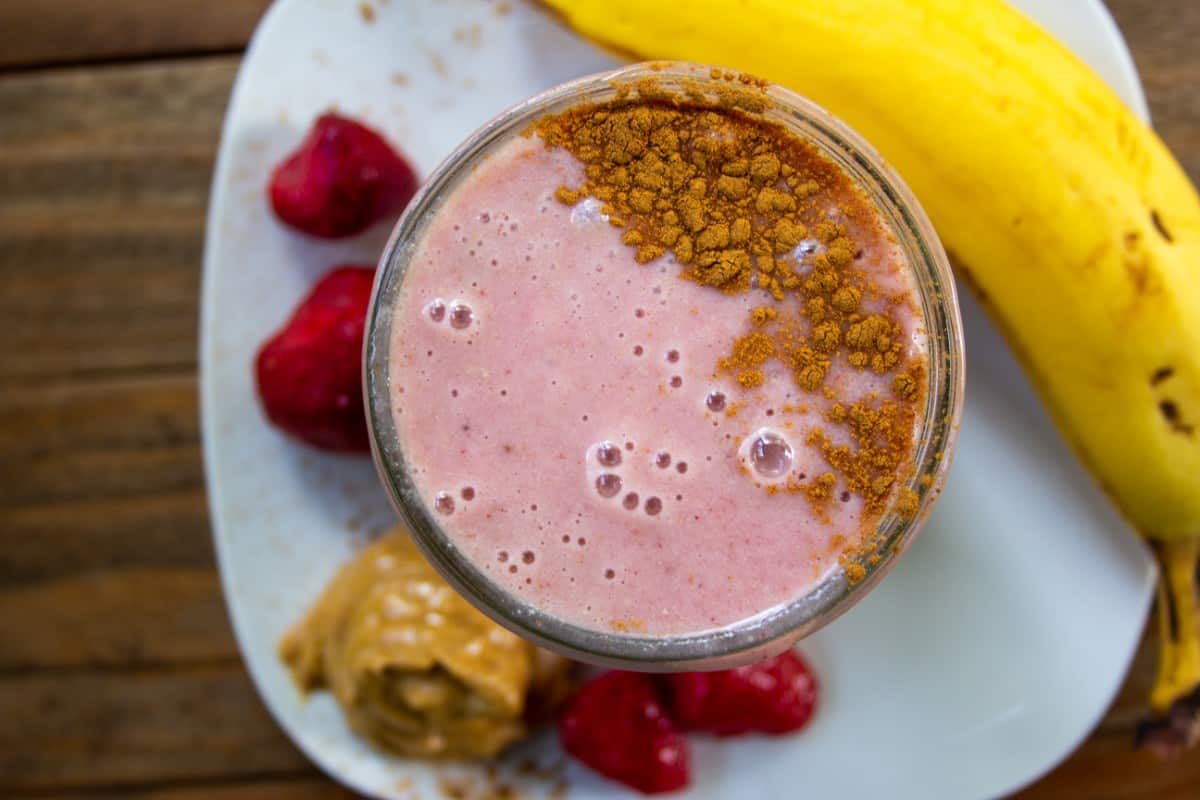 I love making this smoothie when I'm in a rush or after I finish a workout. It's rich in protein, fiber, antioxidants, vitamins and minerals. It's the perfect smoothie to make in between meals to keep you hydrated and satisfied all day long.
Sometimes, I'll even enjoy this smoothie for dessert—it's that good!
What You Need to Make This Strawberry Peanut Butter Smoothie
With only 4 ingredients required, plus optional cinnamon, this smoothie can be made at a moment's notice.
This smoothie is thick and creamy, and can easily be made more rich by the addition of extra peanut butter. The bananas add extra creaminess and make this a well-balanced sweet and hearty smoothie.
For the strawberries, I'm using frozen. I find frozen fruit to be more convenient and cost effective. The bananas can either be fresh or frozen, I just happen to have fresh bananas that are perfect for today's smoothie.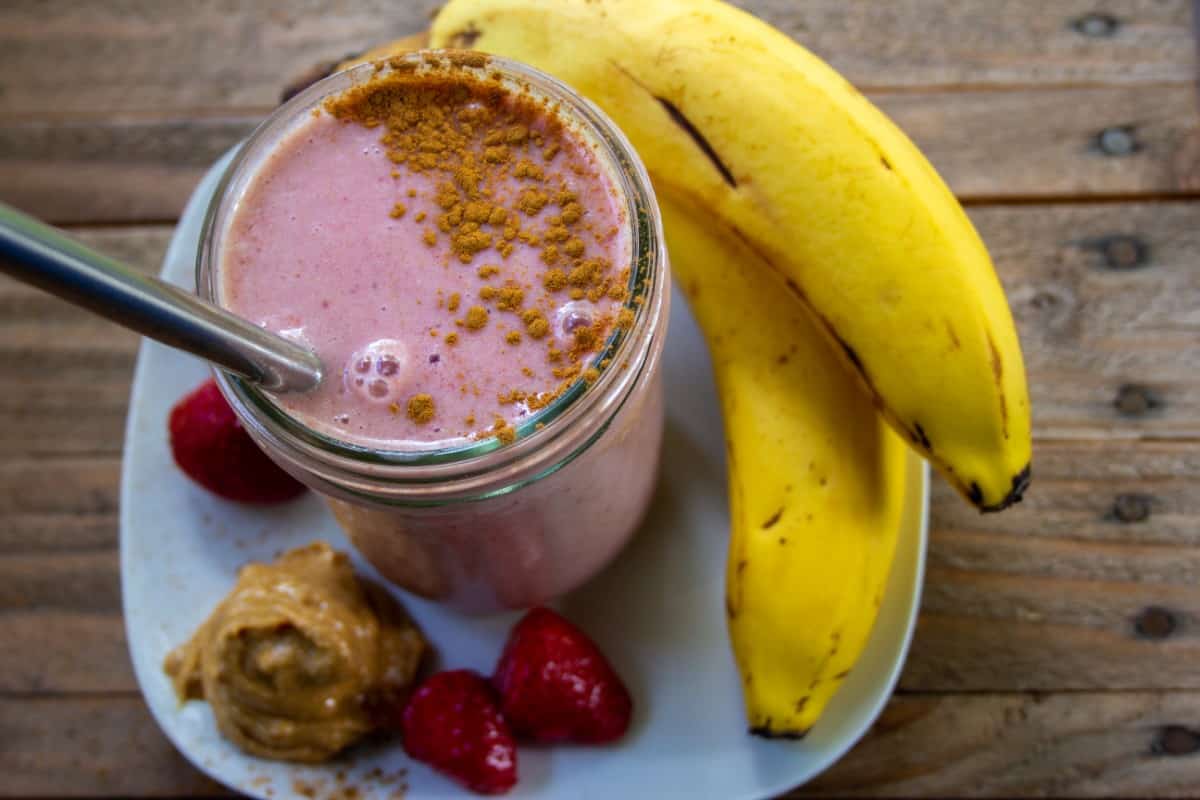 The peanut butter can be swapped for a different nut butter like almond butter or cashew butter, but I really love peanut butter so I wouldn't dream of swapping it!
You can easily use any brand of peanut butter, salted or unsalted. Creamy or crunchy peanut butter will also work equally well as you won't be able to tell the difference once the smoothie is blended.
I chose oat milk for this recipe because it's my favorite non-dairy milk alternative, but dairy milk or any other plant-based milk will work great as well. Water can also work if you're in a pinch.
Did I mention this smoothie is perfect to turn into an epic smoothie bowl? Check out my post, How to Thicken a Smoothie, where I explain how to make any smoothie the perfect smoothie bowl.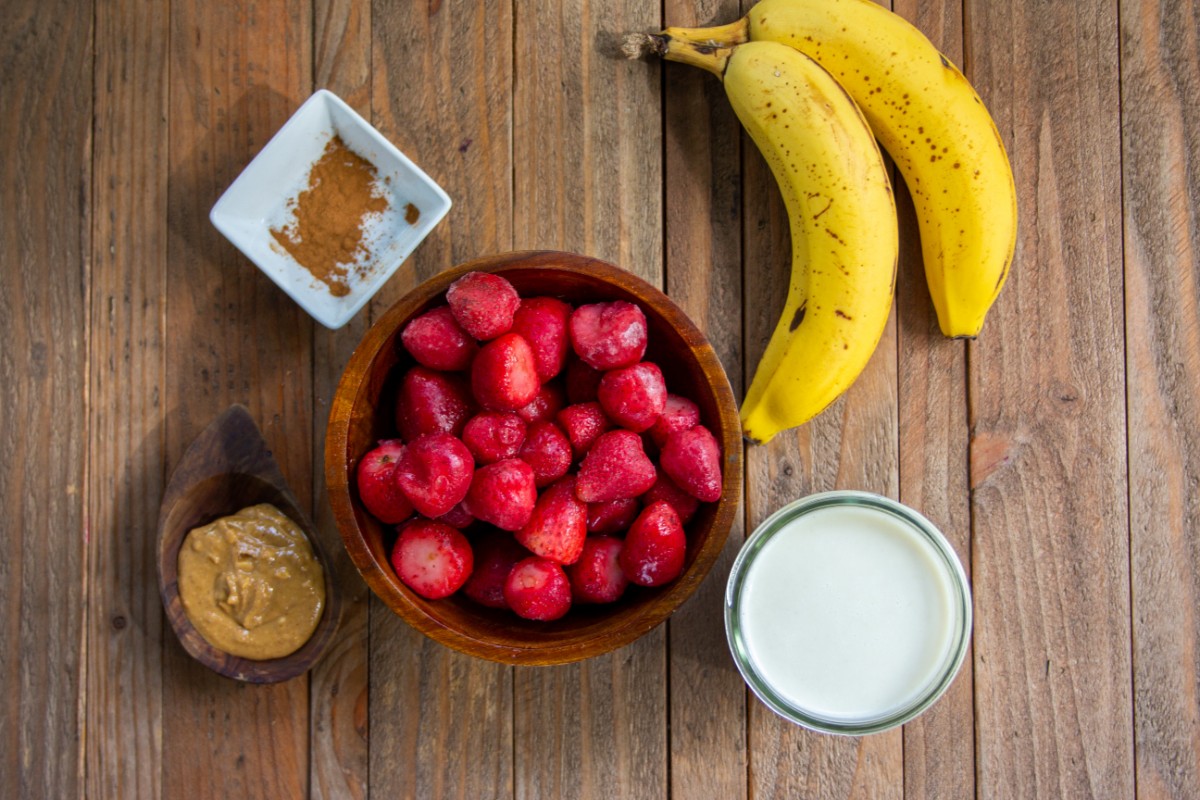 Ingredients:
Strawberries
Banana
Peanut butter
Milk, non-dairy milk, or water
Cinnamon (optional)
Optional Ingredients:
I've gone ahead and listed some other optional ingredients you can incorporate in this recipe if you want to switch it up. If using additional liquid or yogurt, reduce the liquid in the recipe by the same proportion:
½ cup coconut milk
1 scoop vanilla or strawberry protein powder
2 tablespoons chia seeds
2 tablespoons hemp seeds
2 tablespoons cacao
½ cup greek yogurt
How To Make This Strawberry Peanut Butter Smoothie
First, combine all ingredients into a blender, reserving ½ of a cup of liquid. Next, blend while adding more liquid as necessary until you have reached your desired consistency.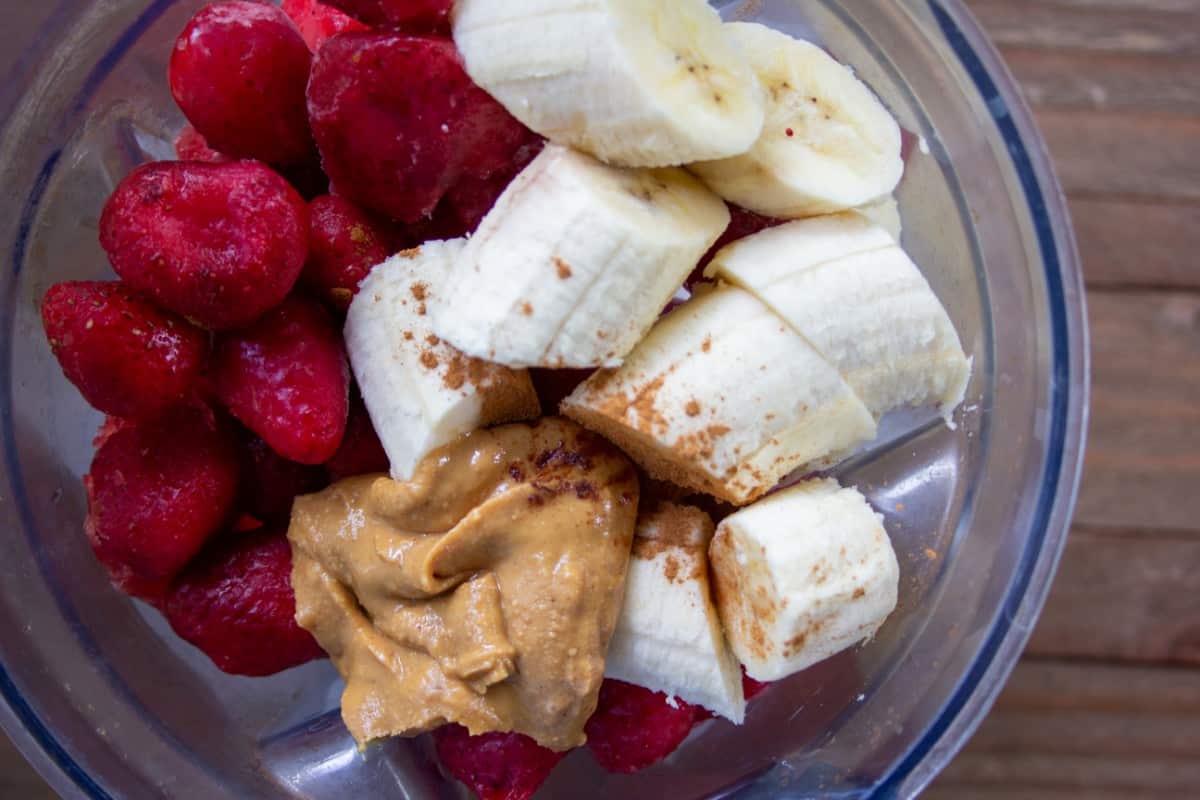 Then, pour your completed and delicious smoothie into your desired container and serve.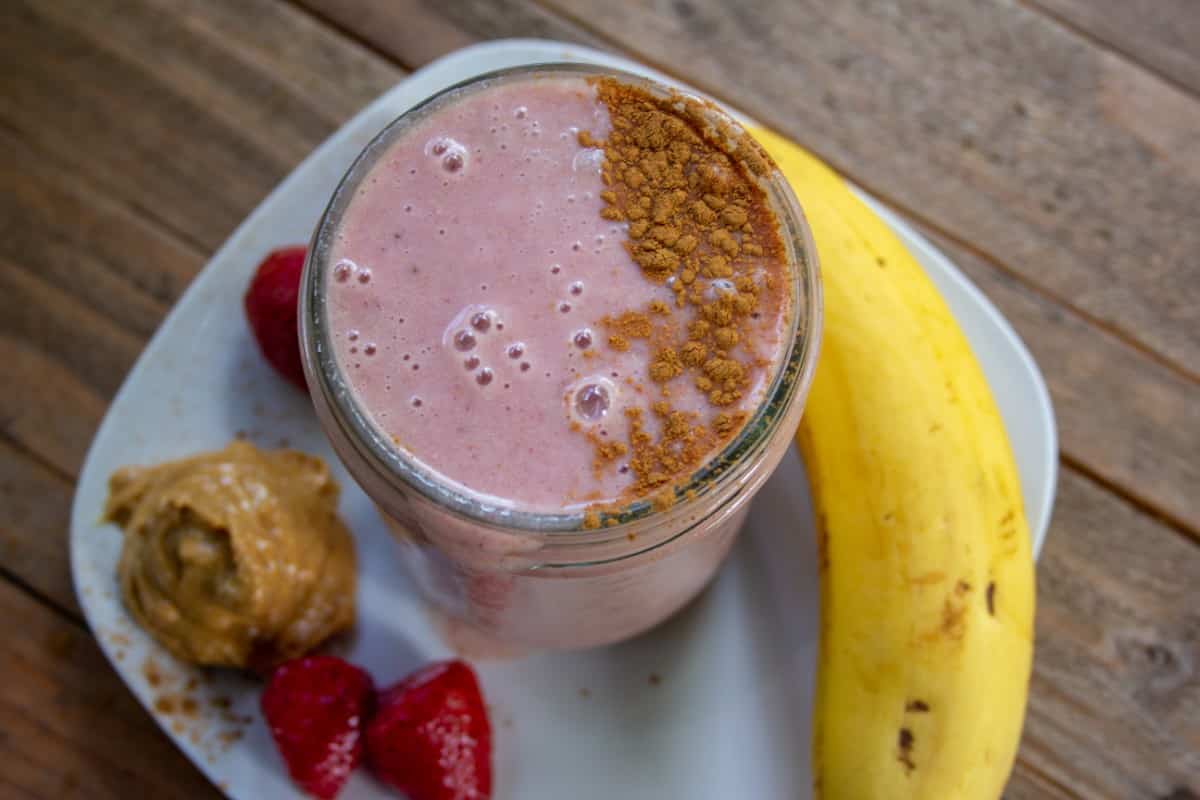 That's it! In less than 5 minutes you can have this refreshing, delicious, ridiculously healthy smoothie. It will take you longer to clean your blender!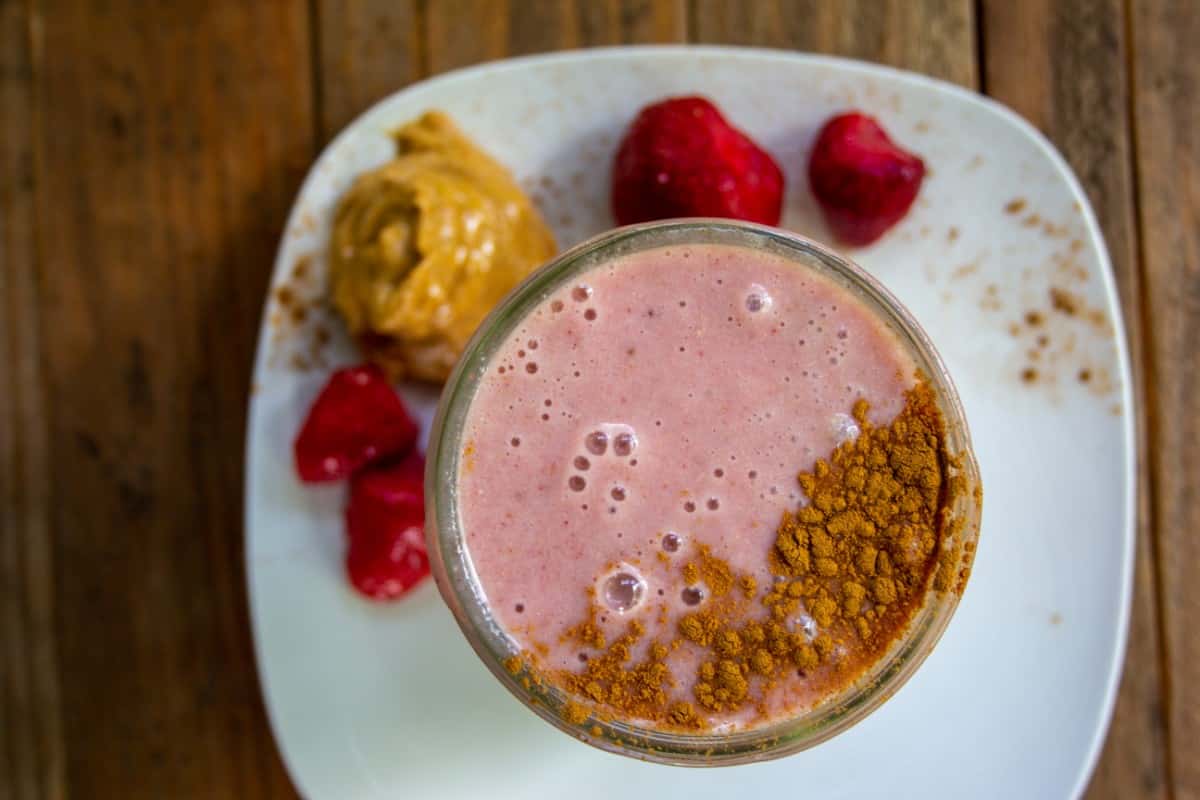 Is a strawberry peanut butter smoothie good?
Heck yes it is! If you love PB&Js then you'll love this smoothie. It's creamy and smooth, bright and fruity, rich and sweet, the perfect mix of all worlds. I think kids and other picky eaters would especially love this smoothie because it's as good as any milkshake, if not better.
Can you add peanut butter to a strawberry smoothie?
Yes, you can add peanut butter to a strawberry smoothie. In fact, peanut butter can be added to all kinds of smoothies. I would not recommend adding it to a tropical or citrusy smoothie, as those don't really fit well with peanut butter—but for berry or chocolatey smoothies, peanut butter is the perfect addition.
Is peanut butter good in smoothies?
Yes! Peanut butter is great in smoothies! It's creamy and smooth and adds a nice nuttiness. It's also packed with protein, making it the perfect protein boost after a big workout or if you don't have time to sit down for breakfast.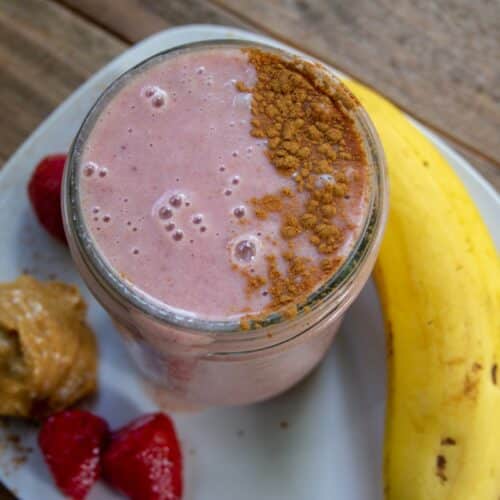 Strawberry Peanut Butter Smoothie
This strawberry peanut butter smoothie is the creamiest, sweetest, most satisfying smoothie you will ever make. It's super refreshing and filling, all while being packed with essential vitamins and minerals, protein, fiber, and age-fighting antioxidants. It's the perfect post-workout drink, midday snack, or even for dessert.
Ingredients
1

cup

strawberries

1

small banana

2

tbsp

peanut butter

1 ½

cups

liquid of choice

(dairy milk, nondairy milk, or water)

1

tsp

cinnamon

(optional)
Instructions
Combine all ingredients in a blender, reserving ½ cup of liquid.

Blend until desired consistency, adding more liquid as necessary.

Pour into your desired container and serve.
Nutrition
Calories:
475
kcal
Carbohydrates:
60
g
Protein:
16
g
Fat:
20
g
Sodium:
280
mg
Potassium:
610
mg
Fiber:
9
g
Here are a few other recipes you might enjoy!
Olivia has been in love with all things food and libations for nearly a decade. When she's not cooking up new recipes, she enjoys bikepacking, wine tasting, crocheting, and traveling in her camper van up and down the Pacific Northwest.