This refreshing, light, and super healthy banana pineapple smoothie recipe is the perfect start to your summer morning. It's quick to make and easy to share. My favorite is the zesty addition of ginger that really makes this smoothie pop!
With only 4 ingredients required, this smoothie recipe can be made in minutes and the results will speak for themselves.
Not only is this smoothie bright and refreshing, but it's also ridiculously healthy.
Bananas are loaded with potassium and a great source of fiber, while pineapple is low in calories while being high in Vitamin C and B vitamins. All that combined with the antioxidants from the ginger, and you can't go wrong here!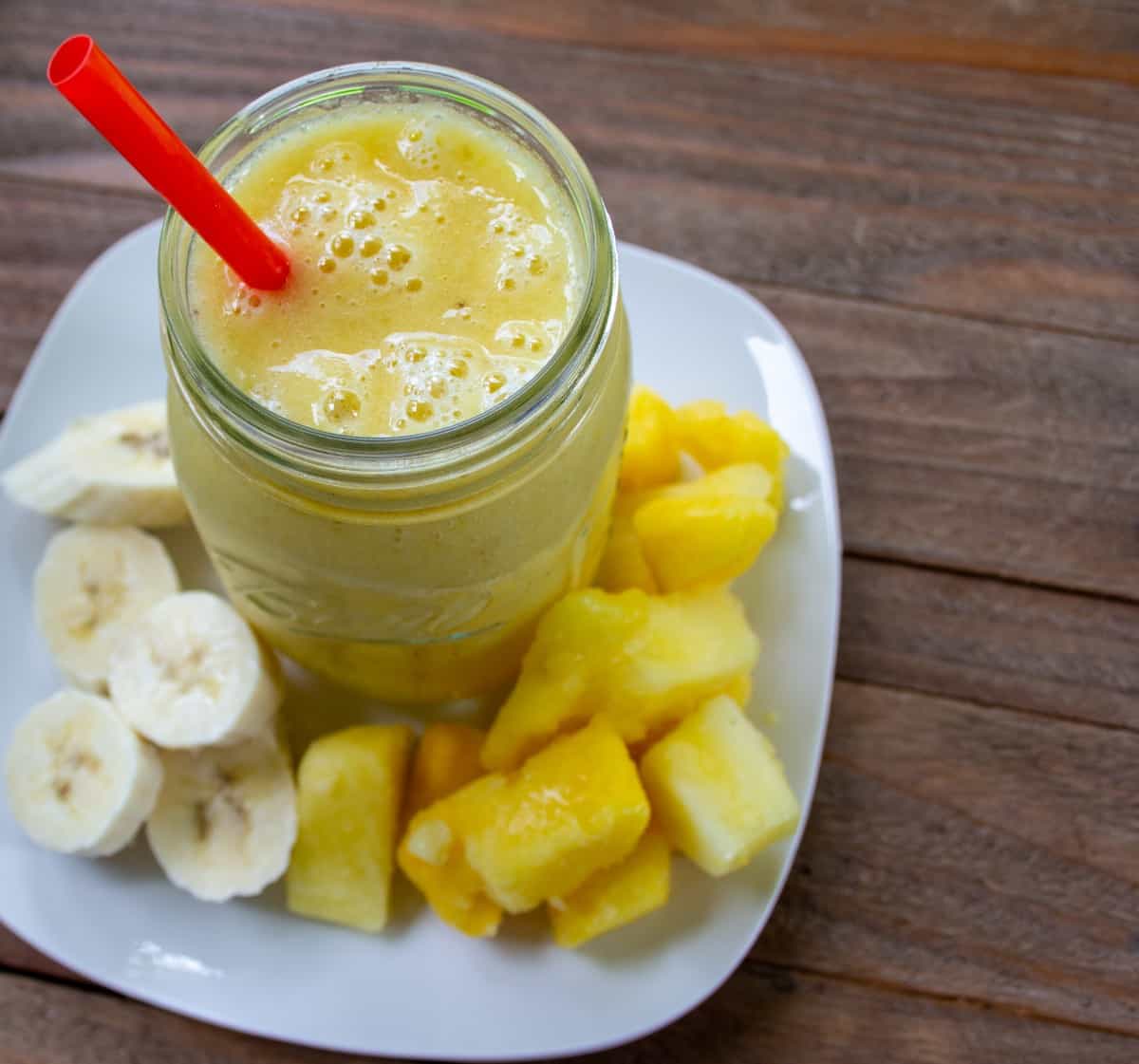 When it comes to bananas, ripe is always best. That being said, stay away from mushy or moldy bananas. I like using frozen bananas because they help make the smoothie more thick and creamy, but fresh is great as well.
For the pineapple, I strongly prefer using frozen because it's likely to be more ripened than what you can buy fresh at the store. Also, getting the meat off a fresh pineapple is a pain in the butt and I think you get your money's worth buying frozen.
That being said, if you're looking for fresh pineapples, be sure to select one that is firm but has a little give when you squeeze it. Also, the less green below the stem the better. Be sure to remove all of the skin off the pineapple before tossing it in the blender.
What You Need to Make this Banana Pineapple Smoothie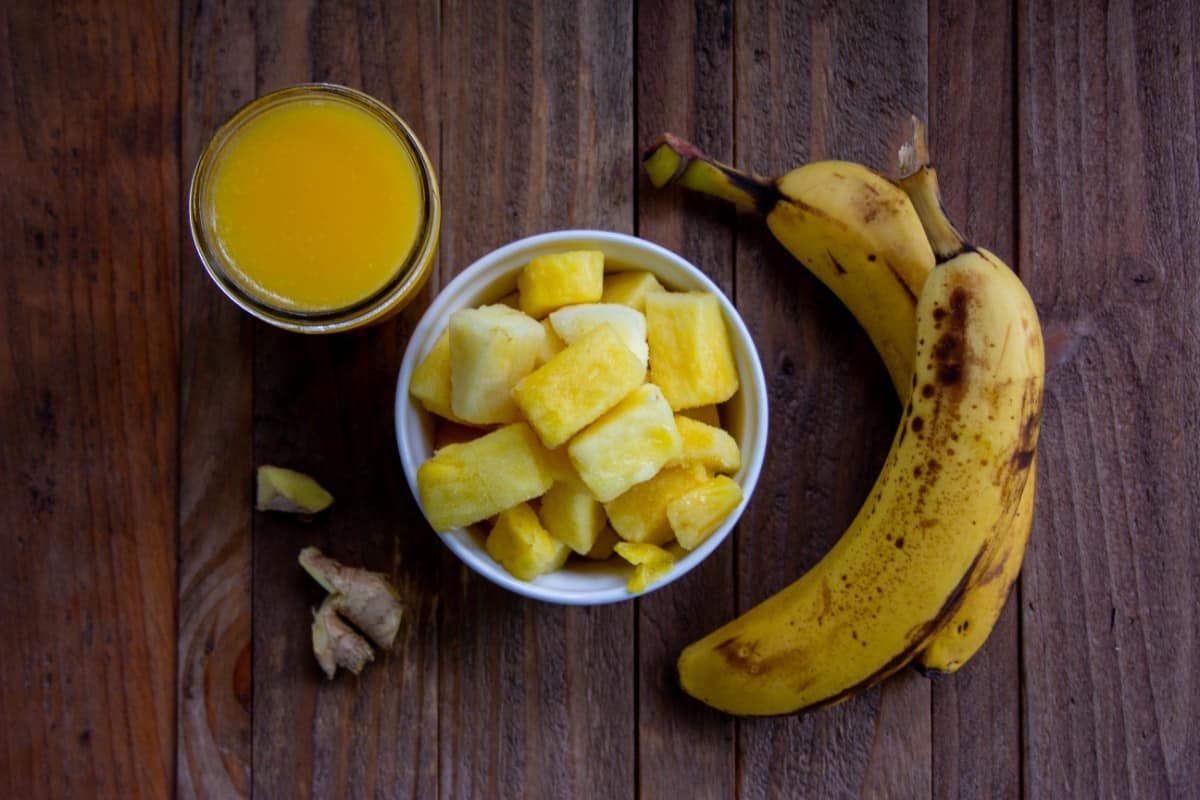 There are only 4 ingredients required for this banana pineapple smoothie, with 1 being optional. I really like the zing of flavor that the ginger provides, but you can keep it simple and omit that ingredient.
If you don't have fresh ginger, powdered ginger will work as well. I recommend ½ teaspoon of powdered ginger for this recipe.
You can also swap the ginger for fresh or powdered turmeric—just keep in mind you may want to add a touch of sweetness as turmeric can be a little overpowering.
For liquid, I like using orange juice because I think it makes the smoothie lighter and sweeter, but water or non-dairy milk will work just as well.
I do not recommend using dairy milk because it could possibly become curdled when it's blended with pineapple. It's not dangerous, it's just not very visually appealing.
Ingredients:
Banana
Pineapple (I recommend frozen)
Liquid of choice: water, non-dairy milk, or orange juice
Fresh ginger (optional)
Optional Ingredients:
I've gone ahead and listed some other optional ingredients you can incorporate into this recipe if you're looking to spice it up. If using a different type of liquid or yogurt, reduce the liquid in the recipe by the same proportion:
2 tablespoons chia seeds
2 tablespoons hemp seeds
½ cup greek yogurt, unflavored or honey flavor
½ cup coconut milk
2 teaspoons cinnamon
¼ – ½ of an avocado
1 teaspoon of cayenne
2-3 leaves of kale
How To Make this Banana Pineapple Smoothie
First, combine all ingredients into a blender, reserving ½ cup of your liquid. Next, blend while adding more liquid as necessary until you have reached your desired consistency.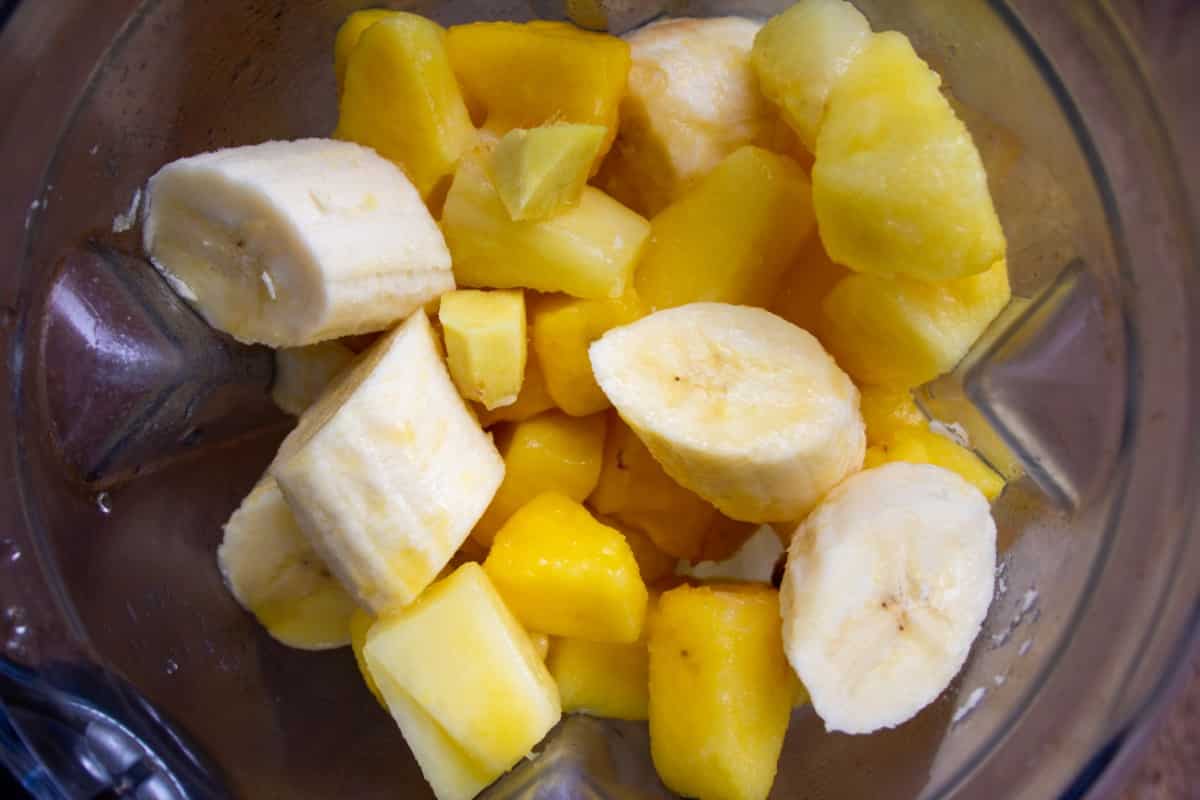 Pour your delicious smoothie into your desired container and serve! Bonus points if you serve it with a wedge of pineapple and a little umbrella.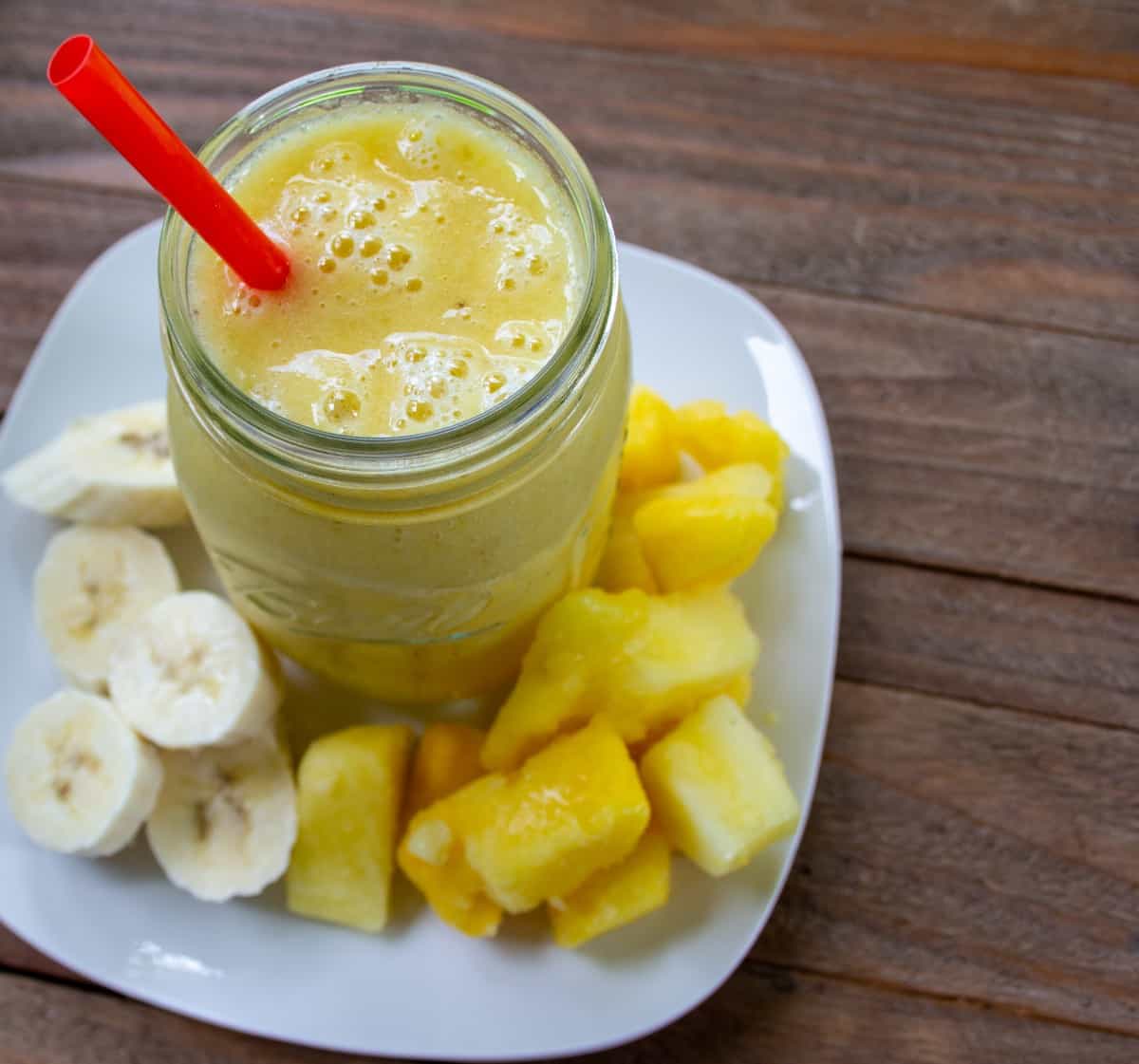 Now, before you know it, you will be ready to lounge on your patio with your super healthy and refreshing smoothie.
Curious as to how to make this banana pineapple smoothie the best smoothie bowl? Check out some of my helpful tips in How to Thicken a Smoothie.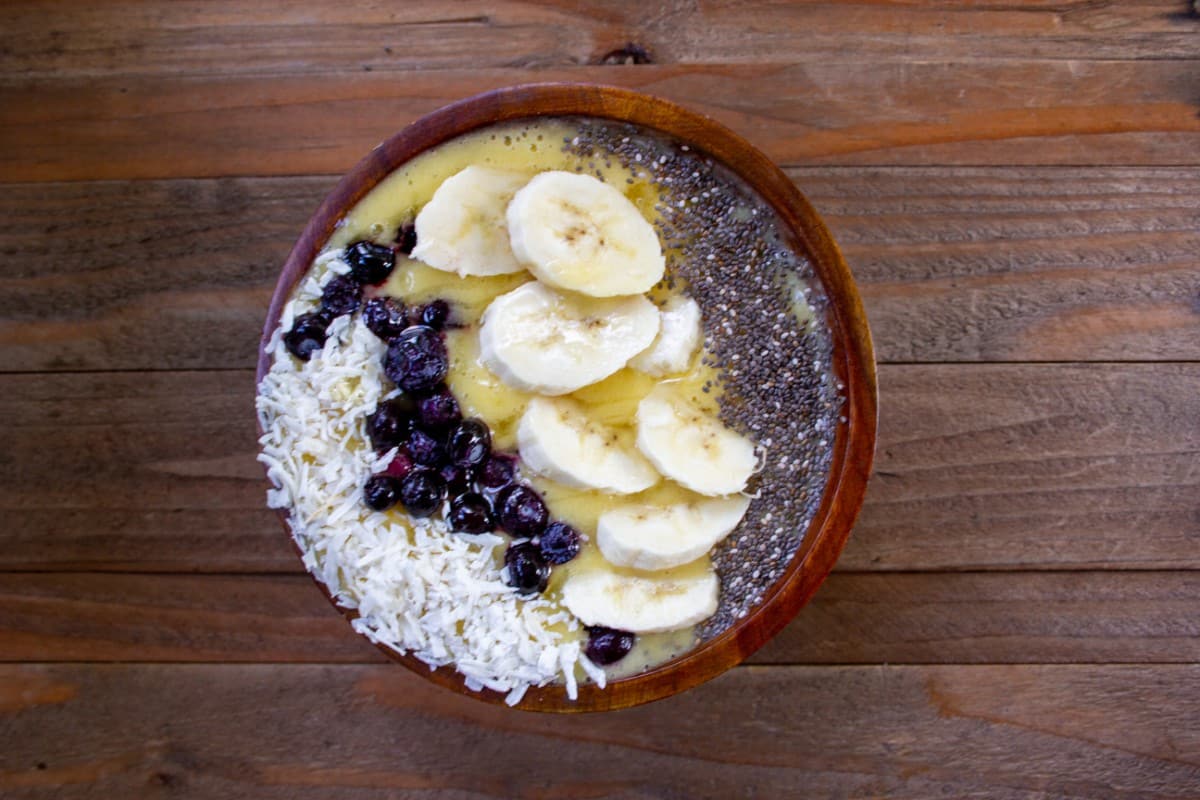 What are the health benefits of banana and pineapple?
Bananas are rich in potassium and fiber, while pineapple is low in calories while still being an excellent source of B vitamins, Vitamin C, and fiber as well. This, combined with the antioxidants found in ginger make this smoothie an awesome healthy choice.
What fruits can be mixed with pineapple?
Pineapple is super versatile and can easily be mixed with any fruit! When I want to switch it up from this recipe I like to make pineapple smoothies with mango, papaya, and strawberries. Pretty much any fruit will do!
Is a banana smoothie good for you?
Totally! Bananas are super healthy and, in moderation, are a tremendous source of nutrition. Bananas are particularly high in potassium.
Can you mix pineapple and milk?
It is possible for dairy milk to curdle when it comes into contact with pineapple. This is not dangerous to consume, but it certainly doesn't look very tasty. That's why I recommend sticking with juice, water, or non-dairy milk in this banana pineapple smoothie recipe.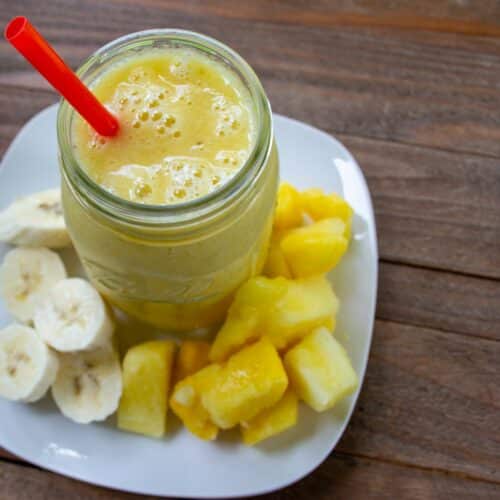 Banana Pineapple Smoothie
This light, refreshing, and super healthy banana pineapple smoothie is to die for! It's citrusy and tropical with just a tiny bit of zing from the ginger. It's simple to make and is best served on your patio alongside your lounge chair and a good book.
Ingredients
1

medium-sized banana

¾

cup

frozen pineapple

½

inch

ginger, peeled

(optional)

1 ½

cups

orange juice
Instructions
Combine all ingredients in a blender, reserving ½ of a cup of liquid.

Blend until desired consistency, adding more liquid as necessary.

Pour into your desired container and serve.
Nutrition
Calories:
275
kcal
Carbohydrates:
65
g
Protein:
3
g
Potassium:
950
mg
Fiber:
4
g
Here are a few other smoothie recipes you might enjoy!
Olivia has been in love with all things food and libations for nearly a decade. When she's not cooking up new recipes, she enjoys bikepacking, wine tasting, crocheting, and traveling in her camper van up and down the Pacific Northwest.