This simple oat milk smoothie is so creamy, filling, and sweet, you wouldn't even guess it's ridiculously healthy! Not only will I give you an easy base recipe, but I'll tell you all the ways you can switch it up to make this the best smoothie you've ever had.
This oat milk smoothie has just 4 ingredients, plus ice, but there's a never-ending amount of ways to switch it up. Spoiler alert: I'll give you enough options to make a new smoothie every day of the week.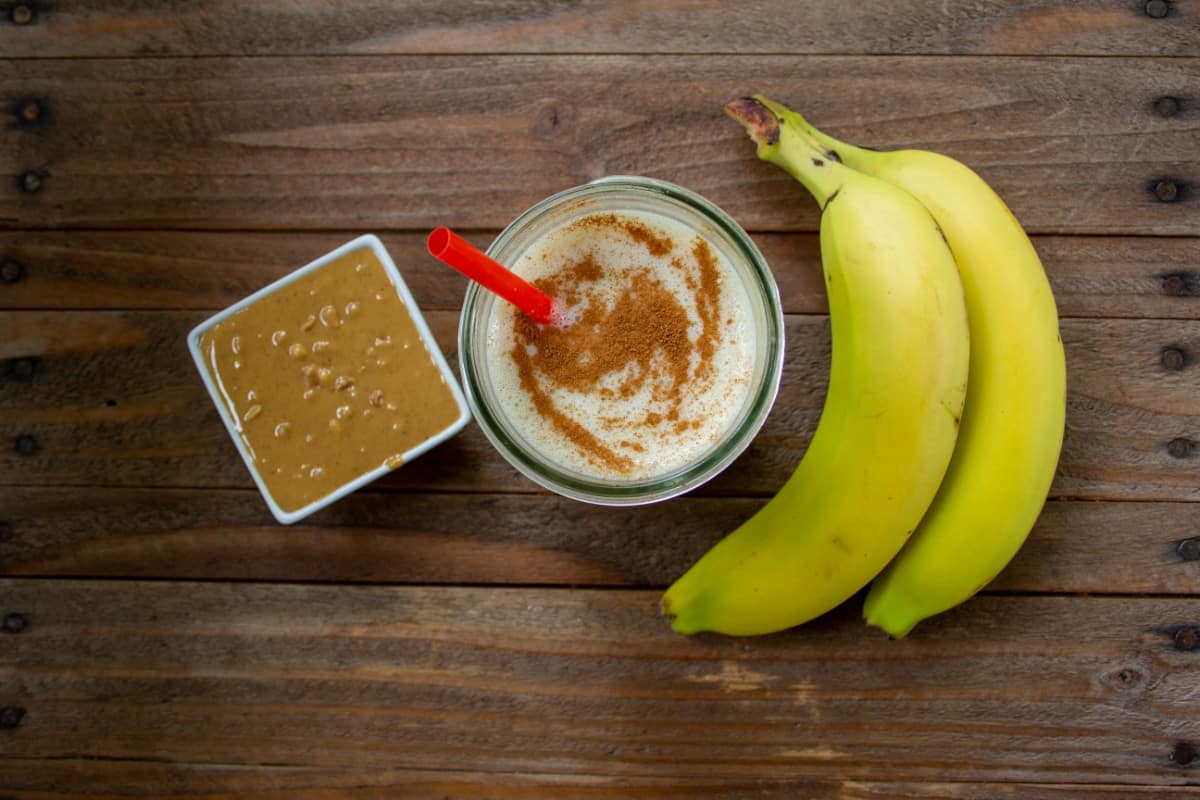 I love oat milk because it's smooth, creamy, blends well, and is rich in essential nutrients. Most oat milk is fortified with essential B vitamins, iron, calcium, and a host of other vitamins and minerals. Oat milk is also great because it contains soluble fiber which can help to lower cholesterol.
Curious about how to make your own oat milk? I got you covered. Scroll down a bit and I'll break it down in case you want to get bonus points for creativity!
How to Make Oat Milk
While I love the convenience of being able to buy pre-made oat milk at the grocery store, sometimes I want to branch out of my comfort zone and make my own.
When making your own oat milk, you only need 3 ingredients:
1 cup whole rolled oats
4 cups water
2 teaspoons maple syrup or agave
Additionally, you can add a pinch of sea salt and 1 teaspoon vanilla extract, but these ingredients are optional.
To make your own oat milk, blend all ingredients on a blender on high for 30 seconds. Then, strain your oat milk through cheesecloth or a specially made nut milk bag.
Your freshly made oat milk will keep in an airtight container in your fridge for up to 5 days, or in the freezer for up to 3 months.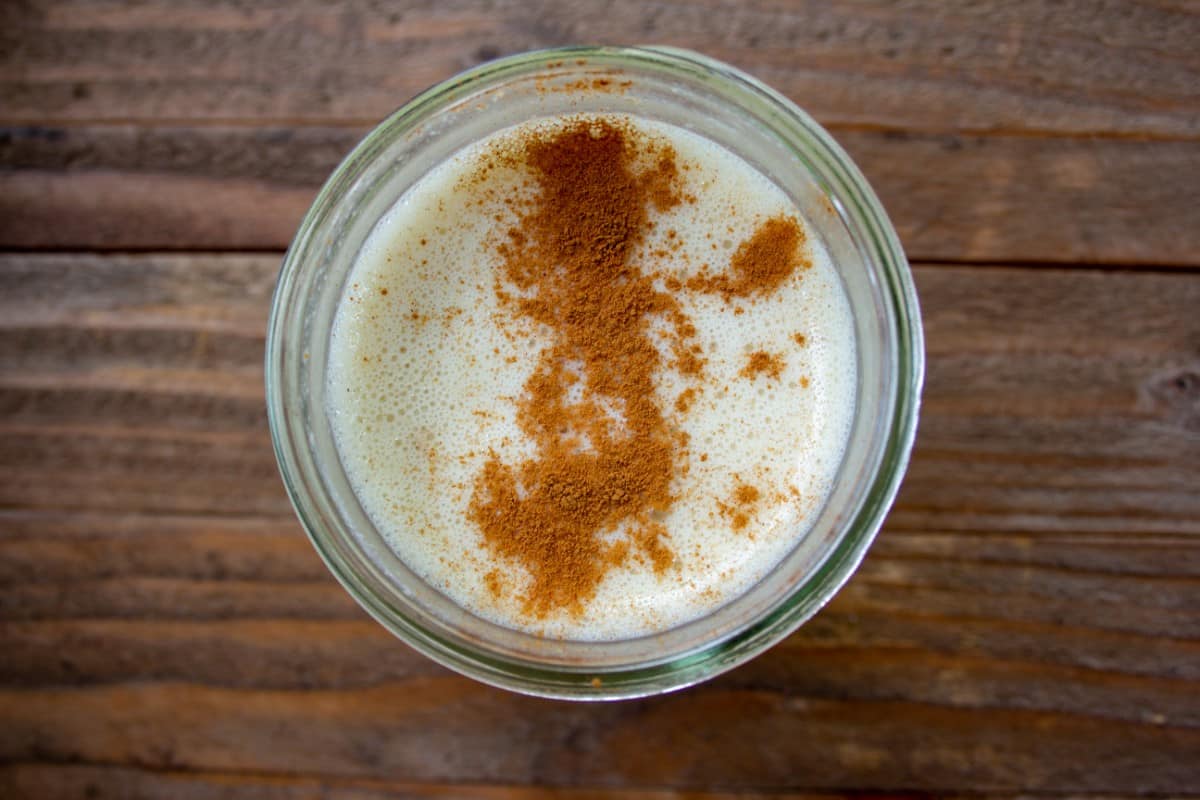 What You Need to Make an Oat Milk Smoothie
This oat milk smoothie could not be simpler. For this base recipe, I have chosen to add bananas and nut butter. When shopping for bananas, ripe is best! Just avoid any mushy or moldy ones.
For the nut butter, I chose peanut butter for my oat milk smoothie, but any nut butter would work great.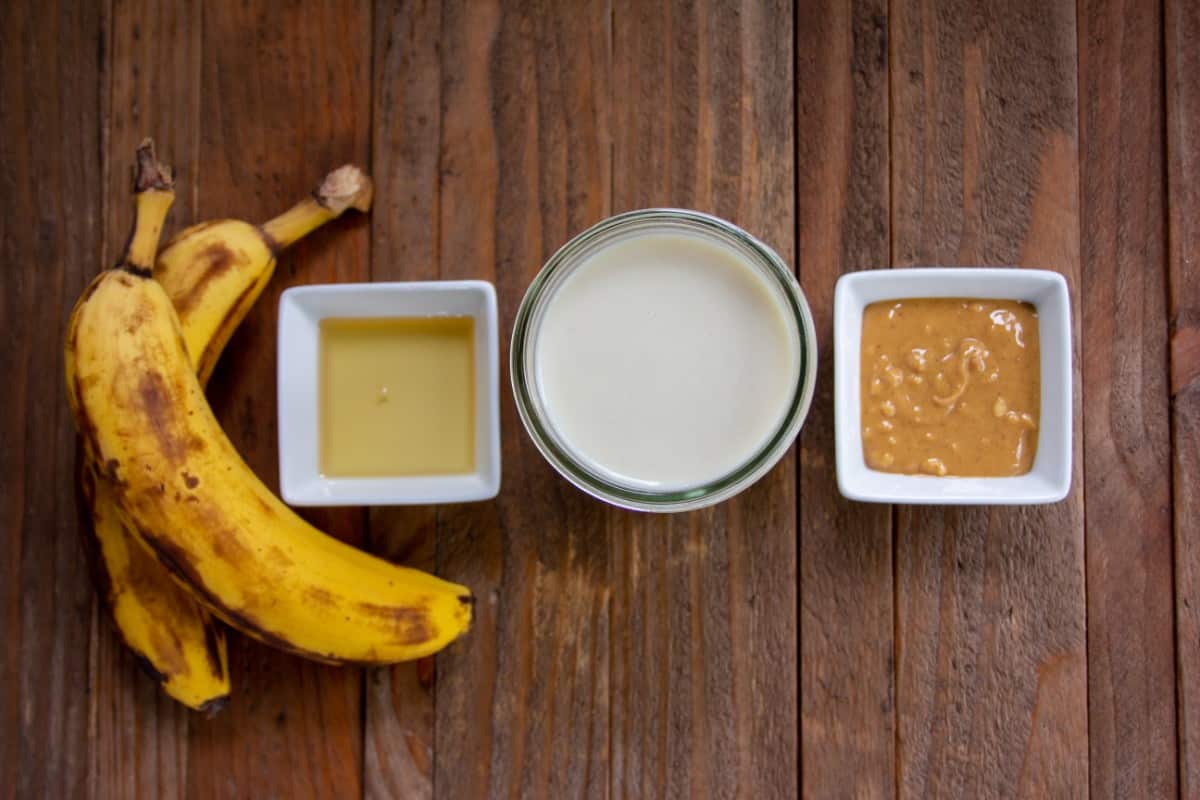 Ingredients:
Oat milk
Bananas
Nut butter
Maple syrup
Ice
Optional Ingredients:
Now, as I said before, there are countless ways to mix up this smoothie and make it the most decadent, satisfying smoothie. Here are just a couple of my favorite add-ons:
½ cup of frozen berries: I prefer a combo of strawberries and blueberries
2 tablespoons cacao
1 tablespoon matcha
2 tablespoons Nutella (in place of nut butter, or alongside!)
1 scoop of vanilla protein powder
Use almond butter and add ½ teaspoon almond extract
2 teaspoons cinnamon,1 tablespoon cacao, and ½ teaspoon cayenne for a spicy chocolate treat
How To Make an Oat Milk Smoothie
Combine all the ingredients in a blender. Reserve ½ cup of your oat milk and add it if necessary.
Then, pour your smoothie into your desired container, drink and enjoy!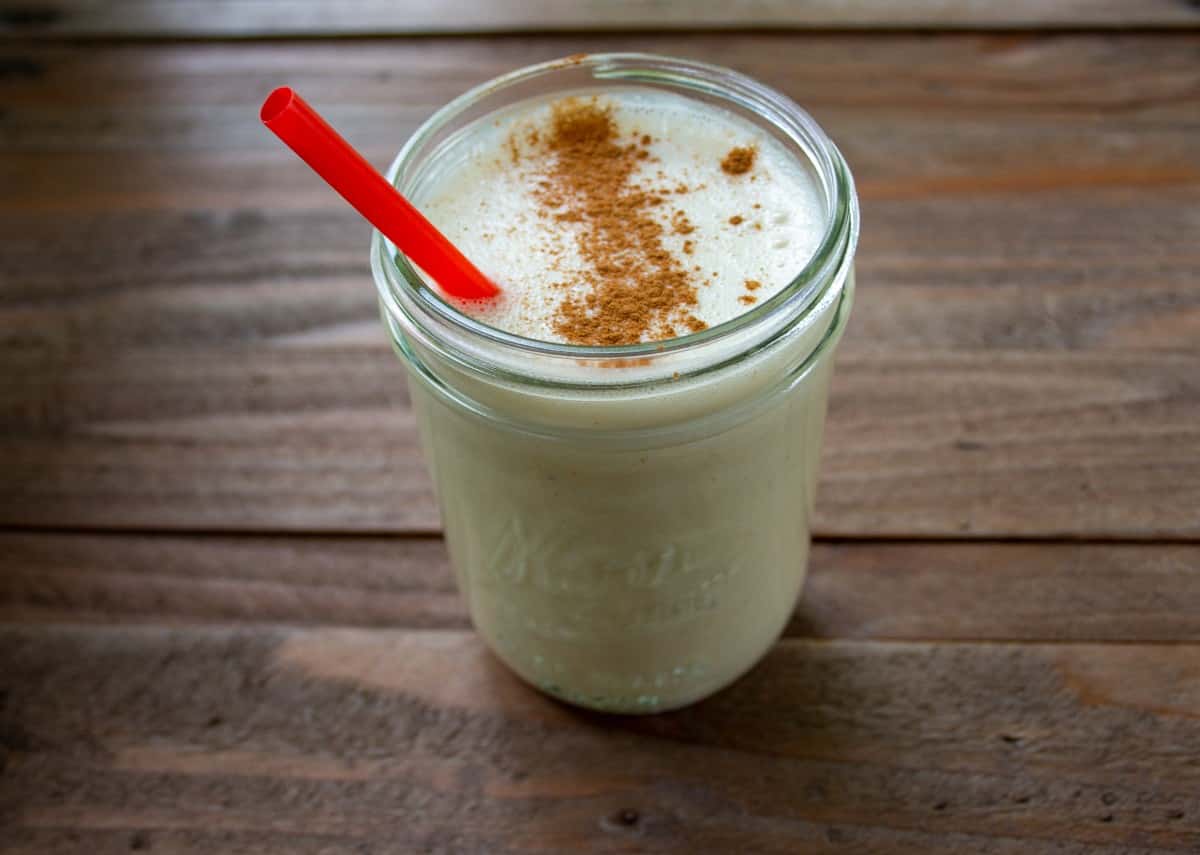 Pretty simple right? In less than 5 minutes you'll have a healthy serving of this creamy, smooth smoothie. This recipe reminds me of a milkshake—it's that decadent!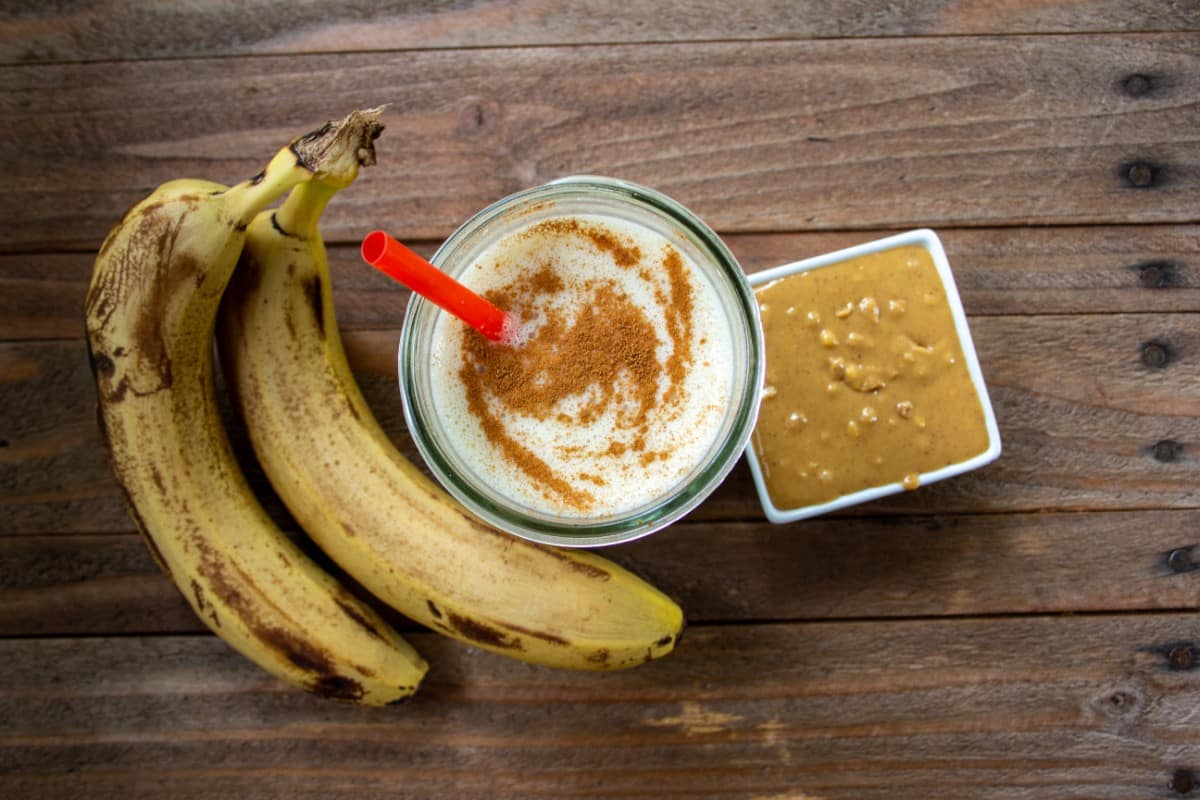 Can I put oat milk in my smoothie?
You sure can! Oat milk can substitute liquid in any smoothie. I prefer it because it adds a pleasant richness and creaminess without imparting too much flavor.
What does oat milk taste like in a smoothie?
I think oat milk adds a smooth creaminess compared to most types of non-dairy milk. Its slightly earthy taste doesn't impart too much flavor to the smoothie, making it an easy swap for other types of milk.
Is it OK to put uncooked oats in a smoothie?
Yes! Uncooked oats are safe to consume in your smoothie—in fact, they may fill you up faster and add in soluble fiber that's good for your healthy gut bacteria. If adding in raw oats to a smoothie, consider blending them first before adding them, as this can help make the texture less noticeable.
I recommend adding ¼ cup of blended oats to your smoothie if you're looking to add in more fiber or thicken your smoothie into more of a smoothie bowl consistency.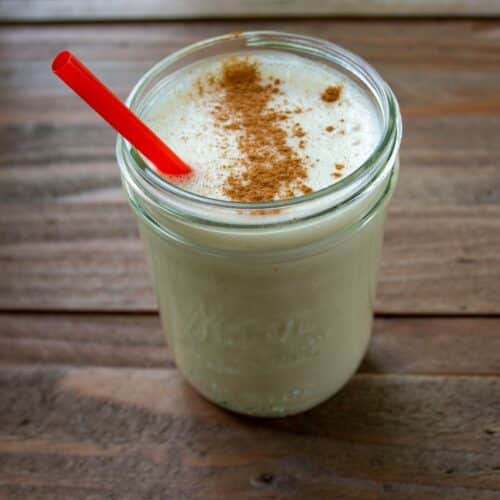 Oat Milk Smoothie
This decadent, rich and creamy oat milk smoothie recipe could not be simpler to make. In less than 5 minutes you can have a hearty drink that's perfect for your post-workout snack, on your way out the door in the morning, or even for dessert.
Ingredients
2

bananas

2

cups

oat milk

2

tbsp

nut butter

1

tbsp

maple syrup

½

cup

ice
Instructions
Combine all ingredients in a blender, reserving ½ cup of liquid.

Blend until desired consistency, adding more liquid as necessary.

Pour into your desired container and serve.
Nutrition
Calories:
315
kcal
Carbohydrates:
49
g
Protein:
9
g
Fat:
8
g
Sodium:
159
mg
Potassium:
450
mg
Fiber:
6.5
g
Here are a few other recipes you might enjoy! Keep in mind, each and every one can easily be made with oat milk.
Olivia has been in love with all things food and libations for nearly a decade. When she's not cooking up new recipes, she enjoys bikepacking, wine tasting, crocheting, and traveling in her camper van up and down the Pacific Northwest.