Everyone loves biscuits. They're flaky, buttery, filling, and they pair perfectly with all sorts of brunch foods. Deciding what to serve with biscuits can be a challenge, depending on what you have in your kitchen, the amount of time you have, and what your guests are hungry for.
Luckily, biscuits are super easy to pair with just about anything. Whether it's a jar of homemade jam, a hot cup of coffee, or a plate of eggs, the opportunities are endless.
Keep reading for all the inspiration you need to decide how to wow your guests with the perfect biscuit brunch. Plus, you'll also get plenty of recipes to choose from to help make your next brunch feast cohesive and fun for the whole family.
Jam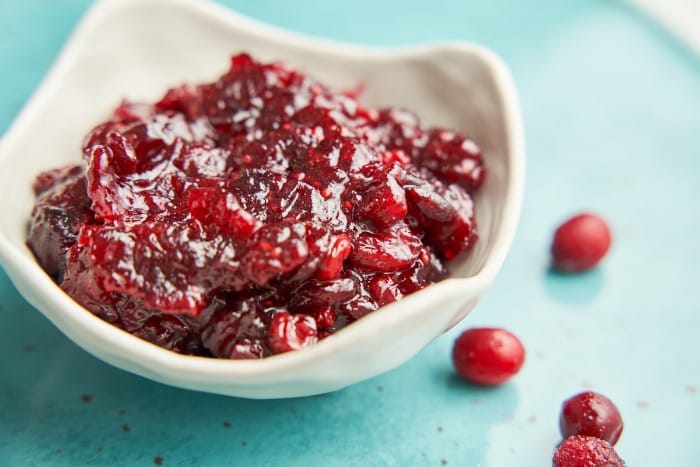 There's something so comforting about homemade jam. Perhaps it's the smell of it cooking in the air, or the cute jars they inevitably get put into. Either way, homemade jam is one of the easiest things to make, and the perfect pairing for biscuits.
If you're in the fall mood, make this cranberry jam with your favorite biscuit recipe.
Eggs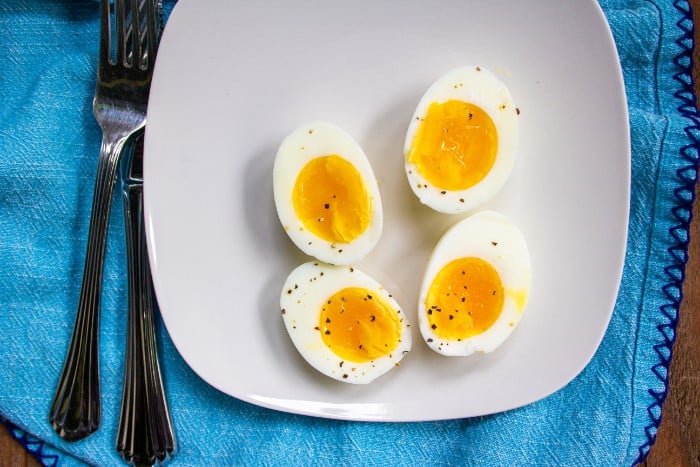 This may seem like a no-brainer, but eggs and biscuits both happen to be the perfect brunch foods. So, why shouldn't they go together?
If you like your eggs soft, then try these air fryer soft boiled eggs with these equally simple air fryer biscuits. These two recipes combined have the benefit of only requiring your hand air fryer, which makes the whole process fly by.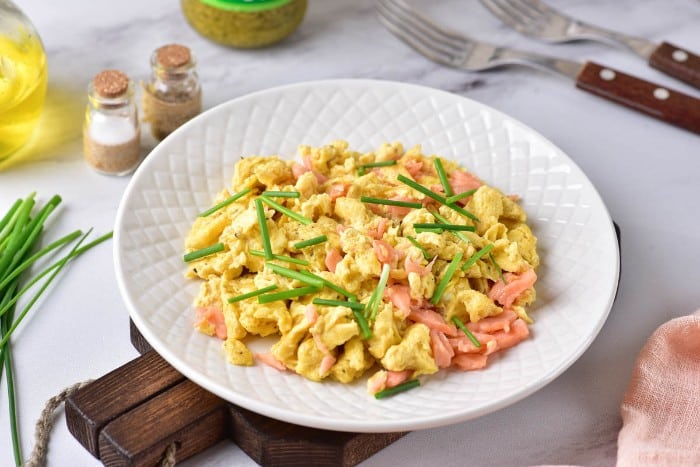 If you prefer an egg scramble, than these salmon scrambled eggs are calling your name.
Gravy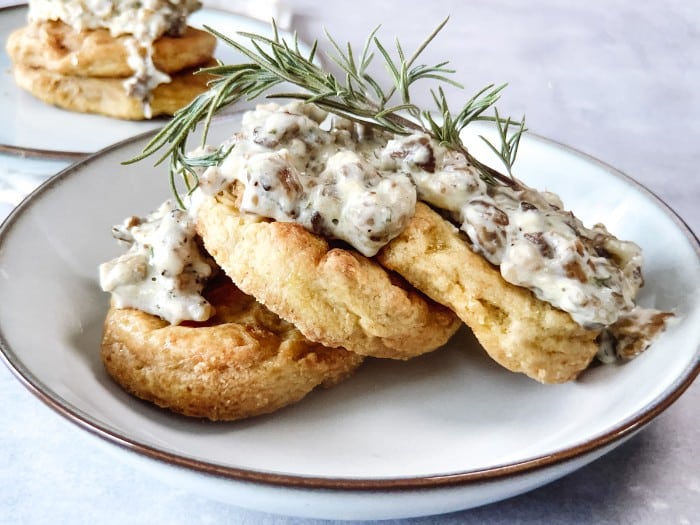 If peanut butter belongs with jelly, then it's safe to say that biscuits belong with gravy. Seriously, the two combine to make the perfect brunch dish that's just unbeatable.
Biscuits and gravy is a brunch staple, and luckily, even if your guests have dietary restrictions they can still enjoy this classic dish. In fact, this recipe for vegetarian biscuits and gravy may actually be better than the real deal.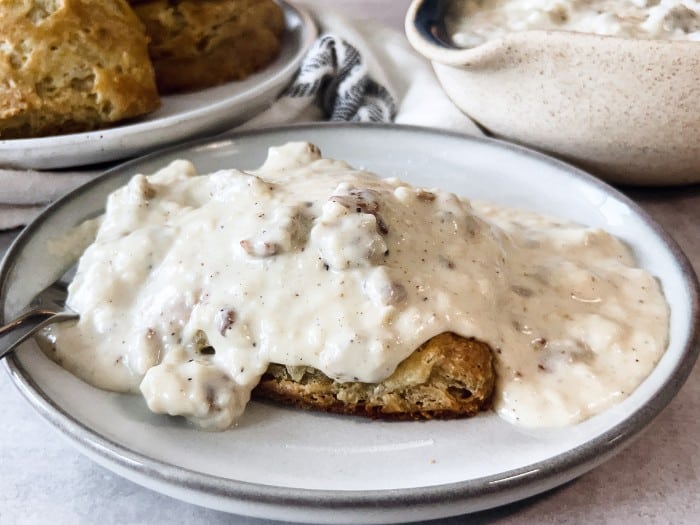 Gluten free? No problem, try this gluten free biscuits and gravy recipe instead.
Butter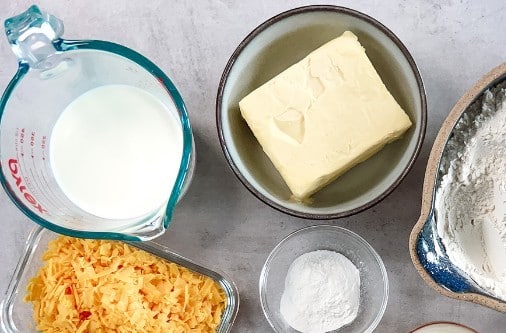 Perhaps this is obvious, but biscuits practically require butter. Even just a tiny bit goes a long way to making a basic biscuit so much more delectable.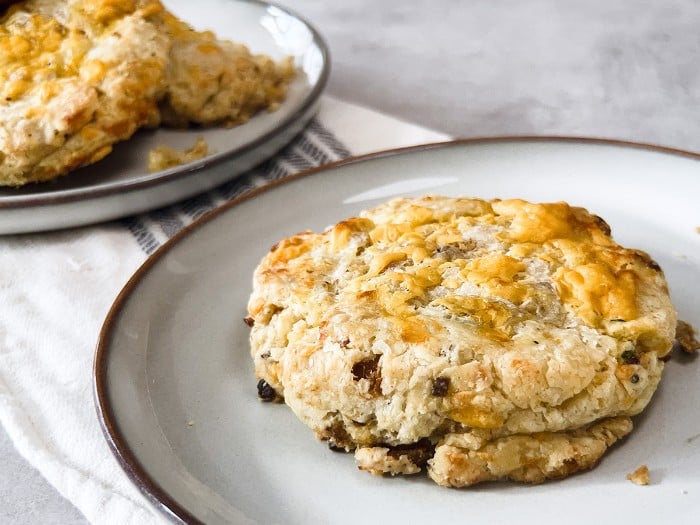 Quick tip: You can add a touch of cinnamon or salt (if using unsalted butter) to make your butter even better for sweet biscuits. Alternatively, you can stir in minced garlic to melted butter to make the easiest garlic butter ever (perfect for these cheddar onion biscuits).
Omelettes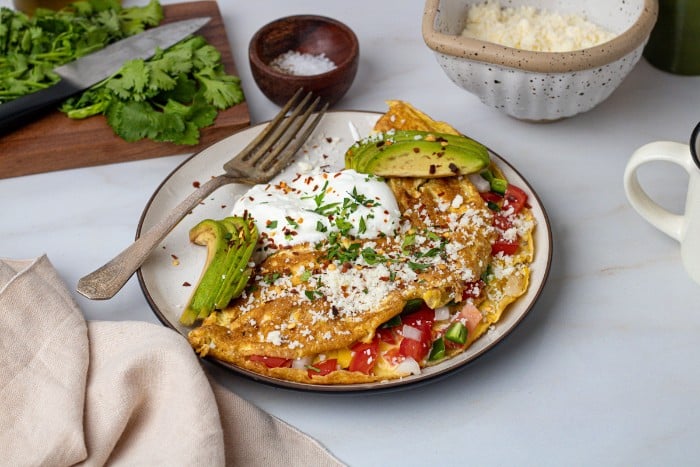 Still feeling the egg vibe, but you want your brunch to have a more elevated feel? Look no further. Popping out of the kitchen with a basket of these mini biscuits to serve alongside custom omelettes is a surefire way to guarantee you have happy guests.
If you're looking for the perfect omelette recipe, try this hash brown omelette, or perhaps this Mexican omelette. Either way, your brunch guests will love the added touch of serving cute mini biscuits alongside custom omelettes.
Oatmeal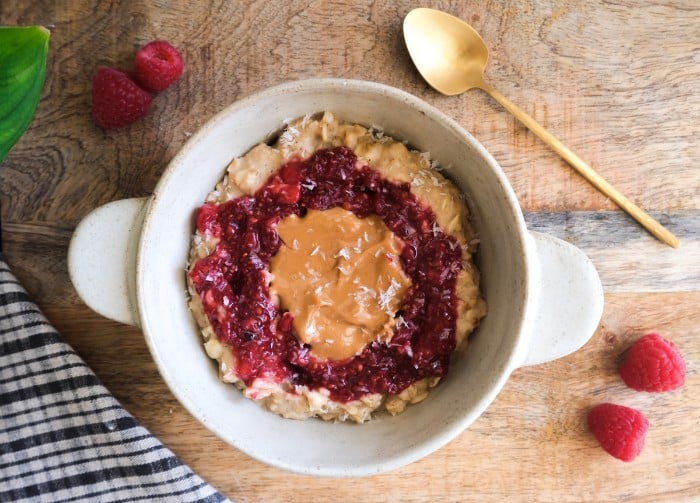 Now, this may be a bit of an unconventional pairing, but if you haven't paired sweet biscuits with warm oatmeal, then you're missing out.
The combination of two warm and hearty dishes makes a wonderful pairing. The best part of serving oatmeal at your next brunch gathering is that your guests can pick and choose what goes into their oatmeal.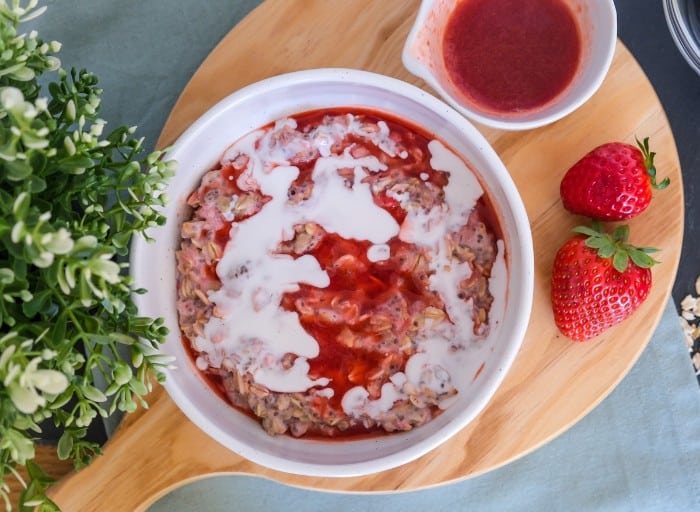 For example, if you have fresh fruit then you can offer your guests this peanut butter and jelly oatmeal or this strawberry and cream oatmeal. Pair both of these with warm honey biscuits, and now you're talking business.
Bacon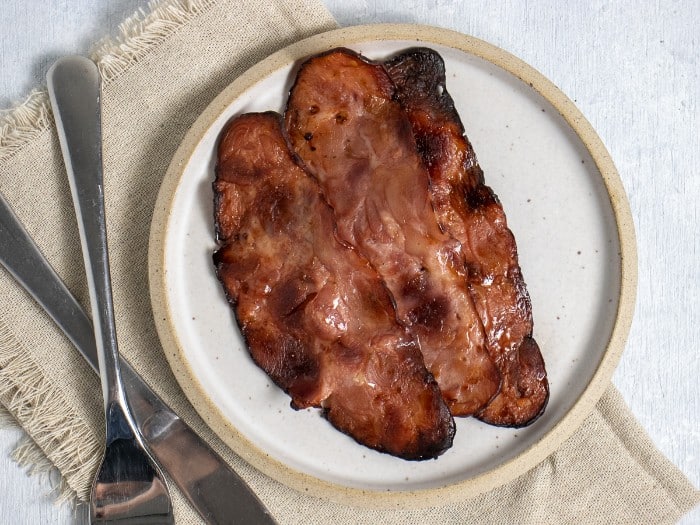 Bacon really is always the answer to life's problems, isn't it? No matter what you serve bacon with, it just seems to steal the show.
In addition to being one of the best foods around, bacon also happens to be super easy to cook. For example, this air fryer turkey bacon takes only 12 minutes to cook, and the results are mouthwatering deliciousness.
Pair your bacon with these cheddar onion biscuits, grab a cup of coffee, and get ready to settle in for the day. It's that good.
Honey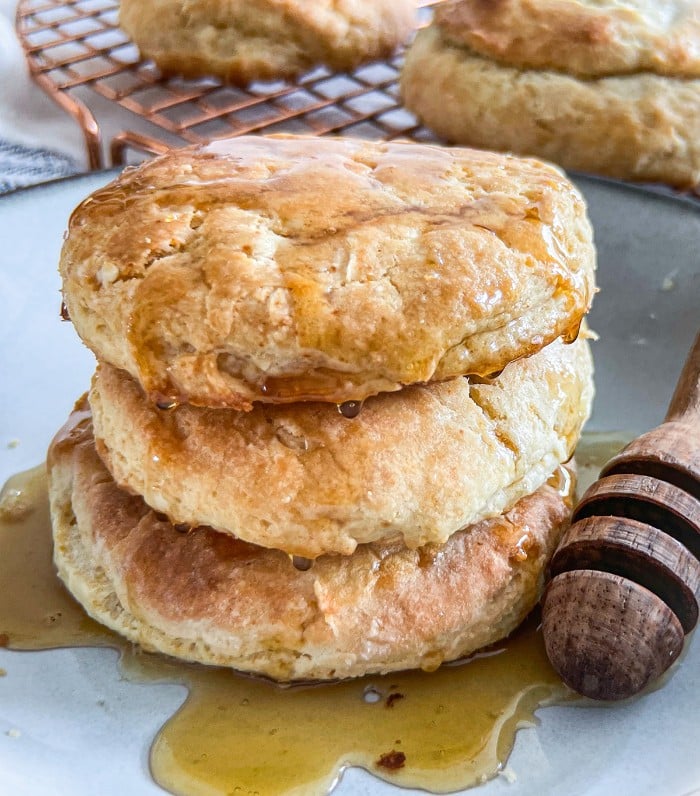 Honey is a main ingredient in these honey biscuits, and for good reason. Honey elevates anything it's added to by providing a sweet, yet nutty and earthy flavor.
Adding just a touch of honey to warm biscuit can be done alongside, or instead of butter. This is a great alternative for people trying to cut down on fat, and honey often has less sugar than most jams.
Your Favorite Warm Beverage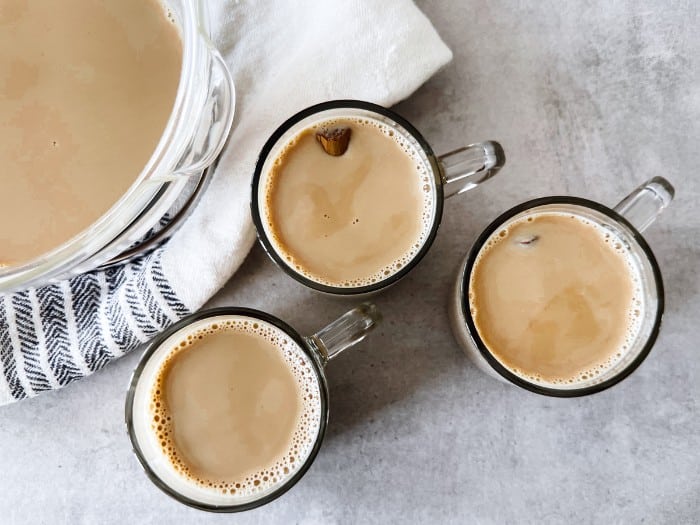 Maybe you're not a big breakfast or brunch person, and that's okay. Even just a warm cup of coffee with a honey biscuit can be the perfect brunch.
In case you're in need of more inspiration, this pumpkin chai latte is the perfect fall-themed treat to make at a moment's notice. Surprise your guests in the morning with homemade chai lattes and warm biscuits, and that's just about as good as a four-course meal.
Build Biscuit Sandwiches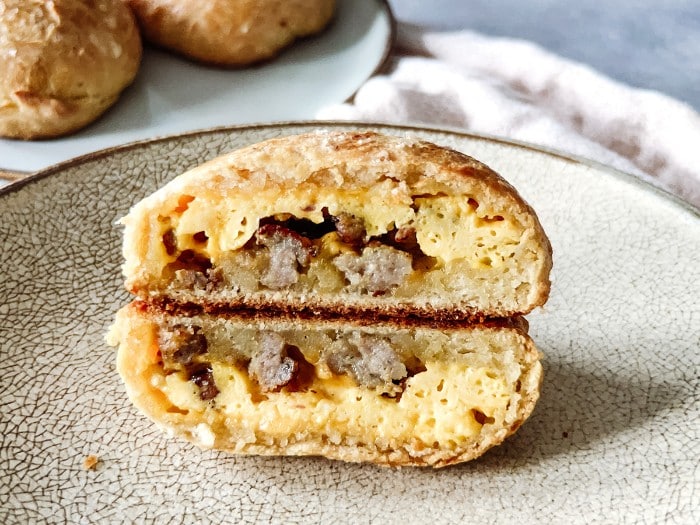 A normal sandwich is good and all, but using biscuits as bread is… well… better. If you've ever made stuffed biscuits before, then you get it.
Stuffed biscuits, or sandwiches made with biscuits, are the best of both worlds. They have the rich, flaky texture of biscuits, with your favorite fillings. In the case of making a sandwich with biscuits, it also happens to be the best way to use up leftover biscuits.
Mimosas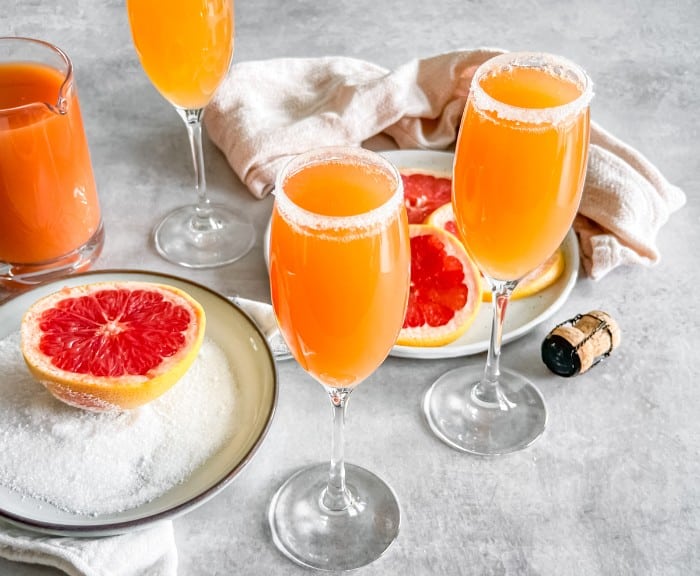 Okay, listen up. This may seem like an odd pairing, but think about your audience. If you're having a group of friends over for brunch, then mimosas to start seems like the perfect idea, right?
Your guests are going to need something to eat so they're not only drinking mimosas, so, having a basket of mini biscuits is the perfect bite to hold everyone over until it's time for brunch.
Serve up these grapefruit mimosas or perhaps these pineapple mimosas alongside your biscuits. Better yet, make a mimosa bar so everyone can build their own.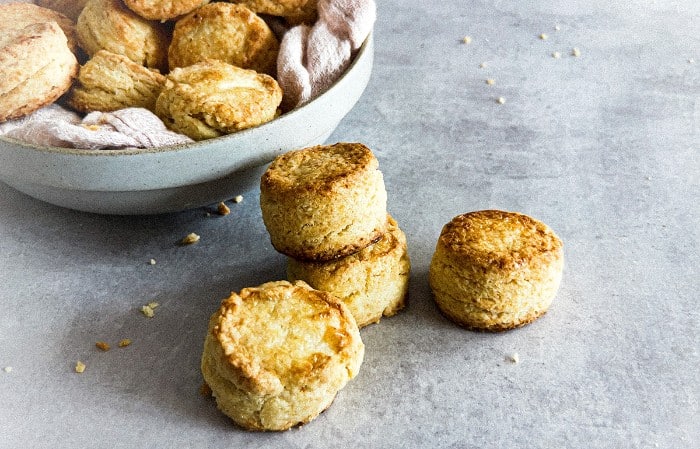 Regardless if you're a simple eater, or you consider brunch as your time to shine, there is always a reason to make biscuits in the morning. Adults and kids alike love them, and they're easier to make at a moment's notice than most baked goods.
The next time you find yourself with a craving only biscuits can satisfy, stretch your imagination a bit further. Take a peak in your fridge, see what you have, and don't hesitate to get creative.
For more easy and fun brunch recipes, plus all your questions answered, be sure to follow Golden Truffle on Instagram, and Pinterest.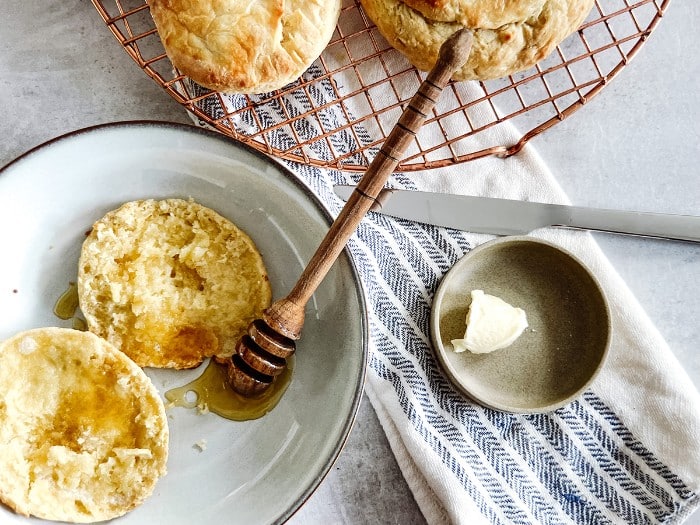 What goes good with biscuits for breakfast?
Biscuits make for an awesome breakfast all by themselves, but they taste even better when paired with butter, jam, honey, eggs, gravy, bacon, even just a warm cup of coffee.
What is a good side dish for biscuits and gravy?
Eggs and bacon equally make the perfect side dish for biscuits and gravy. If you like your eggs on the runny side, then over-easy or over-medium eggs are the perfect choice.
What do you serve with cheddar bay biscuits?
Biscuits with cheddar flavor pair perfectly with lightly seasoned eggs, as a component to biscuits and gravy, or even with just a pat of butter.
Olivia has been in love with all things food and libations for nearly a decade. When she's not cooking up new recipes, she enjoys bikepacking, wine tasting, crocheting, and traveling in her camper van up and down the Pacific Northwest.