In the rhythm of busy mornings, a quick breakfast is often the best option. Nothing satisfies like homemade waffles, their crispy texture, and the delectable taste of maple syrup and your favorite toppings. However, making fresh waffles from waffle batter on the spot isn't always feasible. Instead, many people prefer to cook a large batch of waffles, such as Belgian waffles or even chocolate chip waffles, then freeze them for later use. This is a great option, especially for weekday mornings, so learning how to reheat a waffle comes in handy.
When it comes to the best method of storing and reheating waffles, there are a few different methods you can try. For the best result, let the waffles cool on a cooling rack to room temperature, then store them in a freezer-safe container or freezer bag. If you're dealing with a bigger batch of waffles, layer each waffle with a sheet of parchment paper to prevent them from sticking together.
When you're ready to enjoy your waffles, you've got different options to choose from. Here are some easy ways and step-by-step instructions to help you get them back to their original texture.
How to Reheat a Waffle in the Air Fryer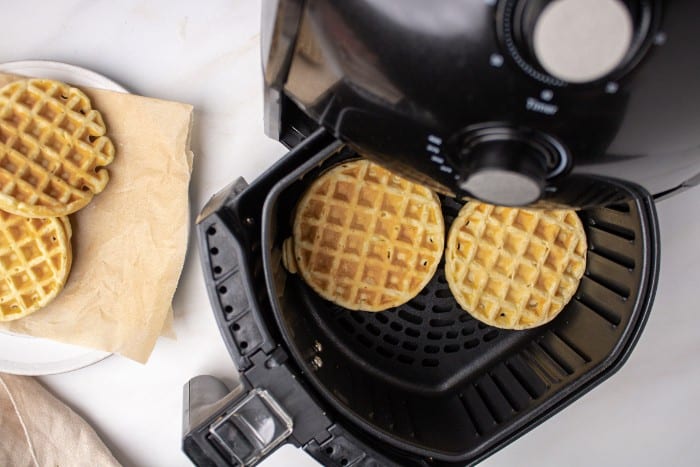 Your air fryer is your friend, especially when it comes to reheating things quickly. There's no worry that your waffle will become soggy if you reheat it in your air fryer.
To reheat a waffle in the air fryer, preheat your air fryer to 350°F (175°C), place the waffles in the basket, and heat for about 3-5 minutes. This method ensures a crispy texture but remember not to overcrowd the air fryer basket to allow for even reheating.
Pros: Quick, easy, and you can reheat several at once.
Cons: Cooking quickly means they can burn easily.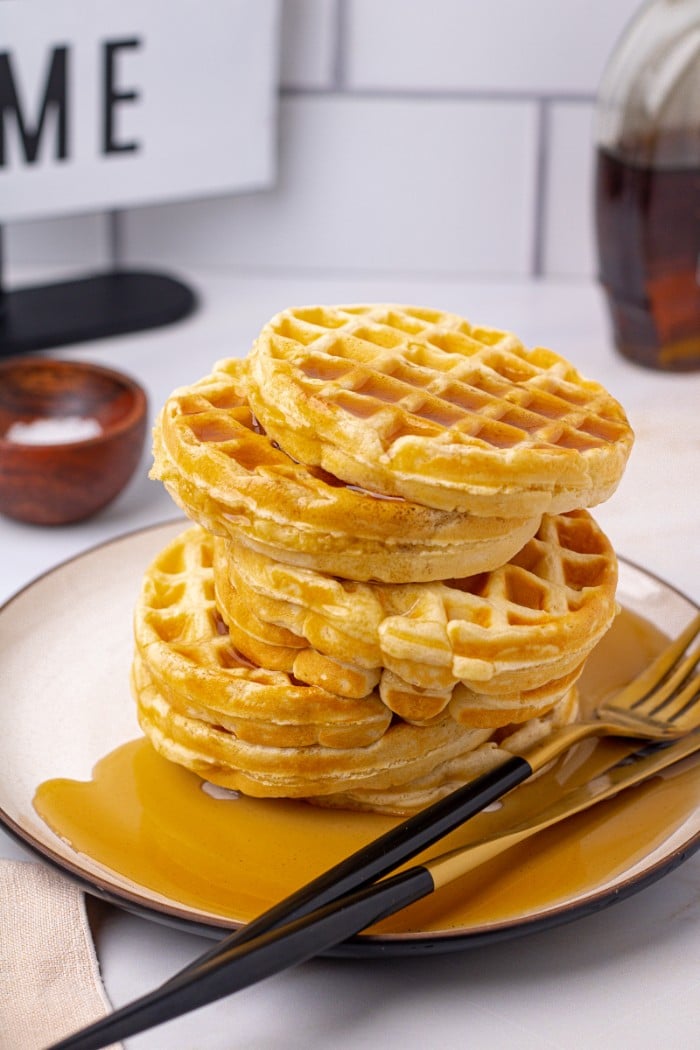 Try this recipe: How to cook frozen waffles in the air fryer explains in detail the step-by-step on how to enjoy golden brown waffles straight from the freezer in just 5 minutes.
How to Reheat a Waffle in the Oven
Reheating waffles in the oven is a great way to reheat a lot of waffles at the same time. While it does take longer than other methods, the results will be guaranteed delicious and perfectly cooked waffles.
To reheat waffles in the oven, preheat the oven to 350°F (175°C) and place waffles on a baking tray lined with parchment paper. Reheat for 5-10 minutes or until the waffles are crispy. Note that the exact time may vary depending on the thickness of your waffles.
Pros: Can reheat the most amount of waffles at once and it guarantees even cooking.
Cons: Takes the longest amount of time.
Try this recipe: These waffle sandwiches are a perfect way to make use of leftover waffles. As they're reheating in the oven, you can build the rest of the sandwich.
How to Reheat a Waffle in the Toaster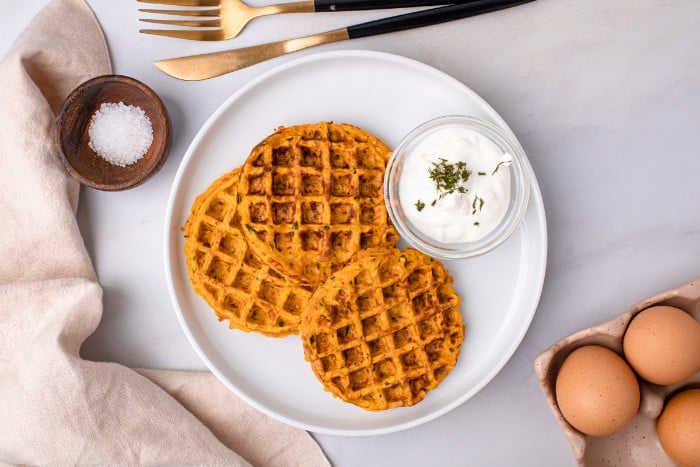 Reheating waffles in the toaster is easy and quick. While you can only reheat two at a time, the process still goes by relatively quickly.
Place waffles directly into the toaster slots and use a medium setting. This method may vary depending on the thickness of your waffles and your toaster's heat setting. Reheating time is usually about 1-2 minutes for refrigerated waffles and 2-3 minutes for frozen ones. This method gives your waffles a crispy edge which is especially delightful with Belgian waffles.
Pros: Easy, and makes waffles with a slightly crispy edge.
Cons: Can burn easily if set to the wrong setting, and you can only do two at once.
Try this recipe: These carrot waffles make for great leftovers, and the crisp edge you get from using the toaster makes them taste even better.
How to Reheat a Waffle in the Toaster Oven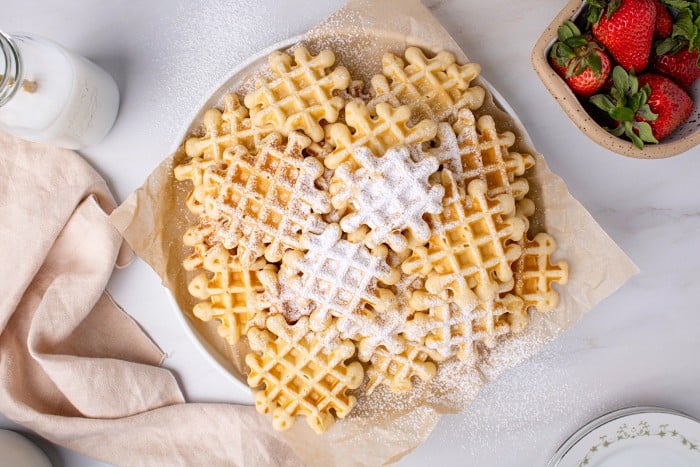 This method is the best of all worlds. It heats quicker than an oven, and you can reheat quite a few at the same time. Similarly to the toaster, this method will give your waffles a slightly crispy edge.
To reheat waffles in the toaster oven, place them on the rack or a small sheet pan. They can overlap but should not be stacked on top of each other. Heat at the lowest setting for about 3 minutes if fresh, and 5 if frozen.
Pros: Heats more quickly than the oven and still gives you that crispy edge.
Cons: Each toaster oven is different, so cooking times will vary.
Try this recipe: If you're having a gang of kids over for a sleepover, then you can make a double batch of these mochi waffles and easily reheat them in the oven.
Tips for Storing Leftover Waffles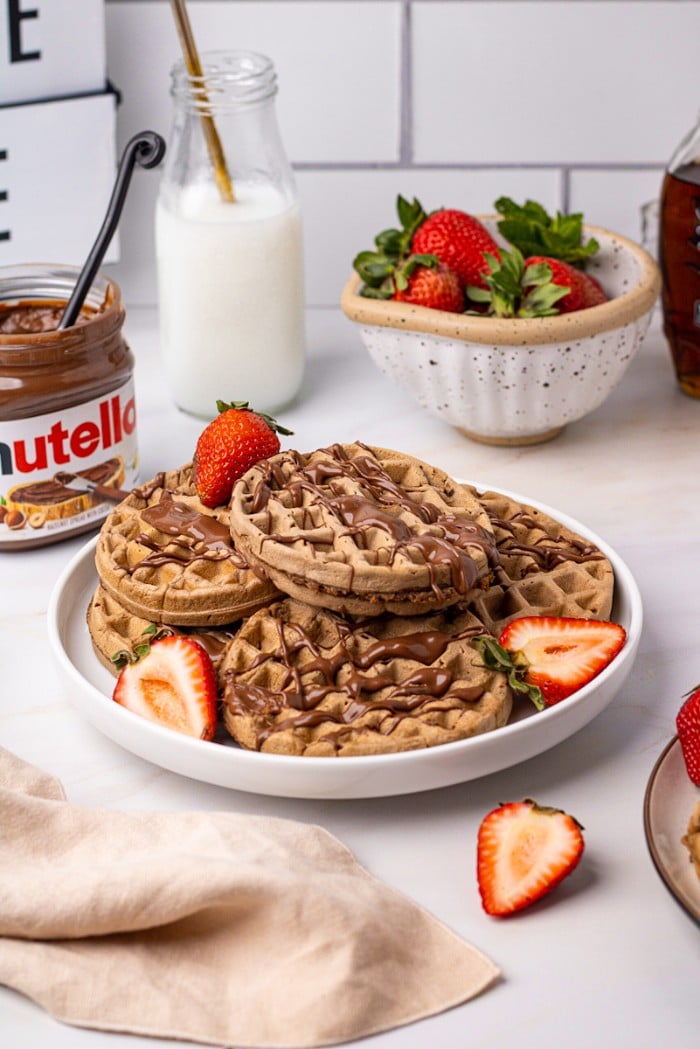 Odds are you had a box of frozen waffles in your freezer at some point growing up. That's because waffles are single-handedly one of the best breakfast foods around, and they are also incredibly easy to freeze.
Here are a couple of tips to make freezing leftover waffles quick and easy:
Freeze them separately before placing in your sealed container
When you buy frozen waffles from the grocery store, odds are they were flash-frozen before being packaged together. The reason is that just about anything you place in the freezer while it's still fresh will freeze together into a giant blob.
To combat this, freeze your waffles individually on a plate or baking sheet that will fit in your freezer. Line them up in an even layer and freeze for about 2 hours, then package as you'd like.
Separate your waffles with parchment paper before freezing
Alternatively to freezing them individually, you can place a small square of parchment paper in between each waffle. This will help to keep them separated as they freeze.
Keep toppings separate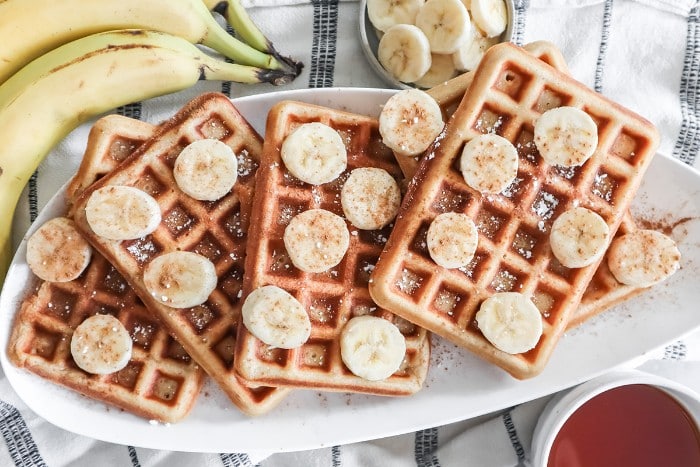 As delicious as these banana waffles are, you wouldn't want to freeze them with the banana topping. This will make it hard to reheat your waffles, as the bananas will get overcooked and mushy.
Instead, keep the toppings separate until you've reheated your waffles. This has the added bonus of allowing you to put any toppings you like on your waffles, over and over again.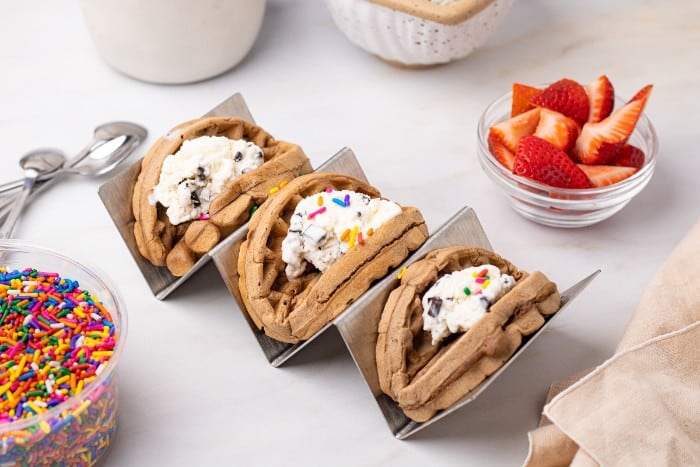 Whether it's for breakfast, brunch, or a special treat (like these waffle tacos), there's always an excuse to break out the waffles. No matter what equipment you have at your disposal, you can easily reheat waffles and enjoy them day after day.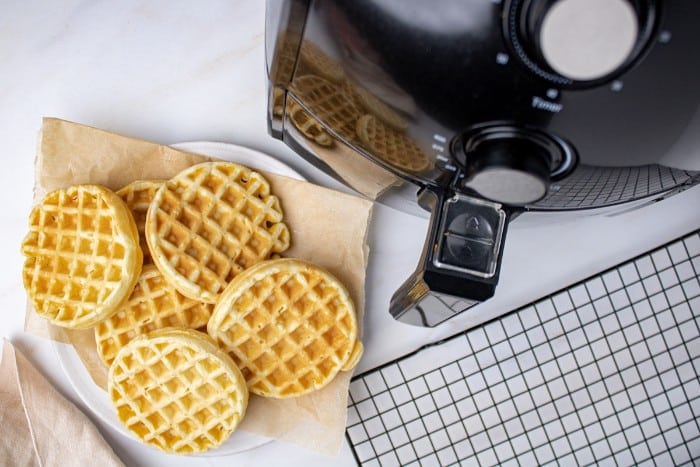 While all of these methods are convenient, the best and quickest method may depend on how much time you have, the type of waffles you're reheating, and your preferred method for achieving that perfect balance between a warm, soft interior and a crispy exterior. For instance, the oven might be a better option if you have more time and want to heat a larger batch, while the toaster would be best for quick, single servings.
However, no matter which method you choose, remember to serve your waffles with your preferred toppings. Nothing enhances the taste of waffles, whether they're Belgium waffles, hash browns, or even frozen pancakes, like a drizzle of maple syrup, a sprinkle of powdered sugar, or a dollop of fresh whipped cream.
No matter what your waffle preferences are, remember that there are different ways to enjoy them, and every method has its own advantage. The best method is ultimately the one that works best for you and suits your taste and time availability. With a bit of practice and experimentation, you're sure to find the perfect method to enjoy your delicious waffles. Happy reheating!
Still hungry for more? Be sure to follow Golden Truffle on Instagram and Pinterest for more thorough answers to your questions, plus all the waffle recipes you can handle.
Can you reheat a cooked waffle?
You sure can. It's super easy to reheat a cooked waffle, whether it's fresh or frozen. Cooked waffles can be reheated in the toaster, air fryer, oven, or even the toaster oven.
Can you make waffles ahead of time and reheat them later?
You can, and you should. Why break out the waffle iron every time you want one? Making a double batch of your favorite waffles and storing the leftovers is the easiest solution to satisfying your waffle craving.
Can a waffle be eaten the next day?
Yes. Waffles can be stored in the fridge for up to one week, or in the freezer for up to 6 months. That being said, leftover waffles should be kept in an airtight container in either the fridge or the freezer, not the counter.
---
Here are a few waffle recipes you might enjoy!
Olivia has been in love with all things food and libations for nearly a decade. When she's not cooking up new recipes, she enjoys bikepacking, wine tasting, crocheting, and traveling in her camper van up and down the Pacific Northwest.