If there's one dish that fully encapsulates what brunch is all about, it's chicken and waffles. Chicken and waffles combine the best of both worlds, with savory, crispy fried chicken atop fluffy, buttery waffles.
If you're curious as to what goes with chicken and waffles, then keep on reading to learn what a few simple side dishes will do to seriously elevate an already decadent brunch meal.
Eggs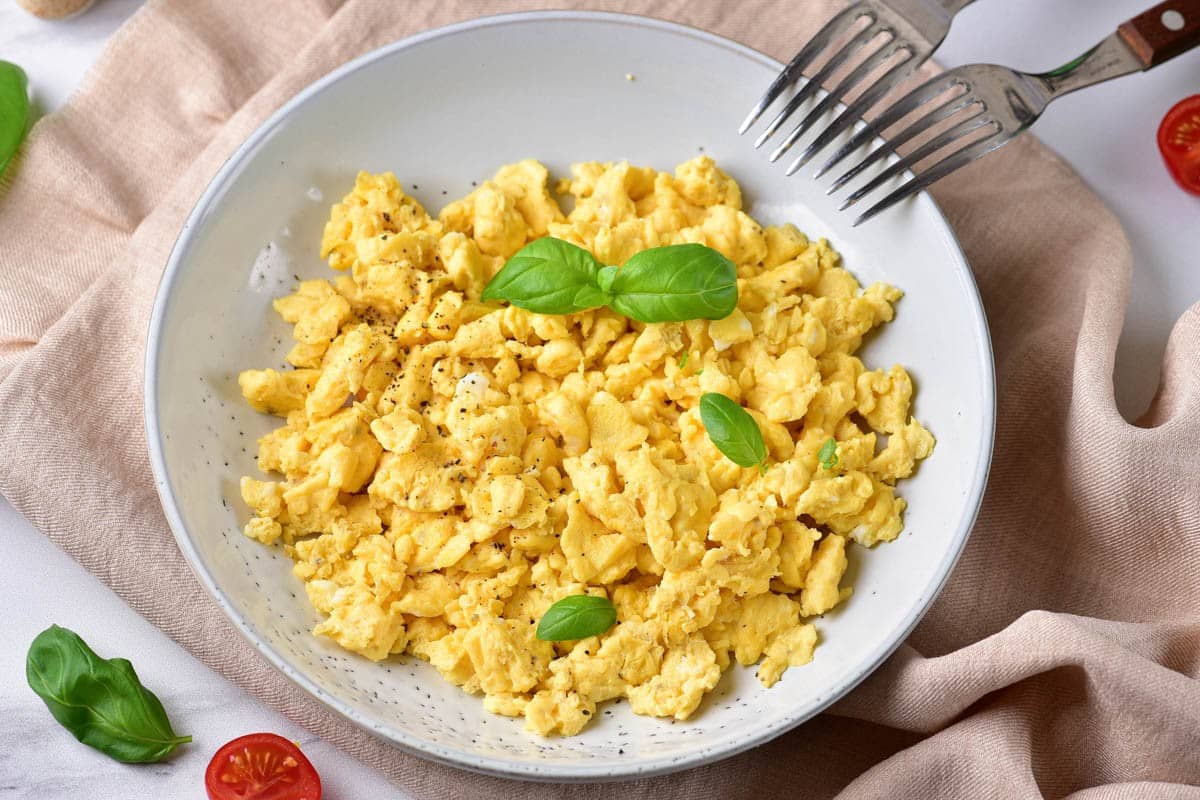 Eggs are the most versatile dish you can serve for brunch. They can be the main course or the perfect side dish. Serving up a side of eggs alongside your chicken and waffles is the perfect way to round out your plate.
The best part about serving up eggs is that you can have them exactly as you like them, and you can make a whole dozen in very little time. Whether you prefer overhard eggs or ooey-gooey soft-boiled eggs, you can have it your way if you pair eggs with chicken and waffles.
Bacon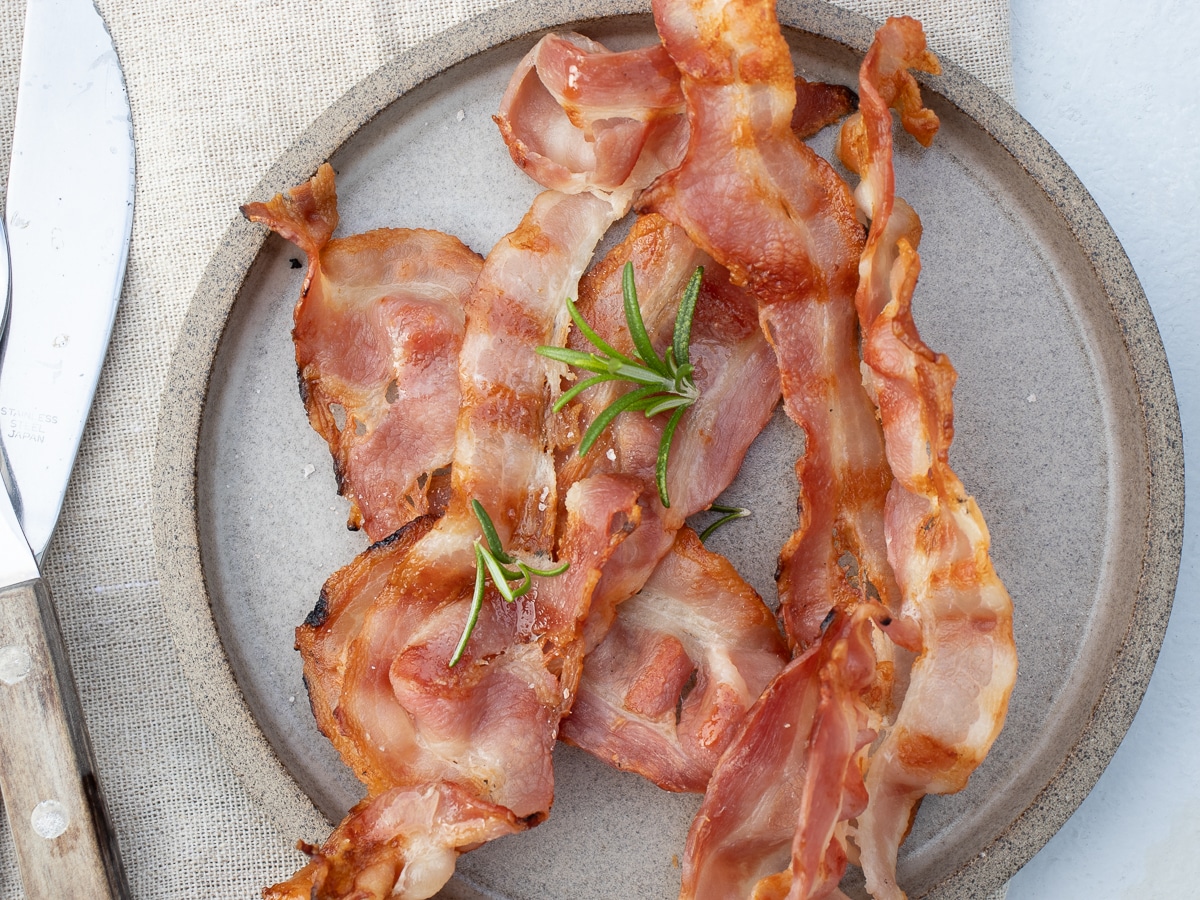 Bacon really is the answer to most of life's questions, especially when it comes to what to serve alongside chicken and waffles. Crispy bacon pairs well with equally crispy fried chicken, and the savoriness complements the sweetness of the waffles.
Whether you like turkey bacon or smoked bacon, you can quickly and easily cook up a plate of bacon in minutes and serve it alongside your chicken and waffles. If you really wanted to get fancy, you could even use leftover bacon bits to make bacon butter.
Potatoes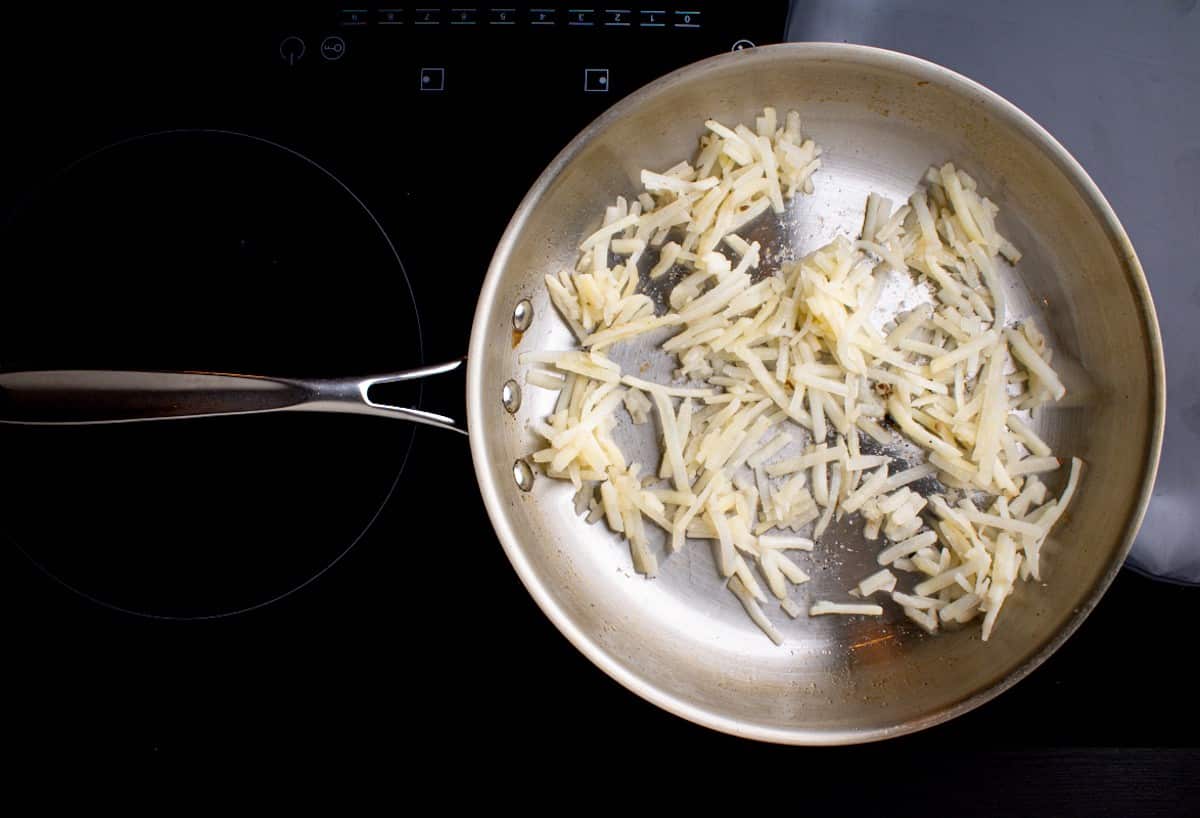 No matter how you slice it, potatoes are always a great side dish. Whether it's for breakfast, brunch, lunch, or dinner, potatoes can be made a million different ways and enjoyed with everything.
When it comes to pairing potatoes with chicken and waffles, homefries or hashbrowns are two obvious choices. You can season them with whatever herbs are in your chicken, or you can keep them simple with just some salt and pepper.
That being said, don't be afraid to experiment and serve up potatoes however you like.
Gravy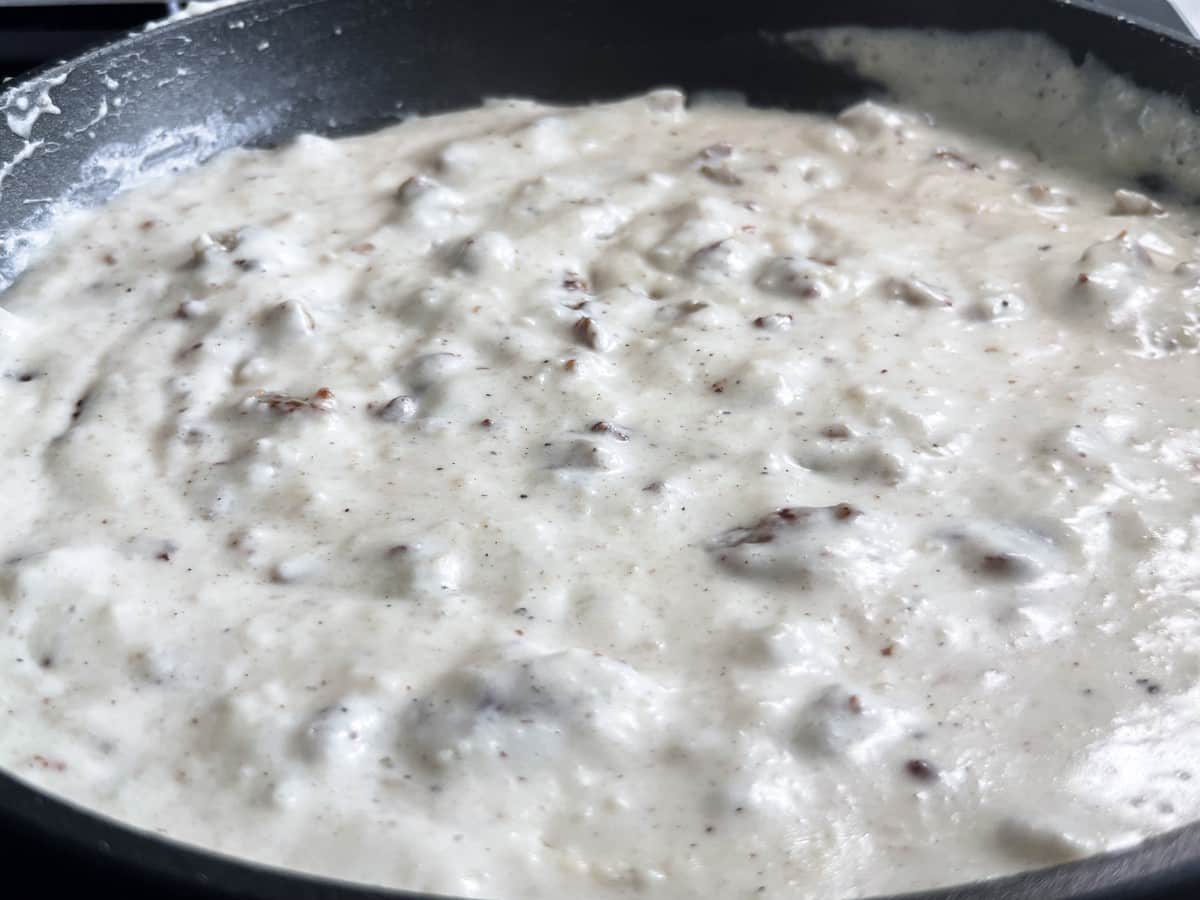 As good as biscuits and gravy are, honestly gravy might pair even better with chicken and waffles. After all, the waffles soak up all those rich flavors, and the savory, herbaceous gravy enhances the flavor of the fried chicken.
Regardless if you're gluten-free or not, this gluten-free gravy recipe explains how to make perfectly balanced gravy that will pair wonderfully with your next brunch of chicken and waffles.
Fruit Compote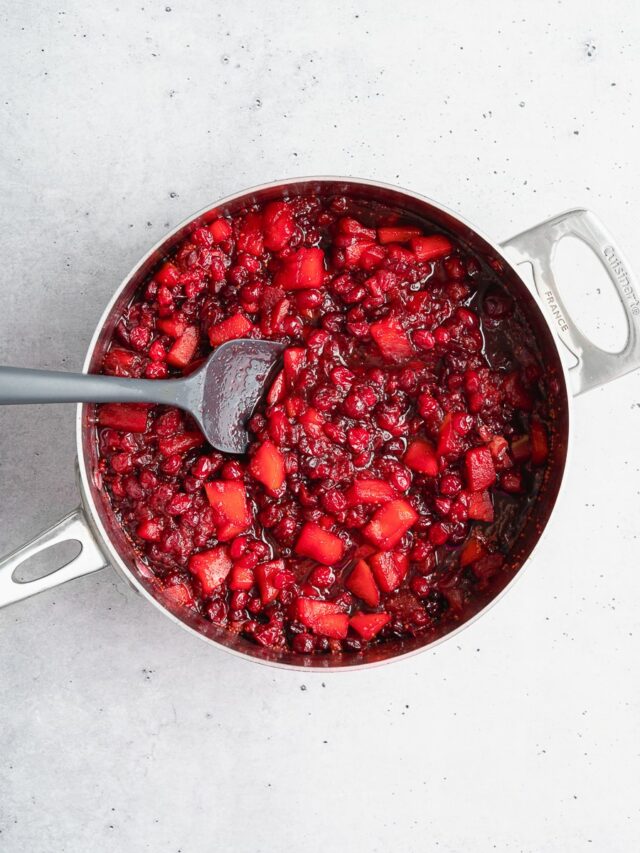 Most of the side dishes mentioned above are on the savory side. If you're more of a sweet tooth person, then you should emphasize the sugariness in the waffles by opting for a sweeter side dish.
Making a warm-spiced, stewed fruit compote is the perfect sweet pairing for your chicken and waffles. This cranberry apple compote is a great sweet and tart recipe to serve as a side to your chicken and waffles. It will enhance the sweetness of the waffles, while also cutting through the fatty richness of the fried chicken.
Grilled Vegetables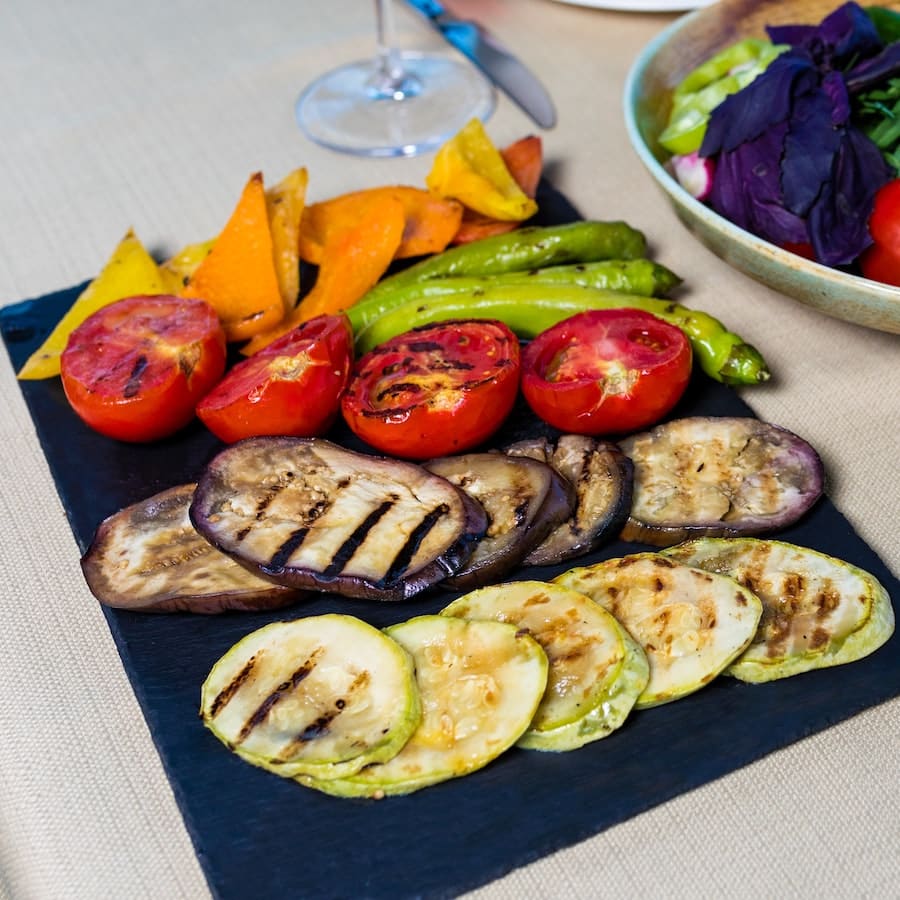 If you're looking for a side dish that's a bit more on the lighter side, then pair up your chicken and waffles with either grilled or roasted vegetables.
This is a pretty easy side dish that can be made last minute, even if it's just quickly sautéeing spinach or broccoli. You'll also get the added bonus of feeling like you made a healthy, but still delicious, compromise.
Cheesy Grits
Grits add texture and absorb whatever flavors they are paired with, which is great when you're serving up such a richly flavored dish as chicken and waffles.
Serving up a plate of warm grits that are loaded with buttery and cheesy flavor will pair wonderfully with chicken and waffles. Grits also have the added benefit of being quick to make.
Sweet Potato Casserole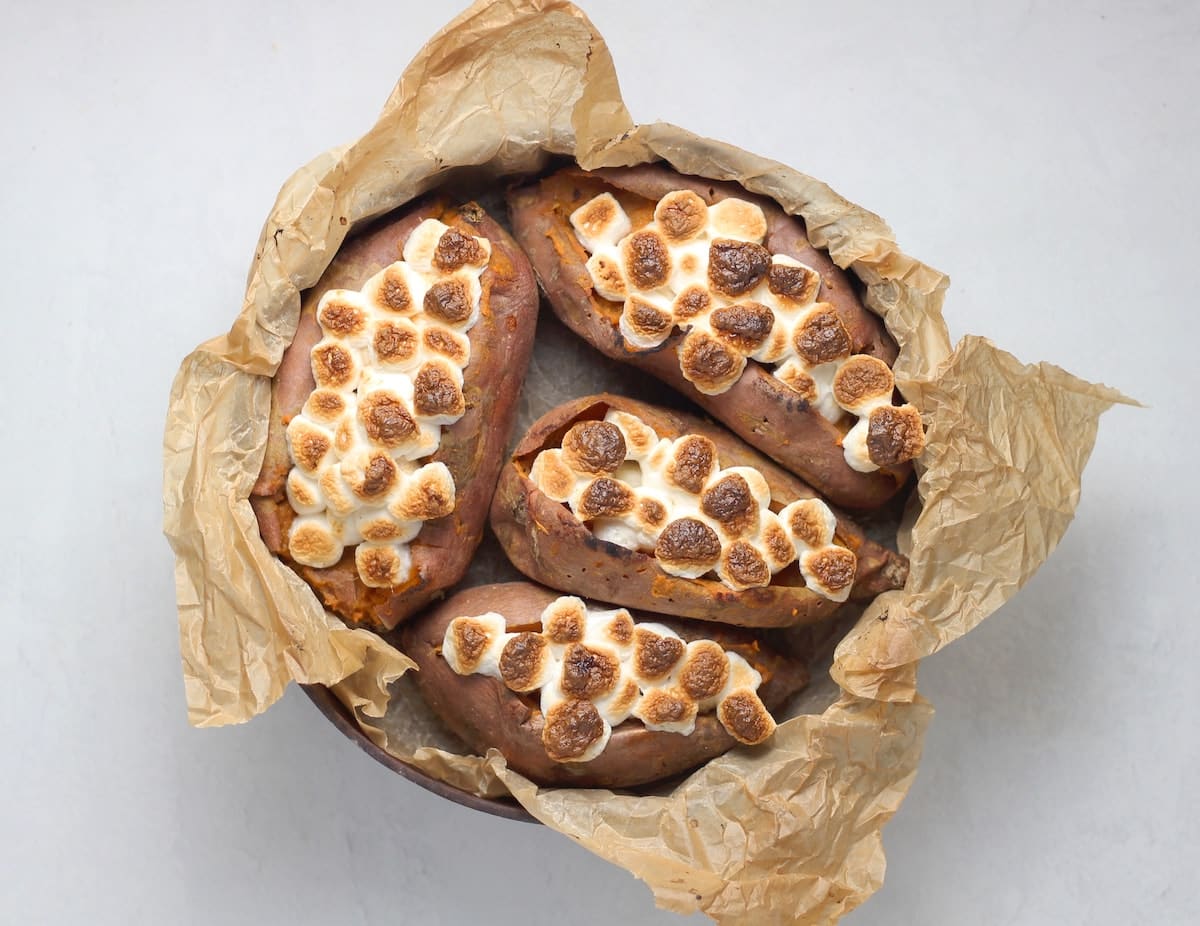 If you really want to show off your brunch chef skills, then serving up a big plate of sweet potato casserole will definitely impress your guests. It's the perfect combination of savory and sweet, and just like the grits, you can add whatever seasonings you want.
If your fried chicken has any sort of herbs baked in, then you'll want the same (or similar) herbs to be in your sweet potato casserole. A little bit of cheese never hurt either, right?
Ice Cream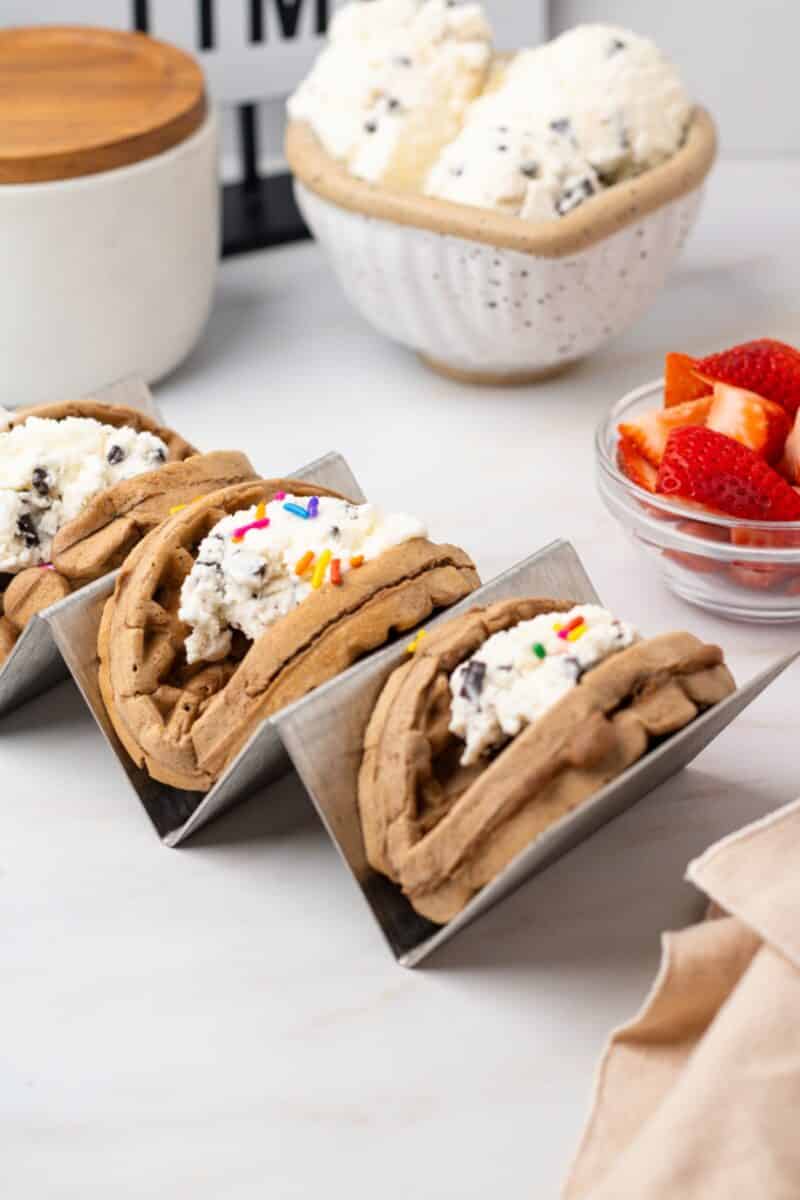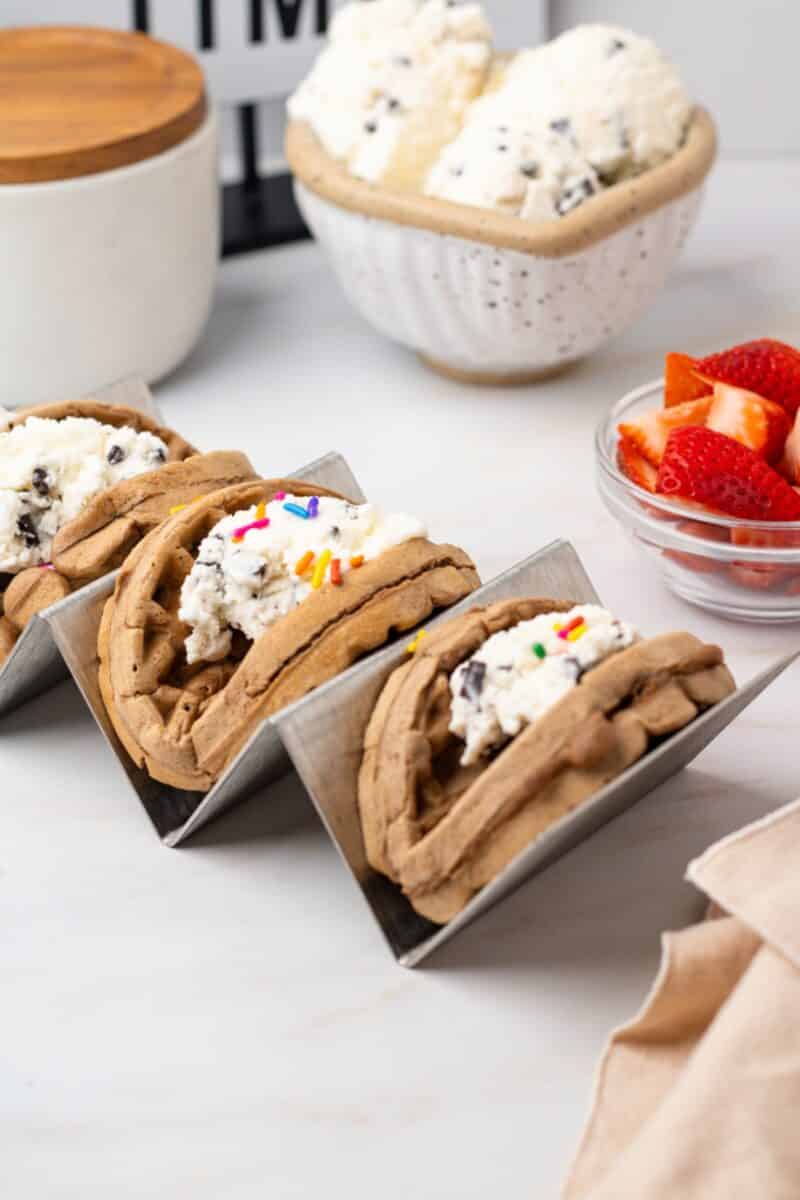 Two words to convince you that ice cream is the perfect side dish: waffle tacos. Seriously, these things turned out so good, it only makes sense that you should pair ice cream with pancakes too.
Serve up a warm plate of your favorite chicken and waffle recipe with a big scoop of your favorite flavor of ice cream, and get ready to be drowned in compliments from your guests.
If you're already celebrating, kick it up a notch and give your guests this option.
Arugula Salad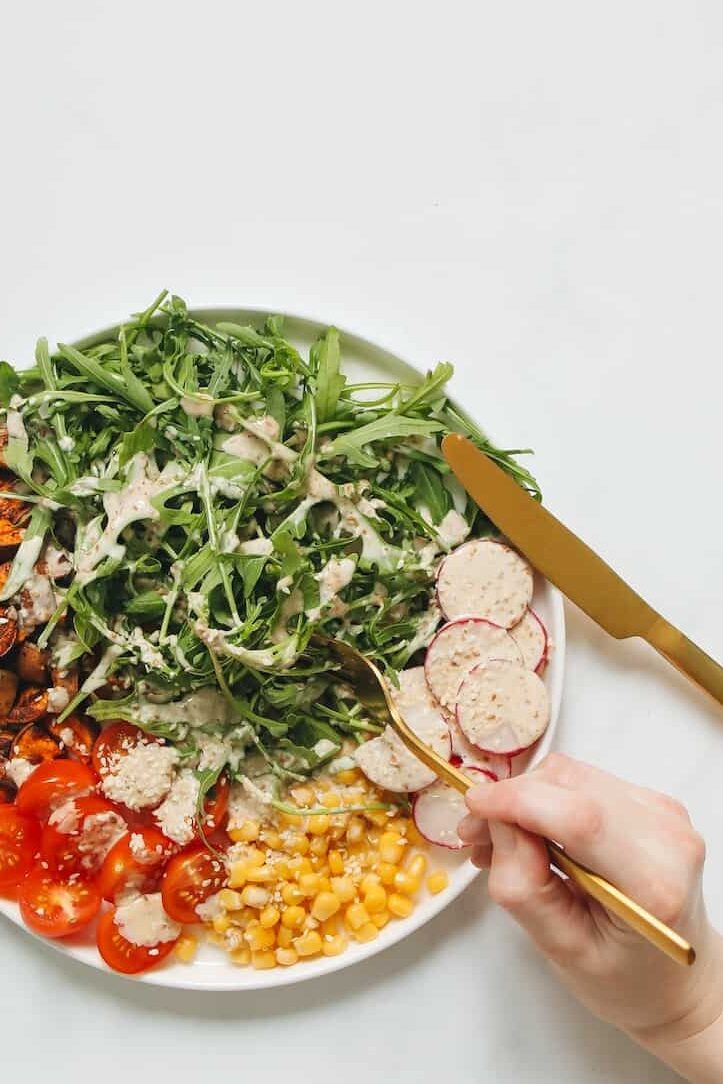 Another light option that pairs nicely with chicken and waffles is an arugula salad. Arugula has a pleasant peppery, slightly bitter taste that accentuates the sweetness of the waffles. Pairing your salad with a light vinaigrette will also complement the fatty richness of the fried chicken.
When building your salad, keep it simple and stick to the greens, a light vinaigrette, and pickled red onions or dried cranberries. If arugula isn't your thing, then any green salad that's lightly dressed with a vinaigrette will pair equally as well.
Mimosas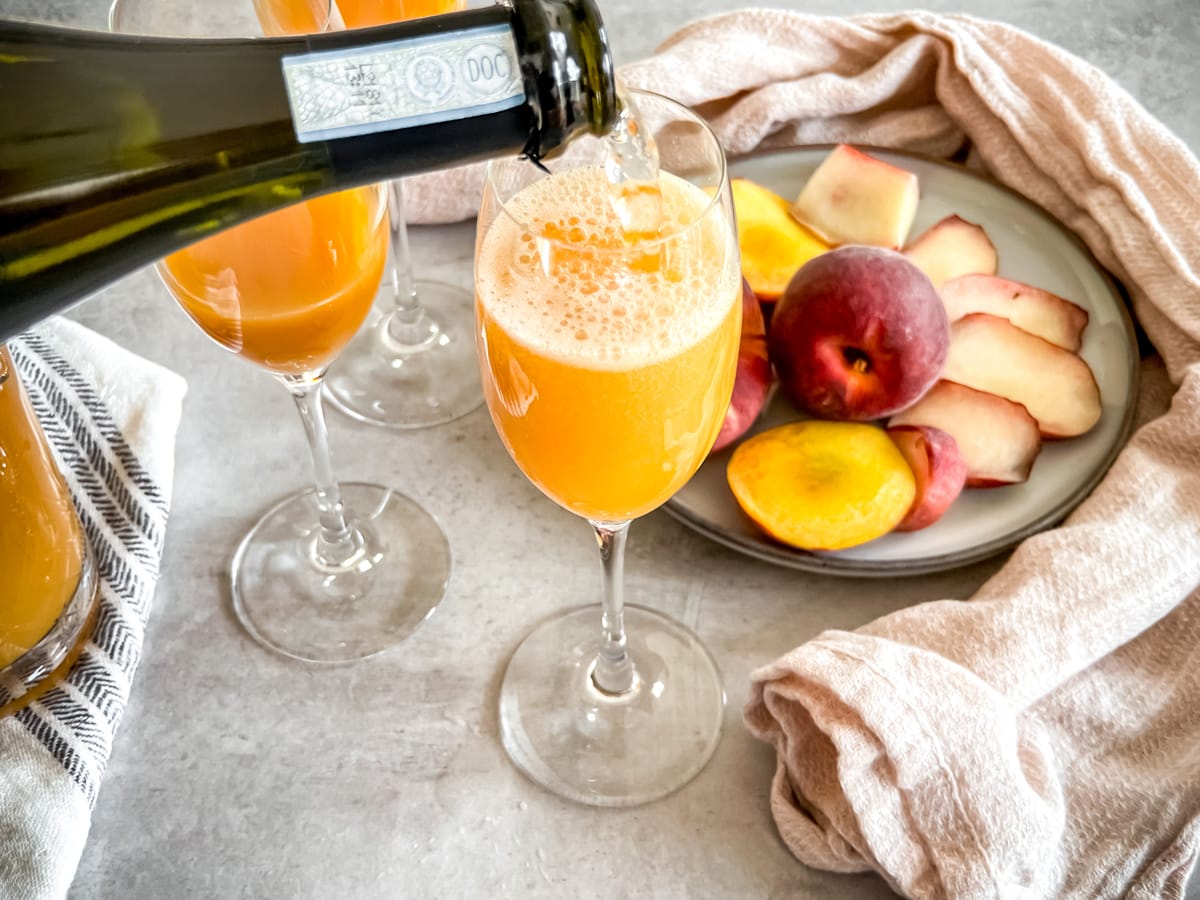 So this isn't technically a side dish, but arguably it's the best brunch item to serve alongside your chicken and waffles. After all, who doesn't want a big plate of chicken and waffles along with a celebratory sparkling beverage?
This peach mimosa is the perfect sparkling beverage to pair with chicken and waffles. The sweetness from the peaches will balance nicely with the waffles, while the acidity from the sparkling wine will liven up the heaviness of the fried chicken.
---
When it comes to brunch, chicken and waffles are the perfect embodiment of a decadent and rich brunch feast. After all, it's rich, sweet, savory, and perfect for a special occasion, which is exactly what brunch is all about.
Whether you want to keep it simple with just a drizzle of honey, or you want to go all out with homemade sweet potato casserole, having options is an essential part of being a good brunch host.
Still hungry for more? Keep following Golden Truffle on Instagram and Pinterest for all the awesome brunch recipes you can handle.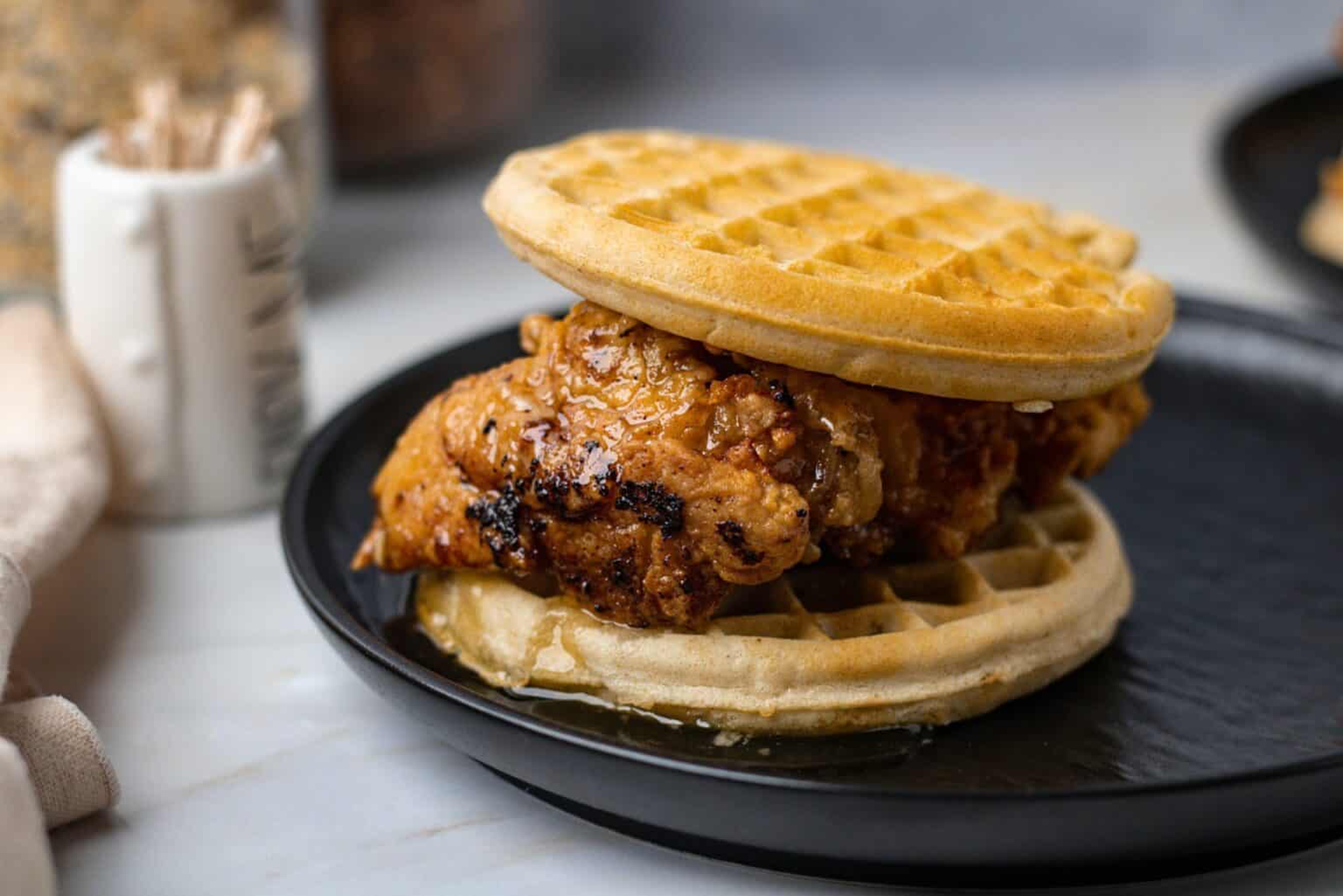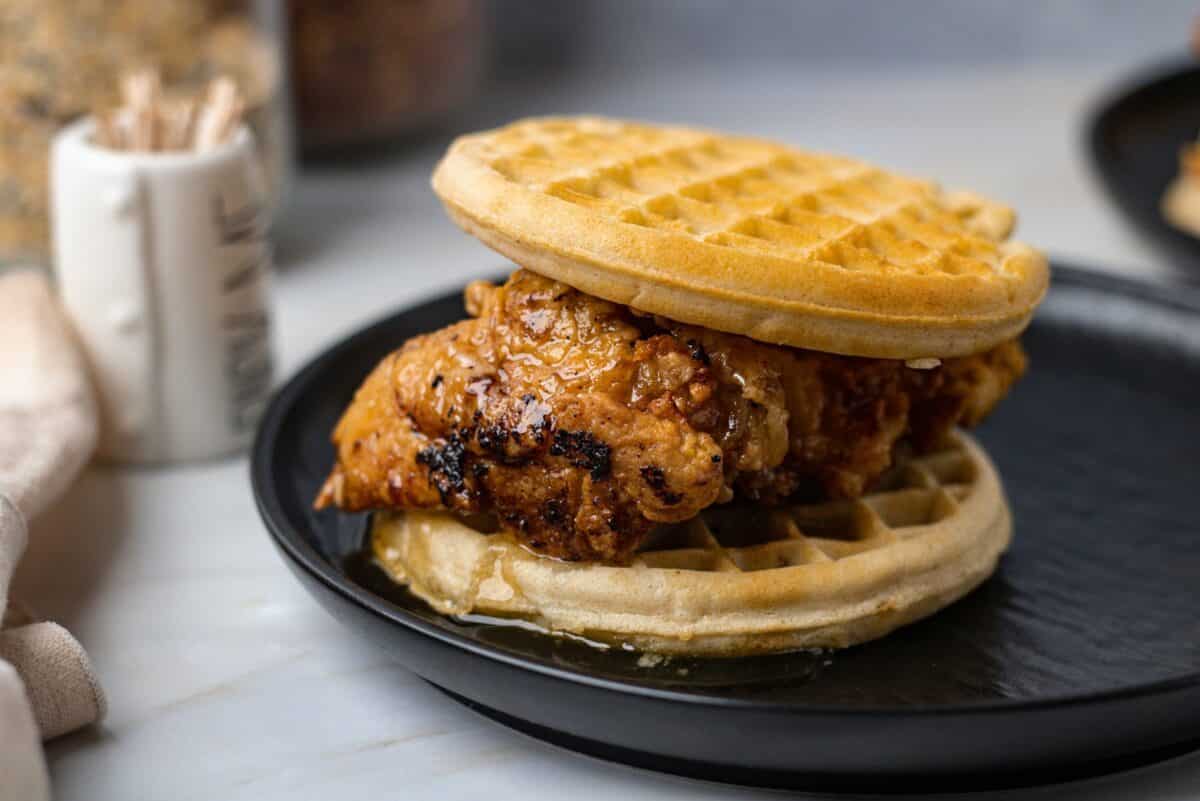 How should chicken and waffles be served?
Chicken and waffles should be served warm, ideally with either honey, maple syrup, butter, or hot sauce. Additional sides can include eggs, bacon, potatoes, fruit compote, or even grilled veggies. 
What goes good with waffles on the side?
If you have a sweet tooth, then sweet sides like a fruit compote, whipped cream, or even ice cream would make excellent sides to waffles. If you prefer a savory contrast, then serve up waffles with eggs, bacon, sausage, or fried chicken. 
What complements waffles?
Waffles are versatile and can work with butter, honey, maple syrup, jam, peanut butter, whipped cream, and even cheesy eggs or crispy bacon.
Olivia has been in love with all things food and libations for nearly a decade. When she's not cooking up new recipes, she enjoys bikepacking, wine tasting, crocheting, and traveling in her camper van up and down the Pacific Northwest.