Picture this: you're getting breakfast ready for your family and you have everything staged in order to make a huge stack of pancakes. The batter is waiting, the toppings are prepared, and the skillet is melting the butter. But, just as you go to pour that first pancake, you notice your batter is far too runny.
Next thing you know, you have a mess on your hands. Of all the problems you might face while making pancakes, runny batter is hands down the most common issue.
Thankfully, there's no need to dump everything out and start over. No matter what the issue is, there's always a way to troubleshoot your pancake batter to thicken it up and have breakfast on the table in no time.
Add More Flour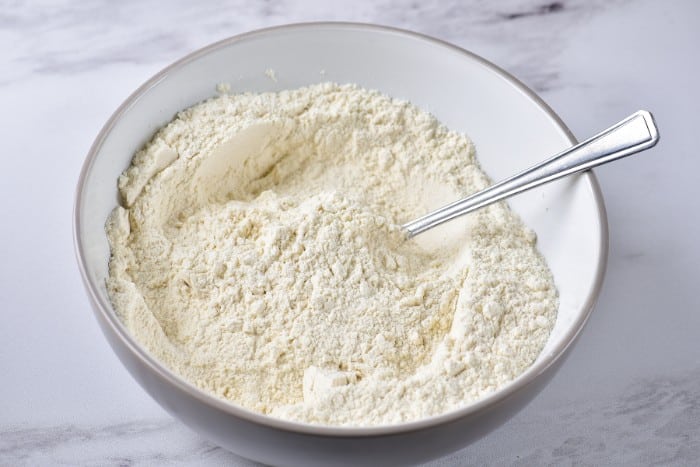 If you were to compare the amount of flour you get from scooping straight out of the bag versus measuring by weight, you would notice a drastic difference in the amount of flour you get. This is because flour that's scooped straight out of the bag is packed down, thus the actual amount of flour you get might be more than if you measured by weight.
Inconsistencies like this can lead to not enough flour being added to your batter. To solve this problem, you can add flour in small increments until you have sufficiently thickened your batter.
To add flour, use a sifter and sift one tablespoon of flour at a time until your batter is properly thickened.
Now, what does perfectly thickened pancake batter look like? Ideally, a perfect pancake batter will drip smoothly and slowly off a spoon. Not quickly, and not in large clumps.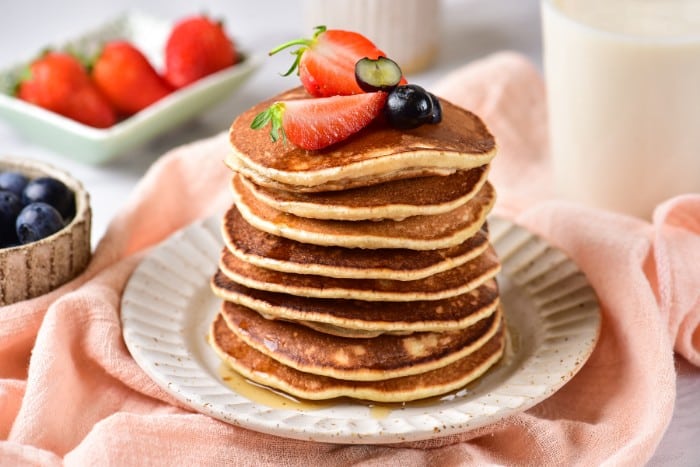 Try this recipe: These oat milk pancakes are wonderfully easy to make and require just 8 simple ingredients.
Refrigerate Batter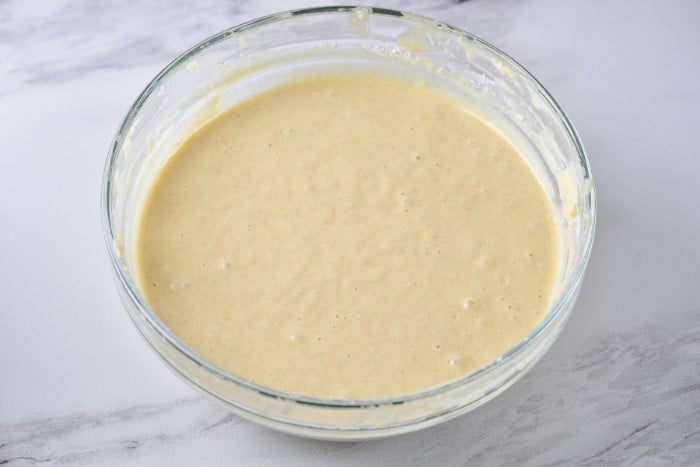 It's possible that your pancake batter may be runny if the liquid ingredients aren't sufficiently cold when added to your dry ingredients. This can make your batter warm, which will certainly lead to runny pancake batter.
Thankfully there is an easy solution to this problem, though it does require a bit of patience. If you think your batter is too runny, try placing it uncovered in the refrigerator for at least 30 minutes, or up to an hour.
Do not place your pancake batter in the freezer, as this won't quicken the process. You'll also run the risk of freezing your batter or creating ice crystals that will melt, leading to runny batter yet again.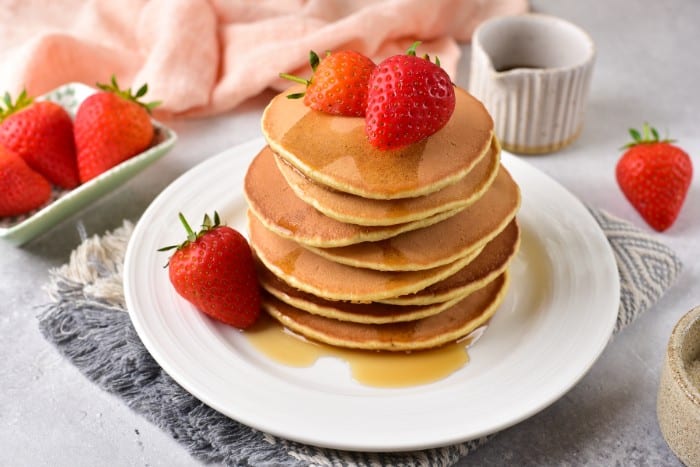 Try this recipe: These sweet cream pancakes are made with the perfect balance of wet and dry ingredients, though a little time in the fridge certainly won't hurt.
Add Nut Butter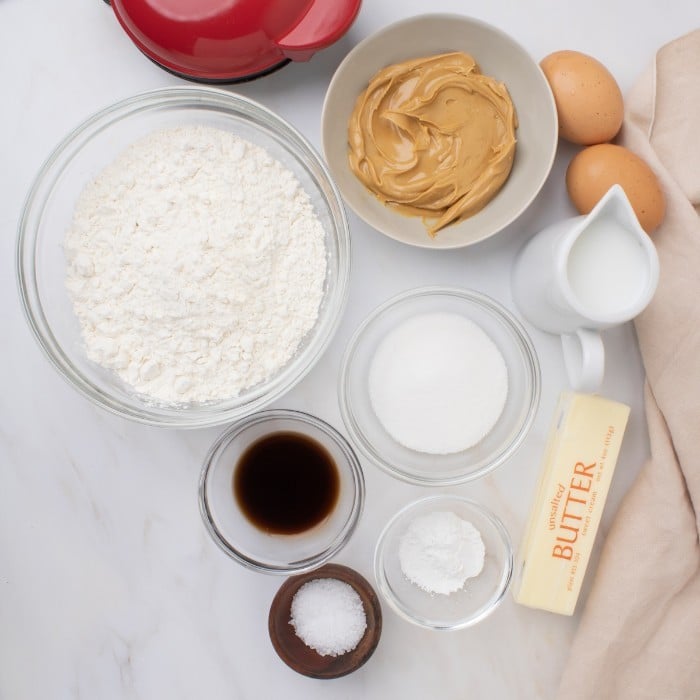 Even if your pancake batter isn't too runny, you may still want to add ingredients to create a thicker and richer pancake. Adding your favorite nut butter to your batter is an excellent way to not only incorporate more flavor, but also to add more protein, thicken your batter, and make it richer.
To thicken your batter using nut butter, add ¼ cup of your favorite nut butter per 4 pancakes. Make sure your nut butter is well mixed in so it is spread evenly among each pancake.
Alternatively, you can opt for powdered peanut butter to cut back on fat but still add flavor and protein. If pursuing this route, do not reduce the flour in place of peanut butter powder. Instead, add ¼ cup of peanut butter powder per 4 pancakes.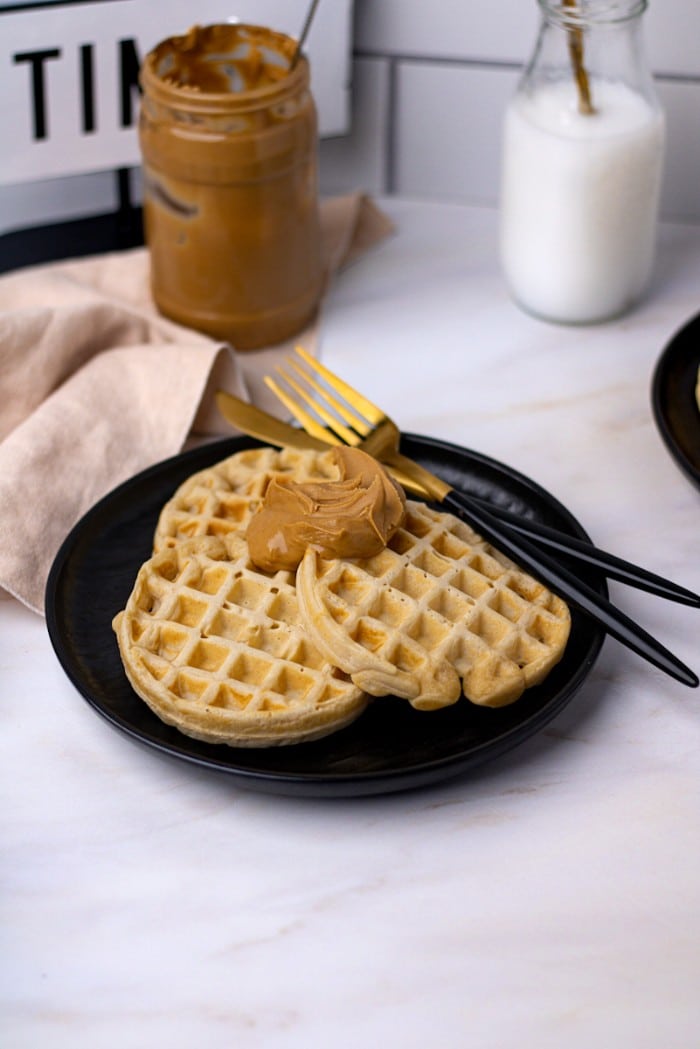 Try this recipe: These peanut butter waffles are made with just enough peanut butter to add richness and flavor, without weighing you down.
Add Oats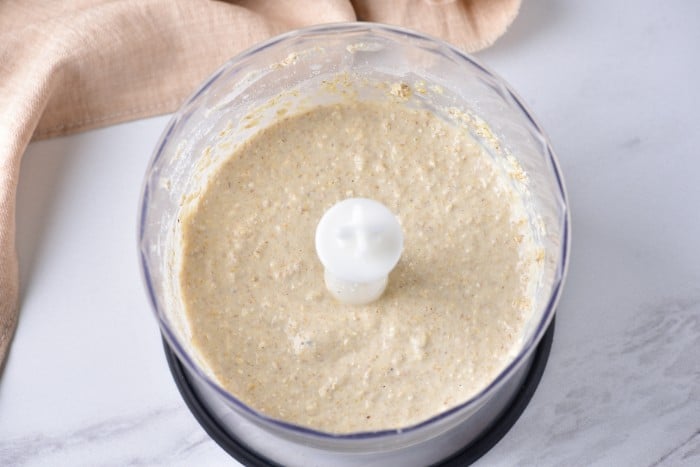 Adding oats to your pancake batter is a great way to thicken your batter while also adding a pleasant chewy texture and protein. In fact, oats are a unique ingredient in that they can be substituted for flour in pancake batter, provided there is enough liquid and something to bind the pancake batter, such as eggs.
To use oats to thicken pancake batter, add 2 tablespoons of oats per pancake, or ¼ cup per 4 pancakes. Either instant or quick oats are best, as these will quickly absorb the moisture in the pancake batter.
You can use rolled oats, but if so it is best to let your batter rest in the fridge for at least 20 minutes before making pancakes, so the rolled oats have time to soak up some liquid.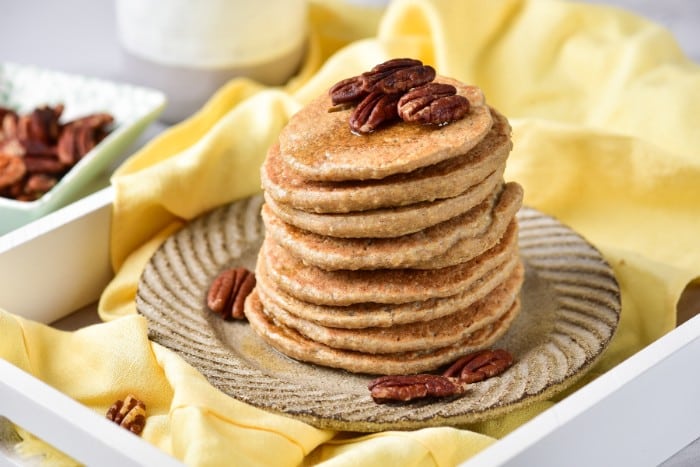 Try this recipe: These 3 ingredient banana oatmeal pancakes could not be easier to make, and the results are healthy, fluffy pancakes that are packed with fiber.
Add Mashed Banana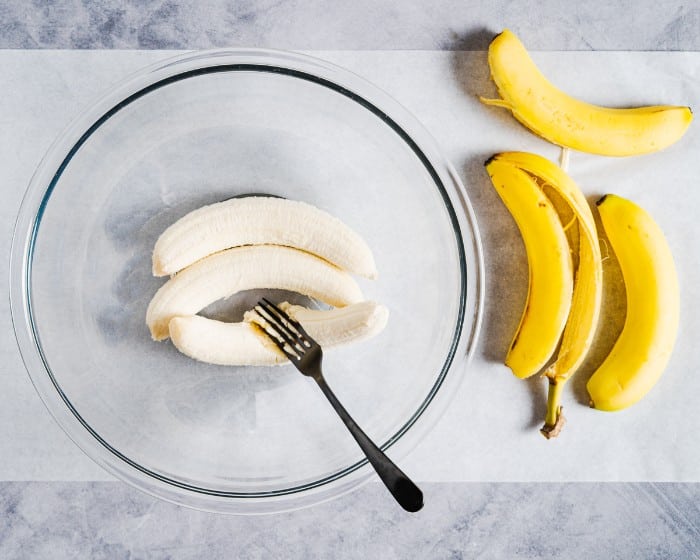 Adding mashed banana to thicken pancake batter is an excellent choice if you love banana-flavored pancakes. You'll also get the added benefit of antioxidants and potassium, making for a nutritious start to the day.
To add bananas to your pancake batter, mash 1 banana per 4 pancakes and incorporate it into your batter. Use brown bananas, as they will mash easily, plus they are sweeter.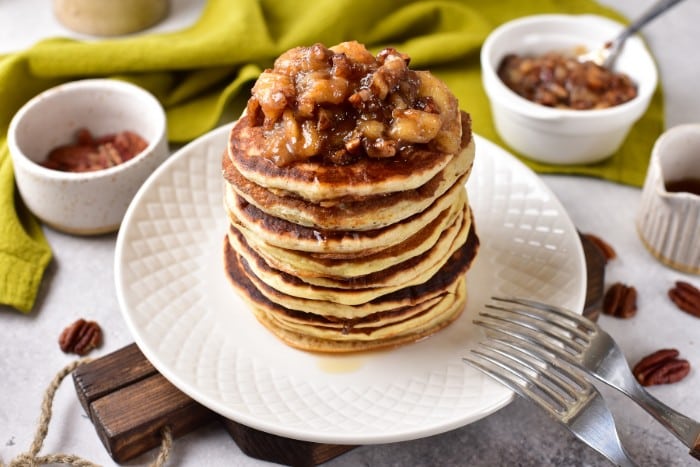 Try this recipe: These bananas foster pancakes turn basic bananas into a caramelized banana foster topping.
Add Cookies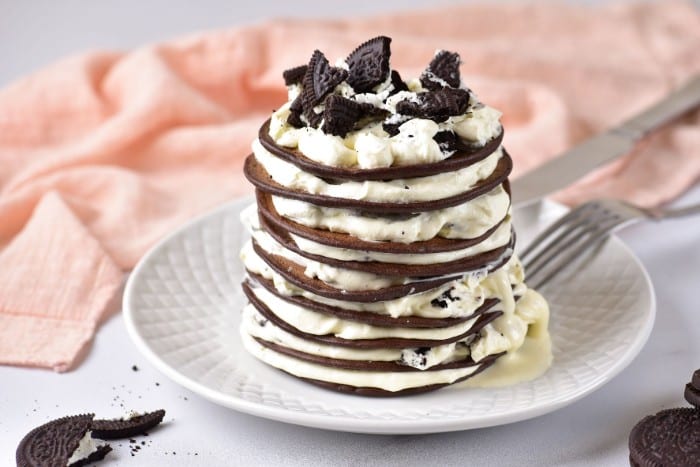 Now, this is a bit of an unorthodox thickening method, but arguably it is the most delicious. Adding cookies, or cereal, to pancake batter will both thicken it, as well make it taste like… well, whatever you want it to.
Adults and kids alike will get a kick out of this breakfast hack. To add cookies or cereal to your pancake batter, mash-up ¼ cup of cookies or cereal per 4 pancakes and incorporate it into your batter. Bonus points if you top your pancakes with leftover cookie crumbs.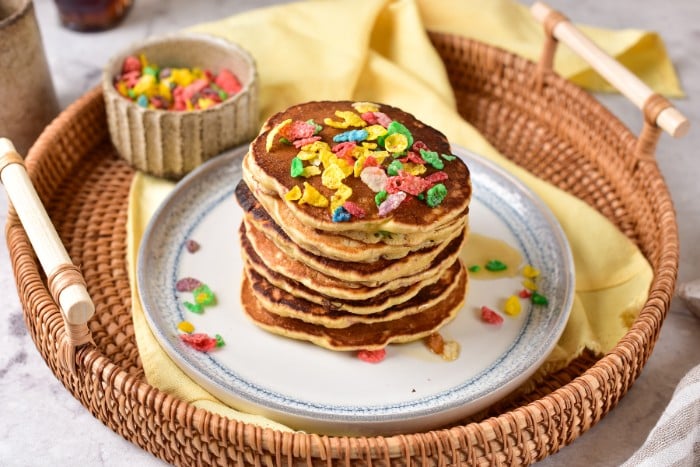 Try this recipe: You can't go wrong with either these Oreo pancakes or these Fruity Pebbles pancakes, both of which have the star ingredient incorporated in the batter. This a fun, sneaky way to thicken your batter while adding tons of flavor.
Nothing can ruin a well-planned breakfast as quickly as a messy batch of runny pancake batter. Luckily there are ways to solve the issue that will not only thicken your pancake batter but can also make your pancakes turn out better and even add extra nutrients.
Be sure to follow Golden Truffle on Instagram and Pinterest for more answers to your brunch inquiries, plus plenty of brunch recipes to keep you busy all year long.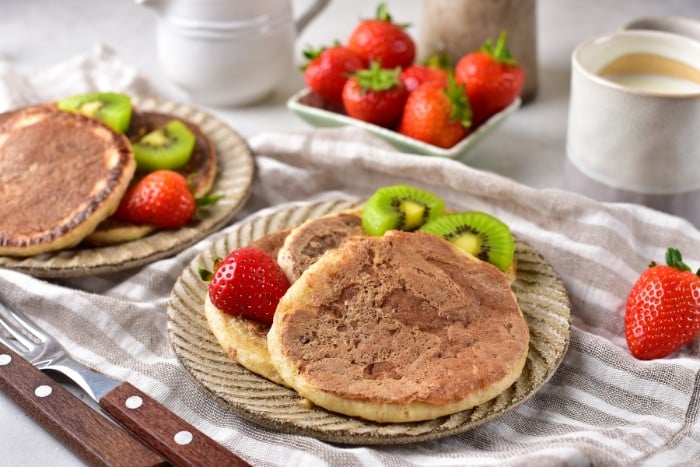 How can I thicken pancakes without flour?
There are plenty of ways to thicken pancakes without flour, including using gluten-free flour substitutes (ex. chickpea flour, almond flour, coconut flour, etc.), refrigerating your batter, and adding nut butter, mashed bananas, or oats.
Why is my pancake batter so watery?
Pancake batter may be watery if too much liquid was added, if the batter is too warm, or if there aren't enough dry ingredients added to the batter. Thankfully, refrigerating the batter or adding additional dry ingredients can help to thicken the batter.
Olivia has been in love with all things food and libations for nearly a decade. When she's not cooking up new recipes, she enjoys bikepacking, wine tasting, crocheting, and traveling in her camper van up and down the Pacific Northwest.