These 3-ingredient peanut butter oatmeal balls will keep your taste buds happy and satisfied. In just five minutes flat, you can have a healthy, easy breakfast that's perfect for kids to enjoy, or even as an afternoon pick-me-up.
These oatmeal energy bites are sweet, crunchy, and delicious. With only one of these balls, you will be getting 2 grams of protein, healthy fats, and fiber.
You can make these pb oat balls ahead of time and you'll have a quick breakfast or snack just waiting for you in your fridge for up to 2 weeks.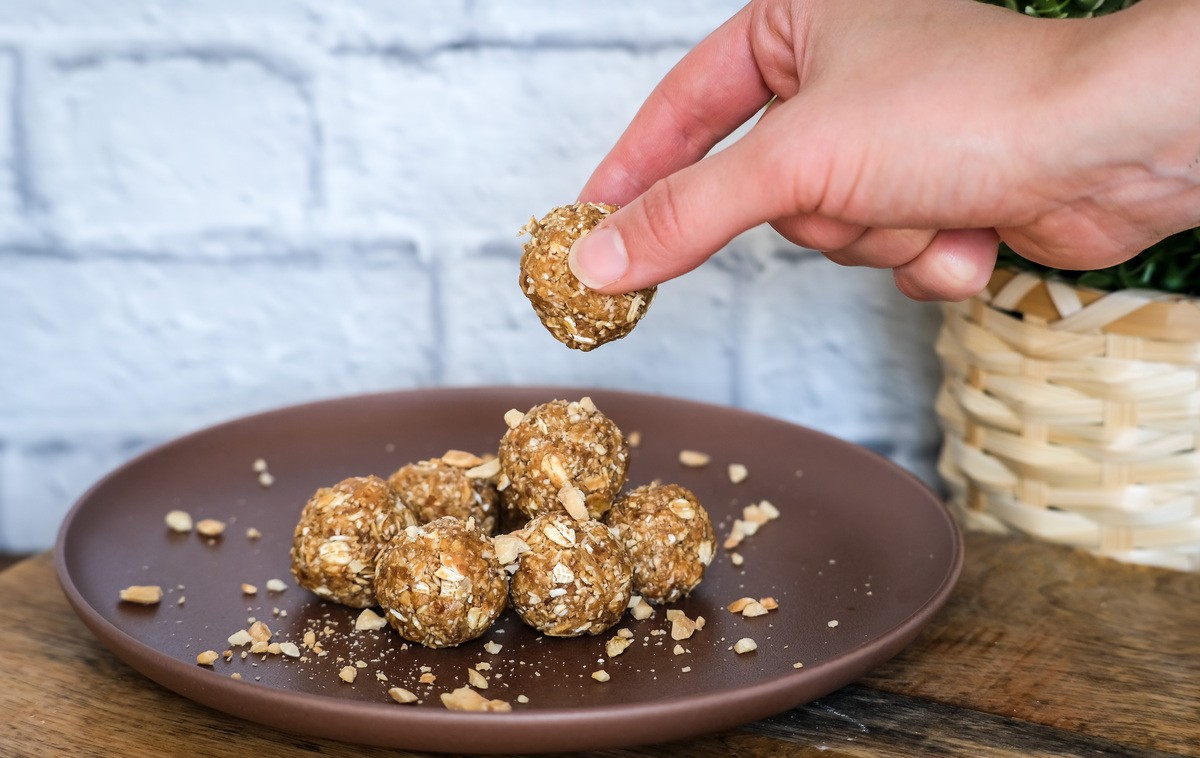 This peanut butter oatmeal balls recipe won't take you more than 5 minutes, and your food processor does most of the work. All you have to do is blend the ingredients, pour them into a bowl, and make little balls with the mixture. It's the perfect breakfast to make with kids, too.
Looking for more oatmeal recipes? Here are other recipes you might enjoy: Peanut Butter and Jelly Oatmeal, Brown Sugar Cinnamon Oatmeal, Air Fryer Oatmeal, and Cinnamon And Spice Oatmeal.
Why You'll Love This Recipe
Simple ingredients, incredible taste: The perfect blend of natural peanut butter, rolled oats, and dates create a unique, mouthwatering flavor. They are perfect for satisfying your sweet craving while providing a nutritious boost.
Quick and easy: This is an easy recipe that requires minimal prep time. You can prepare these oatmeal peanut butter balls within 5 minutes and just let them chill while you get on with your day.
Versatile and customizable: With such a simple recipe, it's easy to add your own twist. Try using almond butter or crunchy peanut butter instead of creamy, or throw in some chia seeds or hemp seeds for extra fiber and protein.
Recipe Ingredients
You'll need the following ingredients to make these peanut butter oat balls: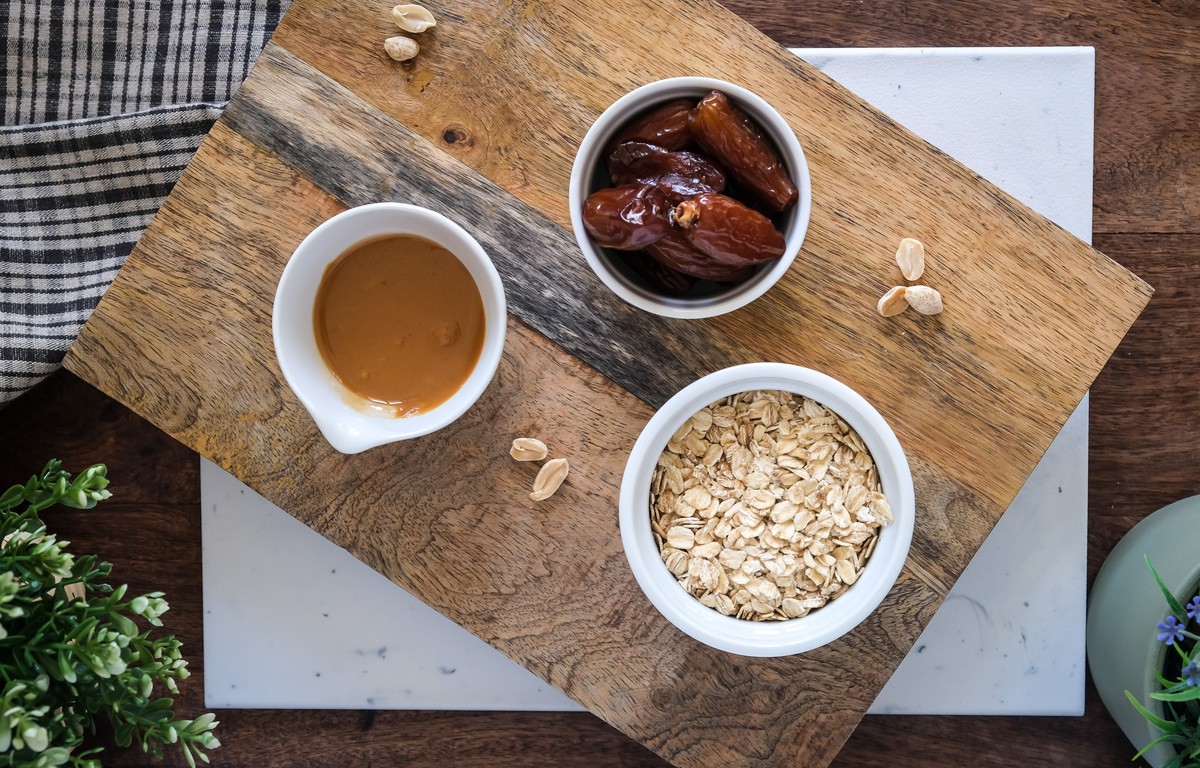 Ingredient Notes
Peanut Butter: Both creamy peanut butter and crunchy peanut butter can be used in this recipe. For a more refined texture, creamy peanut butter is perfect; however, if you prefer a bit of crunch, go with the crunchy variant. You can also substitute peanut butter with almond butter for a different flavor.
Rolled Oats: This recipe is best made with raw oats. Quick oats will also work, but they might change the texture of the oatmeal energy balls. For a gluten-free option, ensure your oats are labeled as gluten-free.
How To Make Three Ingredient Peanut Butter Oatmeal Balls
Start by mixing all the ingredients in a food processor, until you get a nice paste. This shouldn't be too wet or too dry—just wet enough to stick together into a ball.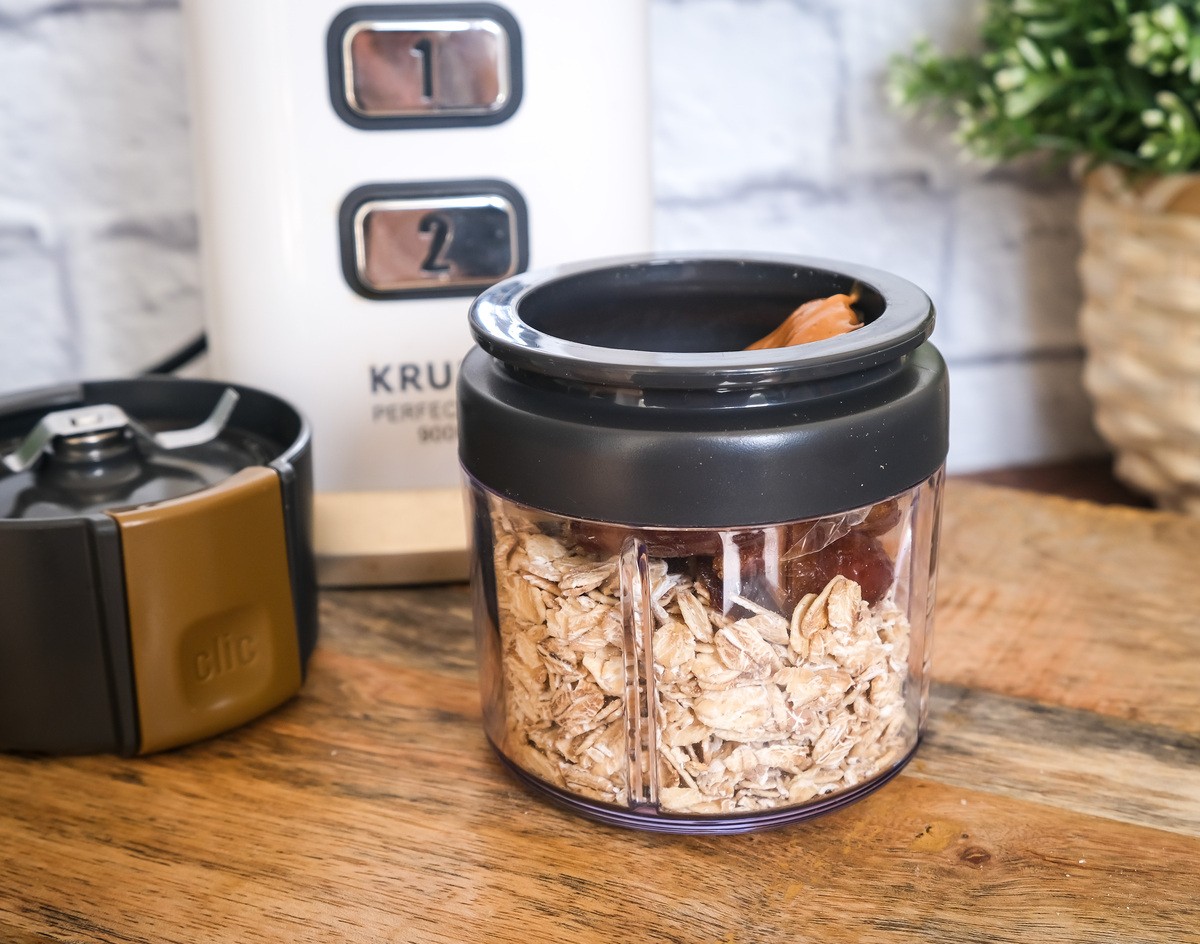 Pour the paste into a bowl and grab about 1 tsp of it into the palm of your hand, forming a small ball. Repeat until you use all the paste.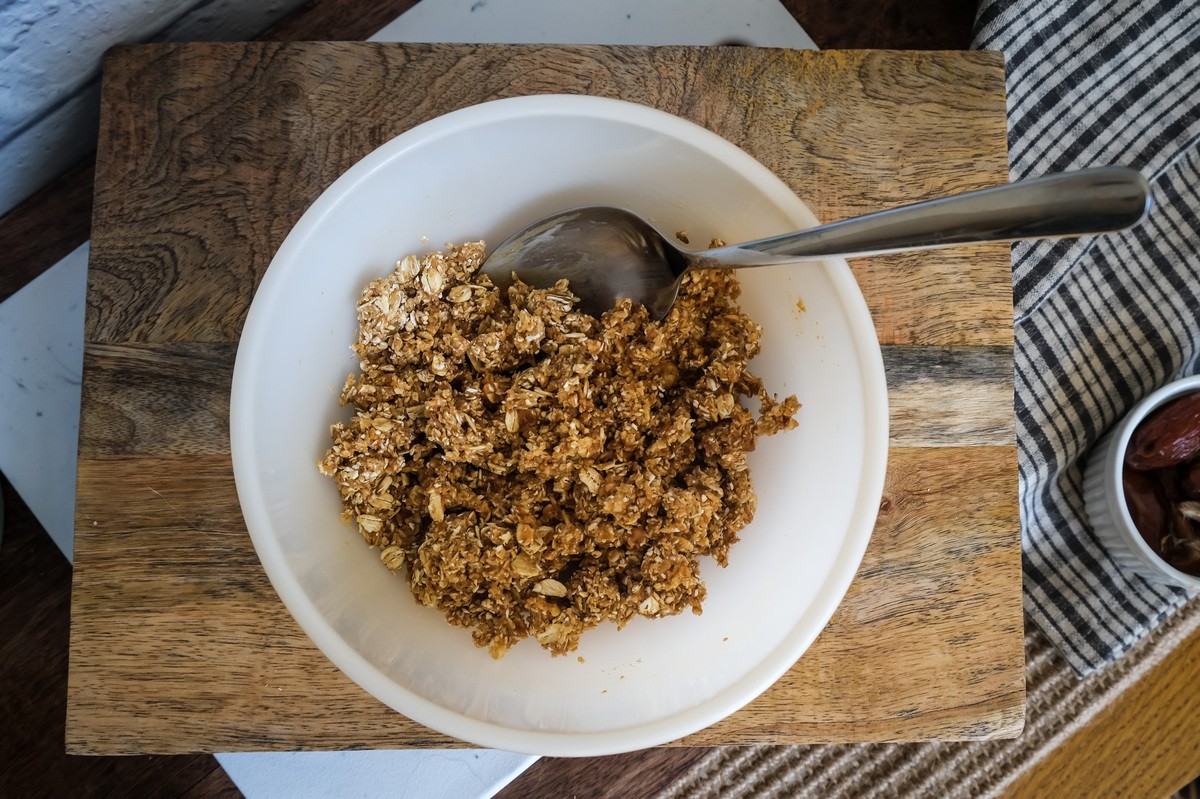 You can sprinkle some triturated peanuts on top (this is optional).
Let it rest in the fridge until you feel like having a snack.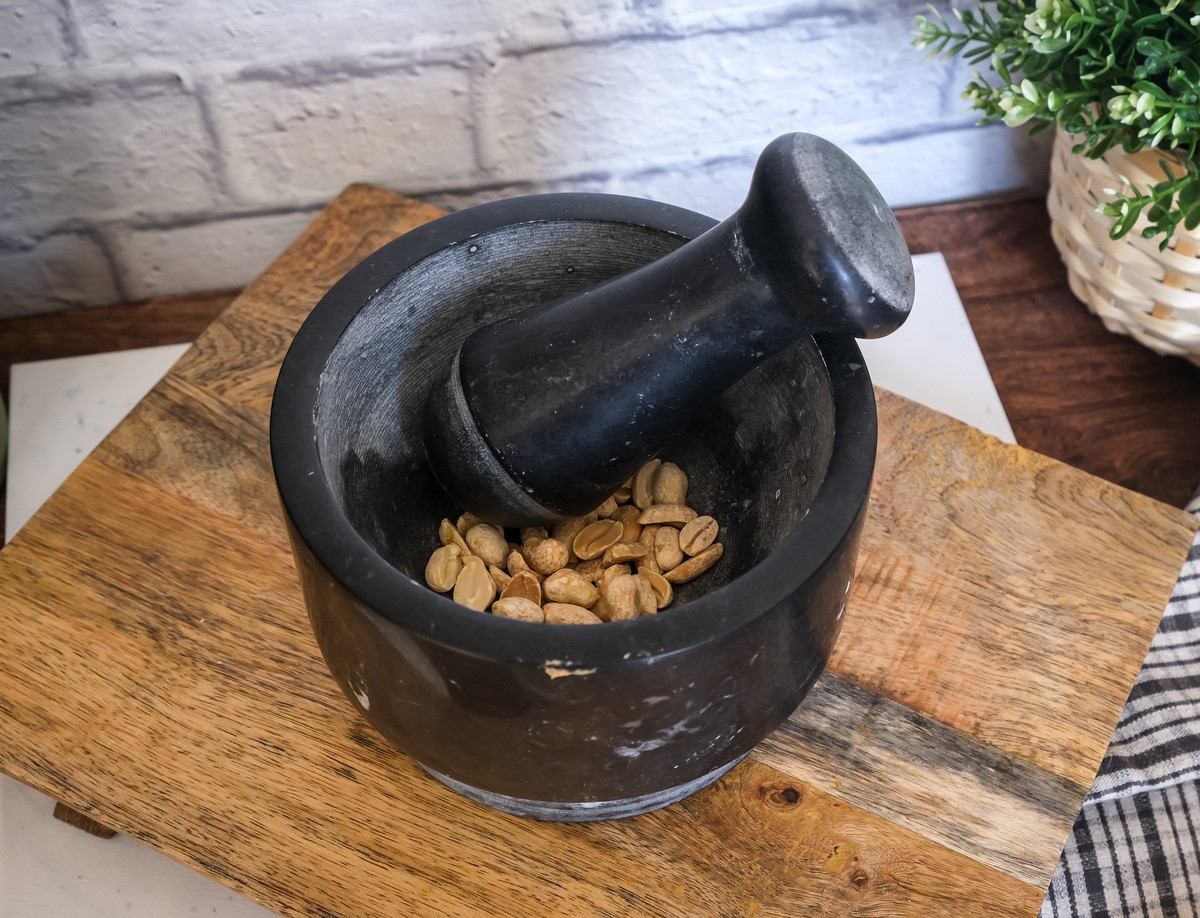 Recipe Tips
Make sure your dates are pitted before adding them to the food processor to prevent any unwanted crunches.
If the peanut butter mixture seems too dry and doesn't stick together well, add a small amount of coconut oil to help bind it together.
For a touch of indulgence, melt some dark chocolate and drizzle it over the top of the balls before they cool. Mini chocolate chips can also be pressed into the balls while they are still sticky.
Storage & Reheating
You can store these energy balls in an airtight container in the refrigerator for up to 2 weeks or freeze them for up to a month. When ready to eat, let them thaw in the fridge. There's no need for reheating; they are delicious cold!
Additions & Substitutions
You can make these oatmeal energy balls your own by adding in or substituting some ingredients. Try adding in protein powder for an extra protein hit, or substitute the peanut butter with different nut butter like almond or cashew.
For a fun twist, add in mini chocolate chips or roll the balls in melted chocolate. Chia seeds or hemp seeds can also be added for extra fiber and nutrients.
Recipe FAQs
What should I serve with this peanut butter energy balls recipe?
These oatmeal energy balls can be served as a stand-alone snack or paired with a fruit salad for a well-rounded breakfast. They're also great for school lunches or as an easy healthy snack after a workout due to their protein and fiber content. Because of their sweet, savory flavor, these balls pair well with a glass of milk or a cup of coffee for an easy treat any time of day.
Are energy balls actually healthy?
Energy bite recipes are packed with healthy fats, protein, and fiber, so they're a great option for a healthy snack. Of course, like everything else, you need to control how many you eat at once. However, compared to many processed snacks that you can buy, this is definitely a much better choice.
---
Here are a few other oatmeal recipes you might enjoy!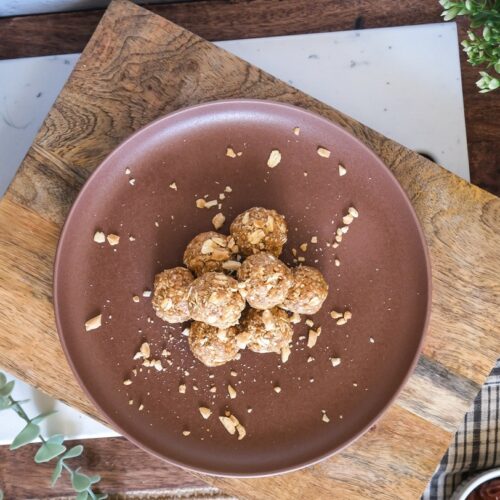 3 Ingredient Peanut Butter Oatmeal Balls
These delicious and healthy 3 ingredient peanut butter oatmeal balls are an easy breakfast or snack for any time of day. Chock-full of protein, fiber, and healthy fats, these will keep you full until lunch! And they only take 5 minutes to make too—what could be better?
Ingredients
1

cup

rolled oats

4-5

dates

1

tbsp

peanut butter
Instructions
In a food processor, mix all the ingredients until you get a nice paste.

Pour the paste into a bowl and grab about 1 tsp of it into the palm of your hand, and make a small ball. Repeat until you use all the paste.

You can sprinkle some peanuts on top and let it rest in the fridge until you feel like having a snack.
Nutrition
Calories:
55
kcal
Carbohydrates:
9
g
Protein:
2
g
Fat:
1.5
g
Liliya Balinska is a recipe developer, food photographer, and yoga teacher based in Portugal. She's been passionate about cooking and food art since she was young.