One of the most common issues you might face while making pancakes is the pancakes sticking to your pan. This is obviously frustrating, but thankfully, there are plenty of ways from the beginning to the end of the process to prevent this from happening.
Keep on reading to learn the best methods to keep pancakes from sticking. Plus, you'll get the added bonus of some awesome and easy recipes to make your next pancake stack a huge success.
Step One: Use a Nonstick Pan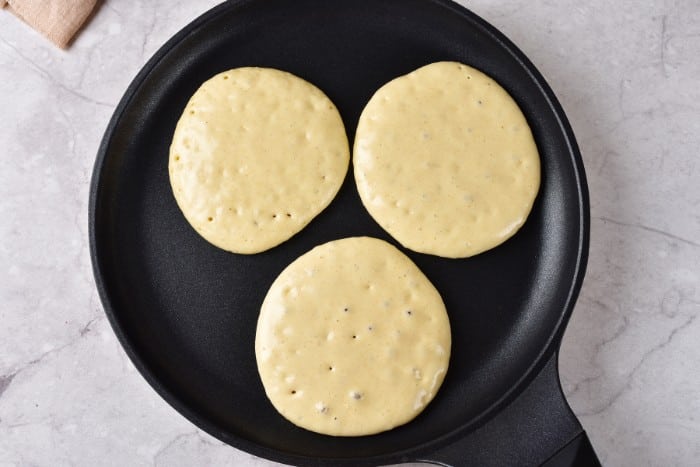 Nonstick pans are a miracle tool to have in your kitchen. The nonstick coating on your pan allows for anything you cook to slide seamlessly around without the risk of sticking. That makes using a nonstick pan the perfect choice when dealing with runny pancake batter.
The next time you are planning on making pancakes, do yourself this favor and reach for a nonstick pan.
Do keep in mind that there are a couple of essential rules for handling your nonstick pan to help it last longer.
Don't put your nonstick pan in the dishwasher: Handwash it instead to protect the coating.
Don't heat your pan above medium-high heat: As drastic temperature changes are bad for the coating.
Don't store food in your nonstick pan: As acidic dishes will eat away at the coating over a long period of time.
Use a little butter or oil: You don't need much, but a little will help a runny pancake batter cook evenly without sticking.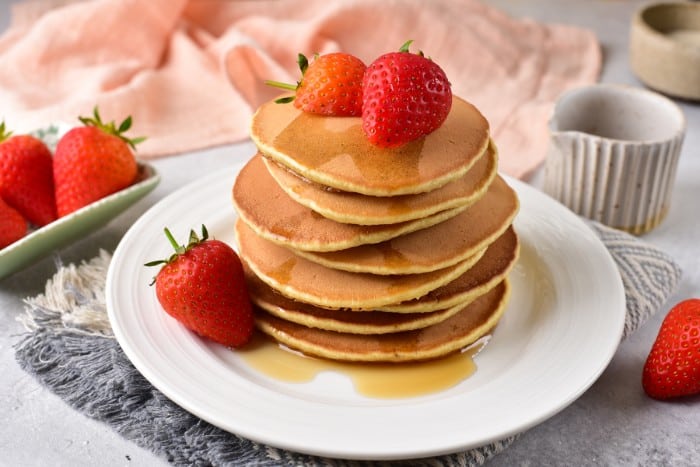 Try this recipe: These sweet cream pancakes are simple, yet elevated, and will turn out just as well, or even better if you opt for a nonstick pan to make them.
Step Two: Use a Clean Pan
Once you've grabbed your favorite nonstick pan, double-check that it is clean. Oftentimes, small food crumbs and burnt pieces may be stuck to the pan. These small bits of food will burn quickly, not to mention get trapped in the batter and ruin your pancakes.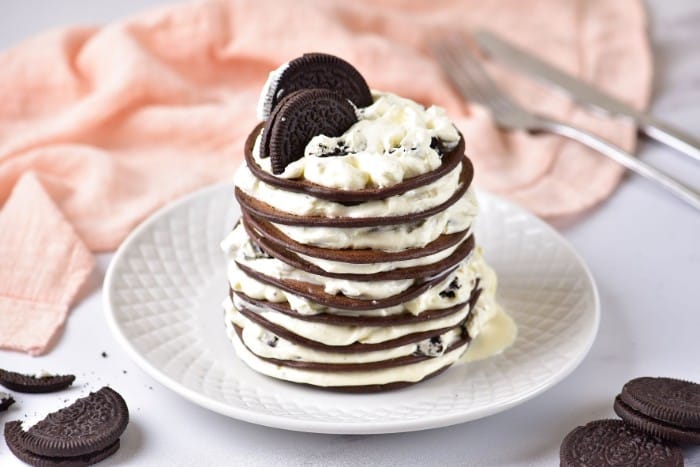 Try this recipe: These Oreo pancakes are perfect for a birthday brunch celebration, not to mention they require only 10 simple ingredients.
Step Three: Add Butter or Oil to Your Pan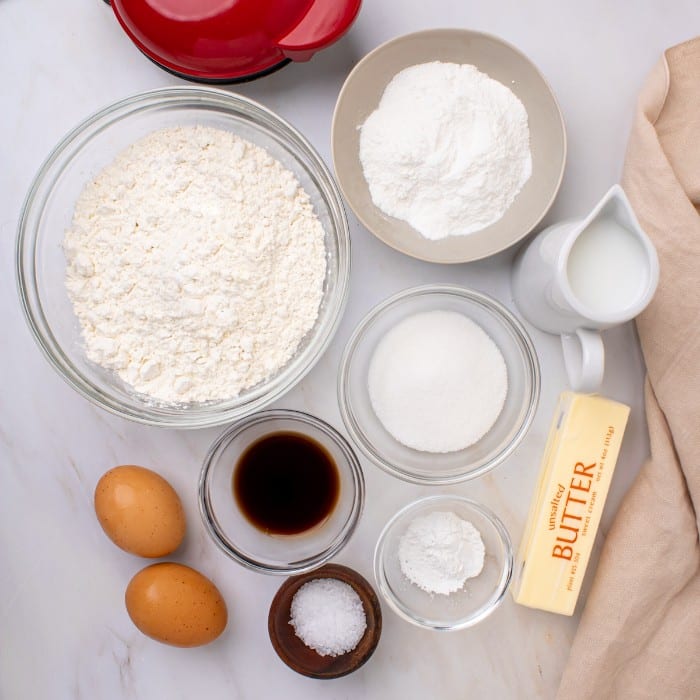 Adding a tablespoon or so of butter or oil to your pan will help guarantee the pancake batter does not stick to the pan. This has the added benefit of incorporating more butter, and who doesn't want buttery pancakes?
Do keep in mind that your butter needs to be fully melted and coated around the bottom of your pan before adding the pancake batter. You can use a silicone spatula, a grill brush, or even a paper towel to carefully spread the melted butter around the pan.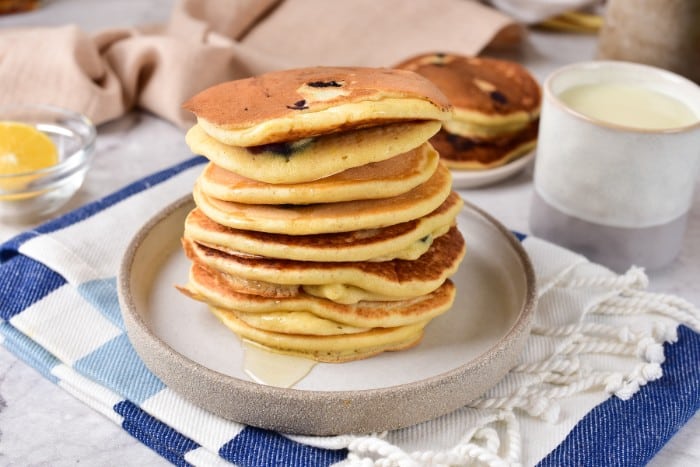 Try this recipe: These lemon blueberry pancakes taste even better with just a touch of butter.
Step Four: Only Add Batter to a Hot Pan
This is a great tip to follow regardless of what you're cooking, but it is especially important for all things breakfast and brunch. Whether it's pancakes, eggs, or potatoes, all of these will stick to a pan when the pan is not yet sufficiently hot.
The reason is that there are microscopic pores in every pan. These pores open and contract, depending on how hot the pan is. When a pan is cool, the pores are open, and as the pan heats up those pores contract. Anything that is in the pan as it is heating up will get trapped in those pores, making for a sticky mess.
If you're ever curious if your pan is hot enough, wet your fingers and flick a couple of drops of water on the pan. If the water sizzles, then you are good to go.
Keep in mind this is a tip for those not using a nonstick pan.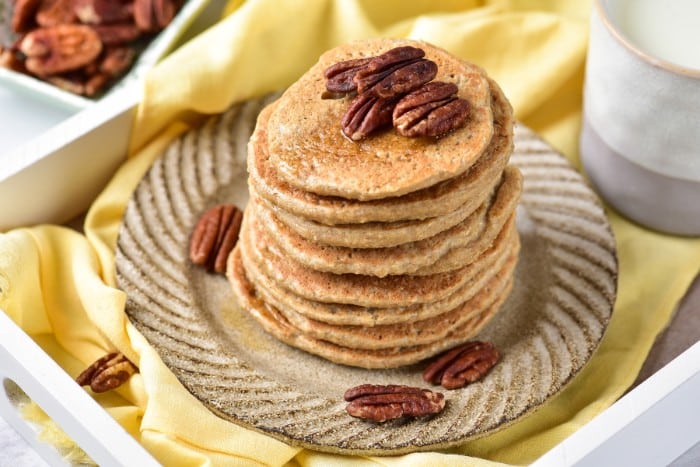 Try this recipe: With only 3 ingredients required, these banana oatmeal pancakes are about as easy as it gets.
Step Five: Cook Low and Slow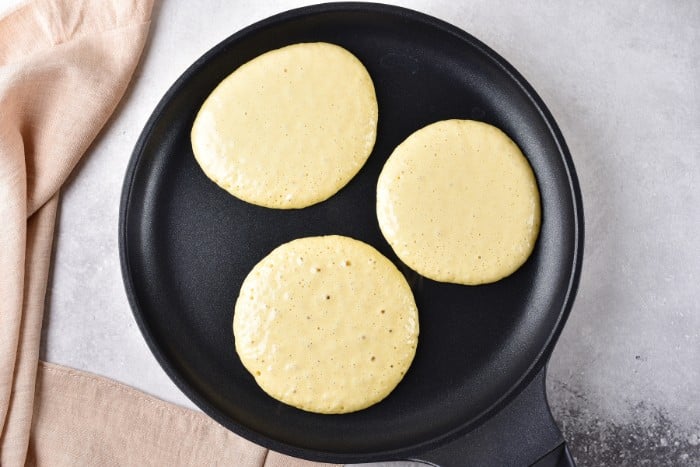 Pancakes are delicious, but they can be temperamental. While making pancakes, you should never turn the heat above medium. Instead, stick to the "low and slow" route. If you crank up the flame, the outside of your pancakes will burn before the inside has a chance to fully cook.
This will also burn the butter you added to the pan, which will make for a smoky mess and can lead to your pancakes sticking.
To prevent this from happening, keep the heat around medium, and lower the heat if you notice your pancakes beginning to burn.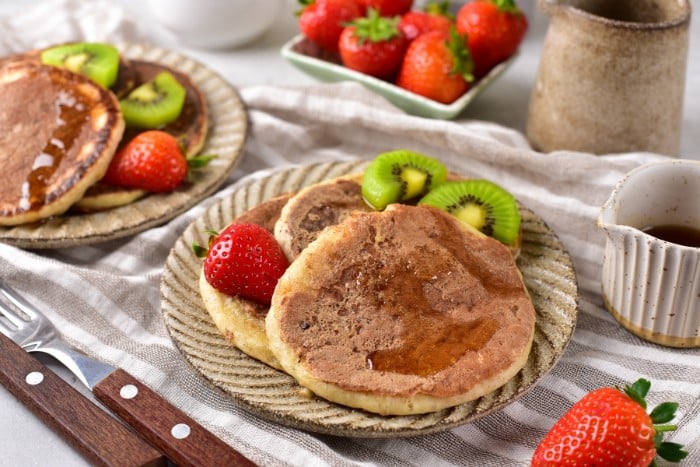 Try this recipe: If you're ever stuck trying to decide between french toast or pancakes, then you need to try these french toast pancakes. They're literally the best of both worlds.
Step Six: Check Your Pancakes
As you're cooking your pancakes, gently lift them up with your spatula to check the cooking side and make sure they aren't burning or sticking to the pan.
If you notice your pancakes are beginning to stick, this will give you the chance to correct the problem. You can either lower the heat, add more butter, or swap out your pan for a different one.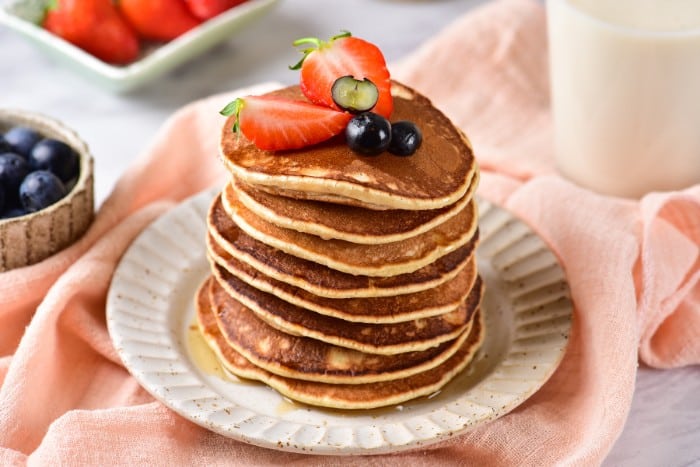 Try this recipe: These simple oat milk pancakes are a great choice if you want fluffy, sweet, and 100% dairy-free pancakes in 30 minutes or less.
If there's one thing that can get in the way of a perfect stack of pancakes, it's having them stick to the pan and create a pain-in-the-butt-mess. Not to mention you can seriously ruin a pan if you're not careful.
Thankfully, each and every one of these methods above is tested by our awesome recipe creators, so be sure to follow Golden Truffle on Instagram and Pinterest for more thorough answers to your questions, plus all the brunch recipes you can handle.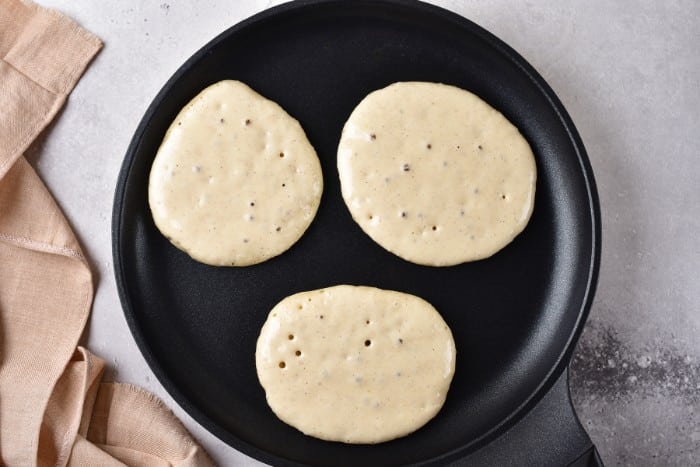 Why do my pancakes keep sticking to the pan?
There are many reasons why pancakes may keep sticking to the pan, including not adding enough butter or oil, heating the pan too quickly, not using a nonstick pan, or using a pan that isn't clean.
How do I make sure my pancake doesn't stick?
In order to prevent pancakes from sticking, you can use a nonstick pan that's clean, add a little butter or oil to the pan, cook your pancakes on the medium setting, and check frequently to make sure they aren't sticking to the pan.
Do you cook pancakes on high or low heat?
Pancakes should not be cooked on high heat because the exterior will likely burn before the interior has a chance to fully cook. Start your pancakes on medium heat, and turn the heat down if you notice they are starting to burn.
Olivia has been in love with all things food and libations for nearly a decade. When she's not cooking up new recipes, she enjoys bikepacking, wine tasting, crocheting, and traveling in her camper van up and down the Pacific Northwest.