This ground turkey breakfast casserole is a great brunch item for guests to feast on. It's colorful, flavorful, and full of delicious ingredients. The soft, sweet bite of the sweet potatoes mixed with the filling savory taste of turkey makes for a really great balanced dish.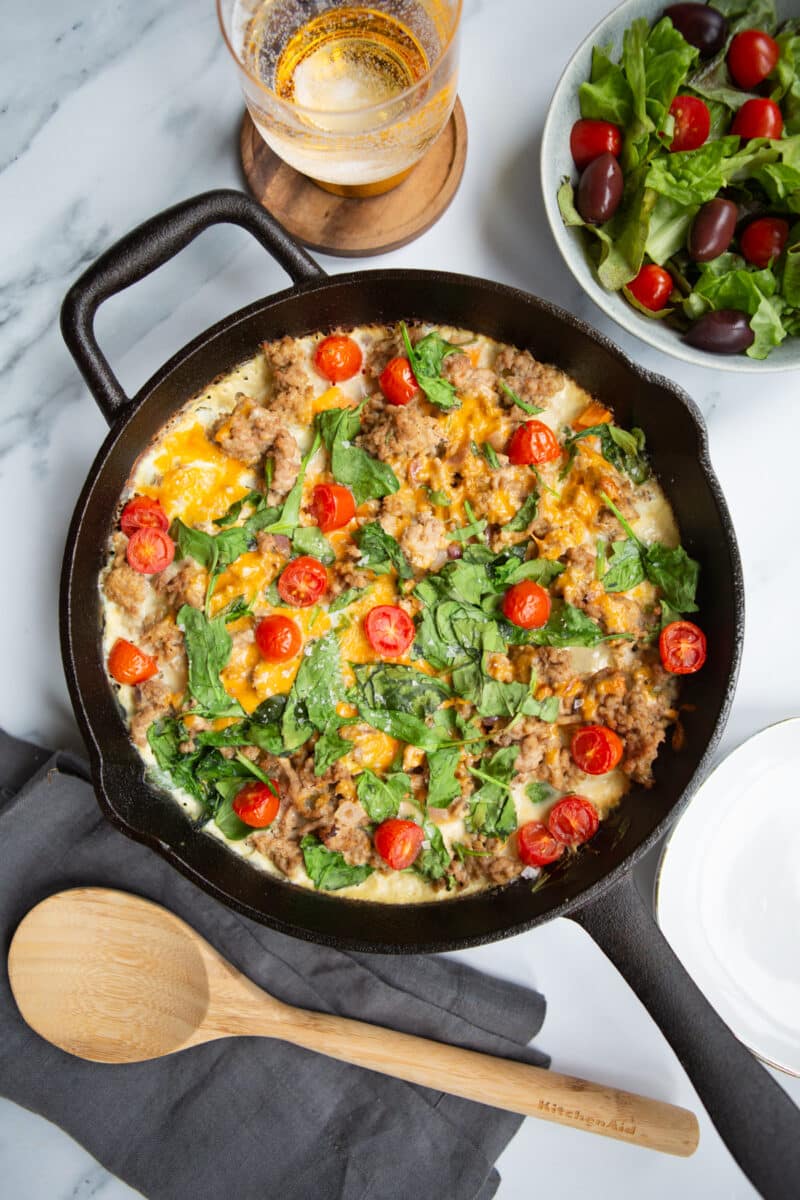 Looking for more casserole recipes? Here are other recipes you might enjoy: Sausage & Cream Cheese Breakfast Casserole, Asparagus Potato Brunch Casserole, Brioche French Toast Casserole, and Cranberry Apple Casserole.
Why You'll Love This Recipe
Simple and wholesome ingredients: This amazing recipe is made from ingredients you probably already have in your fridge, such as eggs, ground turkey, and red onions. Plus, it's packed with nutritious ingredients like baby spinach, sweet potatoes, and cherry tomatoes that are all key to a healthy breakfast recipe.
Meal prep friendly: This is a great recipe if you're someone who loves to meal plan. Prepare this casserole on a Sunday, store it in the fridge, and you'll have a hearty and healthy breakfast option for the entire week.
Versatile and adaptable: Whether you're serving it for a brunch party or a weekday breakfast, this dish is a crowd-pleaser. Plus, you can easily switch up the ingredients based on what you have on hand or your personal preferences.
Recipe Ingredients
You'll need the following ingredients to make this breakfast skillet casserole with ground turkey:
Ingredient Notes
Ground Turkey: In this recipe, we use lean ground turkey, but if you have leftover turkey from Thanksgiving, feel free to use that. You can also replace the turkey with pork sausage or any white meat of your choice.
Eggs: The eggs in this recipe help bind all the ingredients together. Whether you use whole eggs or prefer an eggs recipe with more whites for lower fat, this breakfast casserole will turn out delicious.
Spices: Paprika gives this dish a unique flavor profile. However, you can switch it up by using chili powder, garlic powder, or black pepper. Also, remember to add a teaspoon of salt for a flavor boost.
Cheese: We use cheddar cheese in this recipe, but feel free to substitute with Swiss cheese or even goat cheese for a tangy twist.
How To Make Ground Turkey Breakfast Casserole in a Skillet
Whisk your eggs: In a large bowl, add your eggs and paprika, and whisk until fully combined. This will help aerate your eggs and make for a fluffy casserole.
Cook your meat: Heat a large non-stick skillet on medium-high heat. Add olive oil, followed by red onions, and saute until translucent.
Add ground turkey and the remaining half of the paprika. You may season with salt and pepper if the ground turkey isn't salty enough. Cook until tender and no pink remains, about 10 minutes. Once ready, set aside.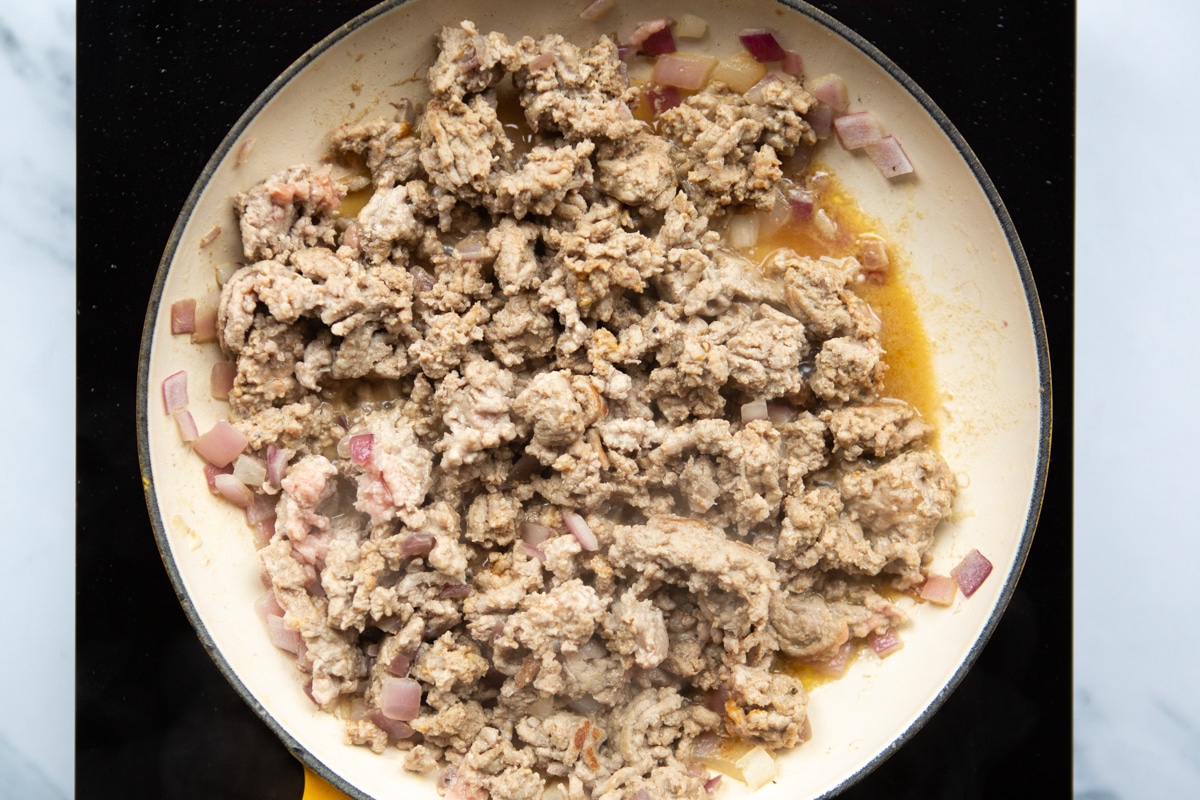 Add your sweet potatoes: Prepare your casserole by layering sweet potatoes on the bottom and preheating the oven to 375˚F.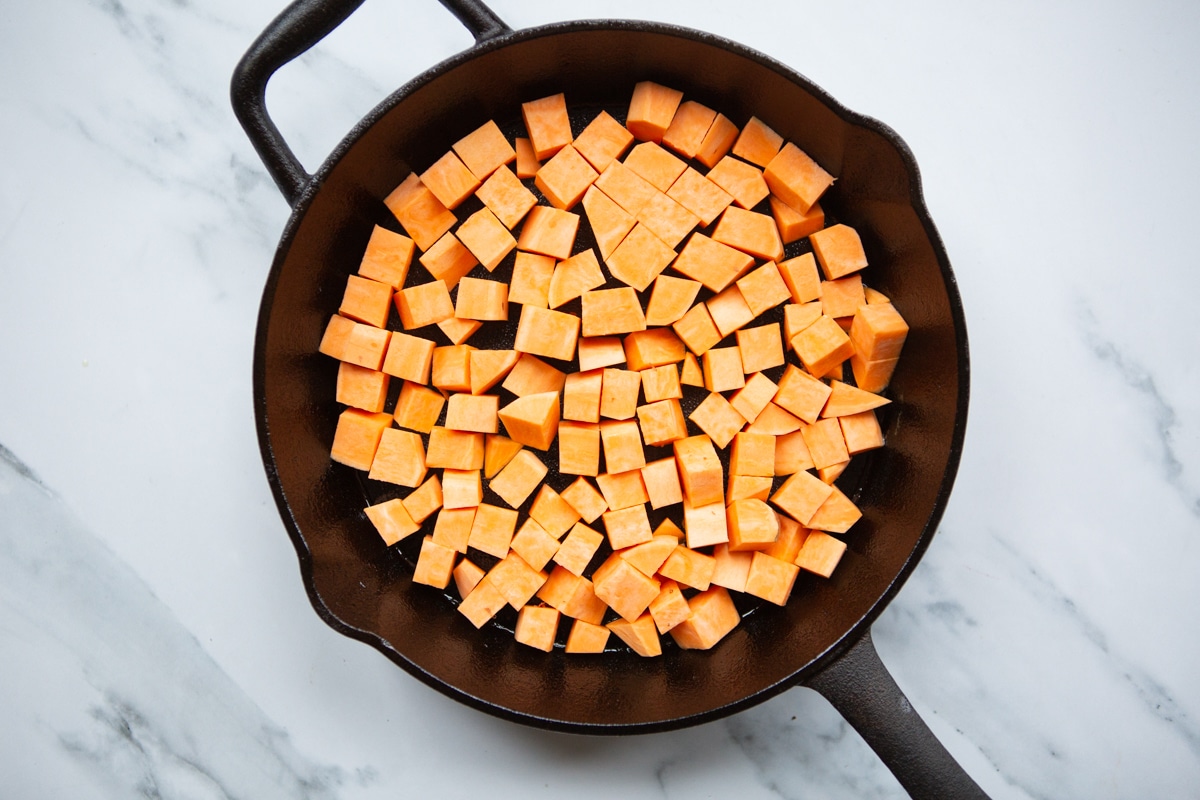 Add remaining ingredients: Next, add your ground turkey, eggs, cheddar cheese, spinach, and tomatoes.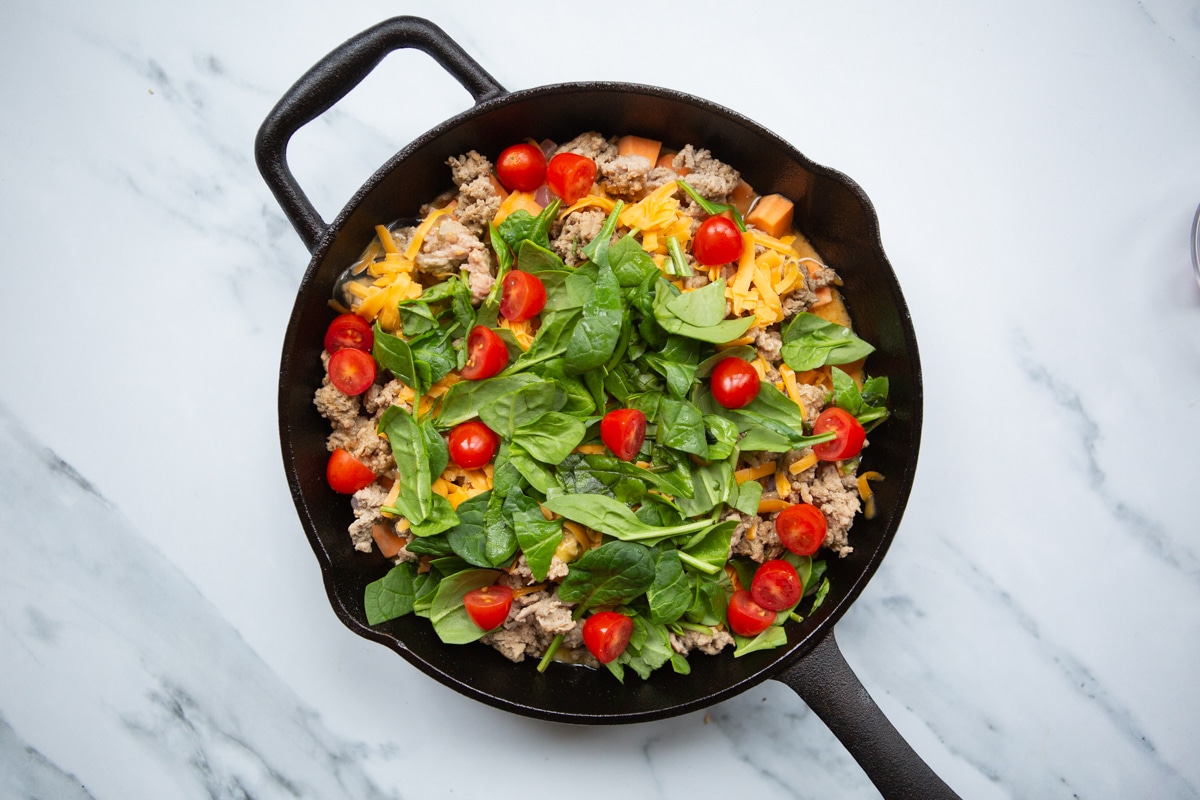 Bake for 30 minutes or until all the ingredients have cooked thoroughly. Enjoy!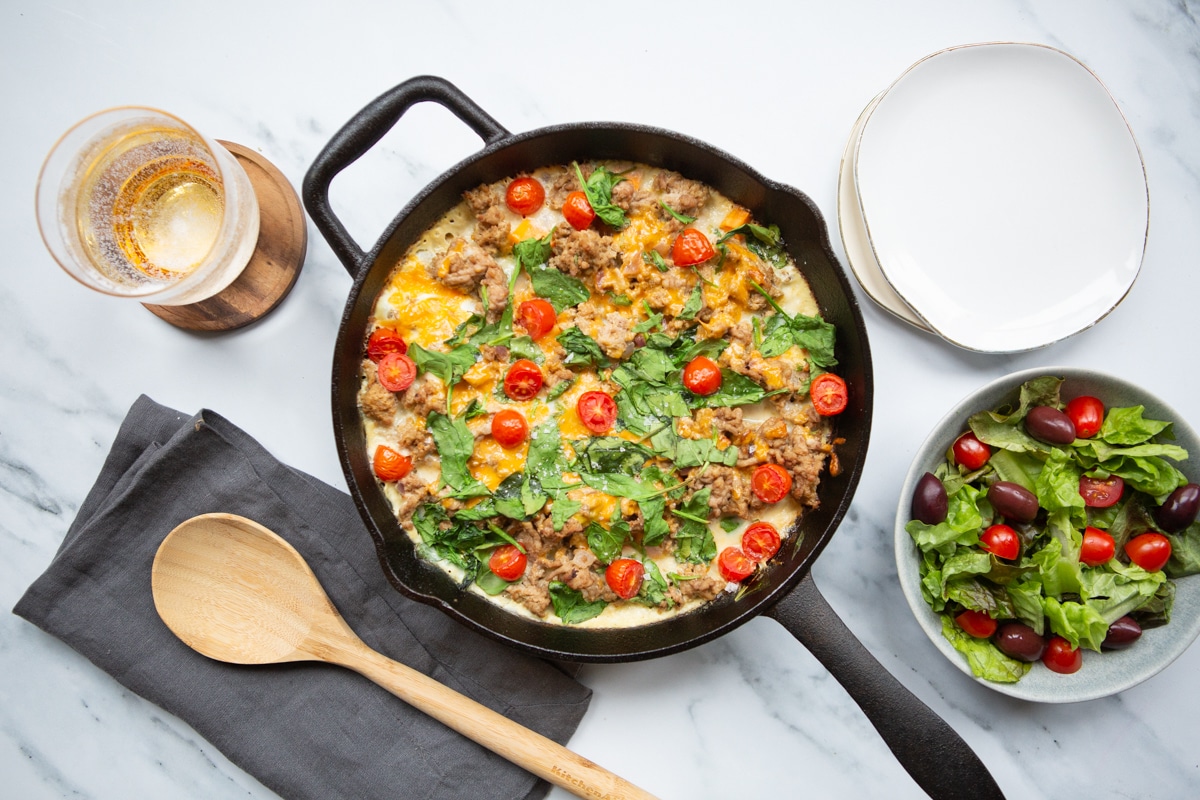 Recipe Tips
Make sure to thoroughly whisk your eggs. This will help aerate your mixture and make your casserole fluffier.
Cook your ground turkey on medium heat to ensure it cooks evenly without drying out.
Layer your ingredients in the casserole dish properly. Start with a layer of sweet potatoes, followed by the ground turkey, the egg mixture, and then the cheese.
Storage & Reheating
Store any leftovers in an airtight container in the fridge for up to four days. To reheat, put the casserole in a preheated oven at 350˚F for about 10 minutes, or until it's warmed through. If you've stored your casserole in the freezer, thaw it overnight in the fridge before reheating.
Additions & Substitutions
Feel free to add in or substitute other veggies like bell peppers or root vegetables. Swap ground turkey for breakfast sausage, ground pork, or even homemade turkey sausage.
You can also experiment with different spices. You could try adding garlic powder or chili powder for an extra kick. Switch out cheddar for Swiss cheese, goat cheese, or any other cheese you have on hand.
Recipe FAQs
What should I serve with this breakfast skillet casserole with ground turkey recipe?
This healthy turkey sausage breakfast casserole is a meal in itself, packed with protein, dietary fiber, and vitamin C. If you'd like to add to it, consider serving this casserole with a fresh fruit salad for a balanced meal. Alternatively, you could pair it with a side of hash browns or toast for a more filling breakfast. It also pairs well with sour cream or a dash of hot sauce for those who like it spicy.
How do I cook ground turkey without drying it out?
Unlike other ground meats, ground turkey has one of the lowest fat contents which means that it can dry out when cooking it. If you notice it drying out and there isn't that much liquid, add some butter, more olive oil, or just a little bit of water (¼ cup) to help add moisture to the dish.
Is ground turkey healthier than ground beef?
Ground turkey has more benefits than ground beef. It is preferred as a heart healthier option as it has lower cholesterol. Both are nutritious with a lot of minerals and have a high protein content, so it comes down to overall preference.
---
Here are a few other breakfast recipes you might enjoy!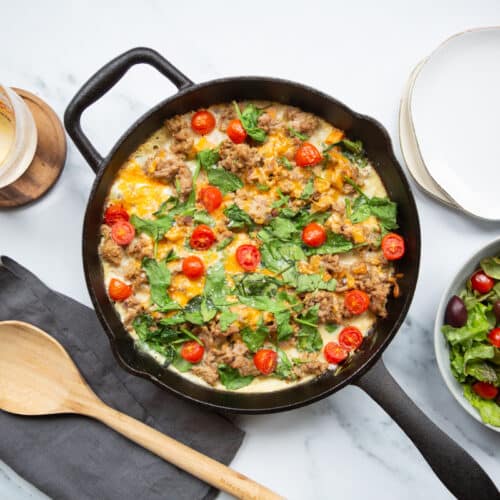 Ground Turkey Breakfast Skillet Casserole
This ground turkey breakfast casserole is a hearty way to start your mornings. Fresh greens are layered on lean ground turkey and eggs, all on a layer of sweet potato. Have it out of the oven over brunch with guests or throw it in the fridge and eat it throughout the week.
Ingredients
Non-stick cooking spray

1

tbsp

olive oil

4

large eggs

1

cup

sweet potatoes

peeled and diced

2

cups

baby spinach

chopped

½

cup

cheddar cheese

1

cup

cherry tomatoes

1

lb

lean ground turkey

½

cup

red onions

2

tbsp

paprika

Salt and pepper

to taste
Instructions
Preheat the oven to 375˚F and grease a large cast iron skillet with non-stick cooking spray and set aside.

In a large bowl, add eggs and half the amount of paprika. Whisk to combine and set aside.

Heat a large nonstick skillet on medium-high heat.

Add olive oil followed by red onions and cook until translucent.

Add ground turkey, the remaining paprika, and salt and pepper to taste.

Stir with a spatula until the turkey is fully cooked, about 10 minutes. Once ready, set aside.

Begin assembling your casserole in the cast iron skillet beginning with sweet potatoes.

Follow with ground turkey, cheddar cheese, cherry tomatoes, and spinach.

Pour egg over the casserole, bake with aluminum foil and cook for 30 minutes.

Once the center of the casserole is firm, remove from the oven.

Serve and enjoy!
Notes
Make sure all the individual ingredients cook properly. It can be tricky as all the ingredients bake in one dish so be sure to cut sweet potatoes no larger than 1" cubes. You can also slice them into chip-like circles and arrange them like a gratin for an even fancier look.
If you're feeling a little less spice, salt and pepper are an appropriate substitute for paprika.
Unlike other ground meats, ground turkey has one of the lowest fat contents, so it can dry out when cooking it. If you notice it drying out and there isn't that much liquid, add some butter, more olive oil, or just a little bit of water (¼ cup).
Nutrition
Calories:
396
kcal
Carbohydrates:
43
g
Protein:
12.3
g
Fat:
18.7
g
Cholesterol:
99
mg
Sodium:
11
mg
Fiber:
4.4
g
Sugar:
3.2
g
Matthew is a recipe developer and food photographer based in Canada. He enjoys all things food, drink and makes his best decisions with a mimosa in hand.