With a nip in the air that can go straight to your bones, fall is the season to fill your home with comfort foods that warm up your body and spirit. Cranberry apple casserole does just that.
Apples and cranberries are sweetened with brown sugar and cinnamon and then baked with a hearty oaty crumble. A dish that feeds a crowd, you can make this simple and quick casserole to add to your spread the next time you have people over for brunch.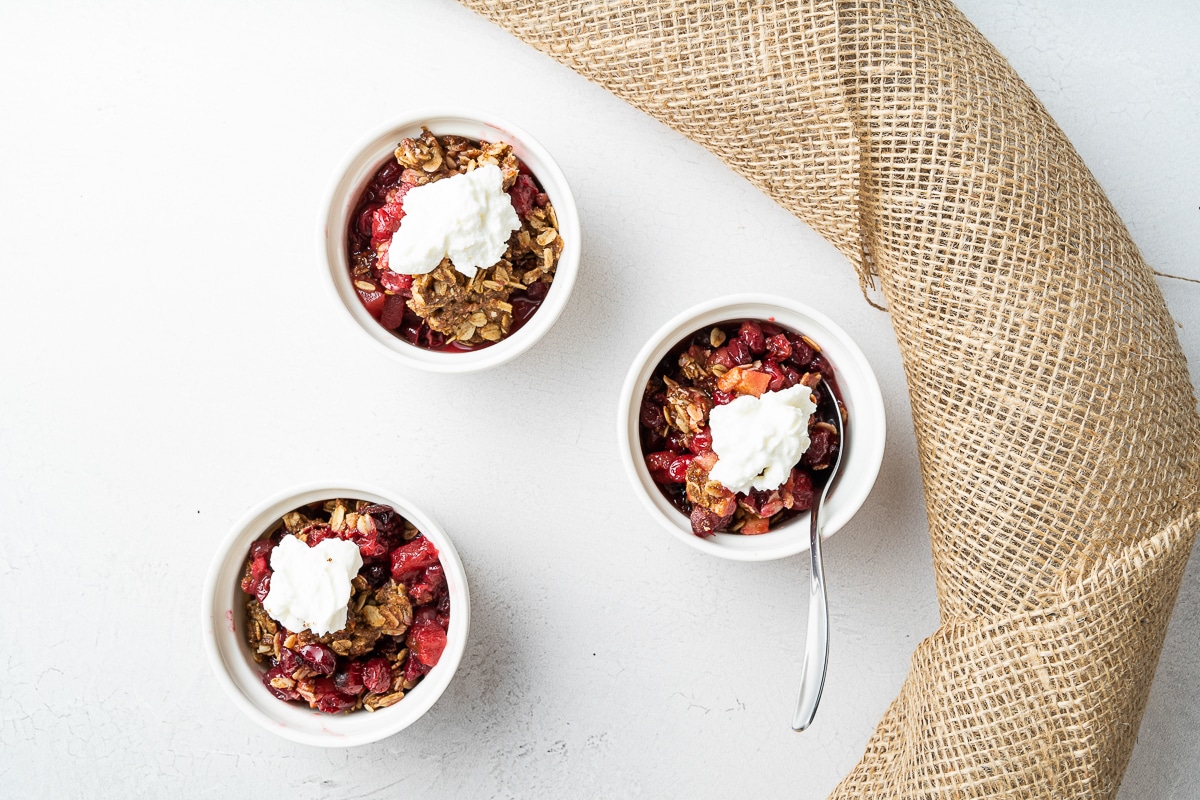 Looking for more Fall recipes? Here are other recipes you might enjoy: Cranberry Apple Compote, Pumpkin Cream Cheese Coffee Cake, Apple Cider Martini, and Pumpkin Toast.
Why You'll Love This Recipe
A delight for the senses: This cranberry apple casserole fills your home with an aromatic blend of sweet apples, fresh cranberries, and cinnamon, creating a cozy, inviting atmosphere that is perfect for the holiday season.
Versatility is key: This recipe is adaptable, allowing for additions and substitutions that suit your personal tastes. You can experiment with other sweet apples or use instant oatmeal instead of rolled oats for the crumble. The sky's the limit!
A dish for all occasions: Whether it's Thanksgiving dinner, family reunions, or a casual weekend brunch, this wonderful dessert is a crowd-pleaser. Serve it as a fabulous side dish or the main event, either way, it's guaranteed good.
Recipe Ingredients
You'll need the following ingredients to make this cranberry casserole with apples: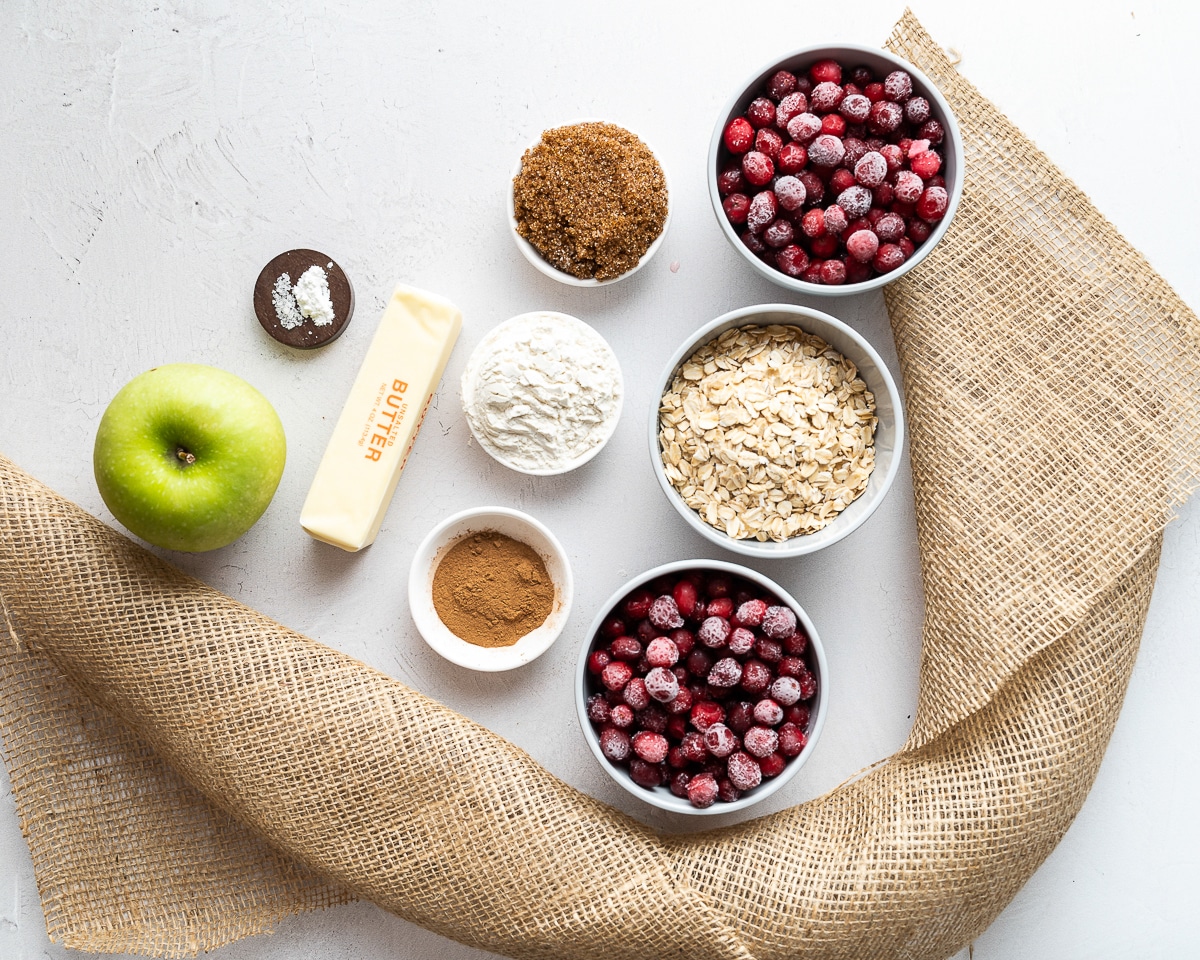 Ingredient Notes
Fresh Cranberries: These tart berries are at the heart of this recipe, providing a delightful contrast to the sweet apples. If cranberries are not in season or not readily available, frozen cranberries will also do the trick.
Brown Sugar and Granulated Sugar: This recipe uses a combination of sugars to achieve a balanced sweetness. Adjust to taste – you may want to add more if you're using tart Granny Smith apples, or less if using sweeter varieties.
Butter: I recommend using unsalted butter in this recipe so you can control the saltiness. Ensure your butter is at room temperature for easy blending with the dry ingredients.
Flour: All-purpose flour is used in this recipe to thicken the fruit mixture and help bind the crumble topping.
How To Make Cranberry Apple Casserole
Peel the apples. Cut them into small cubes, around a ½ inch.
Add cranberries, chopped apple, cinnamon, brown sugar, flour, and salt to a bowl and mix.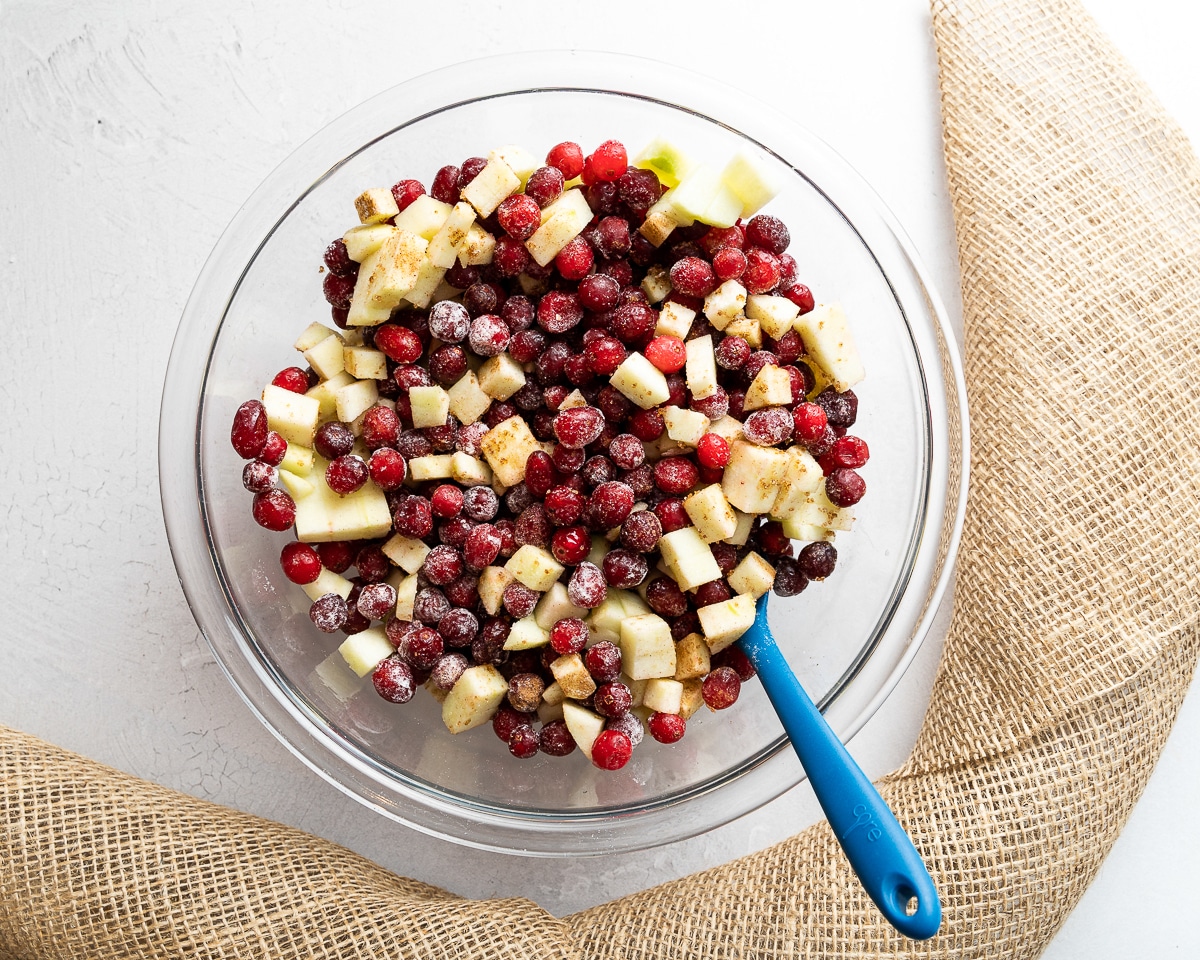 Put the oats, remaining flour, baking powder, brown sugar, and salt in a bowl. Add cubed and softened butter and, using your fingers, blend the butter into the oats. Blend with your figures until the butter breaks down into small pea-sized pieces. You can also use a pastry cutter or fork if you prefer.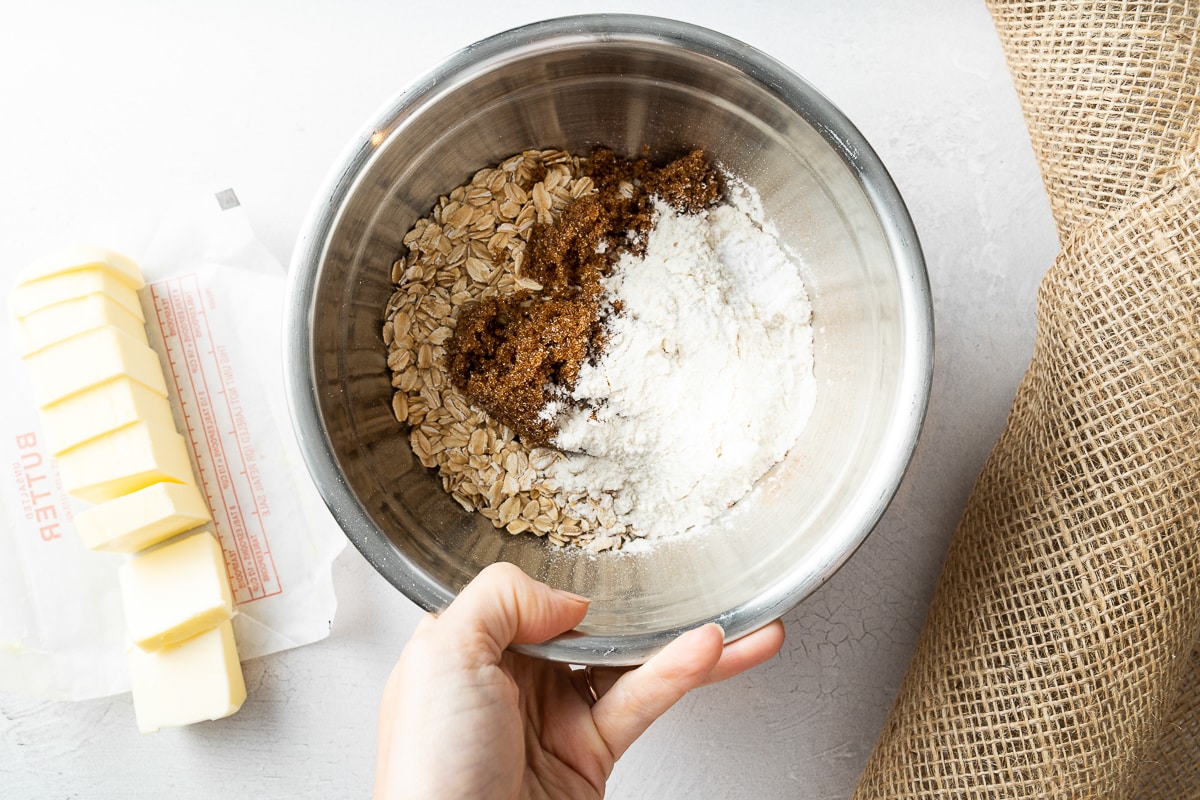 Preheat your oven to 375ºF. Grease your pan lightly and add the fruit mixture and its juices. Add an even layer of the topping. Bake for 45-50 minutes or until the top is golden brown and the juices inside the crumble are bubbling. Remove and allow to cool before serving.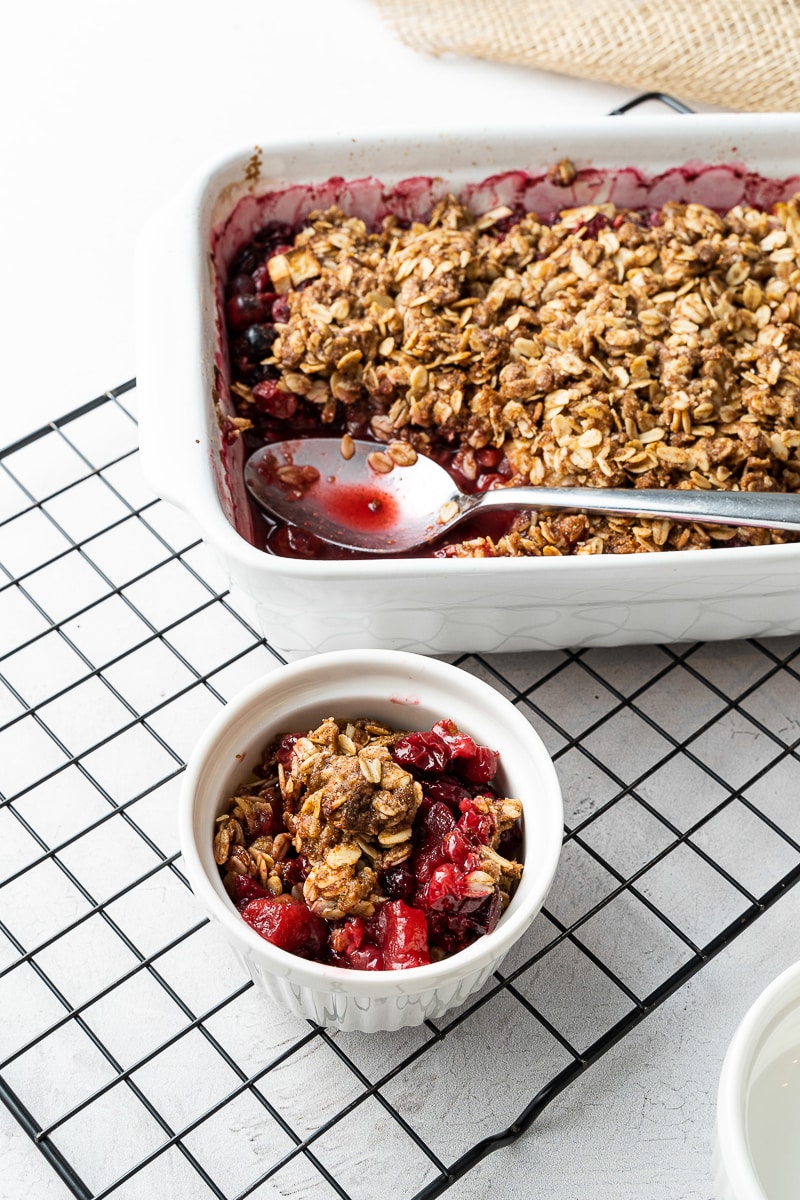 Recipe Tips
Peel and chop your apples in advance and store them in a large bowl with a little lemon juice to prevent browning. This will save you some time when you're ready to bake.
Be sure to thoroughly grease your casserole dish with cooking spray or melted butter to ensure your casserole doesn't stick to the bottom.
After the casserole is baked, let it rest and cool slightly. This will allow the juices to redistribute, leading to a perfect, non-runny consistency.
Storage & Reheating
Store any leftovers in an airtight container in the refrigerator for up to 5 days. To reheat, simply place your serving in the microwave for about 1 minute, or until heated through. You can also reheat it in the oven at 350°F until warm, which will help maintain the crumble's crispness.
Additions & Substitutions
For an additional autumnal twist, consider adding cubed butternut squash or swapping a portion of the apples for it. To add some extra crunch, mix some pecan halves into the oat mixture. If you're looking for a healthier version, replace the granulated sugar with maple syrup or substitute a portion of the flour with wholemeal flour for added fiber.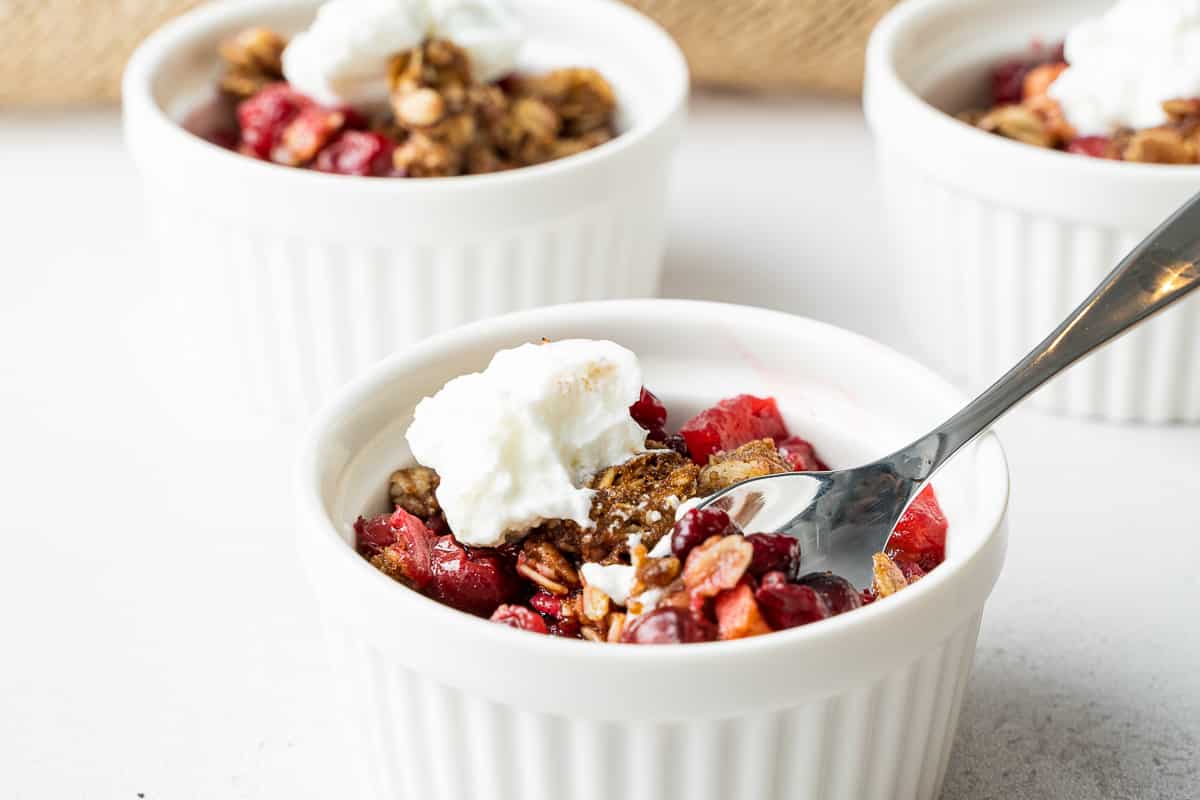 Recipe FAQs
What should I serve with this cranberry casserole with apple recipe?
This cranberry apple casserole makes a perfect side dish to your holiday meal or a fabulous standalone dessert. Serve it warm with a scoop of vanilla ice cream or a dollop of vanilla Greek yogurt for added creaminess. You can also serve it as part of your breakfast spread – it pairs wonderfully with a cup of hot coffee or apple cider. No matter how you serve it, this recipe is sure to be one of your favorite recipes for the holiday season and beyond.
What else can I put in this?
You can customize this breakfast casserole to the flavors and textures that you like. You could add ginger, nutmeg, or cardamom to the fruit, and add in pecans, walnuts, or almonds to the topping for a little more crunch and richer, earthier flavor. You can also use sweeter apples like gala for a sweeter taste, or honey crisp for an apple that still has tartness.
What if my casserole is runny?
You want the casserole to have some liquid in it when it comes out of the oven, but you also don't want the fruit to be swimming in liquid. The pectin in cranberries and apples usually means that the casserole will set as it cools (think about homemade cranberry sauce), so there should be some liquid bubbling when you take it out.
If it looks like your casserole has a lot of extra liquid or is runny, you have a few options. First, try baking it more. If the top has browned, cover the dish very loosely with aluminum foil and continue to bake. You can also add a little extra flour, or cornstarch if you have it, to your fruit before you bake it.
---
Here are a few other casserole recipes you might enjoy!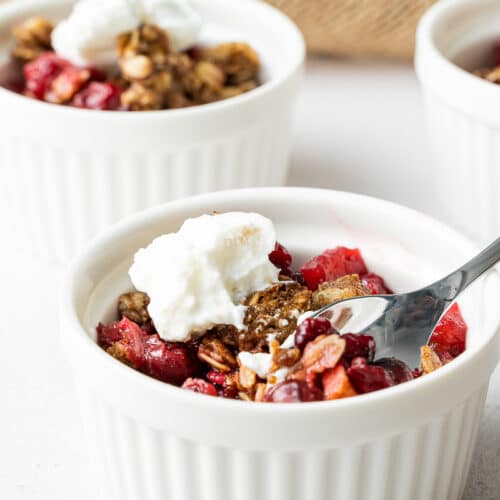 Cranberry Apple Casserole
This cranberry apple casserole is a delicious holiday treat, perfect to prepare as a side to an autumn or winter brunch. Cranberry and apples are baked with a crunchy oat and cinnamon topping, and the result is a sweet-tart warming dish that pairs wonderfully with yogurt or whipped cream.
Ingredients
4

cups

cranberries

fresh or frozen

1 to 2

medium to large granny smith apples

1 ½

cups

dark brown sugar

1

cup

rolled oats

1

cup

+ 2 tbsp all-purpose flour

6

tbsp

tbsp softened butter

3

tsp

cinnamon

½

tsp

salt

½

tsp

baking powder
Instructions
Preheat your oven to 375ºF.

Grease a 6 x 9-inch casserole dish.

Peel and finely chop 1-2 granny smith apples. Cut apples to roughly ½ inch in size.

In a bowl, toss together 4 cups cranberries, fresh or frozen, chopped apples, ¾ cup brown sugar, 2 tablespoons all-purpose flour, and 1 teaspoon cinnamon. Pour into the casserole dish.

In a bowl, put 1 cup rolled oats, 6 tablespoons softened butter cut into cubes, ¾ cup brown sugar, 1 cup flour, 2 teaspoons cinnamon, and ½ teaspoon salt. With your hands, blend the butter into the dry ingredients until the mixture is in small, pea-sized pieces.

Sprinkle the oat topping over the fruit.

Bake for 45-50 minutes or until the fruit is bubbling, the topping is golden brown, and the mixture has reduced.

Allow the casserole to cool before serving.

Serve with whipped cream, yogurt, whipped mascarpone, or on its own.
Notes
When you make this dish, you should make sure that you stir the cranberry and apple well to ensure that the fruit is fully coated in sugar, spices, and flour. This will help ensure that the casserole bakes properly and that you aren't left with any clumps of flour in your dish.
Nutrition
Calories:
362
kcal
Carbohydrates:
64.12
g
Protein:
5.44
g
Fat:
10.29
g
Saturated Fat:
9.27
g
Fiber:
6.4
g
Sugar:
32.47
g
Arielle is a food and drink photographer based in Washington, D.C. She was previously a social science researcher before she fell in love with photography.