There's not a morning that goes by where I don't have an omelette. It's a delectable, quick, and nutritious meal that never gets old. You can stuff it however you like, depending on your mood that day! The other day, I made this mushroom tomato omelette and it's quickly becoming my new favorite.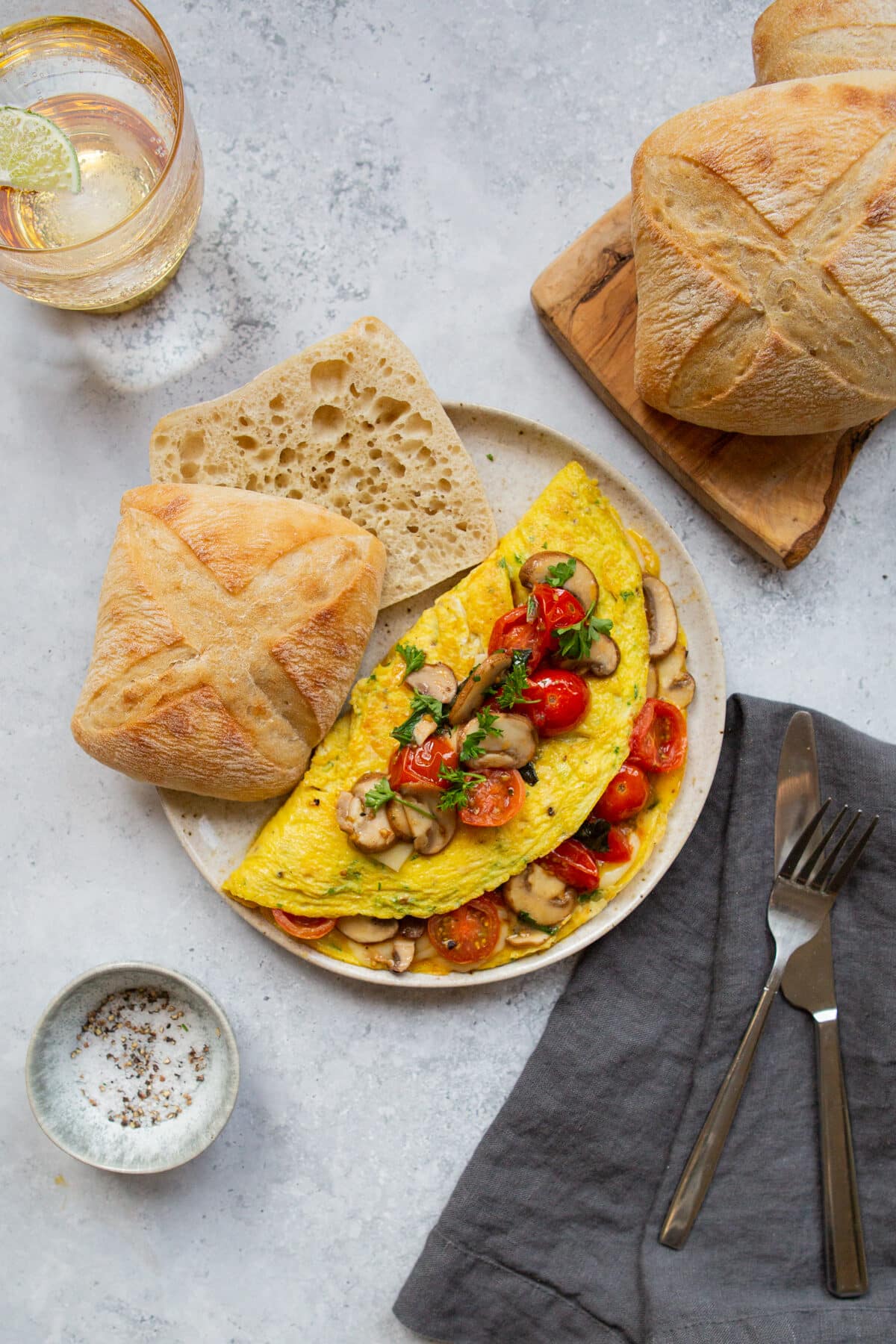 Love a good omelette? Here are other recipes you might enjoy: Chicken Omelette, Pesto Omelette, Sun-Dried Tomato Omelette, and Spinach & Goat Cheese Omelette.
Why You'll Love This Recipe
Filling breakfast: This mushroom tomato omelette is not only delicious but also packed with protein and veggies, making it a filling breakfast that will keep you satisfied until lunch.
Versatility: The beauty of omelette recipes is that they are incredibly versatile. Don't have button mushrooms or cherry tomatoes? Substitute them with bell peppers or sun-dried tomatoes. Want to add more protein? Stir fry a handful of chicken or tofu to throw in.
Quick and easy: If you're short on time, this is the perfect omelette for you. It can be made in under 20 minutes with just a frying pan and a mixing bowl. Plus, the cleanup is minimal, making this recipe an absolute winner for busy mornings.
Recipe Ingredients
You'll need the following ingredients to make these mushroom omelette with tomatoes:
Ingredient Notes
Eggs: For the perfect omelette, whisked eggs should be at room temperature. Cold eggs can result in an uncooked egg mixture even after a reasonable cooking time.
Button Mushrooms: Mushrooms are a must for a mushroom omelette, but you can switch them up. A mix of different mushrooms, like portobello and white, can add depth to your dish.
Provolone Cheese: While provolone is delicious in this recipe, feel free to use other cheeses like cheddar cheese or Monterey Jack. Even a sprinkle of nutritional yeast could work for a dairy-free alternative.
Basil & Parsley: These fresh herbs enhance the flavor profile of your omelette. Substitute fresh basil or parsley with coriander leaves for a slightly different, yet delicious, taste.
How To Make a Mushroom Tomato Omelette
Whisk the eggs: Crack 3-4 eggs in a small bowl. Add salt and pepper to taste, as well as parsley. Beat the eggs until well blended and air bubbles form.
Prepare the vegetables: Wash and dry your mushrooms, then slice. Do the same with the cherry tomatoes, slicing them in half.
Saute the vegetables: In a small skillet, heat one tbsp of olive oil over medium-high heat and add the sliced mushrooms. Cook until golden brown before adding the cherry tomatoes. Cook until softened. Stir in the basil and pepper and set the filling aside.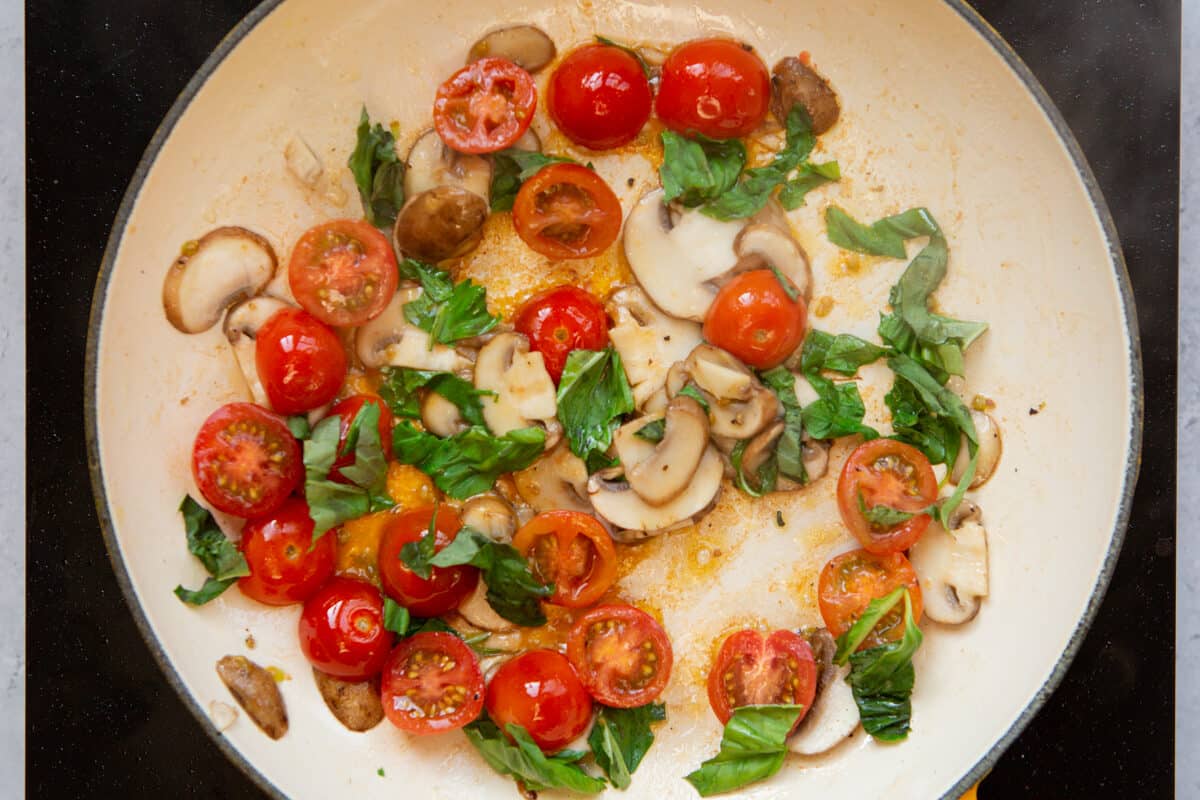 Cook the eggs: Using the same skillet, pour in the eggs. Let it cook until the bottom starts to set.
Add the filling: Start by adding the provolone cheese, followed by the mushroom and tomato filling on one half of the omelette, leaving out some filling for garnish.
Let it cook until the edges start to firm, at which point you can gently fold the other half of the omelette over the filling using a rubber spatula. Cook for another 1-2 minutes.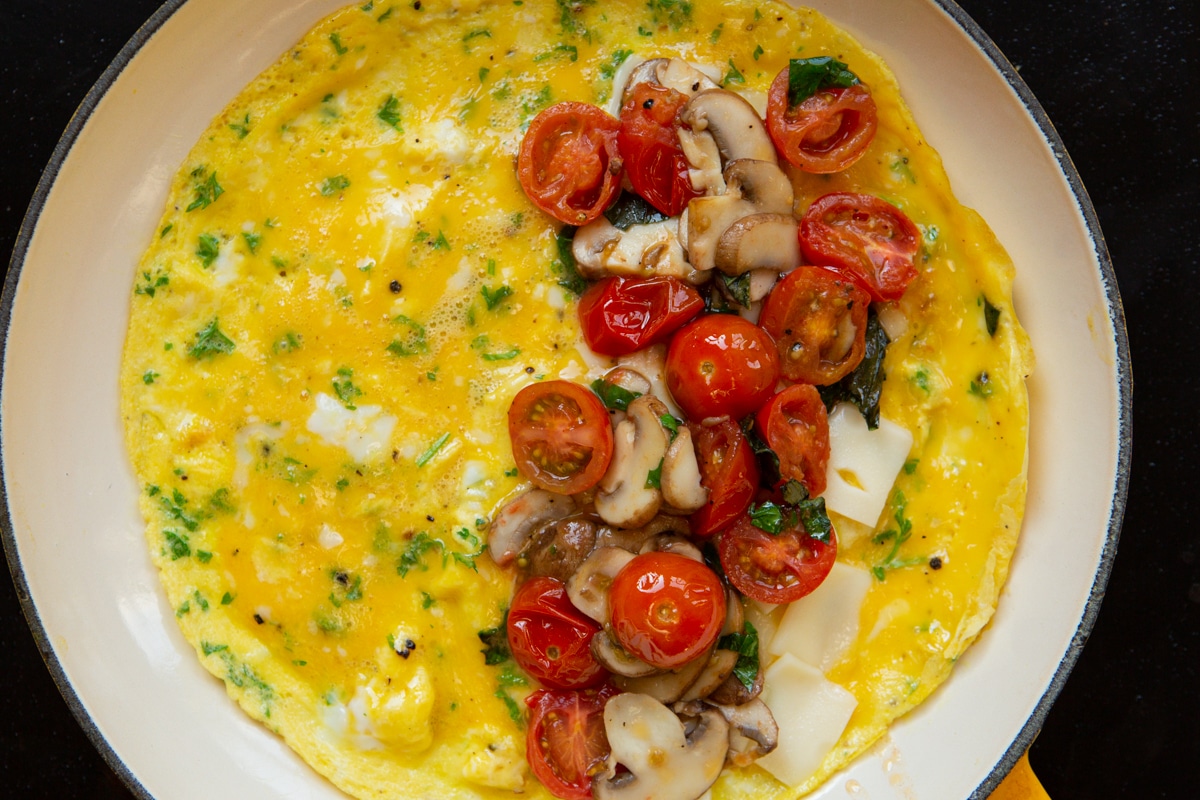 Garnish and serve: Slide the omelette onto a serving plate and spoon over the rest of the filling. Sprinkle some parsley overtop.
Enjoy!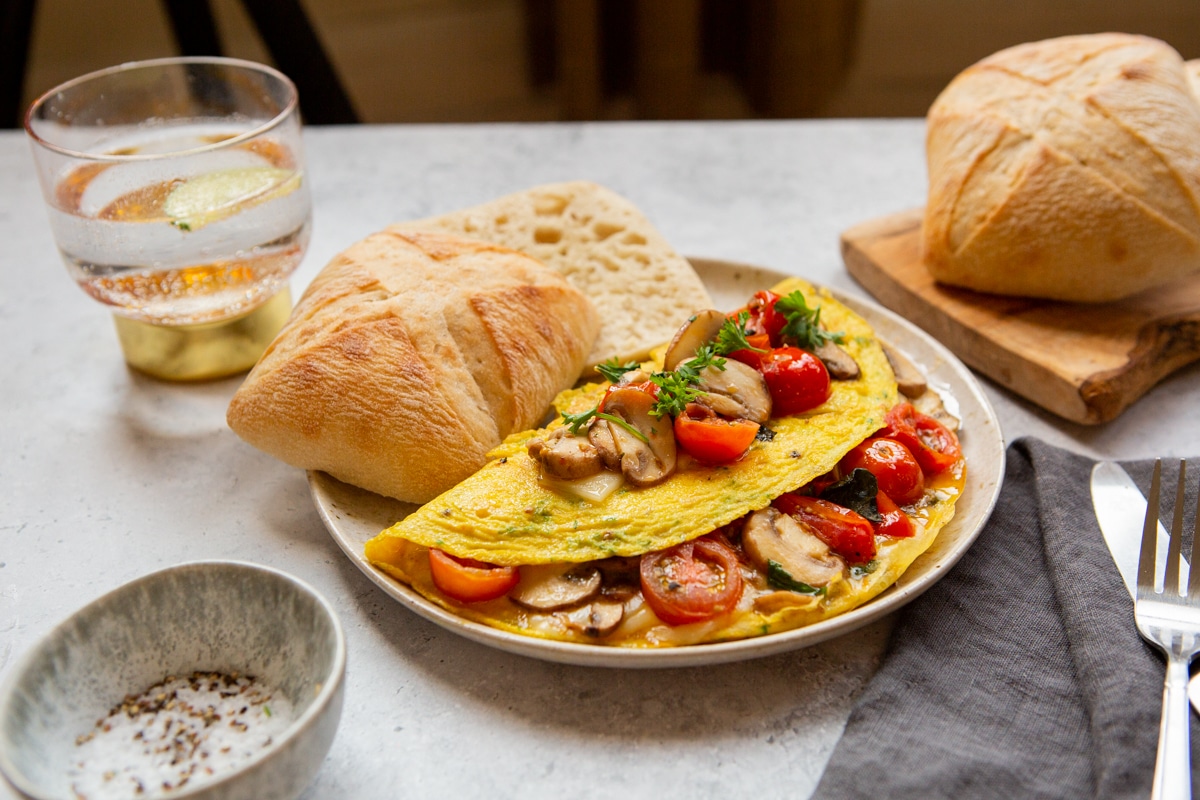 Recipe Tips
The best way to prepare an omelette is to cook it over medium heat. Too high, and the omelette might burn; too low, and it'll take too long.
When adding the filling ingredients, it's crucial to add them to one side of the omelette. This makes the folding process much easier and prevents the ingredients from spilling out.
Don't skip out on the step of sautéing the mushrooms. This reduces their water content, so you don't end up with a soggy omelette.
Storage & Reheating
Omelettes are best served fresh, but if you need to store it, keep it in an airtight container in the fridge. It will last up to 2 days. When reheating, use a nonstick skillet over medium heat until warmed through.
Additions & Substitutions
If you're feeling adventurous, experiment with additional fillings next time! Some suggestions include sweet potato, baby spinach leaves, almond milk, garlic cloves, or even a pinch of salt and black pepper for extra flavor.
Recipe FAQs
What should I serve with this mushroom omelette with tomatoes recipe?
This mushroom tomato omelette is filling and flavorful on its own, but you can serve it with a fresh green salad, toast, or even a smoothie for a complete and balanced meal.
What cheese other than provolone can I use?
If you don't want to use provolone, I suggest you swap it with cheddar or mozzarella—whichever you prefer.
Should I saute the veggies before adding them to an omelette?
Personally, I think omelettes taste best when the veggies are cooked first. However, if you prefer a crunchier consistency, you can add them uncooked. I wouldn't recommend leaving your mushrooms raw though!
Should the eggs be cold before making an omelette?
Eggs that are at room temperature will generally cook faster than eggs that are cold from the refrigerator. Whether they are cold or room temperature, they still make great-tasting omelettes.
---
Here are a few other omelette recipes you might enjoy!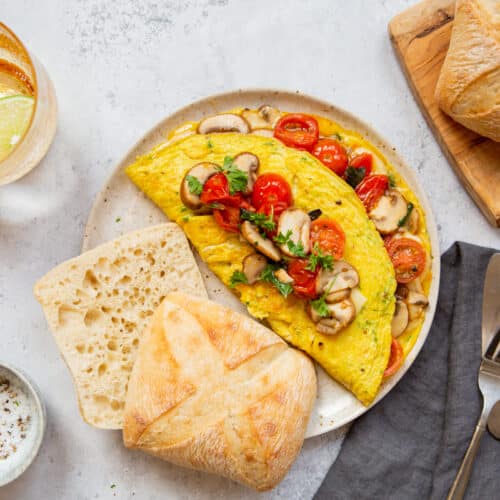 Mushroom Tomato Omelette
In this mushroom tomato omelette, the ripe, juicy cherry tomatoes mixed with the meaty button mushrooms form a delectable combination of flavors. The fluffy eggs, cooked to perfection, and the melted provolone cheese tie everything together in this comforting breakfast dish.
Ingredients
2

tbsp

olive oil

divided

3-4

eggs

3-4

button mushrooms

sliced

1

handful of cherry tomatoes

halved

1

tbsp

chopped basil

Salt and pepper

to taste

1

tbsp

chopped flat-leaf parsley

¼

cup

provolone cheese

thinly sliced
Instructions
In a small bowl, beat together the eggs, parsley, salt, and pepper to taste until everything is well combined.

Slice tomatoes and mushrooms.

Heat 1 tbsp of oil in a small skillet or omelette pan over medium-high heat.

Add the mushrooms and cook for 4-5 minutes or until golden brown.

Add tomatoes and cook for 1-2 minutes or until they start to soften.

Stir in the basil and pepper to taste and set aside on a plate.

In the same pan, heat the remaining oil over medium-low heat and add the egg mixture; let it cook until the bottom forms a skin.

Lay the provolone cheese over half the omelette, followed by the mushroom and tomato filling, leaving some aside for topping.

Cook until the edges of the omelette are set and the top is no longer runny.

Using a rubber spatula, lift the edges of the omelette and carefully fold the other half over the filling. Cook for another 1-2 minutes.

Transfer the omelette to a serving plate and spoon over the rest of the filling.

Garnish with some parsley and serve immediately.
Notes
It's important to cook the mushrooms before adding them to the eggs so that they release all of their moisture. If you decide to skip this step, you risk making a soggy omelette and you don't want that!
Pan size matters! Make sure you have the right size pan (8-9 inches) to cook up an omelette. Too big a pan and your omelette will come out thin, risking the integrity of the omelette. Too small, and the omelette will be too thick to fold.
If you don't have specifically cherry tomatoes or button mushrooms, that's alright! There are so many different kinds of tomatoes and mushrooms, any will do.
Nutrition
Calories:
580
kcal
Carbohydrates:
9.6
g
Protein:
43.9
g
Fat:
39.8
g
Saturated Fat:
21.2
g
Cholesterol:
560
mg
Fiber:
3.2
g
Sugar:
1.6
g
Matthew is a recipe developer and food photographer based in Canada. He enjoys all things food, drink and makes his best decisions with a mimosa in hand.