For a bright and fresh dish bursting with flavor, try this sun-dried tomato omelette for your next breakfast or brunch. Packed with fresh basil and feta, this omelette is creamy, tangy, herby, and oh-so-delicious!
Simple to put together, the dish calls for adding the cheese and sun-dried tomato while the omelette is cooking so the eggs rise around the ingredients, incorporating their flavors into every bite. 
Looking for more omelette recipes? Here are other recipes you might enjoy: Tuna Omelette, Chili Cheese Omelette, Pesto Omelette, and Egg Beater Omelette.
Why You'll Love This Recipe
Healthy and delicious: This sun-dried tomato omelette is not just a feast for the taste buds but also a nutritious dish packed with healthy fats from olive oil and eggs. Plus, it's a low carb choice that's perfect for those watching their carb intake.
Easy to prepare: With ingredients that are easily available and a straightforward process, this recipe is perfect for a quick and satisfying breakfast or brunch.
Versatile: This recipe welcomes additions and substitutions, allowing you to customize according to your dietary needs and taste preferences. You can experiment with a variety of fresh herbs, cheeses, and more!
Recipe Ingredients
You'll need the following ingredients to make these omelettes with sun-dried tomatoes:
Ingredient Notes
Eggs: For a fluffy omelette, separate the egg whites and beat them until frothy before folding them into the rest of the egg mixture. Use medium bowl for this.
Sun-Dried Tomatoes: Make sure to pat them dry after removing from oil to ensure the perfect texture in your omelette.
Cheese: While feta is recommended for this recipe, you could also try a creamy goat cheese omelette. This substitution gives a more tangy and rich flavor.
Fresh Herbs: Basil works wonders in this recipe, but don't shy away from trying other fresh herbs like parsley or even a little thyme.
Olive Oil: A good source of healthy fats, olive oil imparts a subtle, savory flavor. However, if you're looking for a more neutral taste, you can substitute it with coconut oil.
How To Make a Sun-Dried Tomato Omelette
Prepare the toppings: Drain the sundried tomatoes from the oil and pat them dry with a paper towel. If the tomatoes are in large pieces, use your knife to cut them into small, roughly 2-inch-long strips. With your hands, crumble the feta into small chunks that you will later sprinkle over the omelette. With hands, tear the basil into large pieces.
Prepare the eggs: In a bowl, crack the eggs and add salt and pepper. Whisk until well incorporated. Note that feta can be very salty, so you may want to use less salt here than you normally would.
Make the omelette: Heat the oil in a small non-stick frying pan on medium heat. Pour in the prepared eggs. Allow to cook for 10-15 seconds, then randomly scatter the sundried tomatoes and feta.
Cover with a lid for 2-3 minutes or until the eggs have puffed up slightly and have just been set. Remove from the pan and top with the basil.
Serve: Enjoy!
Recipe Tips
Cook your omelette on medium-high heat for golden brown edges and tender eggs. Use a rubber spatula to gently pull the edges of the eggs toward the center, letting any uncooked egg flow underneath.
Add fresh herbs towards the end of cooking to keep them fresh and vibrant. A pinch of salt and black pepper along with a dash of garlic powder can enhance the flavors.
Using a small skillet with a bit of cooking spray ensures the eggs don't stick to the bottom of the pan, making your omelette recipe a success.
Storage & Reheating
Store any leftover omelette in an airtight container in the refrigerator for up to 2 days. To reheat, gently warm it on a pan over low heat or in a microwave for a few seconds until heated through. Avoid overheating as it may make the eggs tough.
Additions & Substitutions
Feel free to play around with this recipe. Try swapping sun-dried tomatoes for bell peppers or adding baby spinach for an extra boost of nutrients. For a Greek omelette twist, add kalamata olives and red onion. If you're not a fan of feta, a goat cheese omelette is also an excellent alternative.
Recipe FAQs
What should I serve with this omelettes with sun-dried tomatoes recipe?
Serve this omelette with a side of whole grain toast or a simple salad for a wholesome meal. Alternatively, for a low-carb meal, a side of the omelet with some sliced avocado or a handful of fresh berries would make a great accompaniment. A glass of fresh orange juice or hot coffee can complement the dish perfectly.
I can't find fresh basil. What can I do?
Another fresh herb, like parsley, would provide a nice fresh flavor to this dish. However, you can also try using dried basil sprinkled over the top of the dish. Use it sparingly.
---
Here are a few other omelette recipes you might enjoy!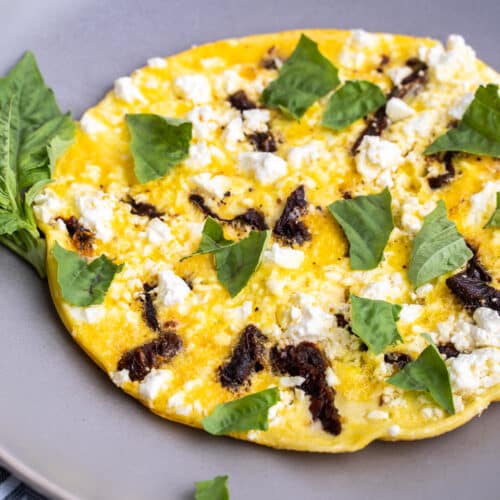 Sun-Dried Tomato Omelette
This sun-dried tomato omelette is a deliciously balanced omelette with just the right amount of acid, fat, and salt. Sun-dried tomatoes, feta, and fresh basil flavor the delicate texture of an airy egg omelette. Serve this dish alongside a light drink and a few slices of baguette for a simple yet elegant meal.
Ingredients
3

eggs

large

salt

to taste

ground pepper

to taste

½

tablespoon

olive oil

1/3

cup

sun-dried tomatoes

in oil

5-6

fresh basil leaves

1

oz

feta
Instructions
Drain 2 oz sundried tomatoes from the oil and pat them dry with a paper towel.

Use your knife to cut the tomatoes into small, roughly 2-inch-long strips, if necessary.

Crumble 2 oz feta into small chunks and set aside.

Tear the basil into large pieces.

Crack three large eggs into a bowl and add ½ teaspoon of table salt and ½ teaspoon of freshly cracked pepper. Whisk until well incorporated.

Heat a small non-stick frying pan with medium heat and add roughly ½ tablespoon of olive oil.

Add the eggs to the pan once it is heated.

Allow to cook for 10-15 seconds, then scatter the sundried tomatoes and feta.

Cover the pan with a lid for 2-3 minutes or until the eggs have puffed up and have set.

Remove from the pan and top with the basil.
Notes
Do not use sundried tomatoes that are not packed in a liquid. These are chewy and rubbery, which is the wrong texture for this dish. Instead, use sun-dried tomatoes preserved in oil. Make sure you dry them off well.
I recommend cooking your omelette open-faced (rather than folded). I think the omelette looks prettiest this way.
If you don't like feta cheese, feel free to substitute it with any other cheese you want. I recommend goat cheese, farmer cheese (it has a mild flavor), or any other white cheese that you can crumble.
Nutrition
Calories:
414
kcal
Carbohydrates:
96.87
g
Protein:
26.38
g
Fat:
20.18
g
Saturated Fat:
8.86
g
Fiber:
17.6
g
Sugar:
7.43
g
Arielle is a food and drink photographer based in Washington, D.C. She was previously a social science researcher before she fell in love with photography.