Don't let your donuts get stale—try this donut breakfast sandwich recipe! If I had to say there's one breakfast that I go to every morning when I need a quick bite, it's coffee and a donut. Though I'll agree it's not the most nutritious, it's one of those treat meals that make me happy, which we all need once in a while.
This donut breakfast sandwich is an elevated version of that, and dare I say a breakfast sandwich even? The sweetness of the doughnut really complements the savouriness of the sausage, egg, and cheese and tastes great with fresh fruit like grapes or berries.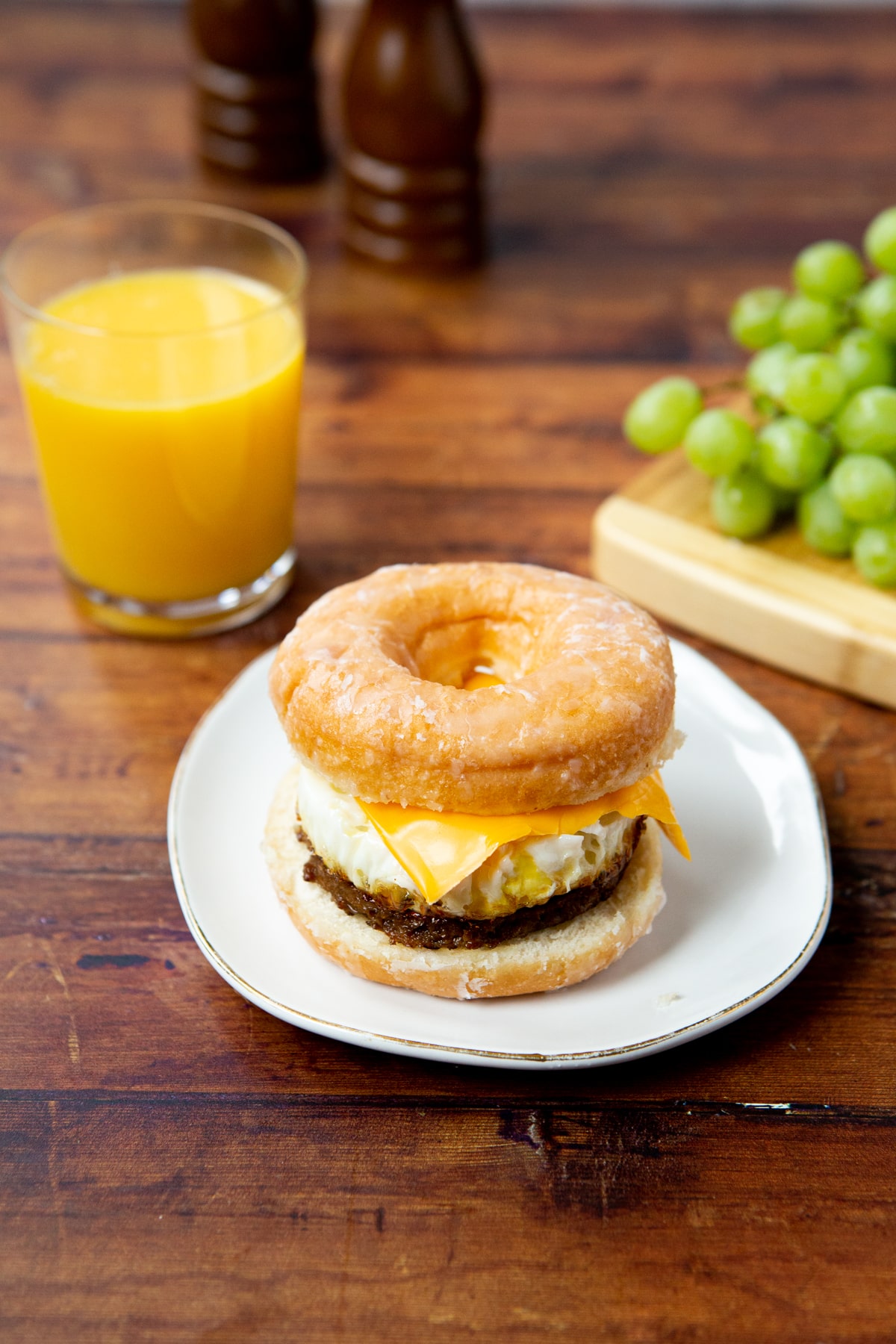 Looking for more sandwich recipes? Here are other recipes you might enjoy: Chicken Bacon Ranch Sandwich, Gluten-Free Breakfast Sandwich, Waffle Sandwich, Bacon Sandwich, and Sourdough Breakfast Sandwich.
Why You'll Love This Recipe
Innovative fusion: This donut breakfast sandwich is not just your usual sandwich, it's a delightful mashup of your favorite breakfast dishes all in one. Savory breakfast sausage patties meet sweet glazed donuts to create a surprising and delicious sandwich that you'll crave.
Quick and easy: With just a few ingredients, a little prep, and medium heat, you can whip up this gourmet-style sandwich in minutes. It's perfect for those busy mornings when you're rushing out the door but don't want to compromise on a tasty breakfast.
Customizable: Feel like adding a fried egg for some extra protein or drizzling some maple syrup for a sweet finish? This recipe welcomes creativity. You can experiment with different ingredients to make the sandwich that suits your taste buds the best.
Recipe Ingredients
You'll need the following ingredients to make this glazed donut sandwich: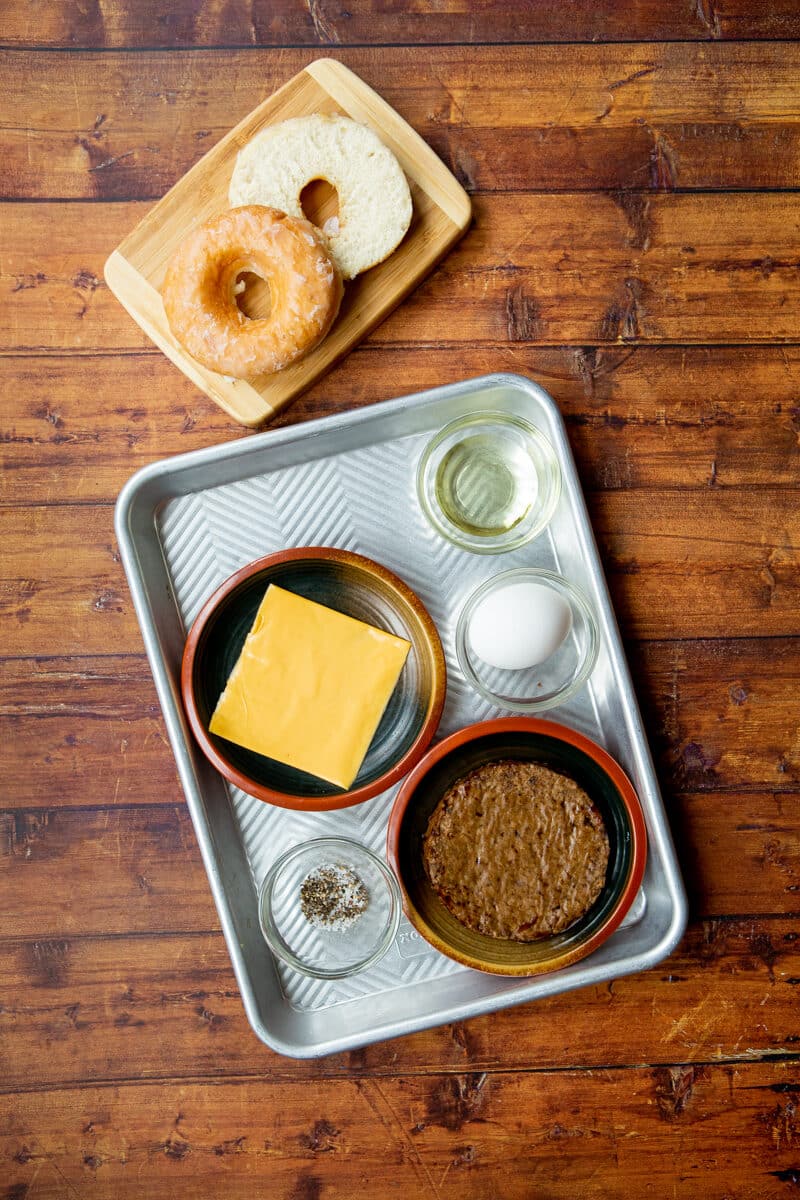 Ingredient Notes
Sausage: Opt for breakfast sausage patties for a savory flavor that complements the sweetness of the donut perfectly.
Cheese: A slice of American cheese brings the melty cheese goodness that pairs so well with the sausage and egg. However, cream cheese can also be a great alternative, adding a different but equally satisfying flavor and texture.
Donut: A glazed donut is a key ingredient here. It brings a sweetness that pairs excellently with the savory ingredients, creating a perfect blend of flavors.
How To Make a Donut Breakfast Sandwich 
Cook your sausage and eggs: This step can be done separately or together. Heat a large frying pan on medium and add vegetable oil. Once heated, add your sausage.
On the other side of the pan, crack your egg in a circular cutter. If you don't have a cutter, you can still cook your egg and cut it in a circle to fit inside the donut. Season both with salt and pepper. When ready, set aside.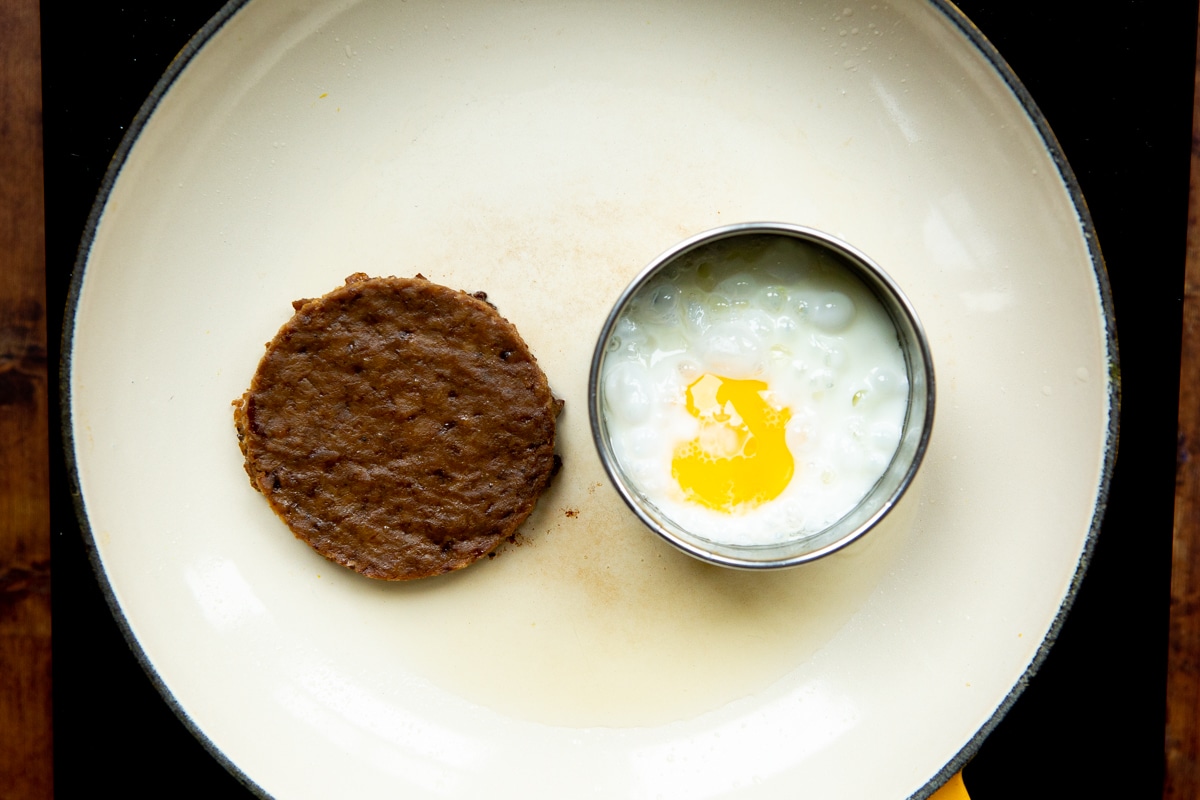 Assemble your donut: Begin assembling your donut breakfast sandwich by slicing your donut in half. Add sausage, egg, and cheese and cover with the top of the donut.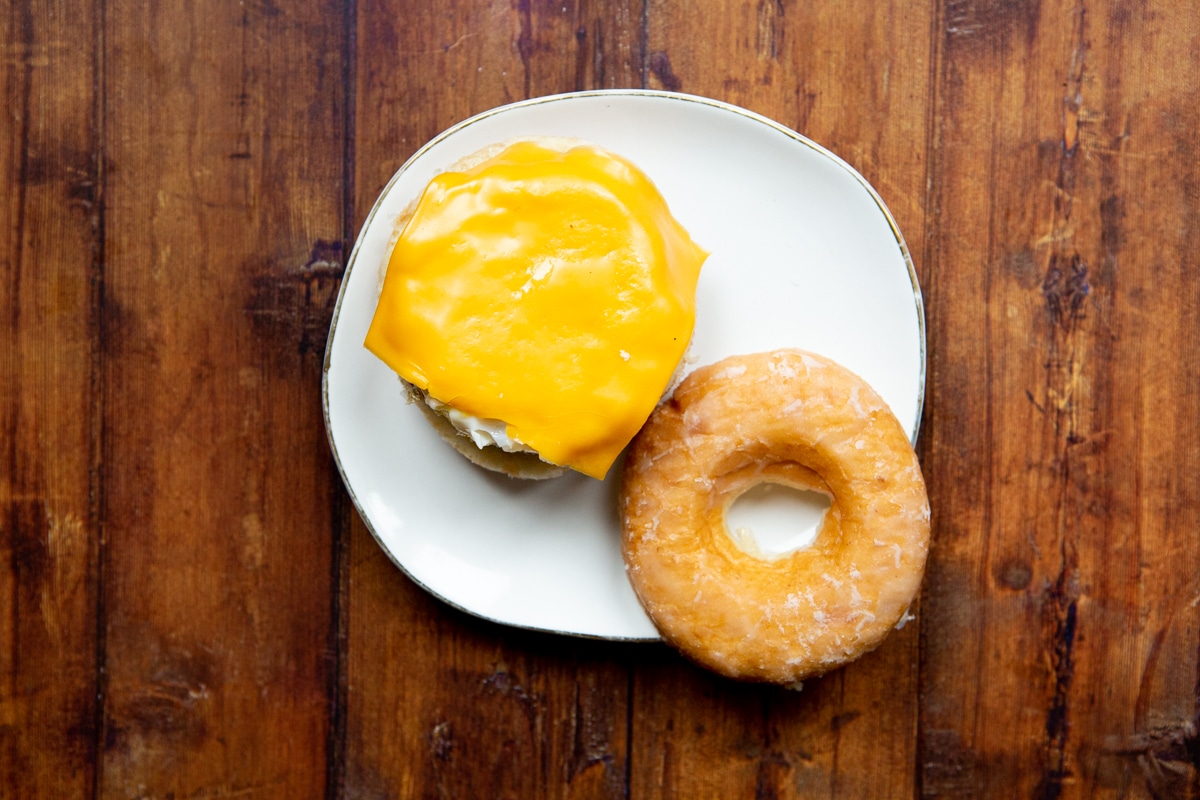 Serve & enjoy!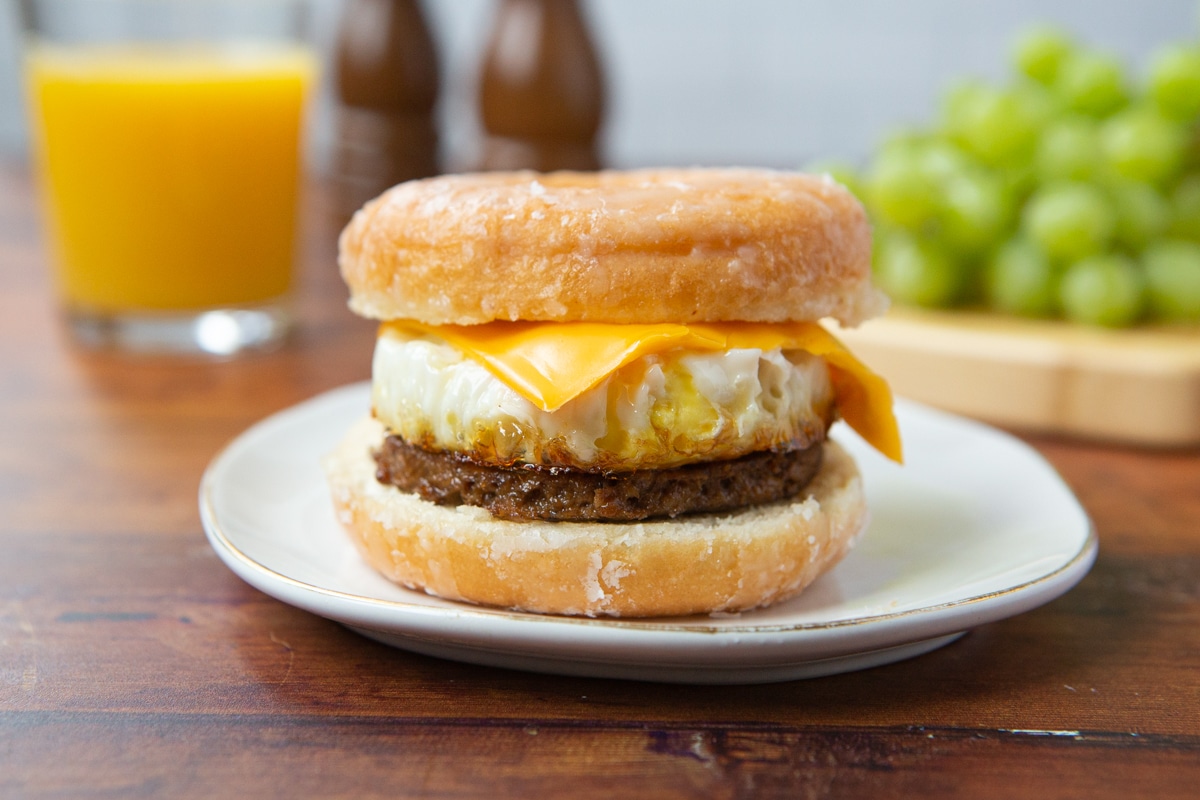 Recipe Tips
Place the cheese on the hot sausage patty immediately after cooking. This will ensure the cheese melts perfectly onto the sausage, creating a beautiful, creamy texture.
If you're adding bacon strips, make sure they're crisp but not overcooked. Overcooked bacon can become too hard and might overwhelm the other textures in the sandwich.
When you're ready to assemble the sandwich, cut the donut in half and use the bottom half of the donut first. This will ensure a stable base for your sandwich.
Storage & Reheating
The sandwich is best served immediately, but if you need to store it, wrap it tightly in aluminum foil and refrigerate for up to 2 days. To reheat, unwrap the sandwich and microwave it for 30-45 seconds or until the cheese is melty and the sausage is heated through.
Additions & Substitutions
You can easily adapt this recipe to your preferences. For example, swap the breakfast sausage for bacon or ham, or use different types of cheese like cheddar or mozzarella. Crispy bacon slices can be an additional component to this sandwich, contributing a smoky flavor and a delightful crunch.
If you're looking for a vegetarian option, replace the sausage with a plant-based alternative. Want to make it extra indulgent? Try adding a spread of maple cream cheese or a layer of candied bacon.
Recipe FAQs
What should I serve with this glazed donut sandwich recipe?
This donut breakfast sandwich is a meal in itself. However, if you're looking to round out your breakfast, consider a side of fresh fruit or a small bowl of yogurt with granola. A hot cup of coffee or your favorite morning beverage would also be the perfect way to complement this unique and delicious sandwich.
---
Here are a few other sandwich recipes you might enjoy!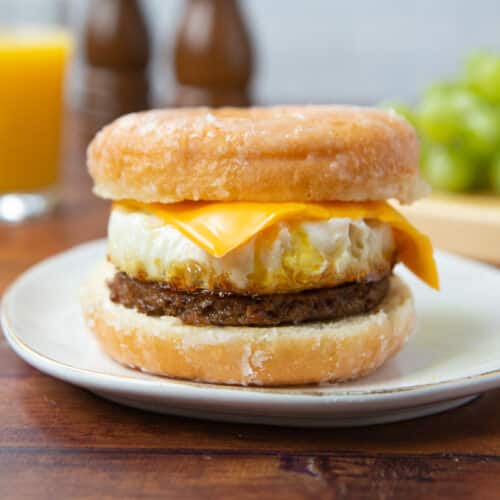 Donut Breakfast Sandwich
For a delightful combination of sweet & savory, try this donut breakfast sandwich. Easy to prepare and assemble, this might be your new favorite way to eat a donut.
Ingredients
1

egg

1

sliced cheese

1

breakfast sausage

1

tbsp

cooking oil

1

glazed donut

sliced
Instructions
Heat a large nonstick frying pan on medium-high heat.

Add oil followed by a metal ring. Add eggs into the metal ring as well as a sausage on the other side.

Cook for 5 minutes on each side or until fully cooked.

Once ready, begin assembling by placing sausage and egg inside a donut. Add cheese, cover with another donut, and serve.
Notes
One tool that will change your life when making breakfast sandwiches are stainless steel circular cookie cutters. I use it to make the egg the perfect shape to fit inside any donut, English muffin, or scone. Just be sure to brush some oil inside the ring so the egg doesn't stick to the sides.
If you want to make your donut feel like it was just out of the oven, microwave it for 20 seconds before eating and taste how soft and warm it can be. Just be sure to not microwave it for any longer or the glaze will begin to melt.
If you're looking to make this a little lighter, try Boston lettuce since the leafy, butterfly crunch will go great with these ingredients.
Nutrition
Calories:
578
kcal
Carbohydrates:
24.7
g
Protein:
19.8
g
Fat:
44.9
g
Saturated Fat:
13.8
g
Fiber:
1
g
Sugar:
2
g
Matthew is a recipe developer and food photographer based in Canada. He enjoys all things food, drink and makes his best decisions with a mimosa in hand.