Bake off a batch of cranberry banana muffins next time you have company staying the weekend. Only requiring two bowls, these muffins are sweet, tangy, and simple.
As they bake, they will fill your home with a rich, caramelly aroma that will gently wake up your guests and family. These muffins are packed with soft and chewy textures from the ripe bananas and tart dried cranberries. But the best part may be the crunch from the brown sugar and cinnamon topping.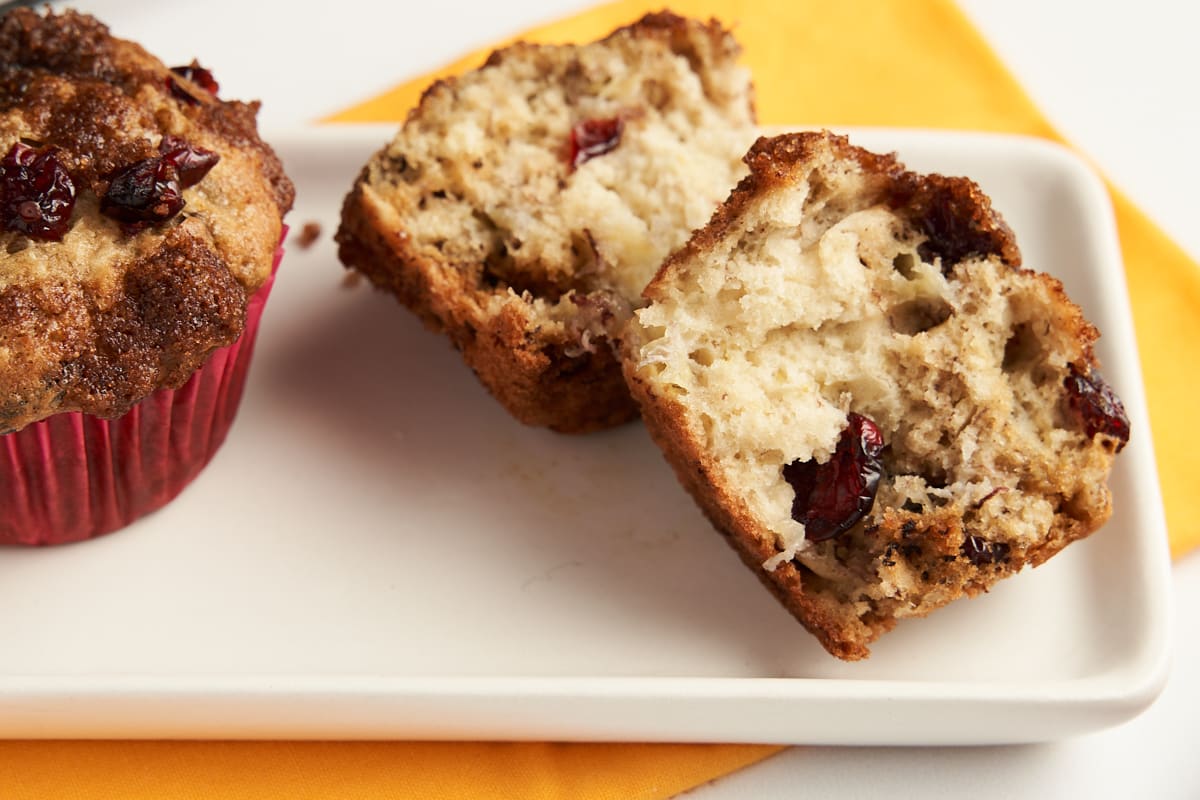 Although they are hearty, these cranberry banana muffins have delicate flavors and texture. When you serve them, keep it simple. Slice up some bananas or serve sliced apples and pears or other fall fruits.
These muffins go well alongside a drink that compleiments the cinnamon flavors of the muffins but does not overwhelm them. I like them with a chai latte or cinnamon tea. Also, these muffins are meant to be easy and welcoming, so think delicious, but unfussy drinks.
What You Need to Make Cranberry Banana Muffins
Cranberry banana muffins require baking staples like flour, baking soda, baking powder, oil, spices, and sugars in addition to banana and dried cranberries.
Make sure that the bananas you use are very ripe. This will make them easier to mash and will also produce a better, sweeter flavor in your bake. If your bananas aren't ripe, you can spear them in their peels and then place them in a hot oven for 10 minutes. Allow them to cool before you try to peel and mash them.
There are a few types of dried cranberries on the market. You can use sweetened cranberries or reduced sugar cranberries. Reduced sugar cranberries are slightly tangier, which I like, but either will work.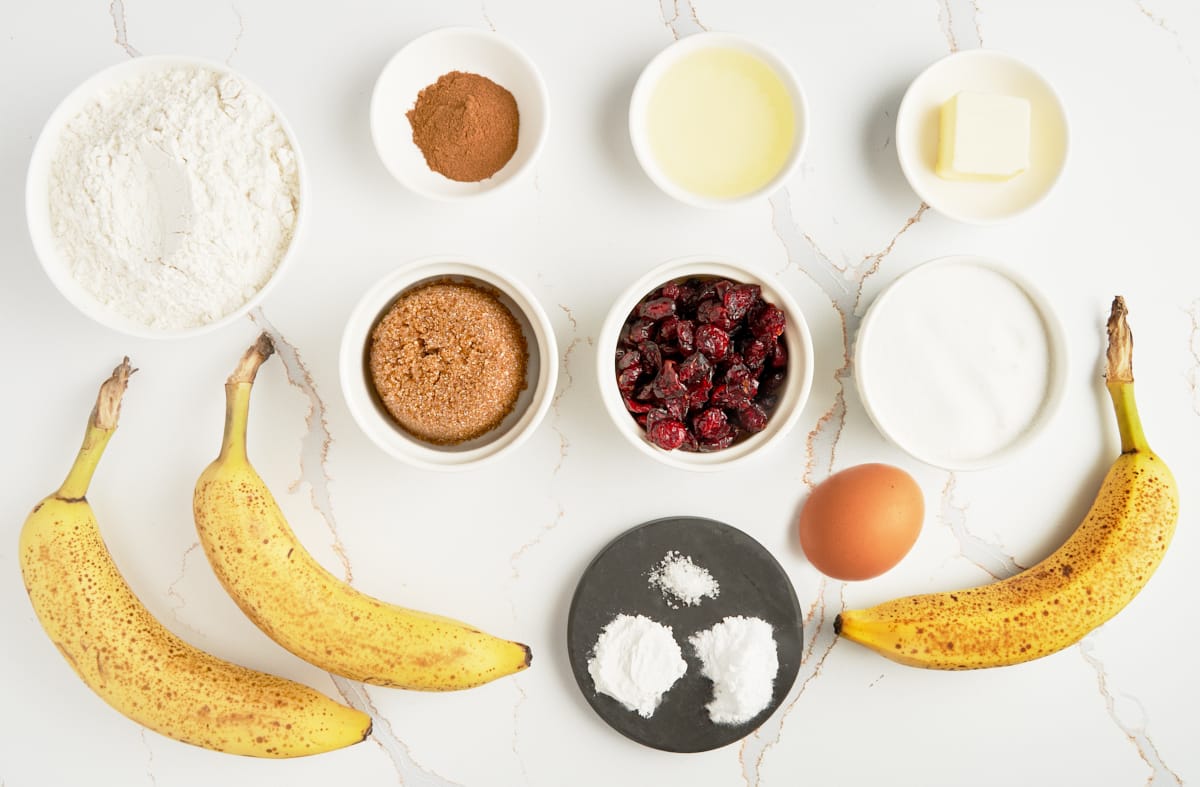 Ingredients:
All-purpose flour
Neutral oil, like canola oil
Granulated sugar
Brown sugar
Ripe bananas
Dried cranberries
Cinnamon
Baking powder
Baking soda
Large egg
Unsalted butter, softened
Kosher salt
Tools:
The equipment list for this muffins recipe is not very involved. You will need two bowls, a whisk, a fork, spatula, and muffin tin and liners. The muffins can be made in one bowl, the topping in the other.
Because this does not require a lot of equipment or noisy machines, you can make this recipe while everybody sleeps, and have it cleaned before they come downstairs.
How To Make Cranberry Banana Muffins
Make the batter: Mash 2-3 large ripe bananas in a bowl. Add granulated sugar and oil and whisk until well incorporated. Add in the egg and whisk until combined. Fold in flour, baking soda, baking powder, and salt until just combined.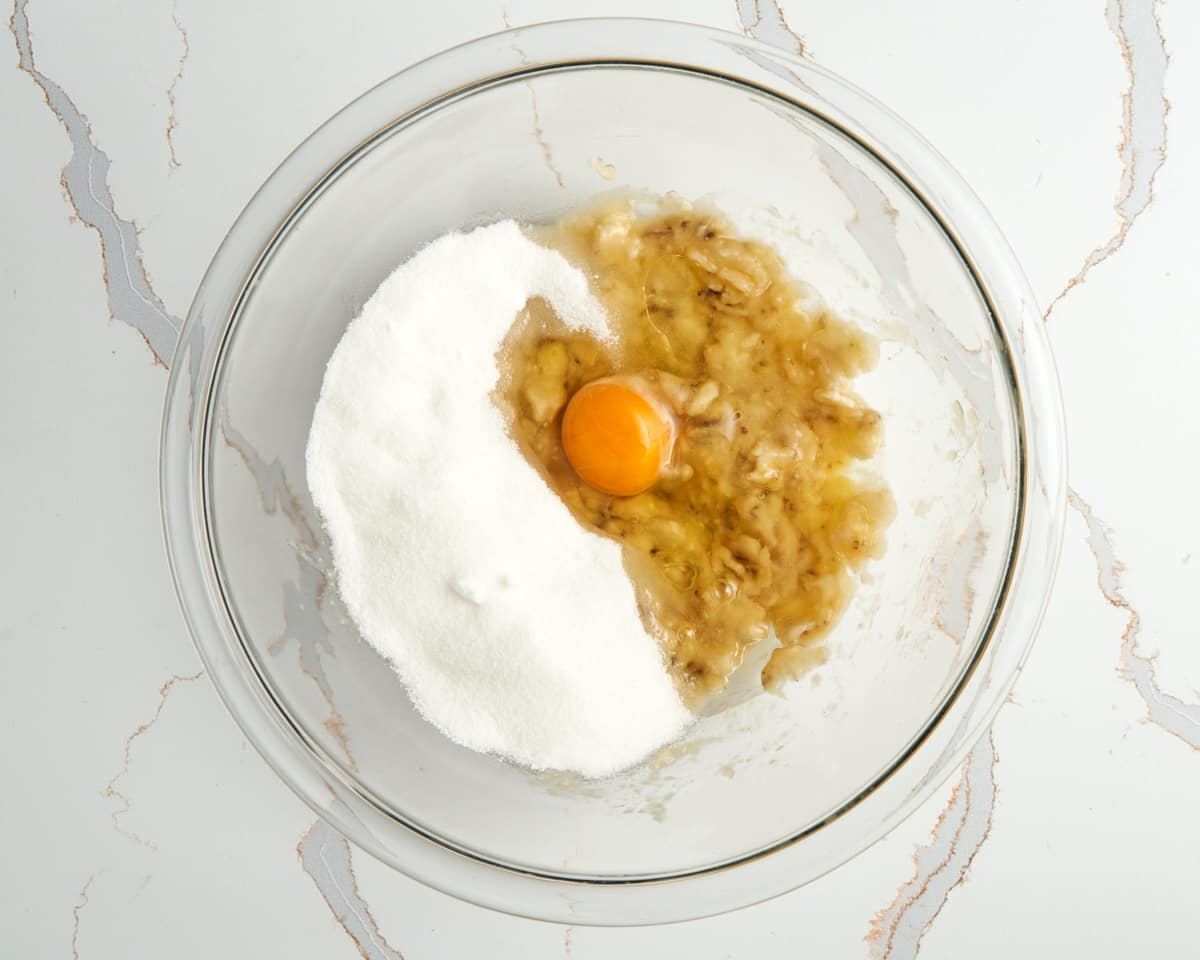 Fold in cranberries.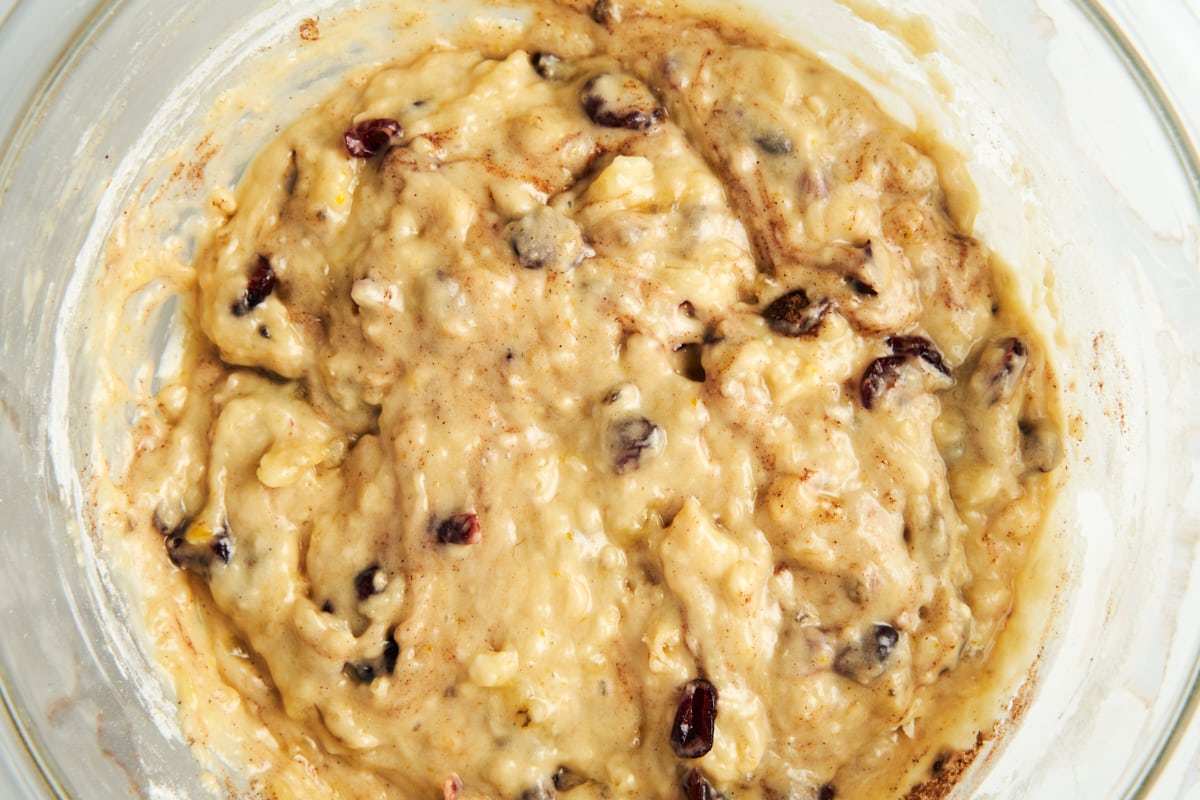 Mix the topping: Place butter, brown sugar, cinnamon and salt in a bowl. With your hands or a fork, mix the ingredients together until the mixture becomes crumbly.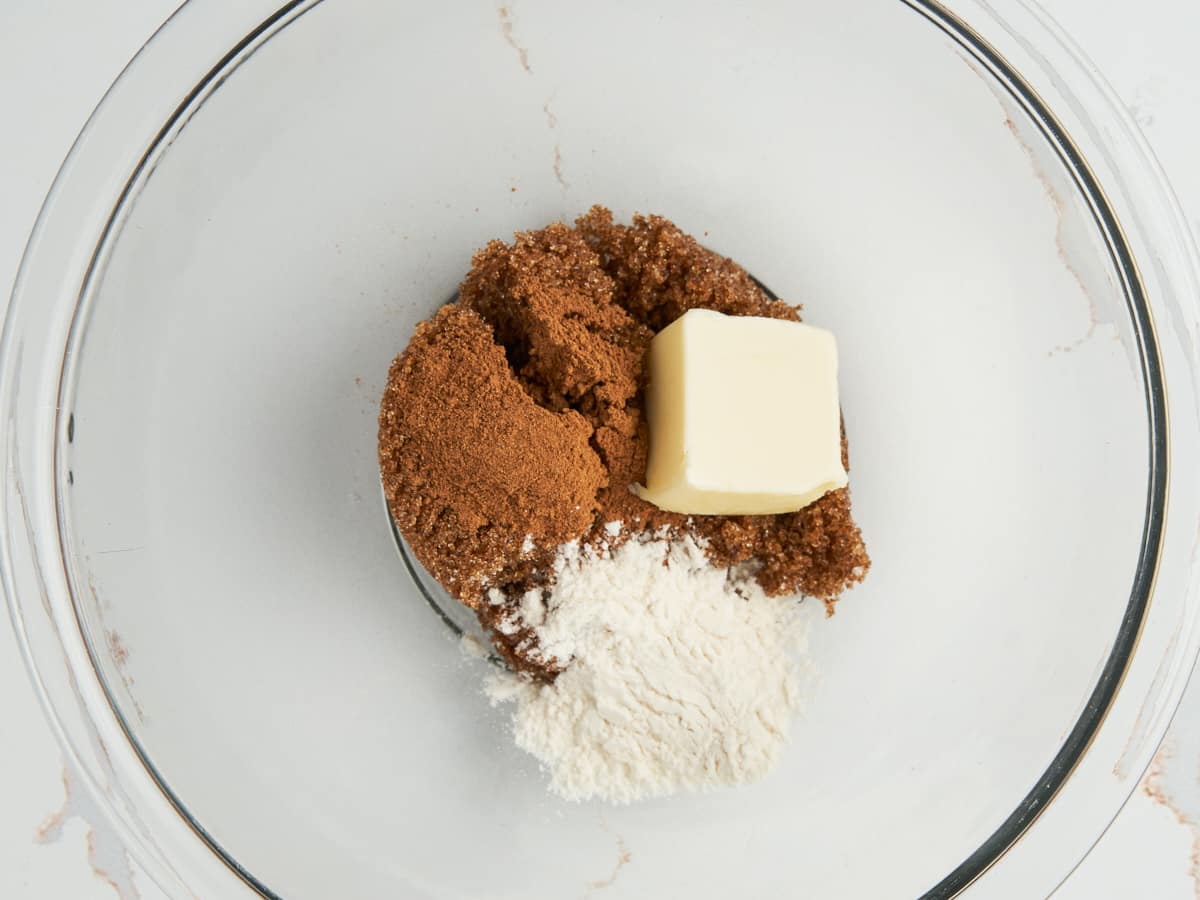 Bake the muffins: Preheat your oven to 375ºF. Line and grease the muffin tin. Fill the muffin tins 2/3 of the way to the top.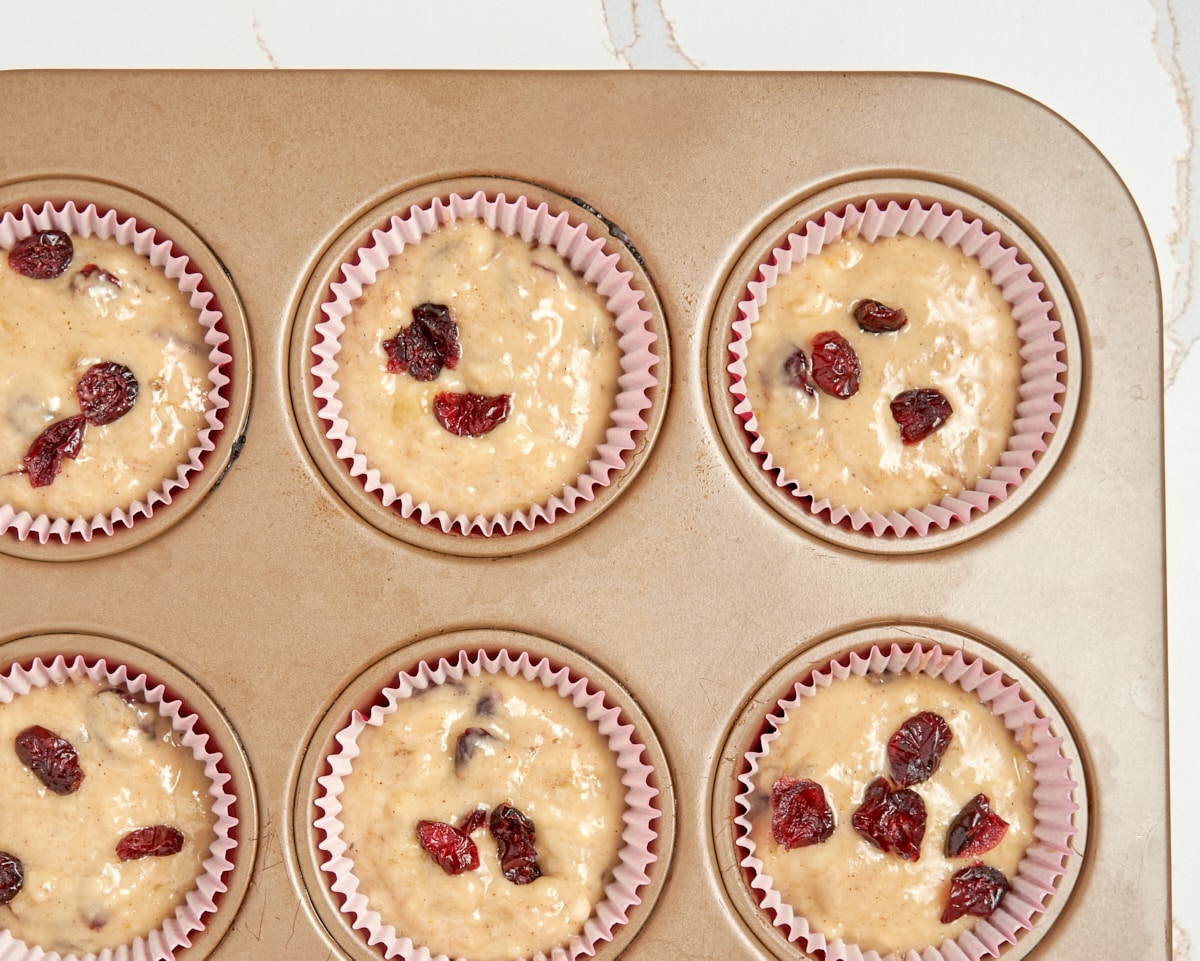 Add the brown sugar topping to each of the muffins and bake for 16-18 minutes.
Remove when an inserted toothpick comes out clean. Allow to cool for a few minutes in the pan before transferring the muffins to a cooling rack. Enjoy!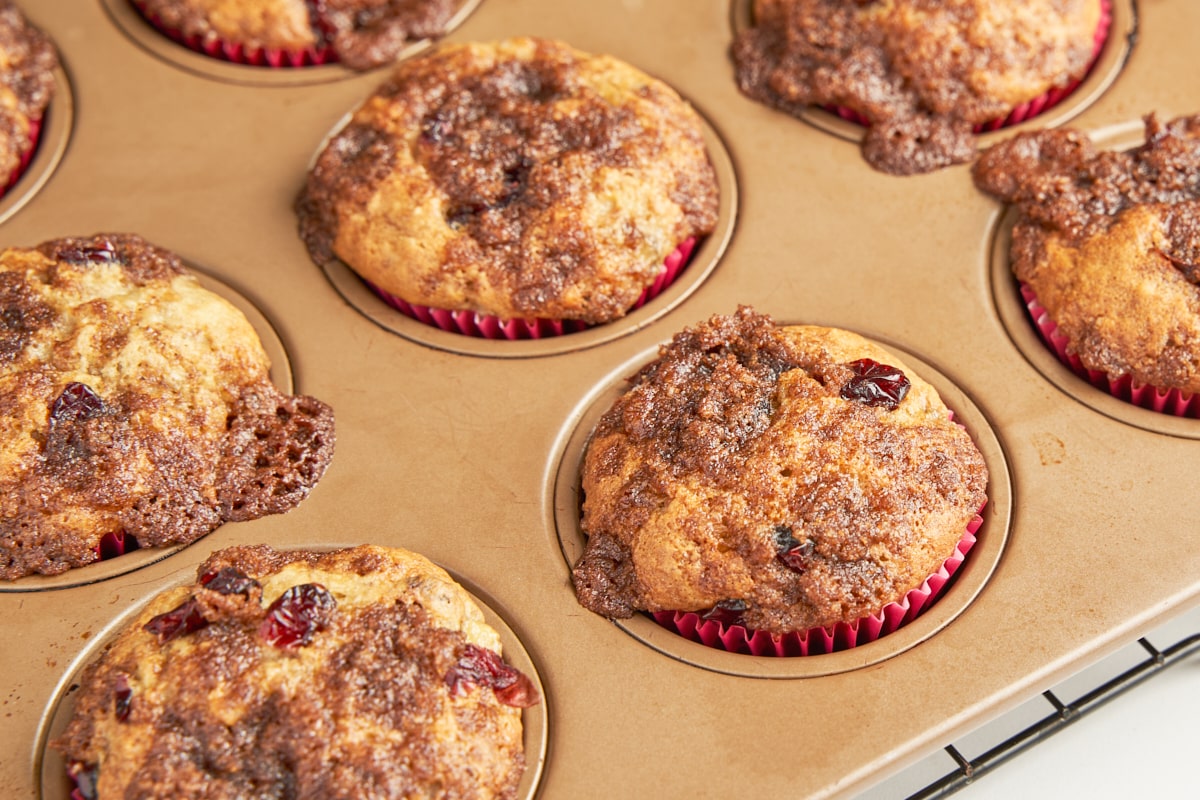 What can I do with leftover muffins?
Leftover muffins can be stored, well wrapped, in the refrigerator for up to five days. They might start to dry out after that. You can also freeze these muffins. Simply reheat in the microwave or split them in half and put them under a broiler to get a little toast on the inside.
What else can I add to these muffins?
Toasted and chopped walnuts would add a lovely crunch and texture to these muffins if you wanted a bit more heft to them. You could add nuts to the muffins or to the topping, or both. You could also add different warm spices to the muffins for a slightly different flavor profile. I think ginger would be a fun addition if used sparingly.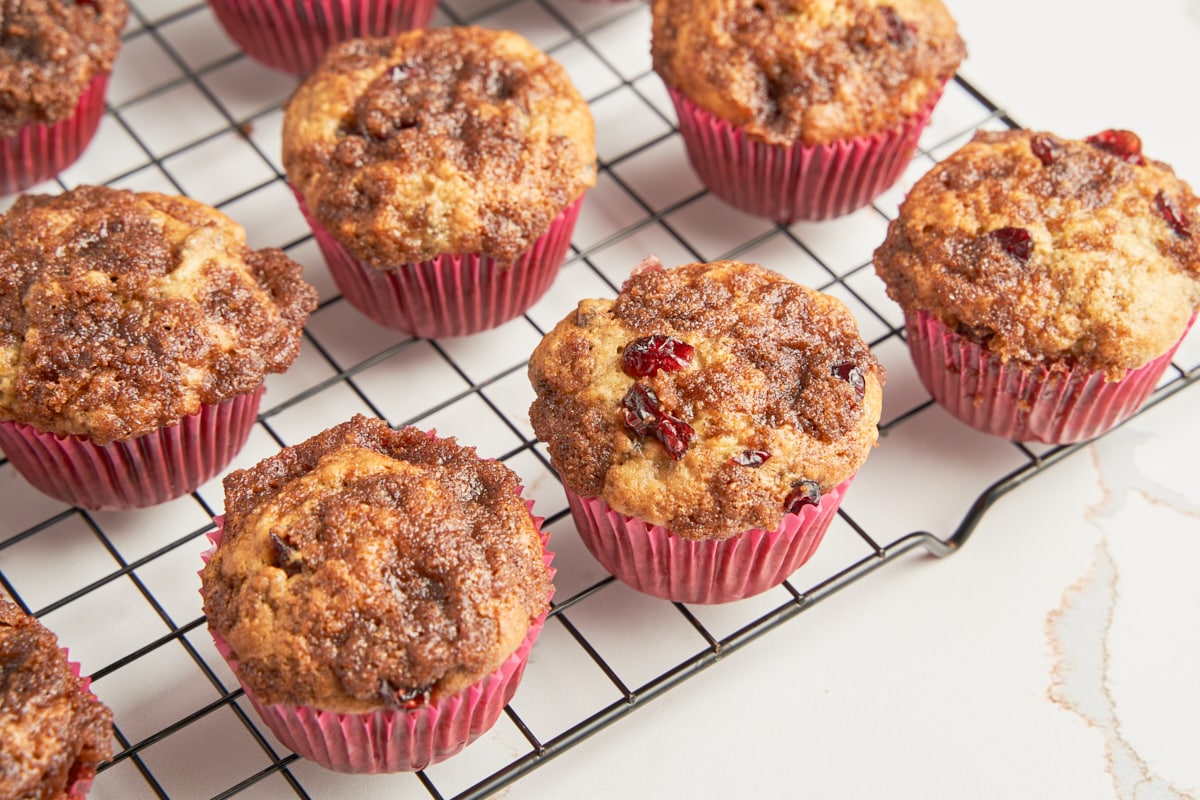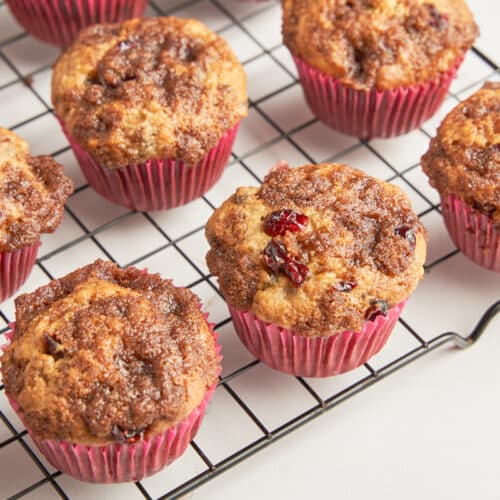 Cranberry Banana Muffins
Cranberry banana muffins are a special treat, perfect for breakfast on weekends with friends. Quick to make and bake, these muffins are topped with a delectable crunchy brown sugar and cinnamon topping. The soft and chewy interior textures are contrasted with a crunchy sweet topping that you and your guests will enjoy.
Ingredients
1 ¾

cups

all-purpose flour

divided

1

large egg

1

tsp

baking powder

1

tsp

baking soda

¼

cup

neutral oil

like canola oil

2 to 3

large, ripe bananas

mashed

½

cup

dried cranberries

⅔

cup

granulated sugar

1 ½

tbsp

butter

½

tsp

cinnamon

⅓

cup

brown sugar

½

tsp

kosher salt
Instructions
Preheat your oven to 375ºF.

Line and grease 12 slots in a standard-sized muffin tin.

In a bowl, mash 2-3 large, ripe bananas.

Add ¼ cup oil and 2/3 cup granulated sugar and whisk until smooth.

Add in one egg and mix until incorporated.

Add 1 1/2 cups all-purpose flour, 1 teaspoon baking soda, 1 teaspoon baking powder, a ½ teaspoon of salt and mix until just combined

Fold in ½ cup of dried cranberries.

Fill each muffin tin 2/3 of the way up with batter.

In a separate bowl, place 1/3 cup brown sugar, ½ teaspoon cinnamon, ¼ cup flour, and 1 ½ tablespoons of softened unsalted butter in a bowl.

Using a fork or your hands, blend the ingredients until crumbly.

Sprinkle the mixture on the top of each muffin.

Place muffins in the preheated oven for 16-18 minutes or until a toothpick inserted comes out clean.

Allow to cool before serving.
Notes
When you are making these muffins, be careful not to over-mix your batter. Over-mixed batter will result in a muffin with a tough texture. Under mixing may leave small pockets of flour. However, it is better to err on the side of undermixing than overmixing.
Nutrition
Calories:
231
kcal
Carbohydrates:
41.98
g
Protein:
2.45
g
Fat:
6.7
g
Saturated Fat:
1.45
g
Fiber:
1.6
g
Sugar:
23.82
g
Here are a few other recipes you might enjoy!
Arielle is a food and drink photographer based in Washington, D.C. She was previously a social science researcher before she fell in love with photography.