Can you imagine anything more comforting than banana bread? How about Nutella banana bread! This recipe transforms the classic banana loaf by adding browned butter, brown sugar, toasted hazelnuts, and layers of creamy Nutella.
Nutella banana bread has an unmatched richness and complexity; the Nutella adds a bright sweetness, while browned butter and brown sugar add a dark caramel flavor.
And because this bread stays moist for several days and can be frozen, you can enjoy it whenever you need a pick-me-up or have last-minute guests coming over for coffee or brunch.
Nutella amplifies banana bread's already warm, rich aromas, melt-in-your-mouth textures, and caramelly, fruity flavors. Share thick slices of this Nutella banana bread with a strong, nutty coffee or robust cup of tea.
You can pair it with lighter breakfast foods, like a bowl of yogurt or a few slices of banana, but on its own, it will fill you up quickly, so choose things that are not too sweet or heavy.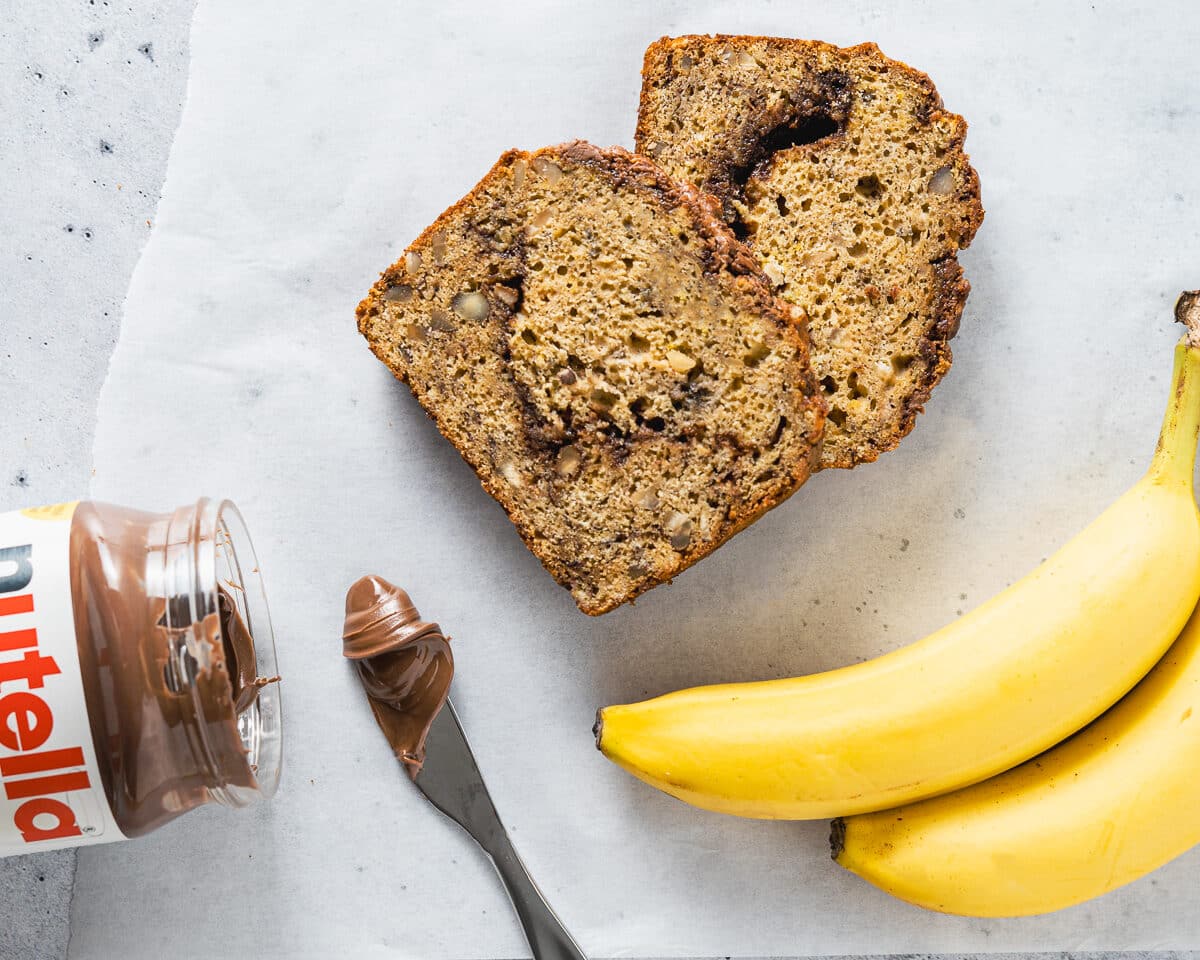 What You Need to Make Nutella Banana Bread
You will need ripe bananas, all-purpose flour, dark brown sugar, butter, eggs, chopped hazelnuts, baking soda, yogurt, vanilla extract, salt, and of course, Nutella.
If you don't have vanilla extract you can omit it, but it does add a nice richness.
Make sure that you use ripe or overripe bananas and mash them well. If you have frozen bananas, you can also use them here.
There are a couple of ingredient swaps that you can use in this recipe. You do not have to use hazelnuts. You can substitute for another nut that you like, or exclude the nuts entirely.
I recommend using plain whole or 2% Greek yogurt, but you can use non-fat Greek yogurt, or for an even richer bake, sour cream.
The browned butter is not essential if you only want to use plain melted butter. However, once you taste how much richer the batter is with browned butter, you will not want to skip this step.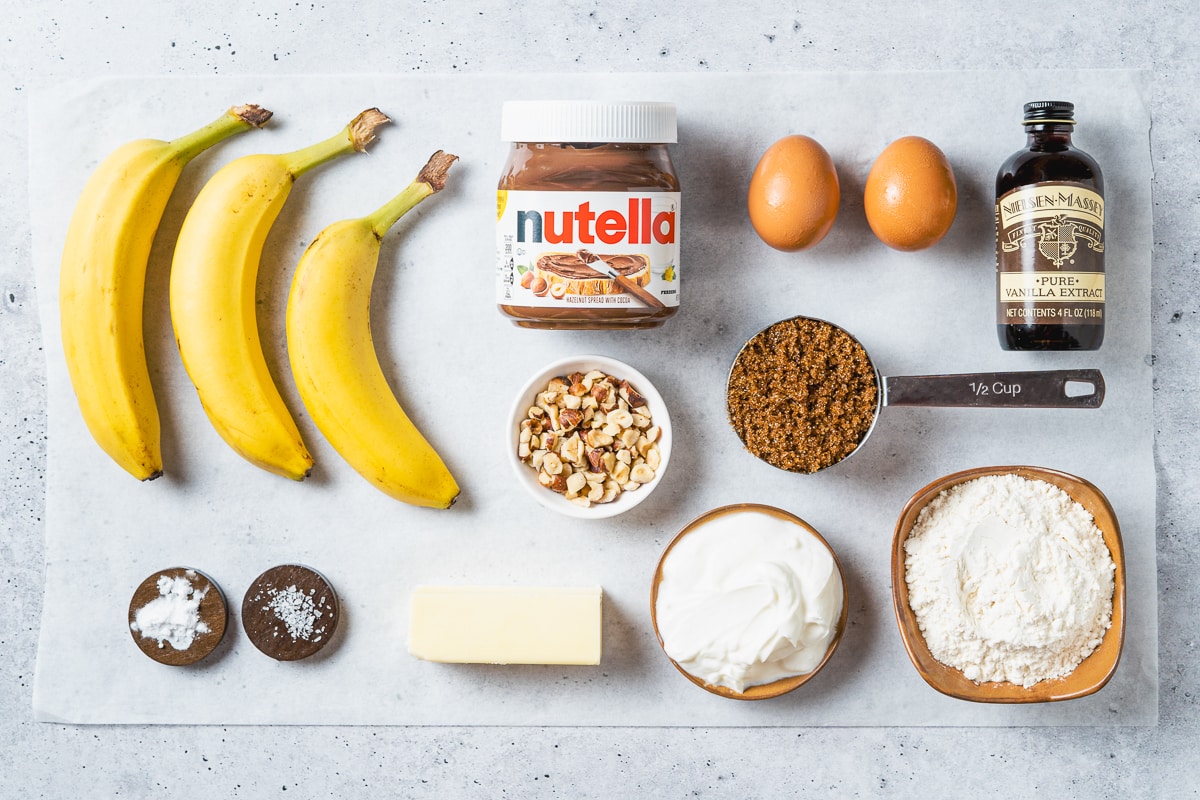 Ingredients:
Bananas
All-purpose flour
Baking soda
Large eggs
Dark brown sugar
Unsalted butter
Kosher salt
Vanilla extract
Chopped hazelnuts
Nutella
Plain Greek yogurt, whole or 2%
Tools:
Nutella banana bread requires two bowls, a fork, a whisk, a spatula, a few toothpicks, a small saucepan, a frying pan, and a 9×5-inch loaf pan. You'll also need some parchment paper to line your pan. This bread takes around an hour to bake and needs at least an hour to cool, so plan ahead before you intend to serve this. It's well worth the wait!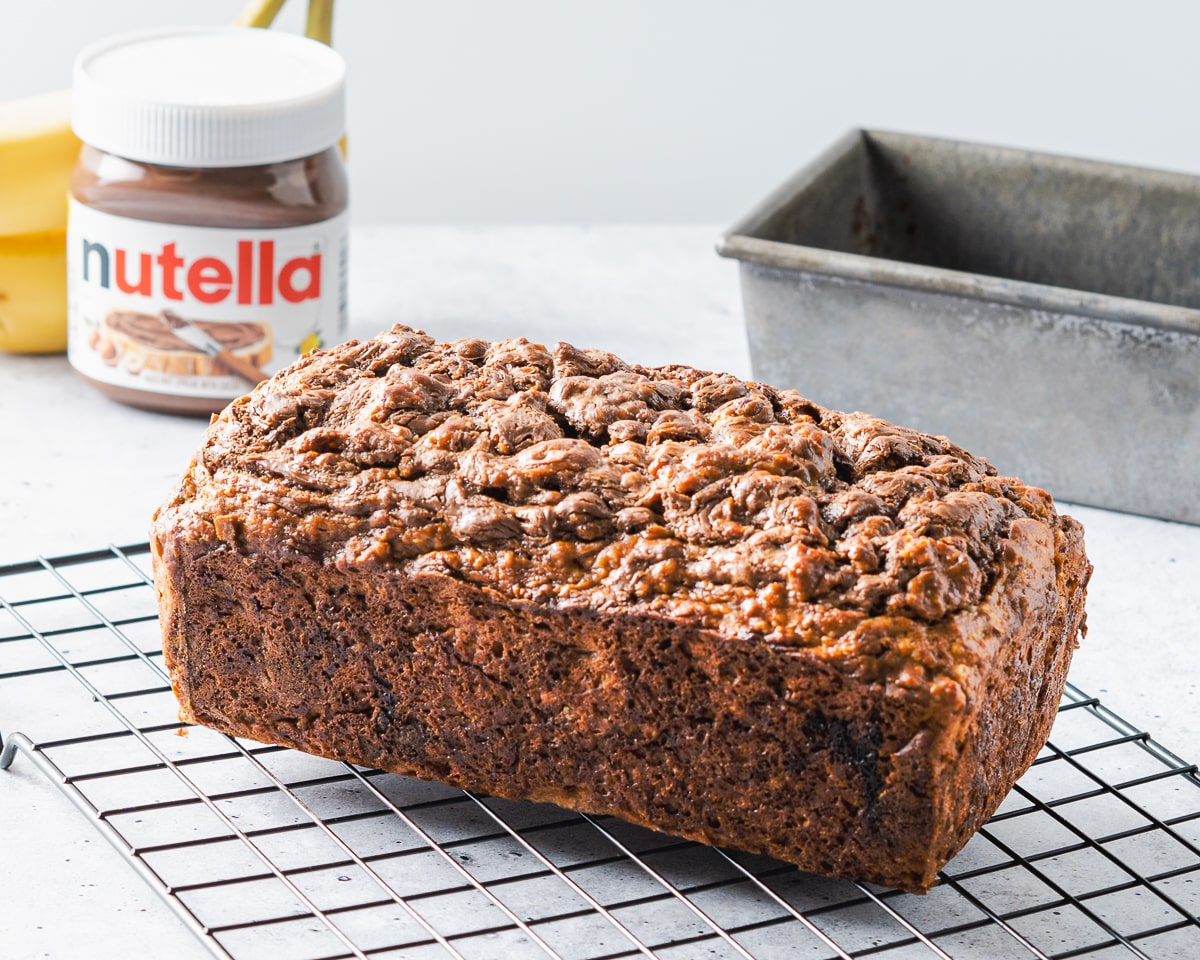 How To Make Nutella Banana Bread
Brown the butter: Place the butter in a light-colored saucepan and melt on medium heat. Using a light-colored pan will allow you to see the butter as it changes color.
Stir the butter occasionally using a rubber spatula. After 4-5 minutes, the butter will rather quickly take on a nutty aroma and small bits of butter on the bottom of the pan will begin to turn caramel-colored. When this happens, immediately remove the butter from the heat and set it aside.
Toast the nuts: Place the chopped nuts in a skillet on medium heat, stirring occasionally for 2-3 minutes, or until the nuts just barely begin to take on color and release their aroma. Remove from the heat and set aside.
Make the batter: In a bowl, mash 2-3 bananas. It's okay if a few chunks of banana remain. Add in yogurt, melted butter, eggs, dark brown sugar, and vanilla extract and whisk until smooth.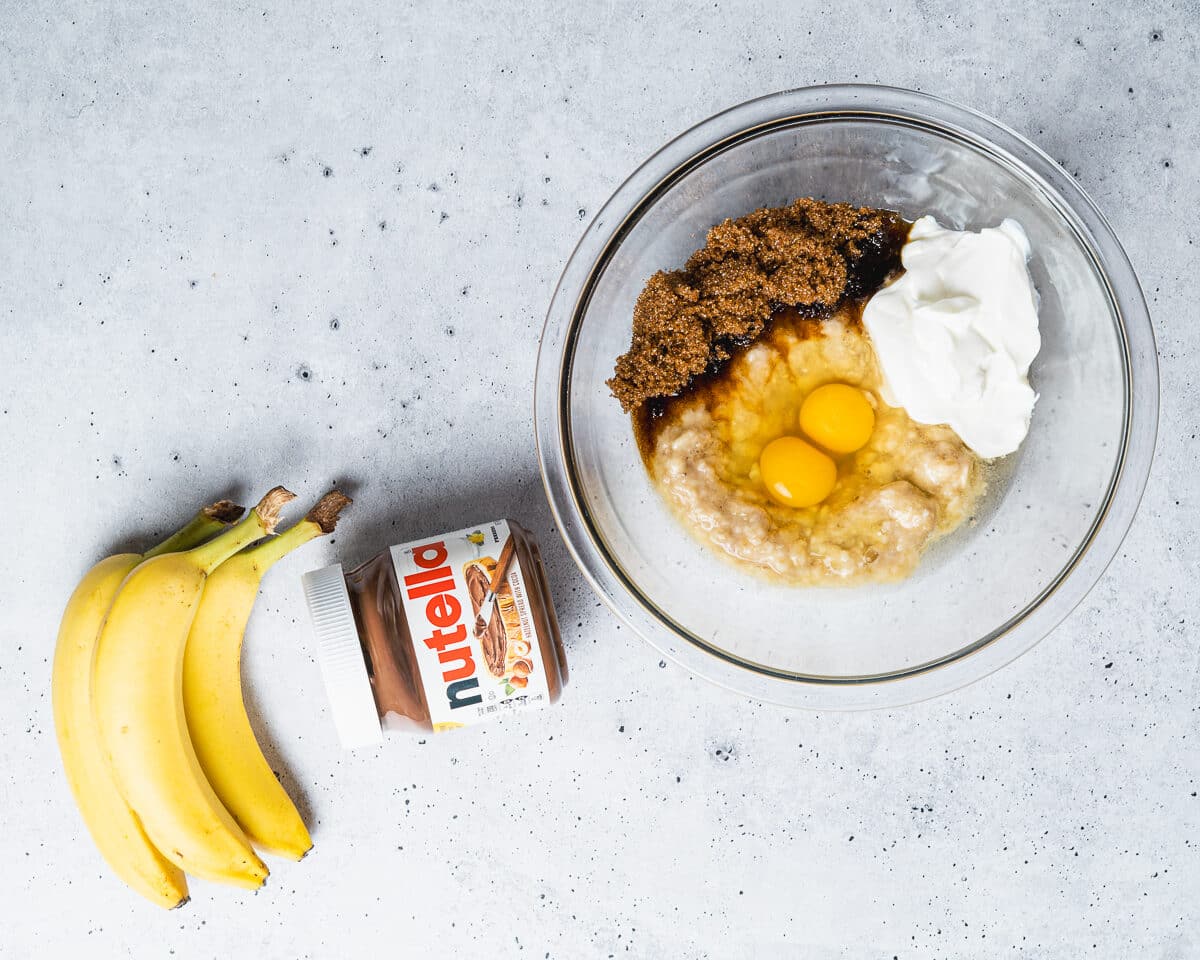 In a separate bowl, mix baking soda, all-purpose flour, and salt. Fold the dry ingredients into the wet ingredients until just combined.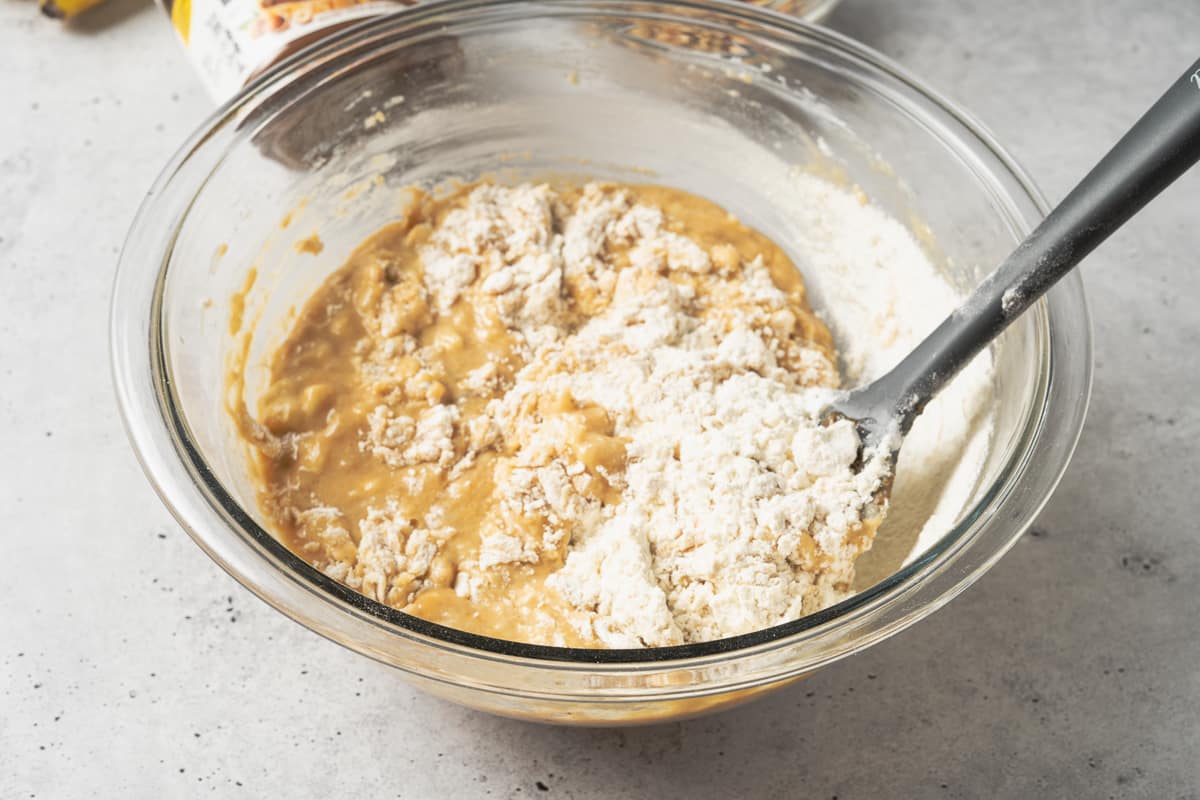 Fold in toasted chopped hazelnuts, and mix until well distributed. Do not over-mix.
Prepare and fill the baking dish: Line and grease a 9×5-inch loaf pan. You can use butter or cooking spray.
Fill the pan with ½ of the batter. Dollop Nutella on the batter and swirl gently with a toothpick, skewer, or chopstick. Do not over swirl or mix to combine – you want to maintain a distinction between the banana bread and the Nutella in the baked loaf.
Add the remaining batter on top and repeat with the remaining Nutella, being sure to leave nice swirls on the top. Do not worry if your swirls aren't perfect – this bread has a rustic look and taste that is inviting and homey.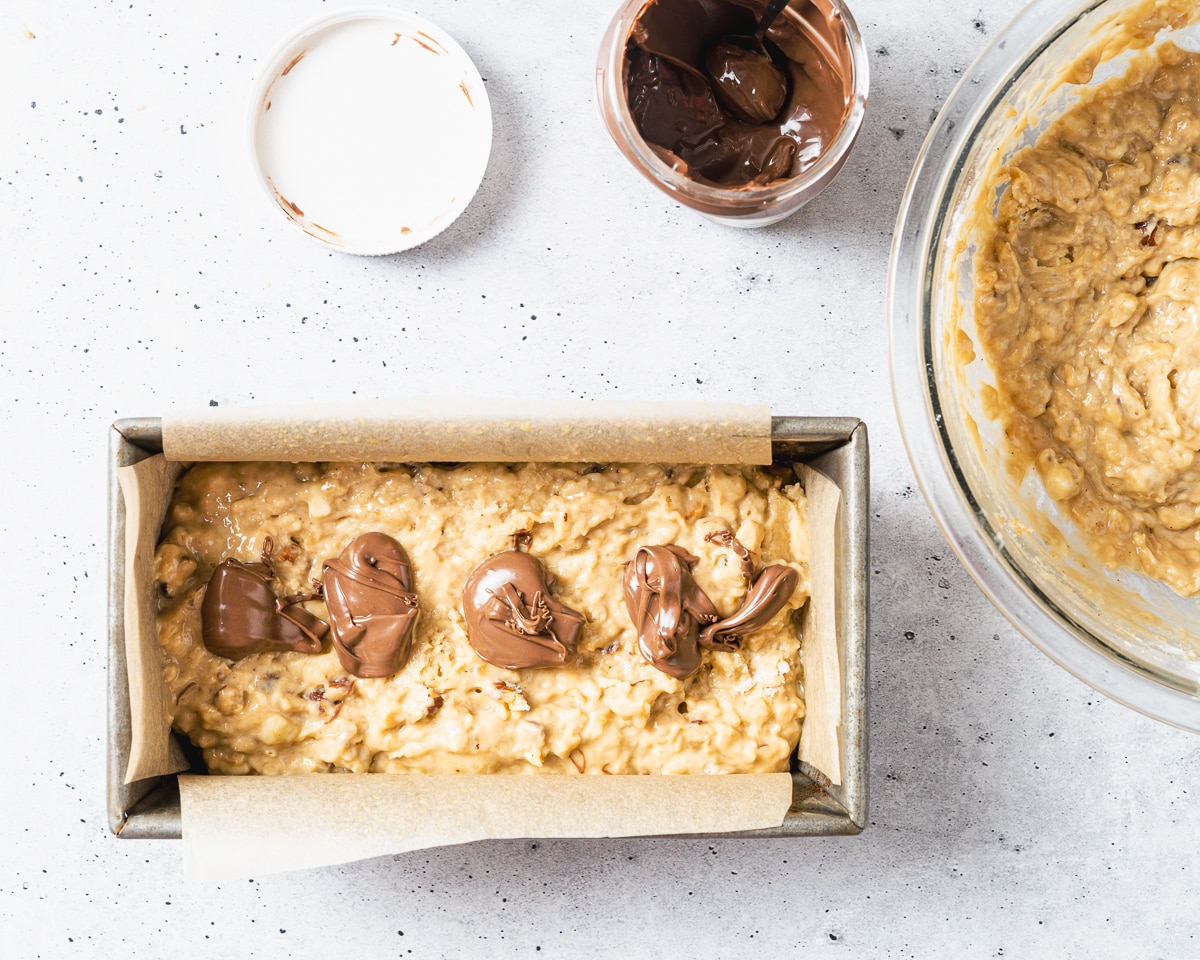 Bake the bread: In an oven preheated to 350ºF, bake the bread for 55-65 minutes, or until a toothpick inserted returns clean. Allow to cool in the pan for 10 minutes and then remove from the pan. Once the bread has completely cooled, it can be sliced and served.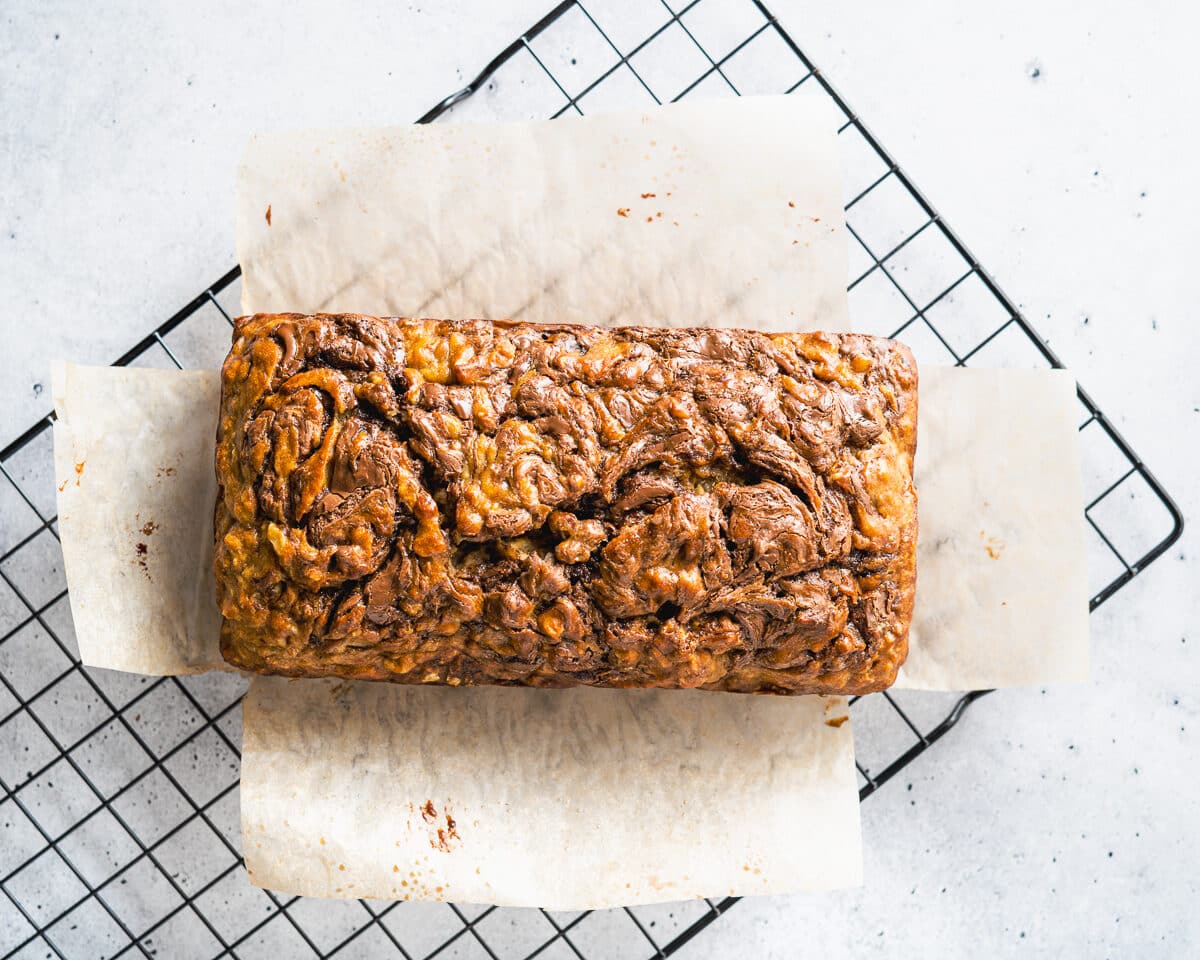 I can't find hazelnuts. What else should I use?
If you can't find hazelnuts, try using walnuts or almonds instead. If you want a slightly different, but equally delicious flavor, peanuts will also go well here. The taste will be more like a peanut butter, Nutella, and banana sandwich, but that sounds pretty great as well!
What do I do with leftover Nutella banana bread?
Leftovers can be stored in the fridge, wrapped well, for a week, or sliced and frozen for up to three months. If you prefer to eat warm banana bread, you can reheat it in the skillet. Do not put this bread in a toaster. The Nutella will ooze out and create a big mess! Because this keeps so well, consider making 2-3 loaves at a time, and freezing the extra loaves (or giving one away to a very lucky person!).
What should I do if my bananas aren't ripe?
If they are not ripe, pierce your bananas, still in their peels, several times and place them on a baking sheet in an oven at 350ºF for 7 or 8 minutes. Remove from the oven and allow to cool before peeling and mashing.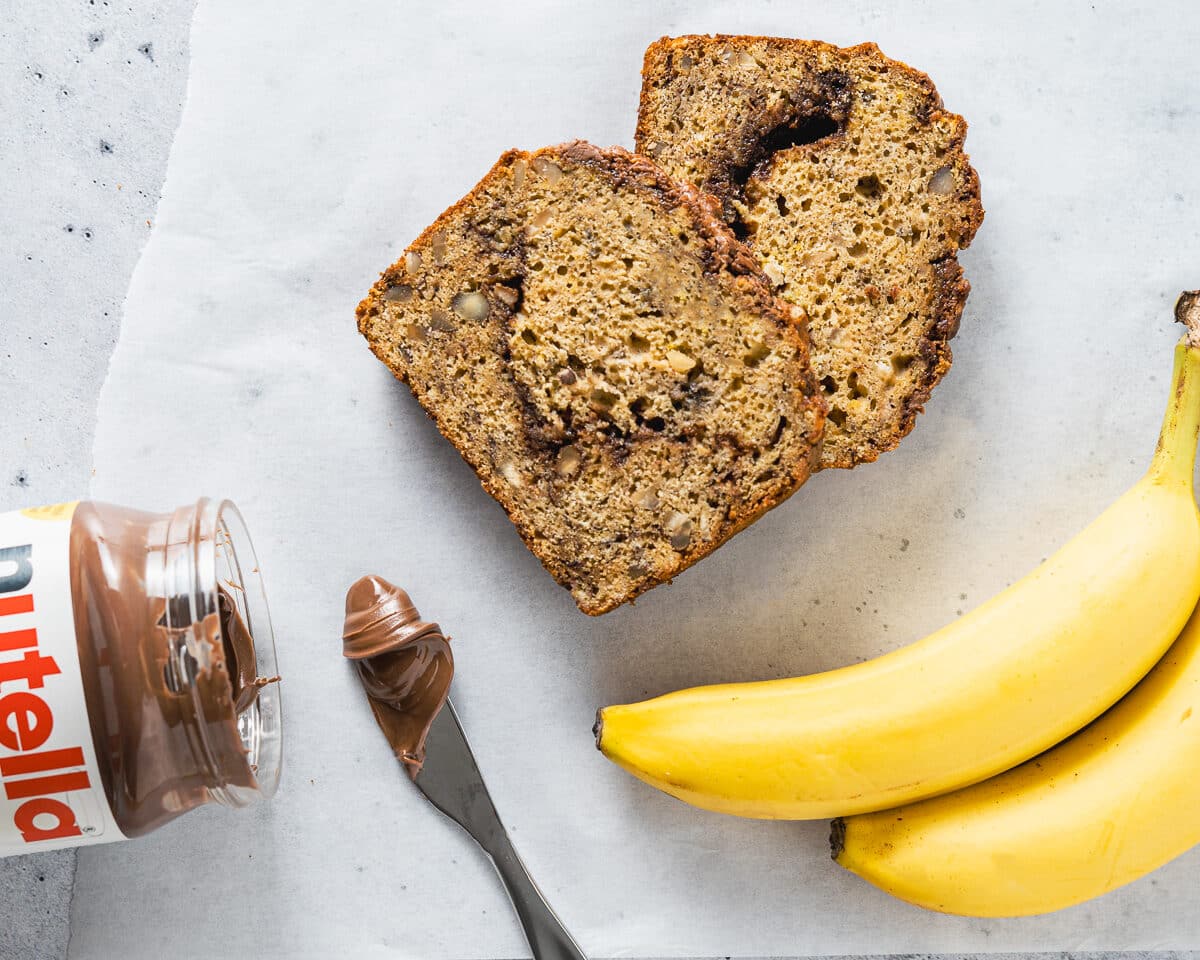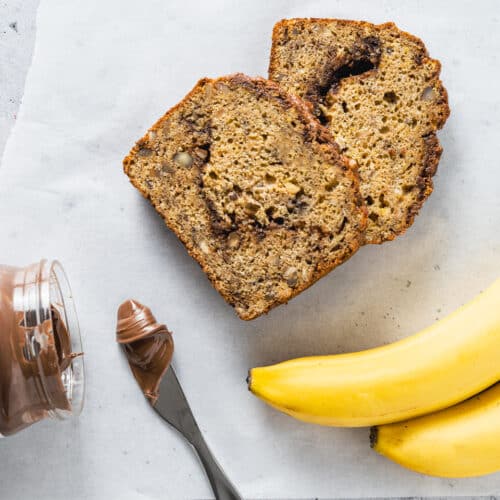 Nutella Banana Bread
Comforting, sweet, and warm, Nutella banana bread is a rich, melt-in-your-mouth recipe. While browned butter and brown sugar add a dark caramel flavor to traditional banana bread, the Nutella is the star of this recipe and is layered into the batter in sweet chocolatey ribbons. Perfect when you want a treat for breakfast or brunch, this bread keeps for days and can be stored in the freezer, meaning you'll always have something delicious on hand.
Ingredients
2 to 3

ripe bananas

2

cups

all-purpose flour

1

tsp

baking soda

2

large eggs

½

cup

dark brown sugar

6

tbsp

unsalted butter

½

tsp

kosher salt

½

tsp

vanilla extract

½

cup

chopped hazelnuts

½

cup

Nutella

½

cup

Greek yogurt
Instructions
Preheat the oven to 350ºF.

Melt 6 tablespoons of butter in a light-colored saucepan on medium heat until the butter begins to brown. Stir occasionally with a rubber spatula, 4-5 minutes. Remove from heat immediately and allow to cool.

In a skillet on medium heat, toast ½ cup of chopped hazelnuts until they just begin to give off an aroma. Set aside.

In a bowl, mash 2-3 bananas.

To the bananas, add 2 large eggs,1/2 cup brown sugar, 6 tablespoons melted and cooled butter, ½ cup yogurt, and ½ teaspoon vanilla extract, and mix until smooth.

In a separate bowl, toss together 2 cups of all-purpose flour, ½ teaspoon kosher salt, and 1 teaspoon baking soda.

Fold dry ingredients into wet ingredients and mix until just combined.

Fold in ½ cup hazelnuts until well distributed.

Line and grease a 9x5-inch loaf pan.

Fill the pan with half the batter.

Dollop ¼ cup Nutella on top of the batter.

Using a toothpick, chopstick, or skewer, swirl the Nutella into the batter.

Fill the pan with the rest of the batter.

Dollop the remaining ¼ cup of Nutella on top of the batter and swirl the Nutella as before.

Bake for 55-65 minutes, or until a toothpick inserted comes out clean.

Allow the bread to cool in the pan for ten minutes, then remove the bread and allow it to cool completely.
Notes
When you line the baking dish, allow a little extra parchment paper to hang over the longer sides of the loaf pan, creating a sling that you can use to lift the bread out of the pan when it cools. You only need to leave two or three inches of extra parchment paper, just enough to get your fingers on it. Nutella banana bread is delicate while it is still hot and can be damaged if you turn the bread out sideways or upside down onto a wire rack to finish cooling. The parchment sling prevents that from happening.
Nutrition
Calories:
327
kcal
Carbohydrates:
40.41
g
Protein:
6.62
g
Fat:
15.78
g
Saturated Fat:
7.98
g
Fiber:
2.7
g
Sugar:
16.59
g
Here are a few other recipes you might enjoy!
Arielle is a food and drink photographer based in Washington, D.C. She was previously a social science researcher before she fell in love with photography.