This spicy and filling Mexican breakfast hash is loaded with tons of fresh flavors that will make your mornings instantly better! This recipe requires a little more effort to make, but when done right, the layers make for a knockout meal.
Looking for more Mexican-inspired recipes? Here are other recipes you might enjoy: Mexican Omelette, Steak Breakfast Burrito, Breakfast Potato Burrito, and Chilaquiles Scrambled Eggs.
Why You'll Love This Recipe
Full of Mexican flavors: This Mexican hash features a robust combination of cumin, paprika, jalapenos, and salsa, which gives it a spicy, earthy, and complex flavor profile that is satisfying and delicious.
A balanced meal: Not only does this Mexican potato hash taste great, but it's also balanced, containing protein, carbs, and vegetables. It's an excellent way to start your day on a healthy note.
Versatile: This recipe can be tailored to suit your dietary needs or preferences. It can be transformed into a vegan breakfast hash or loaded with extra protein for a boost. It's perfect for any time of day, not just breakfast!
Recipe Ingredients
You'll need the following ingredients to make this delicious Mexican hash recipe:
Ingredient Notes
Red Pepper: Red bell pepper adds a sweet, slightly bitter flavor and a splash of color to the dish. For a bit of heat, consider adding spicy peppers.
Eggs: The recipe calls for whole eggs, but for a lower-calorie or cholesterol-conscious option, you could use egg whites instead.
Cheese: Traditional cheddar cheese can be substituted with a variety of cheeses. If you're following paleo recipes, omit the cheese.
How To Make Mexican Breakfast Hash
Bake the potatoes: Preheat oven to 350˚F and set aside a parchment-lined baking sheet. In a large bowl, add red potatoes, olive oil, paprika, and salt and pepper. Toss and spread on a baking sheet. Bake for 10-15 minutes or until tender. Once ready, set aside.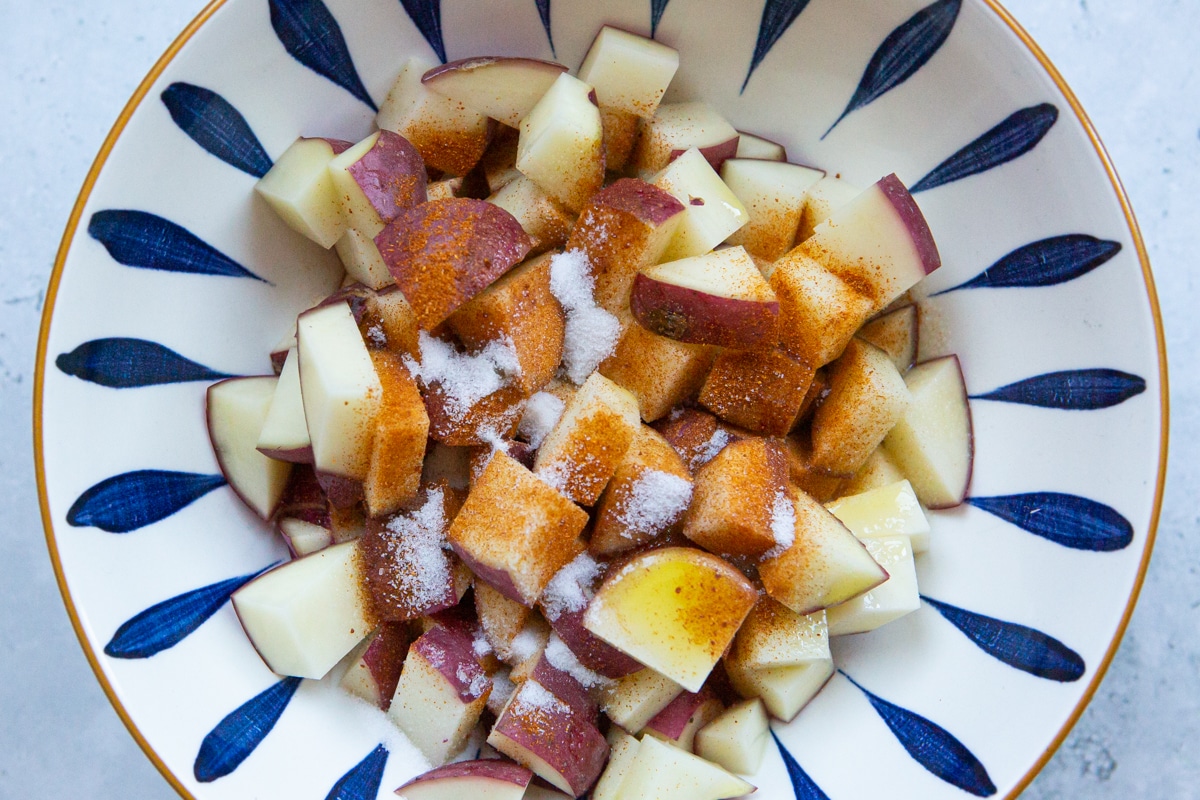 Saute the vegetables: Meanwhile, heat an oven-proof skillet and add olive oil, followed by red onions, jalapenos, and red bell peppers. Stir until veggies are tender (about 5 minutes).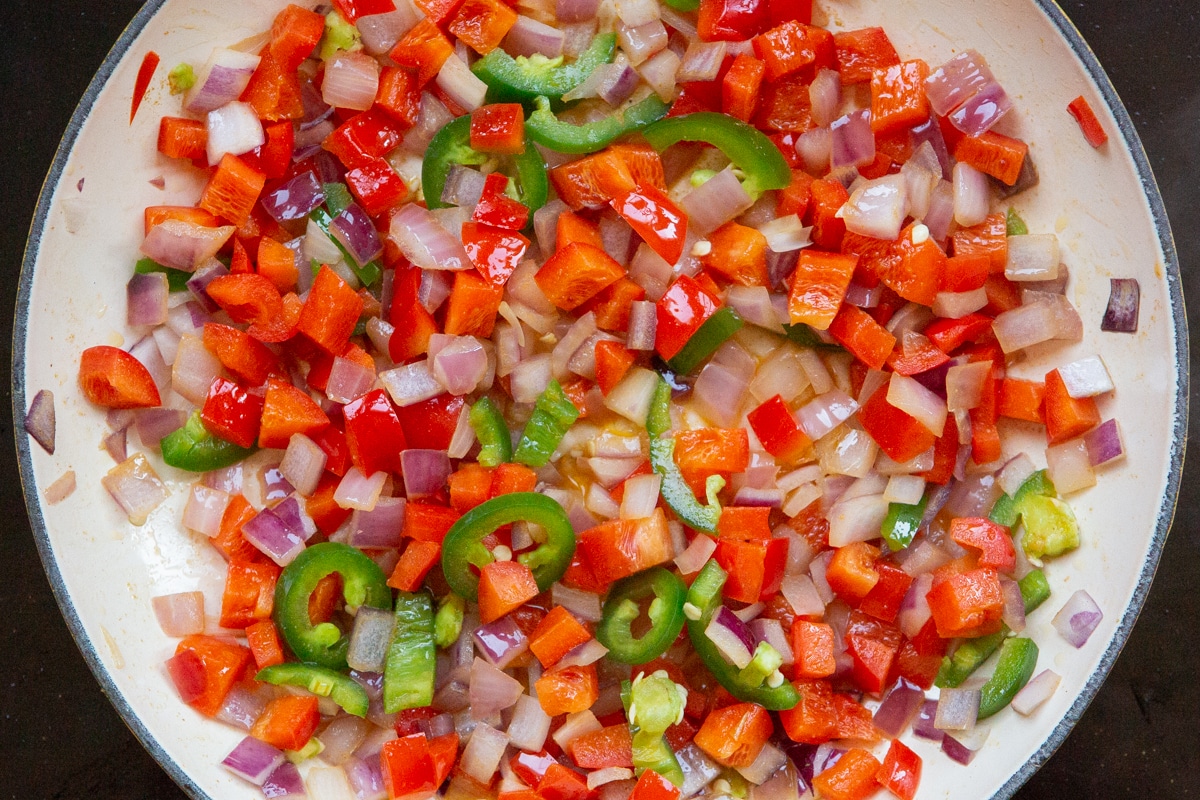 Layer and bake: Begin layering your skillet with veggies, potatoes, black beans, cheddar cheese, and cracked eggs. Place the skillet in the oven and bake until the cheese is melted and the eggs are cooked (about 10 minutes).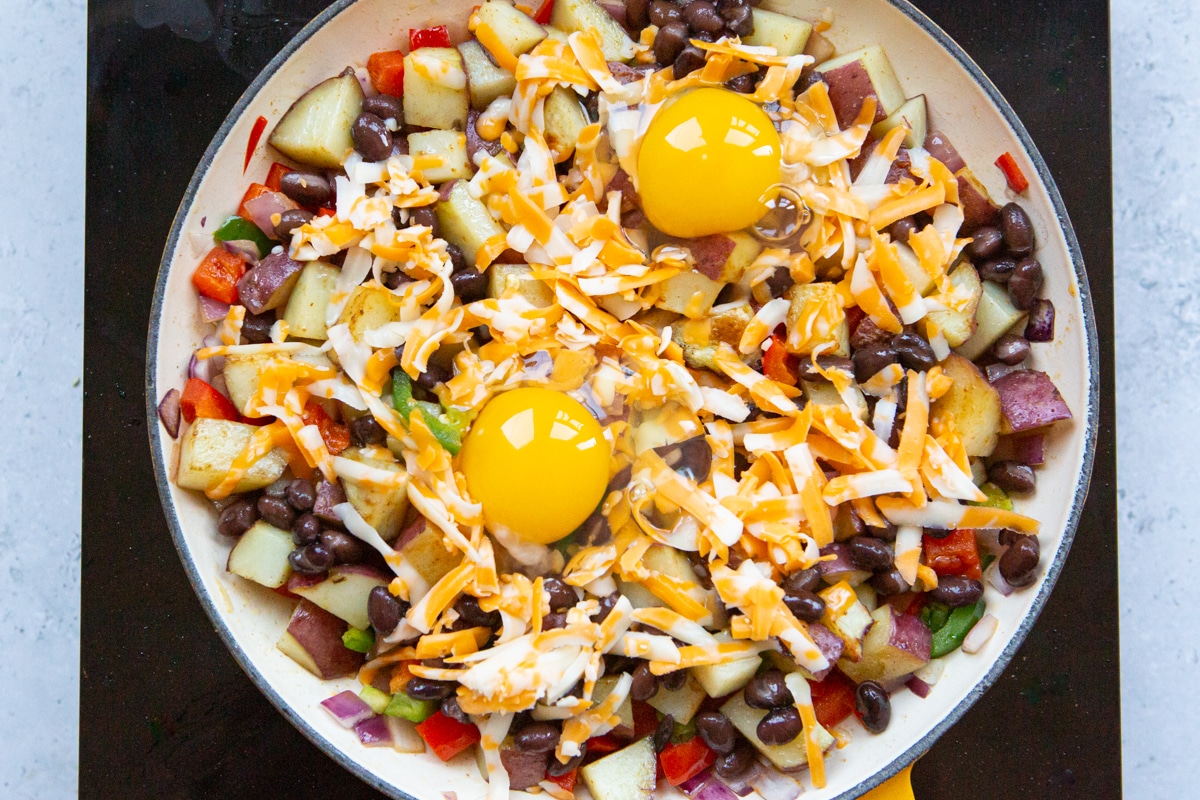 Garnish and serve: When ready, finish with salsa and sour cream, garnish with cilantro, limes, and green onions, and serve.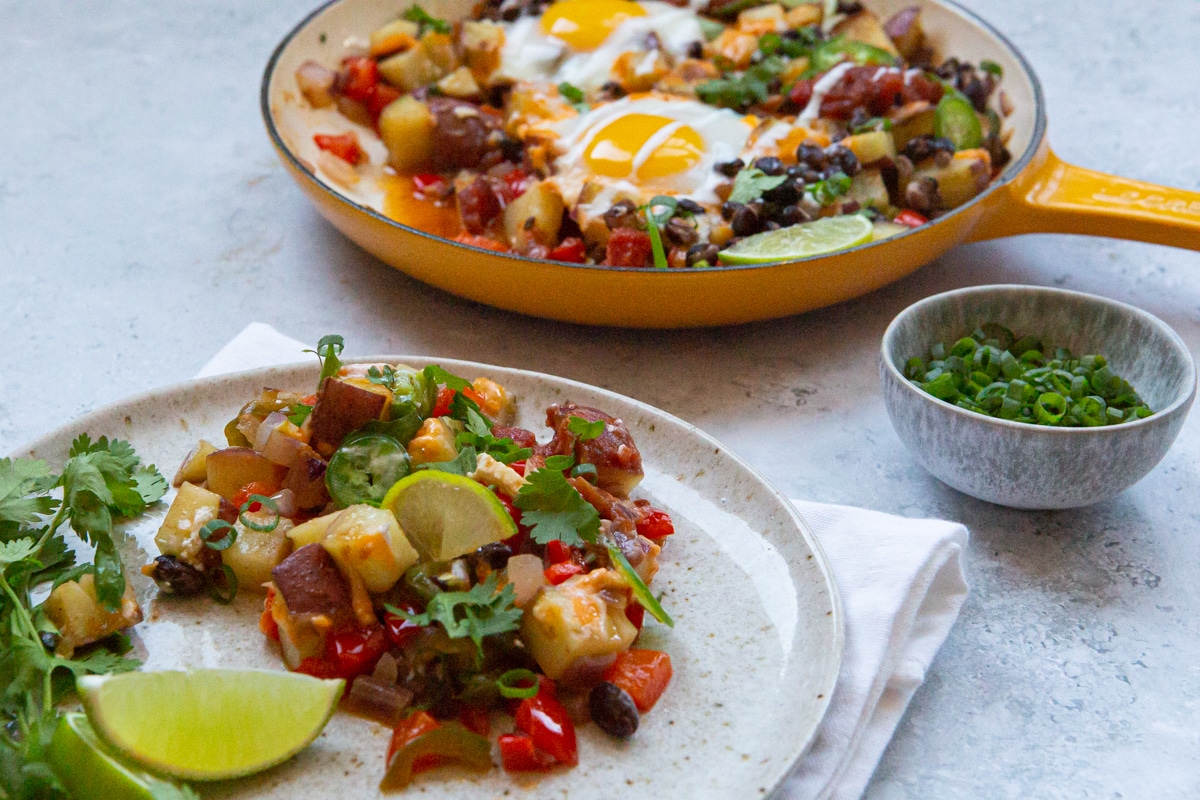 Recipe Tips
Remember to cook your potatoes on medium heat. This allows them to become tender without turning mushy.
Using a large skillet ensures even cooking and enough space for all the ingredients. A cast-iron skillet is preferred because it distributes heat evenly and can go from stovetop to oven seamlessly.
Sauté your veggies on medium-low heat for about 4-5 minutes. This will soften them up without losing their fresh crunch.
Storage & Reheating
Store leftovers in an airtight container in the refrigerator for up to 3-4 days. To reheat, warm it on the stove over medium heat, stirring occasionally, until heated through. If you're reheating in a microwave, do so in 30-second intervals to avoid overcooking.
Additions & Substitutions
To increase the protein content, add some cooked chicken or turkey. If you're following a plant-based diet, you could add some tofu or tempeh for extra grams of protein.
You could try replacing red potatoes with sweet potatoes for a different flavor and added nutrition. Sweet potato skins contain a high amount of vitamin C and fiber, making this an even healthier choice. You can add more vegetables like spinach or kale for an extra nutrient punch.
Additionally, feel free to customize the spice blend according to your preferences. If you prefer it less spicy, you can reduce the amount of jalapenos or replace them with bell peppers. Add some chili powder or taco seasoning to take this dish to the next level.
Recipe FAQs
What should I serve with this Mexican hash recipe?
This dish is filling and delicious on its own, but it pairs wonderfully with a side of pico de gallo and lime wedges for added freshness. You could also serve it with some egg tacos on the side for a larger meal. Sprinkle some lime juice on top or add a dash of hot sauce for an extra kick. The tartness from lime juice or the tanginess from hot sauce will complement the spicy and earthy flavors of this Mexican hash beautifully. Enjoy this easy recipe with a glass of your favorite breakfast beverage for a complete meal.
What is traditionally in a hash?
The foundation of a hash is cooked meat (ground beef or corned beef is a popular staple), potatoes, onions and topped with eggs. It is layered and slow-cooked to bring out the sweetness of the onions, the crispiness of the potatoes, and the gooeyness of the eggs.
---
Here are a few other recipes you might enjoy!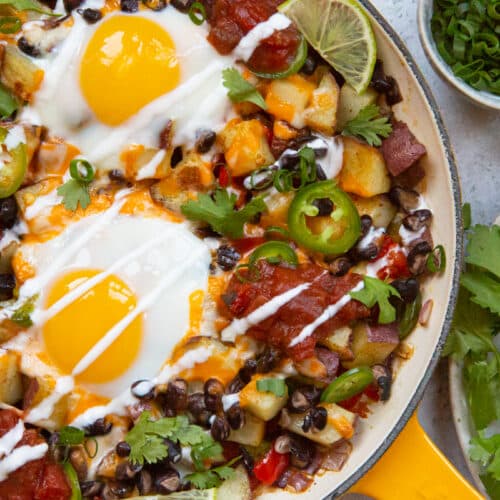 Mexican Breakfast Hash
This filling and flavourful dish is a great way to start your morning. This Mexican hash is loaded with fresh ingredients, delicious spices, and the right amount of sauces to really bring the dish together. This also makes for a beautiful dish to impress guests.
Ingredients
2

cups

red potatoes

(diced)

4

tbsp

olive oil

1

tbsp

smoked paprika

salt and pepper to taste

2

tsp

ground cumin

½

red onion

(diced)

2

jalapeno peppers

(diced)

1

red bell pepper

(diced)

2

limes

(sliced)

2

eggs

½

cup

cheddar cheese

½

cup

black beans

¼

cup

sour cream

¼

cup

salsa

cilantro to garnish

2

tbsp

green onions

(sliced to garnish)
Instructions
Preheat the oven to 350˚F and set aside a parchment lined baking sheet.

In a large bowl add red potatoes, 2 tbsp olive oil, paprika and toss until evenly coated.

Spread the potatoes on a baking sheet and bake until tender, 10-15 minutes.

Meanwhile, heat an oven proof skillet on medium-high.

Add olive oil followed by onions, bell pepper, jalapenos and cumin. Sir and cook until tender, about 5 minutes.

Lay vegetables flat in the skillet and begin layering with red potatoes, black beans, cheddar cheese and cracked eggs.

Bake for 10-15 minutes or until eggs are fully cooked.

Once ready, garnish with salsa, sour cream, cilantro, green onions, limes and serve.
Notes
If you prefer more protein, a common addition to this dish is chorizo, bacon or mushrooms. If you are vegan, cheese and sour cream can be removed and replaced with nutritional yeast garnished at the end.
The potatoes need to be tender but not too soft, or it will break when baking. The veggies need to be sauteed just a little so that when all the ingredients are put together in the oven, they combine at just the perfect amount of texture and taste.
Nutrition
Calories:
349
kcal
Carbohydrates:
25.1
g
Protein:
14.9
g
Fat:
18.1
g
Saturated Fat:
6.7
g
Sodium:
0.4
mg
Fiber:
7.3
g
Sugar:
4.7
g
Matthew is a recipe developer and food photographer based in Canada. He enjoys all things food, drink and makes his best decisions with a mimosa in hand.