This easy banana bread recipe without baking soda is everything that comfort food should be. Easy to make and requiring only a few ingredients, a slice of this bread at breakfast will make you feel like you never got out of your warm, cozy bed.
Mashed ripe bananas are mixed with brown sugar, cinnamon, vanilla, and chopped pecans. Every bite is suffused with sweet, soft bread and crunchy nutty flavor.
This delicious loaf of banana bread gets its rise with only eggs and baking powder, the eggs adding both lift and richness to the loaf. While you may want to keep it all yourself, this is a great recipe to make if you're going over to a friend's for coffee or want to bring something special to your coworkers at the office.
Looking for more banana recipes? Here are other recipes you might enjoy: Almond Flour Banana Muffins, Strawberry Banana Pancakes, Banana Waffles, and Nutella Banana Bread.
Why You'll Love This Recipe
Rich in flavor: Overripe bananas are the secret ingredient that gives this bread its sweet, intense banana flavor. When paired with chocolate chips, the result is a delicious loaf of chocolate chip banana bread that's rich in flavor and moistness.
Simple and easy: This easy recipe only requires simple ingredients that you probably already have in your pantry. It's also a one-bowl recipe, which means fewer dishes to clean!
Versatile and satisfying: Whether you want a filling breakfast, a light snack, or a delicious dessert, this banana bread fits the bill. You can enjoy it as it is, or add your favorite toppings like butter, cream cheese, or even some extra banana slices for added flavor.
Recipe Ingredients
You'll need the following ingredients to make this delicious banana bread: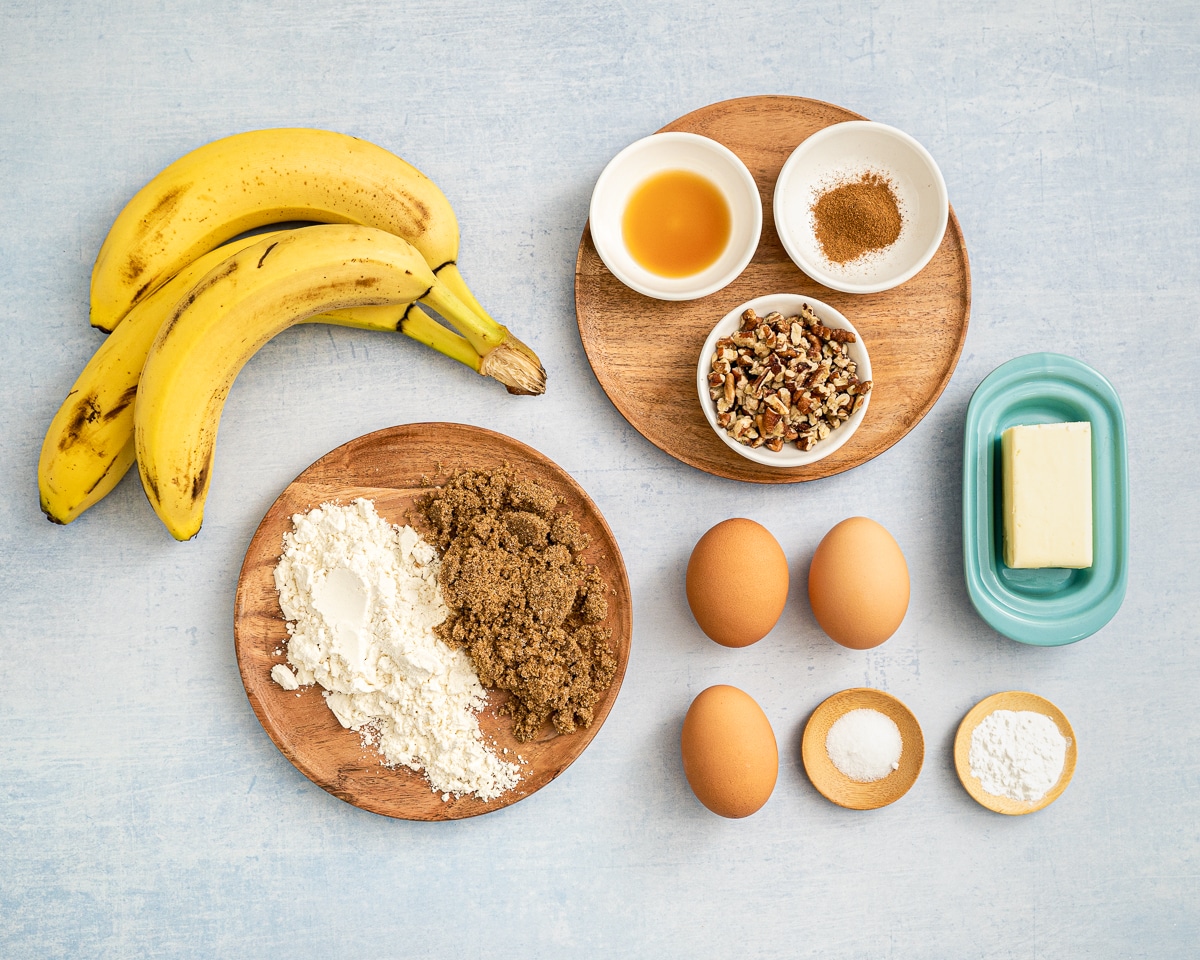 Ingredient Notes
Overripe Bananas: The riper the banana, the sweeter it is. Use overripe bananas for a naturally sweet banana bread.
Vegetable Oil or Olive Oil: Either of these oils will work fine in this recipe. They add moistness without overwhelming the banana flavor.
Self-Rising Flour: This recipe doesn't require baking soda, but if you're using self-rising flour, remember to adjust the amount of baking powder accordingly, as self-rising flour already contains a leavening agent.
How To Make Banana Bread Without Baking Soda
Make the batter: Melt the butter. Mash the ripe bananas with a fork until only a few chunks remain. Mix in the melted butter and dark brown sugar. Then add in the eggs, mixing with the fork until it is well combined.
Sprinkle the baking powder and cinnamon over the batter. I like to do this to make sure that these ingredients don't clump up into one pocket, particularly if I'm making a one-bowl recipe (like this one!).
Mix the batter to distribute it. Then add in the all-purpose flour. You can sift the flour and make sure there are no lumps, but this is optional.
Fold the mixture together until almost no streaks of flour remain. Then fold in the chopped pecan pieces until they are well distributed.
Bake: Pour the batter into a lined and greased loaf pan. Line the pan so that you have an overhang of parchment on the long edges of the pan, creating a sling so that you can remove the bread.
Place into a preheated oven set to 350ºF and bake for 55-65 minutes or until a toothpick inserted comes out clean.
Enjoy: Allow to cool in the pan for 10-15 minutes before removing from the pan. Cool on a wire rack before slicing.
Enjoy!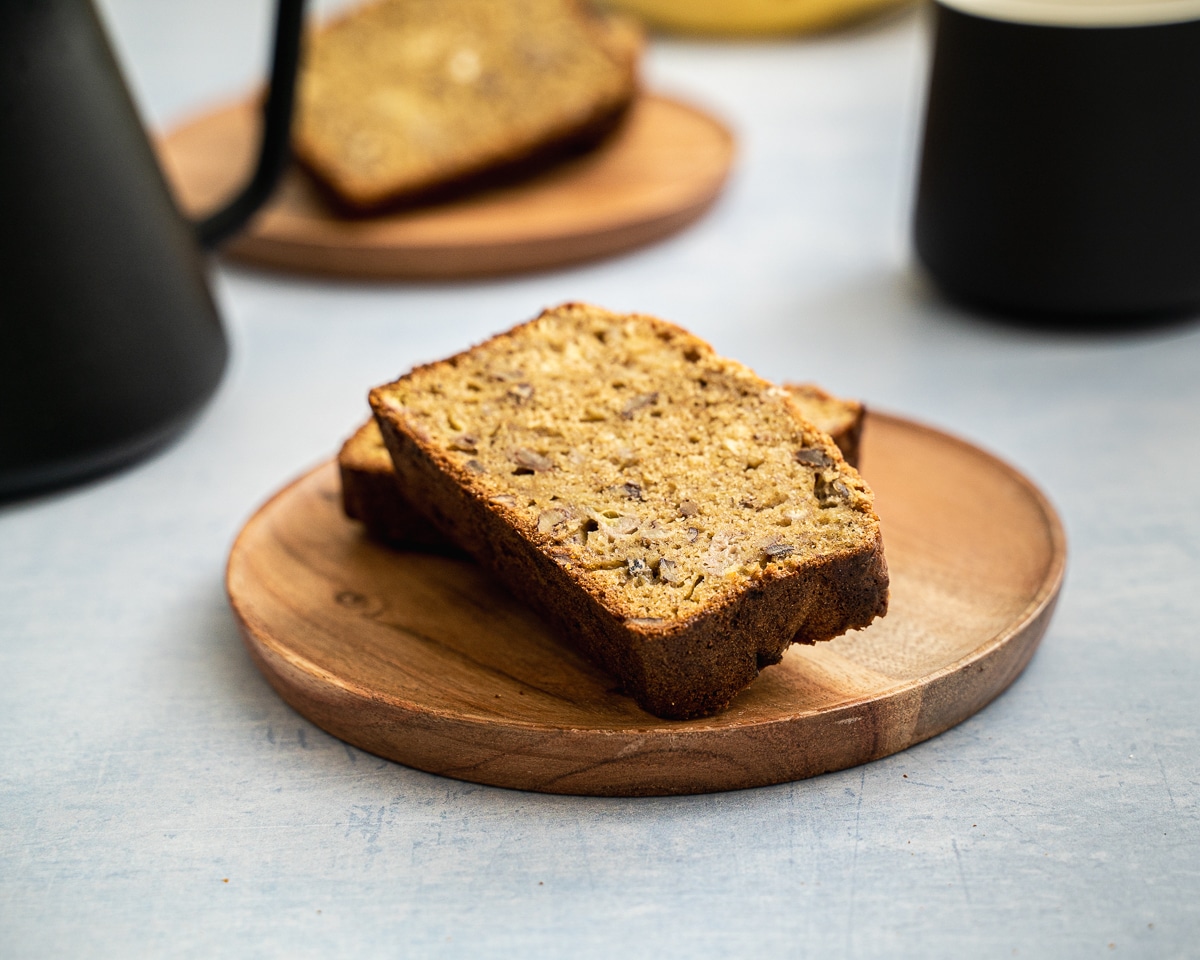 Recipe Tips
For the best results, use room temperature ingredients. This ensures even mixing and better texture.
After adding the dry ingredients, mix just until you no longer see any streaks of flour. Overmixing can result in a dense loaf.
To check if the banana bread is done, do the toothpick test by simply inserting a toothpick into the center of the loaf. If it comes out clean or with a few moist crumbs, it's ready. If it comes out wet, bake for a few more minutes.
Storage & Reheating
You can store this fluffy banana bread in an airtight container at room temperature for up to 4 days. For longer storage, wrap the whole loaf or slices tightly in plastic wrap, then in aluminum foil. It can be stored in the freezer for up to 3 months. To reheat, thaw the bread at room temperature, then warm it up in the oven at 350°F for about 10 minutes.
Additions & Substitutions
To make a healthier version of this banana bread, swap out the white sugar with a natural sweetener like honey or maple syrup. Whole wheat flour is also a good substitute for all-purpose flour.
If you don't have chocolate chips on hand, you can use a roughly chopped chocolate bar instead. Feel free to add your favorite nuts for extra crunch and flavor. This recipe works great as banana nut bread too!
If you prefer banana cake over bread, bake the batter in a round cake tin and adjust the baking time accordingly.
Recipe FAQs
What should I serve with this homemade banana bread recipe?
Serve this moist banana bread with a fresh batch of whipped cream or a scoop of vanilla ice cream for a decadent dessert. For breakfast or snack, it's perfect with a cup of coffee or tea. You can also serve it with a side of fresh fruits for a refreshing contrast. Enjoy this delicious banana bread recipe anytime, anywhere!
Can I use another nut besides pecan?
You can substitute or omit the pecans. Walnuts would be a good swap. Although you can completely omit the nuts, I do think having an additional texture adds a lot to this bread, so consider adding a dried cranberry or a raisin instead.
Should I toast the nuts?
Usually, I'm an advocate of always toasting nuts. Toasting opens up and deepens the flavors of the nut. However, in this recipe, I found the banana bread made with untoasted pecans yielded a flavor that was more banana-y than nutty. If I were using a lighter-colored nut, like a walnut, I would probably lightly toast them before adding them to the batter.
Can I make this in advance?
Yes. This bread can be stored at room temperature for several days. Reheat the bread under a broiler with a little butter. You can also double the recipe and make two loaves. It stores well in the freezer!
What can I do if my bananas aren't ripe?
If your bananas aren't quite ripe, all is not lost! Pierce your bananas several times with a sharp knife while they are still in their peels. Place on a baking sheet in an oven set to 350ºF for 7 or 8 minutes. Remove from the oven and allow the bananas to cool before peeling and mashing them.
I've seen recipes that brown the butter for banana bread. Why aren't we doing that here?
This isn't a necessary step because this dish is one bowl and has a really light, lovely banana flavor. However, I love adding browned butter to baked goods, and if you want to make this bread a little extra bit special, you should! To brown the butter, melt it over medium heat in a small saucepan until a few brown bits start to form at the bottom of the pan. Be sure to watch it and stir it—butter can burn quickly. Remove it from the heat when it begins to brown. Once it has cooled slightly, add it as you normally would to the batter.
---
Here are a few other recipes you might enjoy!
Easy Banana Bread (Without Baking Soda)
A true comfort food, this one-bowl banana bread recpie without baking soda is simple to make. Ripe bananas, chopped pecans, and dark brown sugar create a soft, rich loaf with just a little crunch. Make a loaf (or two!) the next time you are going over to a friend's for coffee or want to bring a little something to your coworkers for a sweet treat.
Ingredients
3

ripe bananas

1 3/4

cups

all-purpose flour

3

teaspoons

baking powder

3

large eggs

1

cup

dark brown sugar

4

tablespoons

unsalted butter

½

teaspoon

table salt

1

teaspoon

vanilla extract

½

cup

chopped pecans

2

teaspoons

ground cinnamon
Instructions
Preheat the oven to 350ºF

Melt 4 tablespoons of butter and allow to cool.

In a bowl, mash 3 ripe bananas.

Add the 4 tablespoons melted butter, 1 teaspoon vanilla extract, and 1 cup of dark brown sugar. Mix until smooth.

Add 3 large eggs and mix until smooth.

Sprinkle 2 teaspoons of cinnamon and 3 teaspoons of baking powder over the wet ingredients and fold a few times.

Add 1 ¾ cups of all-purpose flour to the batter and mix until well combined.

Fold in 1/2 cup of chopped pecans.

Line and grease a 9×5-inch loaf pan, allowing the parchment paper to hang over the side.

Fill the pan with the batter.

Bake for 55-65 minutes, or until a toothpick inserted comes out clean.

Allow it to cool.

Slice and enjoy!
Notes
When you add the baking powder, sprinkle it over the wet ingredients and stir to combine it to make sure that it is properly distributed throughout the dough.
This bread can be stored at room temperature for several days. Reheat the bread under a broiler with a little butter.
You can use any kind of brown sugar you have on hand — I like dark brown sugar in this recipe because it adds moisture and has a rich flavor.
If you want, you can make 12 muffins from this batter, just be sure to line and oil your muffin tins well.
Nutrition
Calories:
275
kcal
Carbohydrates:
47.68
g
Protein:
4.14
g
Fat:
8.34
g
Saturated Fat:
2.79
g
Fiber:
2.3
g
Sugar:
26
g
Arielle is a food and drink photographer based in Washington, D.C. She was previously a social science researcher before she fell in love with photography.