Gingerbread Christmas muffins are a rich, molasses-y treat that will warm up your morning and make the house smell like the holiday season. Not too sweet and wonderfully light, these muffins are a crowd-pleaser.
Even better, they only need one bowl, so you can have young bakers whisk together the ingredients. While the muffins bake, together you can make the muffin's decorations. Muffins, meet Christmas cookie decorating!
These muffins store well and have even better flavors the next day. No matter how you eat and share them, you'll want to make these muffins every Christmas season.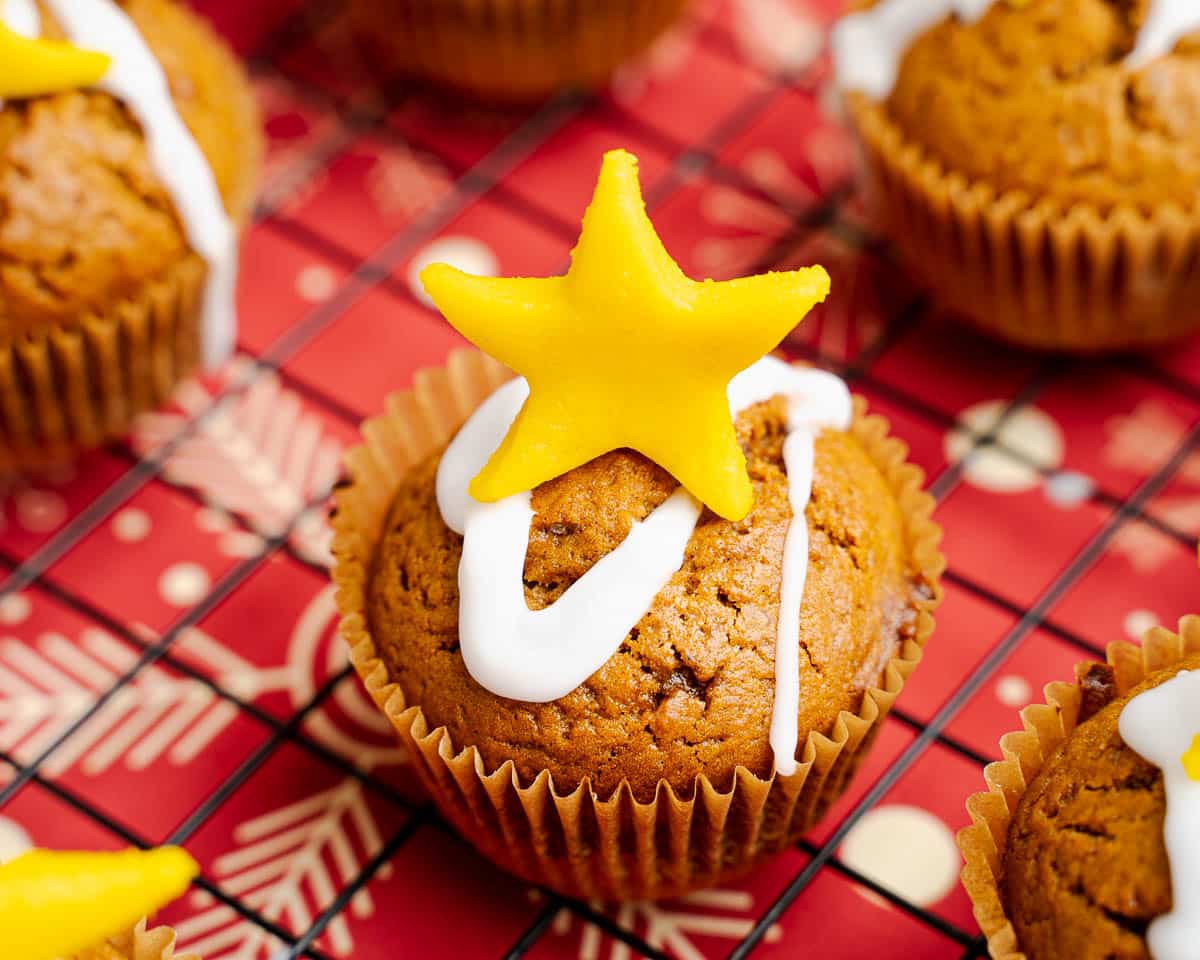 Looking for more muffin recipes? Here are other recipes you might enjoy: Eggnog Muffins, Cranberry Lemon Muffins, Cranberry Banana Muffins, 3-Ingredient Pumpkin Muffins, and Almond Flour Banana Muffins.
Why You'll Love This Recipe
Holiday cheer in every bite: This easy gingerbread muffin recipe packs the classic gingerbread flavor into tender muffins. The warm gingerbread flavors, reminiscent of cozy spices and gingerbread cookies, are sure to bring the holiday spirit to your Christmas morning breakfast.
Simple and fun to make: With a single large bowl, some muffin cups and your trusty muffin pan, this recipe is not only easy to make, but also a fun activity to do with young bakers. The added excitement of decorating the muffins is a great addition to your holiday recipe collection.
Versatile and adaptable: The gingerbread muffins recipe works well with a variety of delicious recipes. From traditional gingerbread spices to the addition of citrus notes like orange zest or a tangy lemon juice glaze, you can customize this recipe to your liking, making it the perfect holiday breakfast treat.
Recipe Ingredients
You'll need the following ingredients to make these easy gingerbread muffins: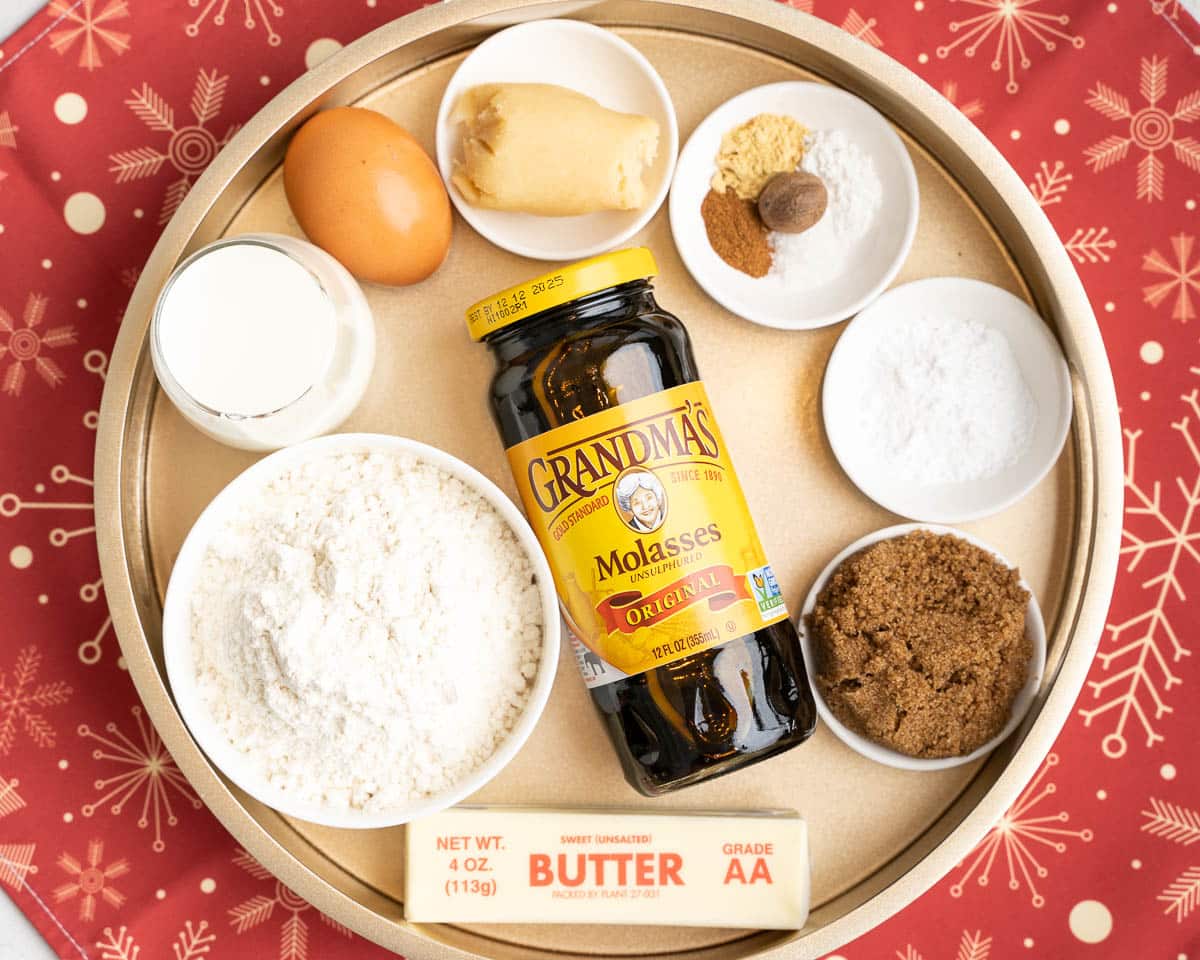 Ingredient Notes
Butter: Whether you choose unsalted butter, vegetable oil, or coconut oil, the choice of fat contributes to moist muffins. If you use butter, consider using melted butter for an extra rich flavor.
Flour: You can use all-purpose flour as suggested, but for healthier gingerbread muffins, try using white whole wheat flour or whole wheat pastry flour.
Sweeteners: Dark molasses, brown sugar, and maple syrup bring the sweet, rich, and complex flavors reminiscent of gingerbread. However, you can always adjust the amount to your liking.
Spices: The warm spices – cinnamon, nutmeg, and ginger – give these muffins their classic gingerbread flavor. Feel free to adjust the quantities to suit your taste.
Decorations: Marzipan and fondant make great decorations, but don't limit yourself! A simple glaze, a sprinkle of coarse sugar, or even a drizzle of maple glaze can be a wonderful treat.
How To Make Gingerbread Christmas Muffins
Prepare the batter: Whisk together the flour, brown sugar, spices, salt, and baking powder. Add in the wet ingredients, including the egg, and whisk until the flour has been incorporated and the batter forms ribbons. Be careful not to overmix the batter.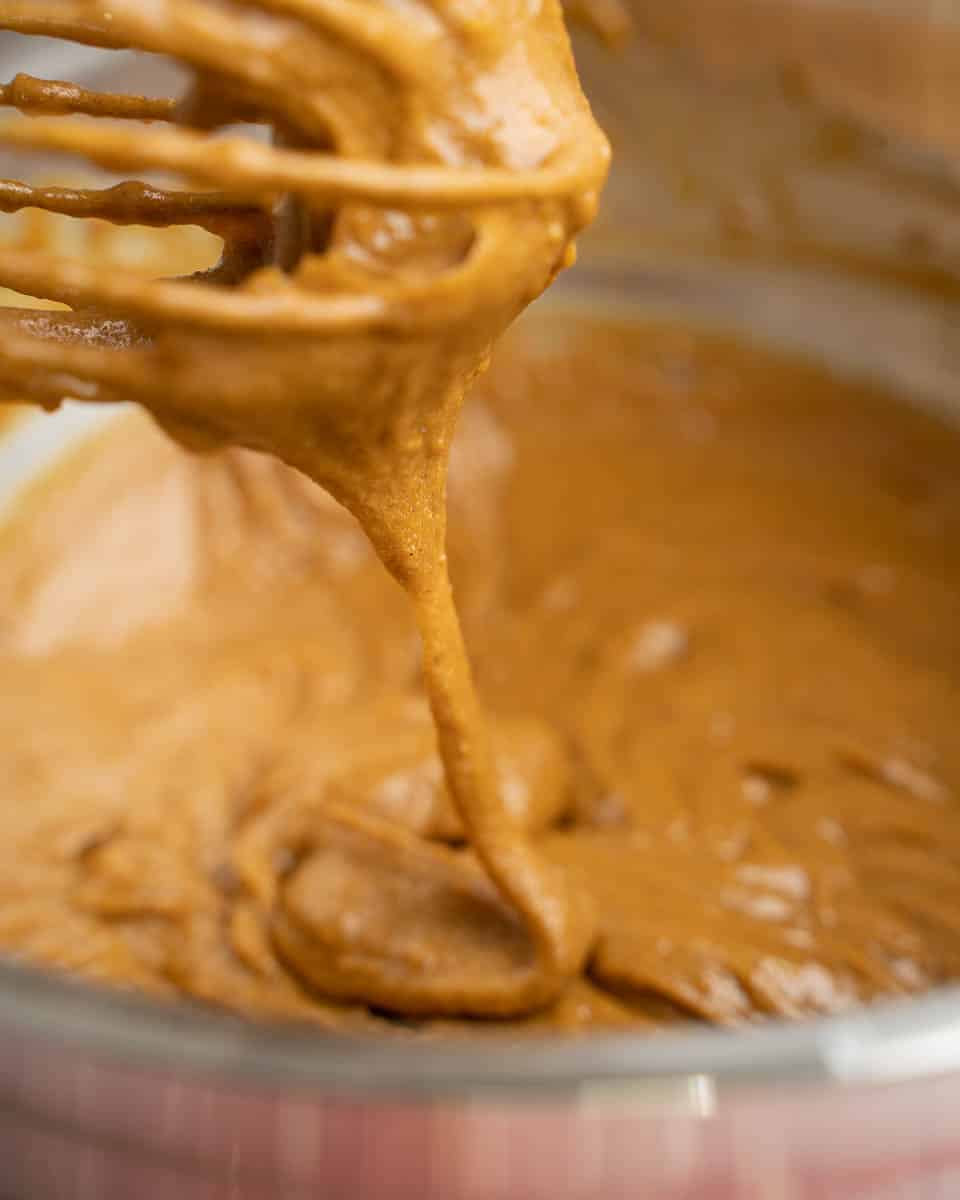 Bake the muffins: Preheat your oven to 425ºF and grease 12 muffin tins. Using an ice cream scoop, fill each muffin tin ¾ of the way to the top.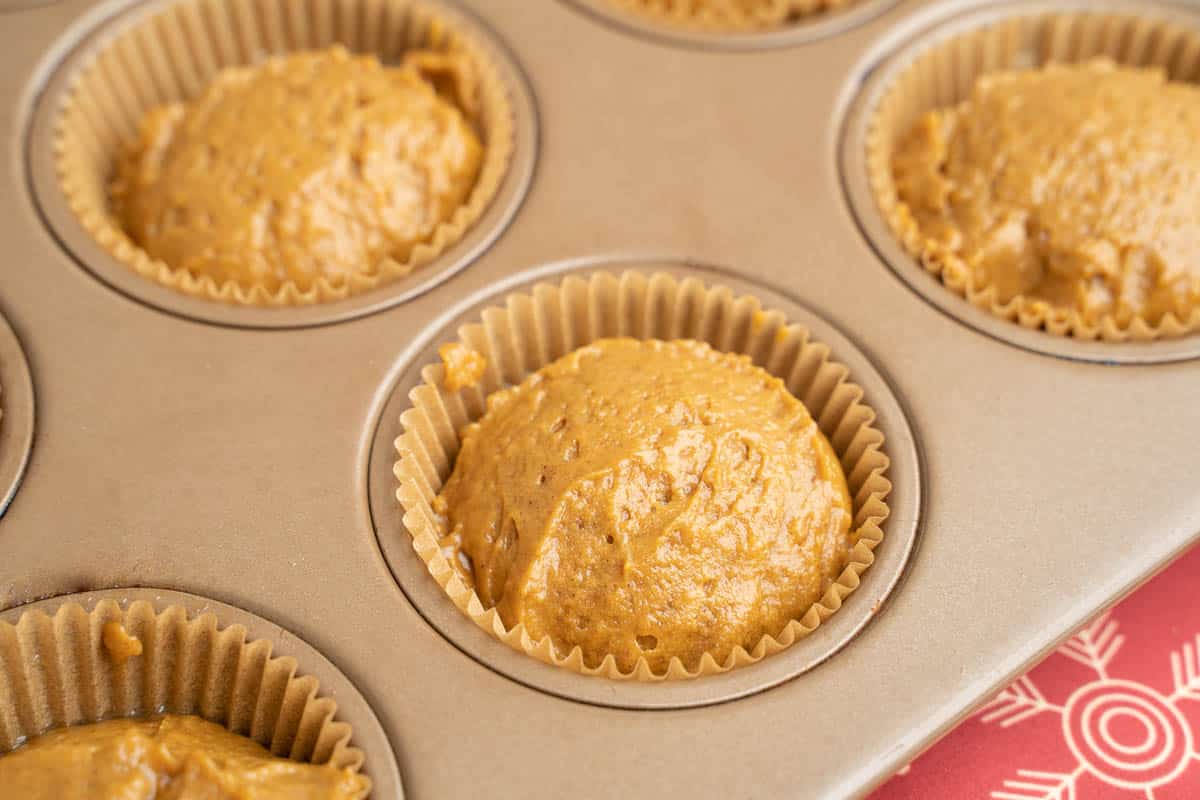 Bake for 16-18 minutes or until a toothpick comes out clean. Allow to cool.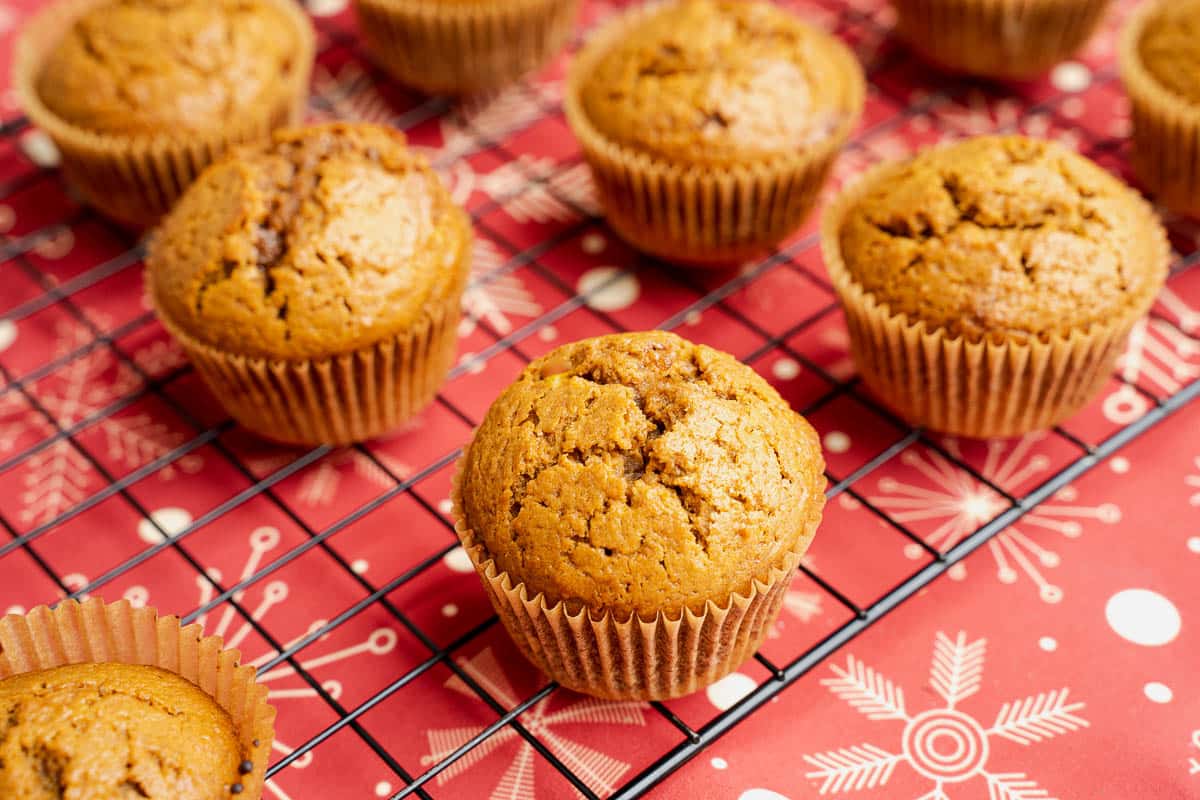 Make the marzipan decorations: While the muffins are baking, take a few ounces of marzipan and warm it up in your hands. Create a ball, and then, using your thumbs, create a small depression in the middle.
Add 1-2 drops of food coloring and mix the ball in your hands until the color is fully distributed. Pat out the marzipan ball into a small disk about ¼ inch thick.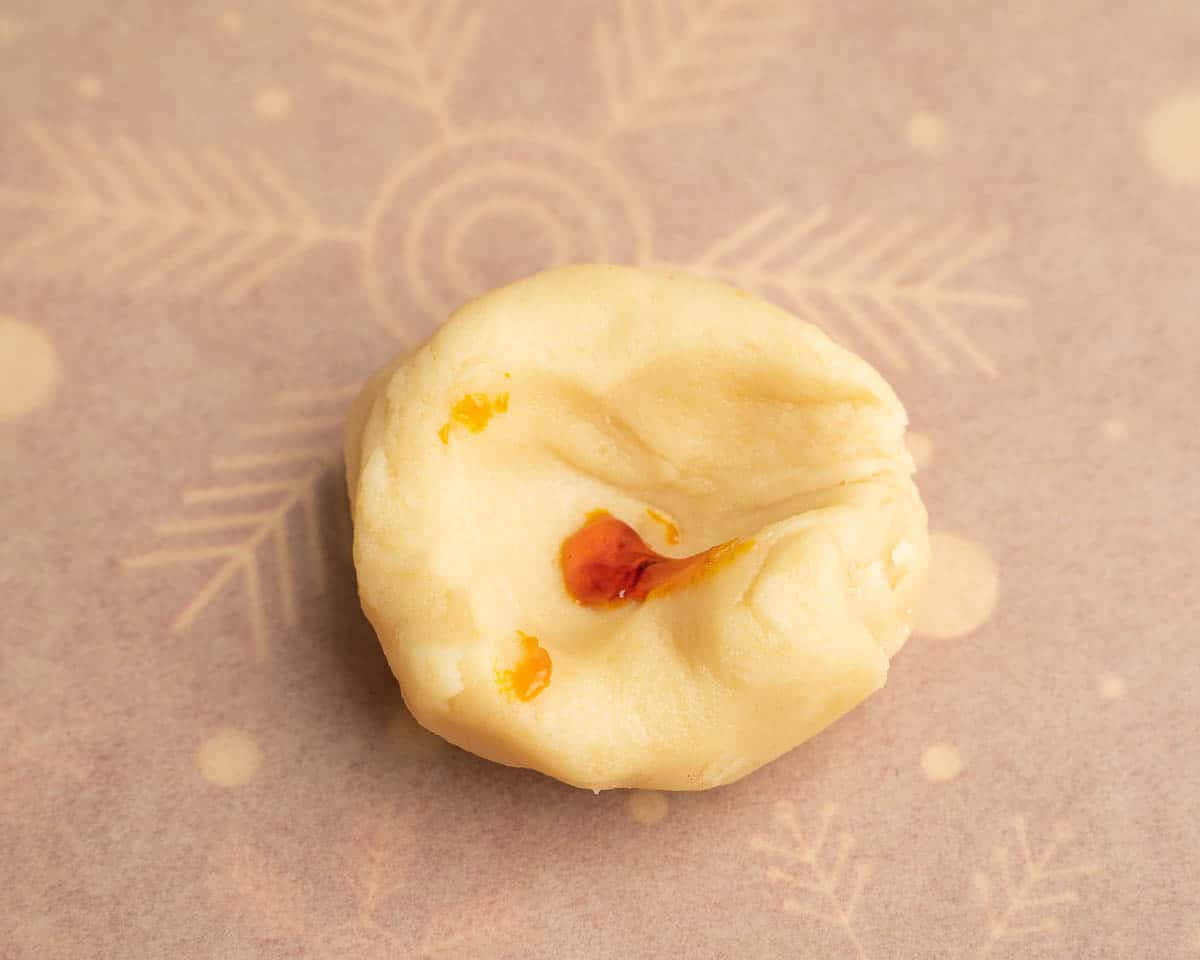 Using a cookie cutter, cut out shapes. Place these on a sheet of parchment and set aside.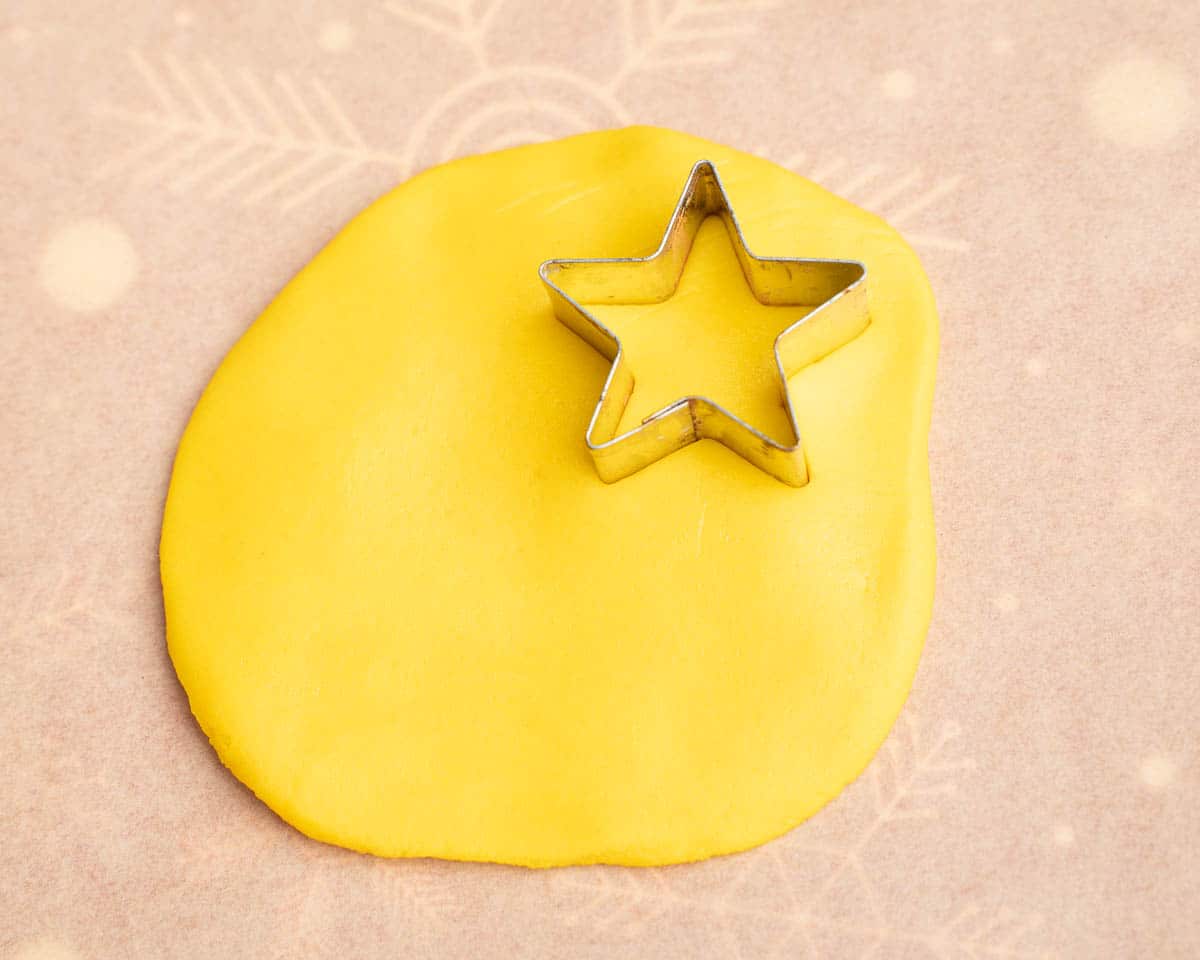 Make the icing: Whisk together the powdered sugar with water until it becomes thick and drips slowly off the whisk.
Decorate the muffins: Place the icing in a plastic bag and snip off the end of the bag.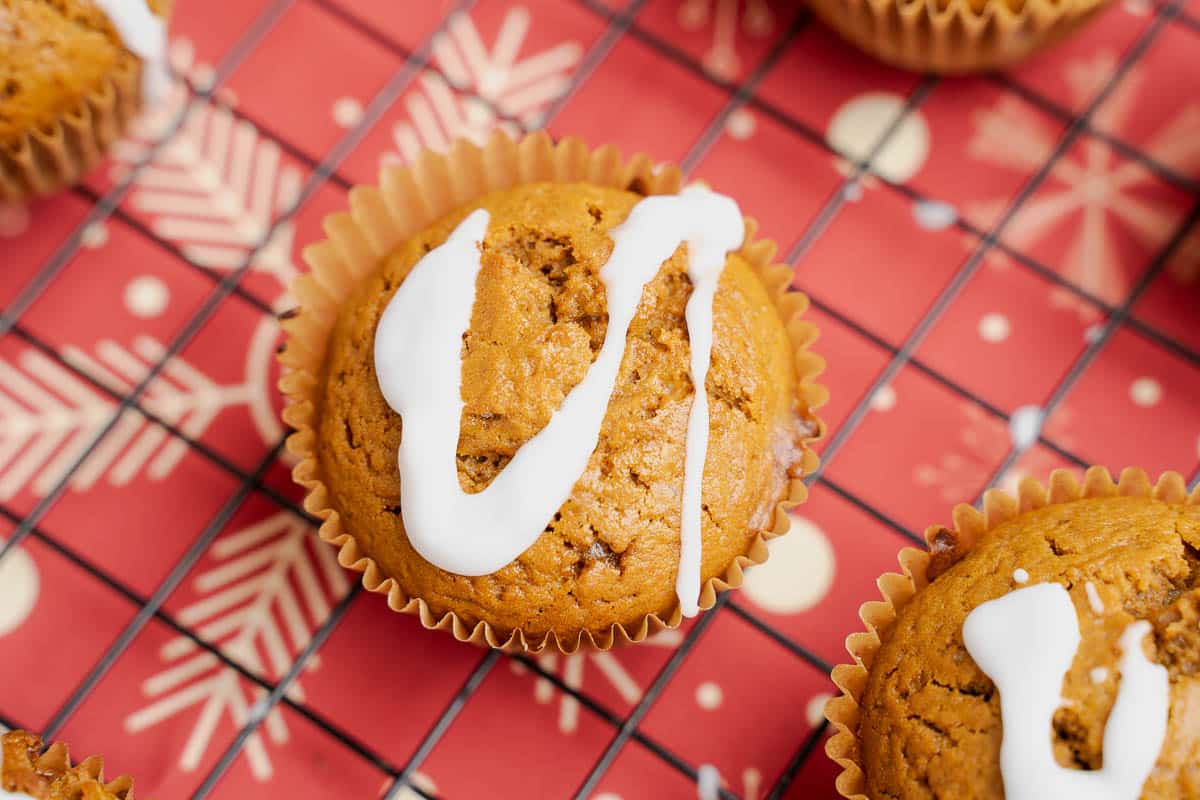 Decorate with the icing and then apply your marzipan shapes. I used toothpicks to make mine stand up, but they can also lay flat on your muffins. Enjoy!
Recipe Tips
When you go to measure out your molasses, give a quick spritz of non-stick cooking spray in your measuring cup. This will help the molasses come out more easily.
I recommend using an ice cream scoop to scoop the batter. Using an ice cream scoop helps create a beautiful domed look on the top of the muffins.
Use a wire rack to let the muffins cool after baking. This prevents the bottom of the muffins from becoming soggy from the steam.
When mixing the dry ingredients with the wet ones, do it in a separate bowl before adding to the large mixing bowl with the flour mixture.
Adding a few tablespoons of Greek yogurt to the batter results in extra moist muffins. Add it along with the other wet ingredients in the medium bowl.
Storage & Reheating
Store leftover muffins in an airtight container at room temperature for up to 3 days. For longer storage, freeze them in a freezer bag for up to 3 months. When you're ready to enjoy them, let them thaw at room temperature or reheat them in the microwave for an additional 8-10 minutes.
Additions & Substitutions
While these muffins are perfect as they are, feel free to make them your own. You could substitute vanilla extract for a more complex flavor profile or add a cup of raisins or chocolate chips for an extra burst of flavor. If you're a big fan of gingerbread, consider making a batch of these muffins with gingerbread donuts or chocolate gingerbread muffins for a change.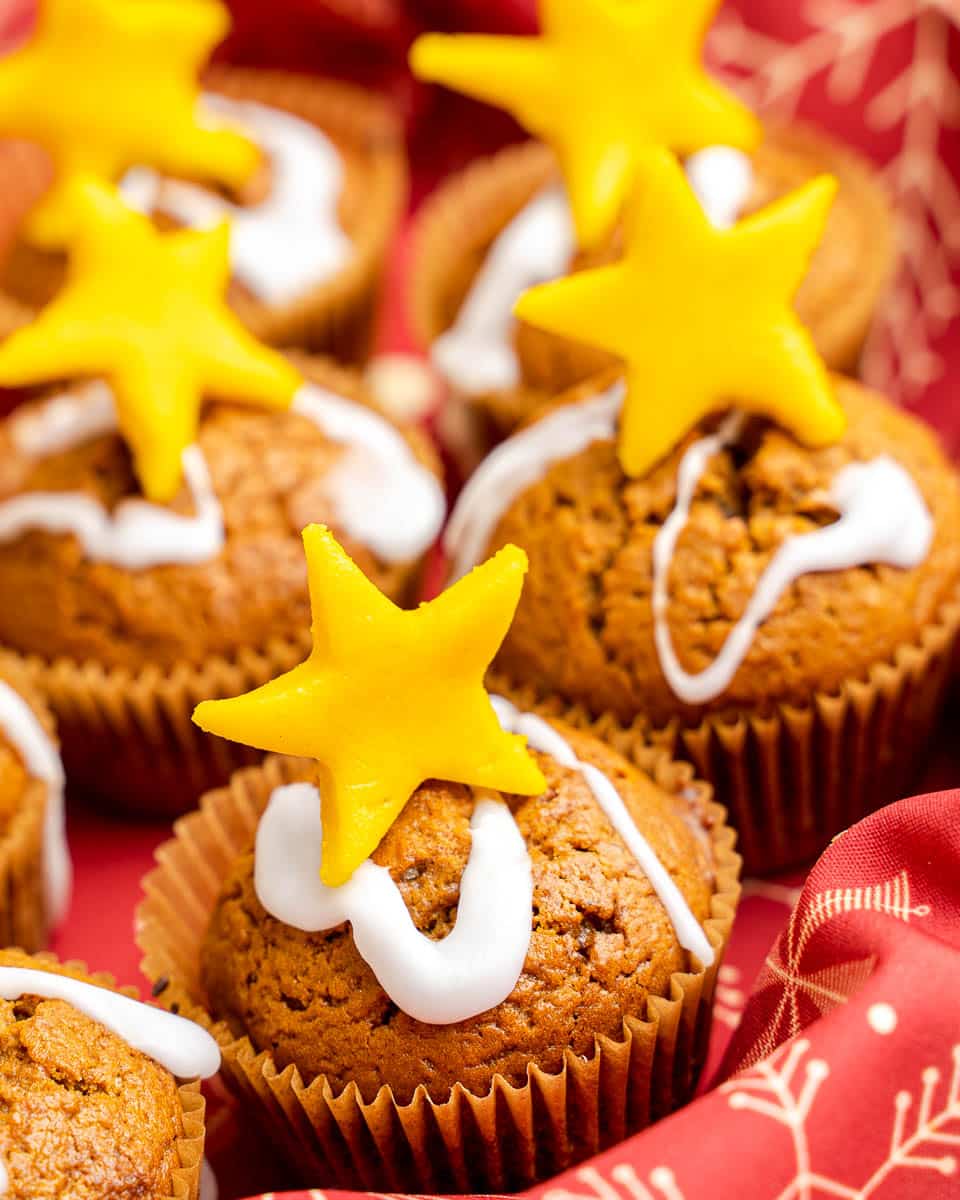 Recipe FAQs
What should I serve with this easy gingerbread muffins recipe?
These delicious muffins can be served as a standalone treat, but they are also great when paired with other holiday breakfast favorites. They can be a great addition to a Christmas morning breakfast spread featuring cinnamon rolls, a fruit salad, and hot cocoa. Happy baking and enjoy the holiday season with these bakery style gingerbread muffins!
What other decorations can I use?
The marzipan decorations are simple and fun, but you can add Christmas cheer to these muffins in an even easier way. Add green and red sprinkles and/or crystallized ginger after you've iced them. There are even sprinkles that are flavored with cinnamon that would taste delicious here.
---
Here are a few other Christmas recipes you might enjoy!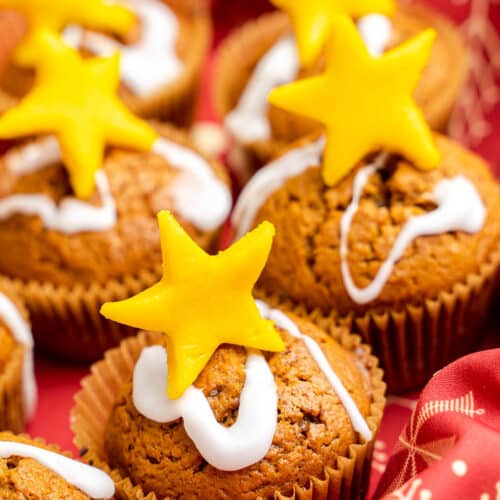 Gingerbread Muffins
Gingerbread Christmas muffins are light, sweet bundles of molasses and ginger, the perfect holiday treat to share with your kids. It's like muffins meet Christmas cookie decorating.
Ingredients
½

cup

unsalted butter

melted

⅔

cup

dark molasses

2 ½

cups

all-purpose flour

½

tsp

kosher salt

1 ½

tsp

baking powder

2

tsp

cinnamon

2

tsp

ginger

1

tsp

grated nutmeg

½

cup

dark brown sugar

1

large egg

⅔

cup

whole milk

1

cup

powdered sugar

2 to 3

oz

marzipan

food coloring

(optional)
Instructions
Preheat your oven to 425ºF.

Whisk together dry ingredients.

Create a well in your dry ingredients and pour in the wet ingredients.

Mix with a whisk until combined.

Scoop batter into greased muffin tins.

Bake for 16-18 minutes, rotating the pan halfway through. Allow to cool.

Shape the marzipan into a ball. Using your thumb, create a depression in the center.

Place 1-2 drops of food coloring in the depression and then mix the marzipan until the color has been completely incorporated.

Press out the marzipan into a ¼-inch thick round.

Using a small cookie cutter, cut out festive shapes.

Whisk together 2/3 cup powdered sugar and 1 1/2 tablespoons water. The consistency should be thick and slowly fall off the whisk.

Put the glaze into a plastic bag and snip off the end.

Top with marzipan decorations. Enjoy!
Notes
When you go to measure out your molasses, give a quick spritz of non-stick cooking spray in your measuring cup. This will help the molasses come out more easily.
I recommend using an ice cream scoop to scoop the batter. Using an ice cream scoop helps create a beautiful domed look on the top of the muffins.
Nutrition
Calories:
327
kcal
Carbohydrates:
58.82
g
Protein:
4.59
g
Fat:
8.65
g
Saturated Fat:
4.175
g
Fiber:
1.4
g
Sugar:
35.35
g
Arielle is a food and drink photographer based in Washington, D.C. She was previously a social science researcher before she fell in love with photography.