What could be more festive than a glass of spiced eggnog at a holiday brunch party? Served boozy or plain, this pumpkin spice eggnog is a cozy, inviting drink perfect for your next gathering.
An impressive drink, it is far simpler to make at home than it seems. Egg yolks are mixed with heavy cream, pumpkin spices, and whole milk, and then topped with more whipped cream and spices. The result is a thick, silky luscious treat that will coat the inside of your mouth with creamy cinnamon and nutmeg flavors.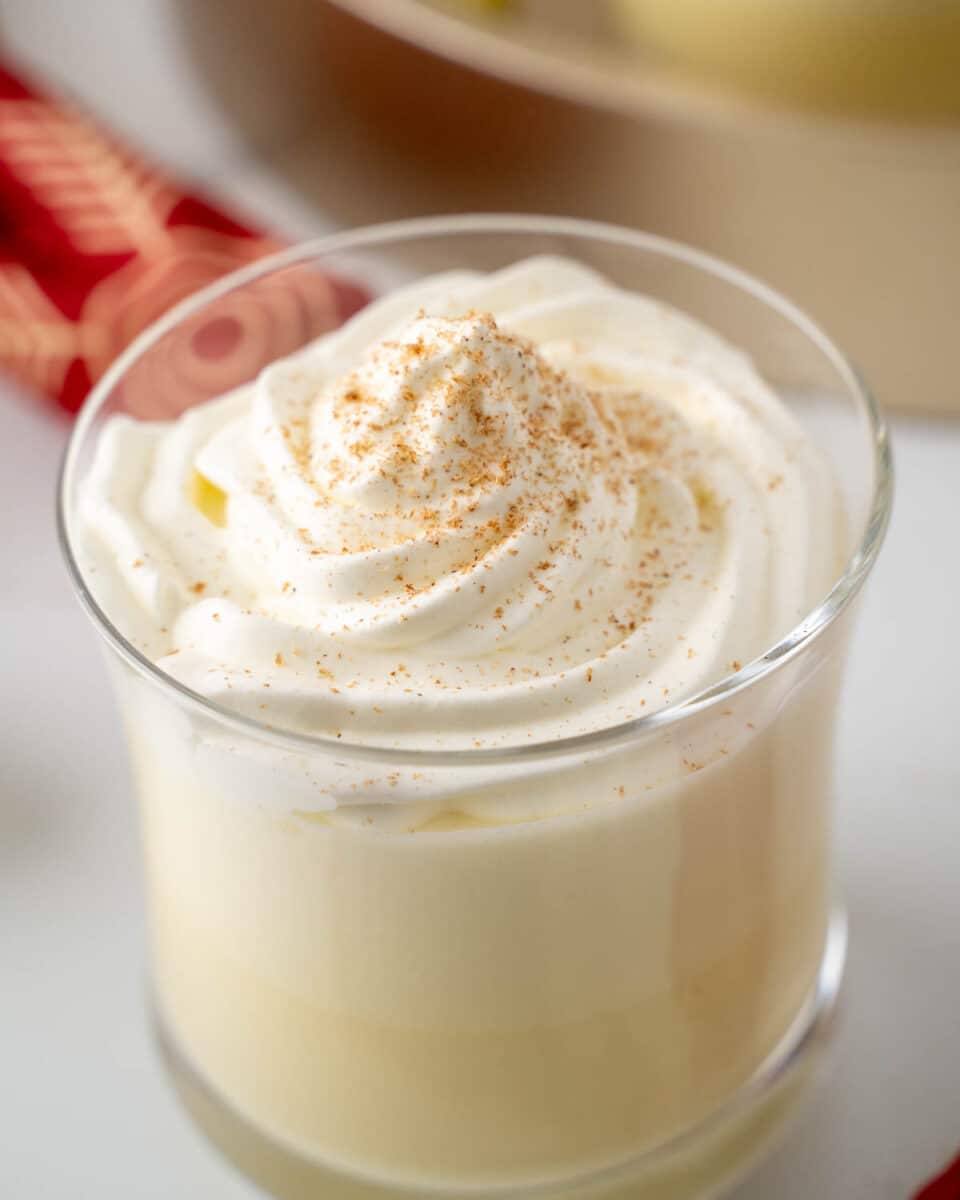 Looking for more beverage recipes? Here are other recipes you might enjoy: Dirty Chai Latte, Pineapple Mimosa, Apple Cider Martini, and Pumpkin Chai Latte.
Why You'll Love This Recipe
Versatile: This festive drink is perfect for the holiday season. It can be served boozy or non-alcoholic, making it an ideal choice for a variety of guests.
Customizable: The pumpkin spice eggnog recipe is a base that you can tweak according to your taste preferences. Add in different spices or try it with real pumpkin purée to make it your own.
Delicious: Rich, creamy, and reminiscent of a pumpkin pie, this eggnog recipe is a delightful way to elevate your holiday beverages.
Recipe Ingredients
You'll need the following ingredients to make this eggnog with pumpkin spice: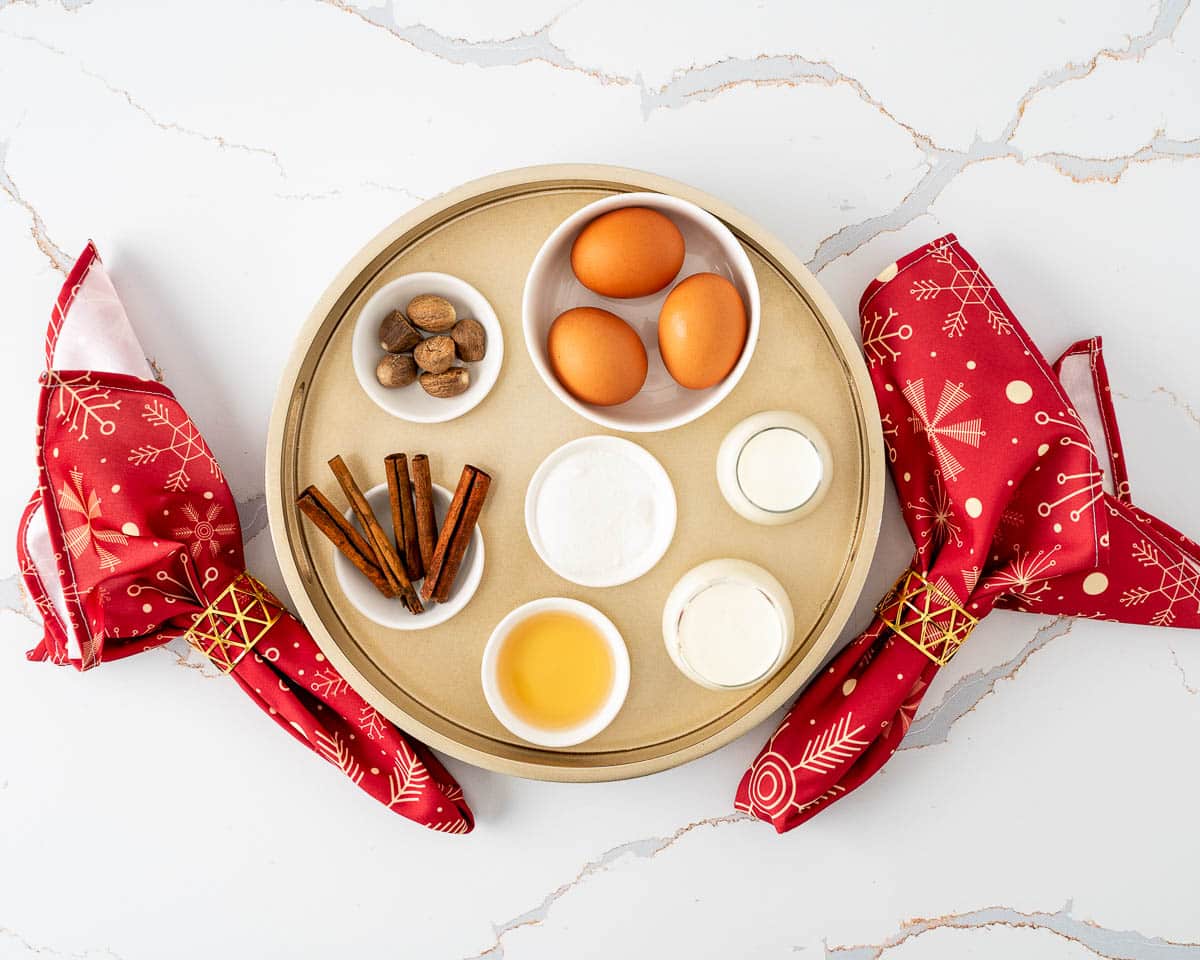 Ingredient Notes
Pumpkin Pie Spice: This is the star ingredient that gives our eggnog its characteristic fall drink flavor. It's a blend of cinnamon, nutmeg, ginger, cloves, and sometimes allspice.
Egg Yolks: We're using large egg yolks for this recipe. Cold eggs work best when separating the yolk from the whites.
Heavy Cream: This is what gives our eggnog its decadent, creamy consistency. If it's not available, whole milk can be used, but the eggnog may be less creamy.
Granulated Sugar: This adds the perfect touch of sweetness to our eggnog. You could also experiment with brown sugar for a deeper flavor profile.
Rum: This is optional and can be adjusted according to your preference. Some enjoy their eggnog spiked, while others prefer it plain. Smooth bourbons also make a good substitute.
How To Make Pumpkin Spice Eggnog
Make the custard: Put the milk, some of the heavy cream, spices, and sugar in a saucepan over medium heat until the mixture becomes hot. In a separate bowl, whisk together the egg yolks.
In a slow stream, add the milk mixture to the raw eggs, whisking constantly. When the milk and eggs have all been combined, put the mixture back into the saucepan and cook on medium heat until the custard thickens.
You can use a thermometer if you want to be extra careful that the eggs have been fully heated. If so, you are looking for the mixture to be heated to 160ºF.
Add rum, if using. Remove from heat and chill for at least 3 hours.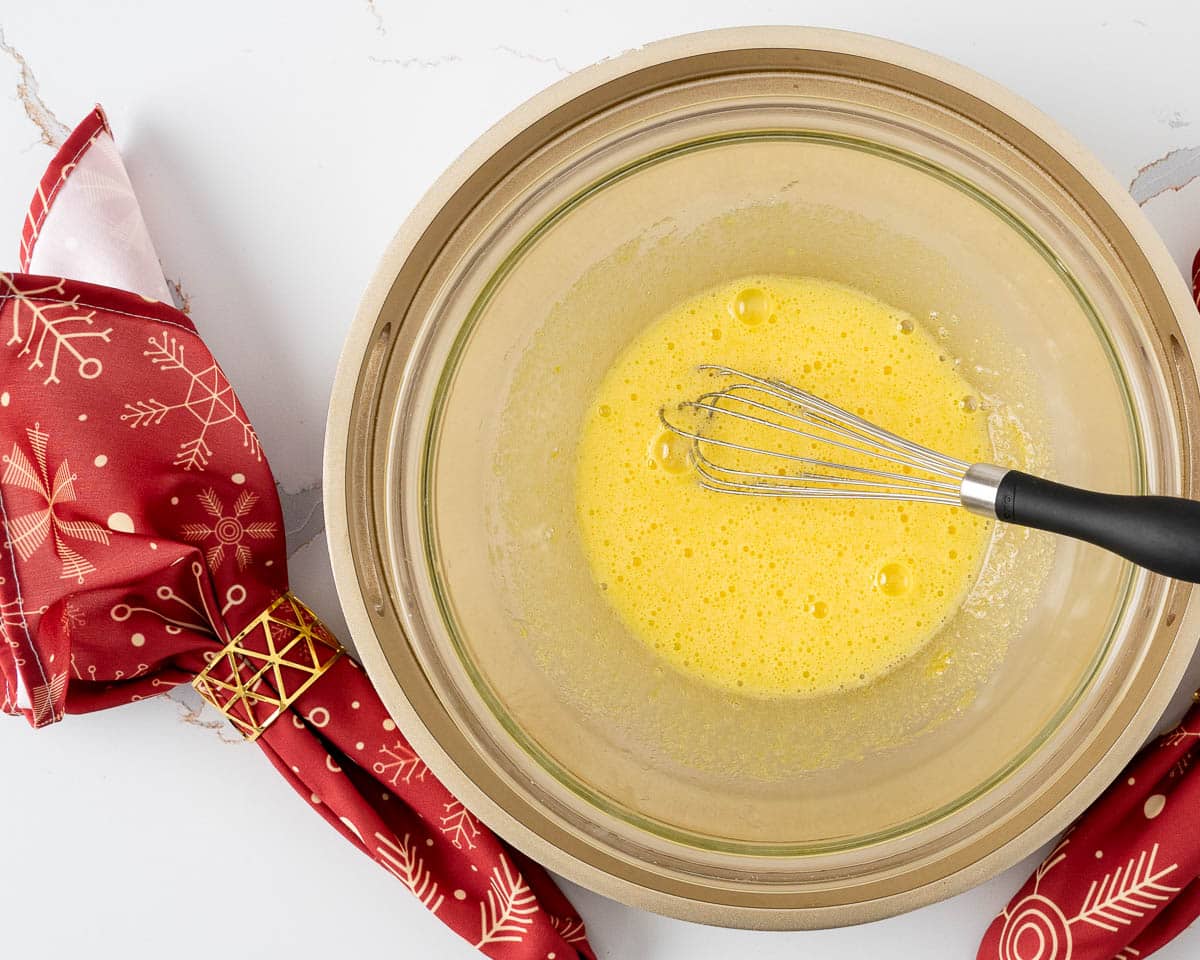 Prepare the whipped cream: Using a chilled bowl and whisk, whisk the remaining heavy cream until stiff peaks form. If using, place the whipped cream in a pastry bag, reserving 1/2 cup.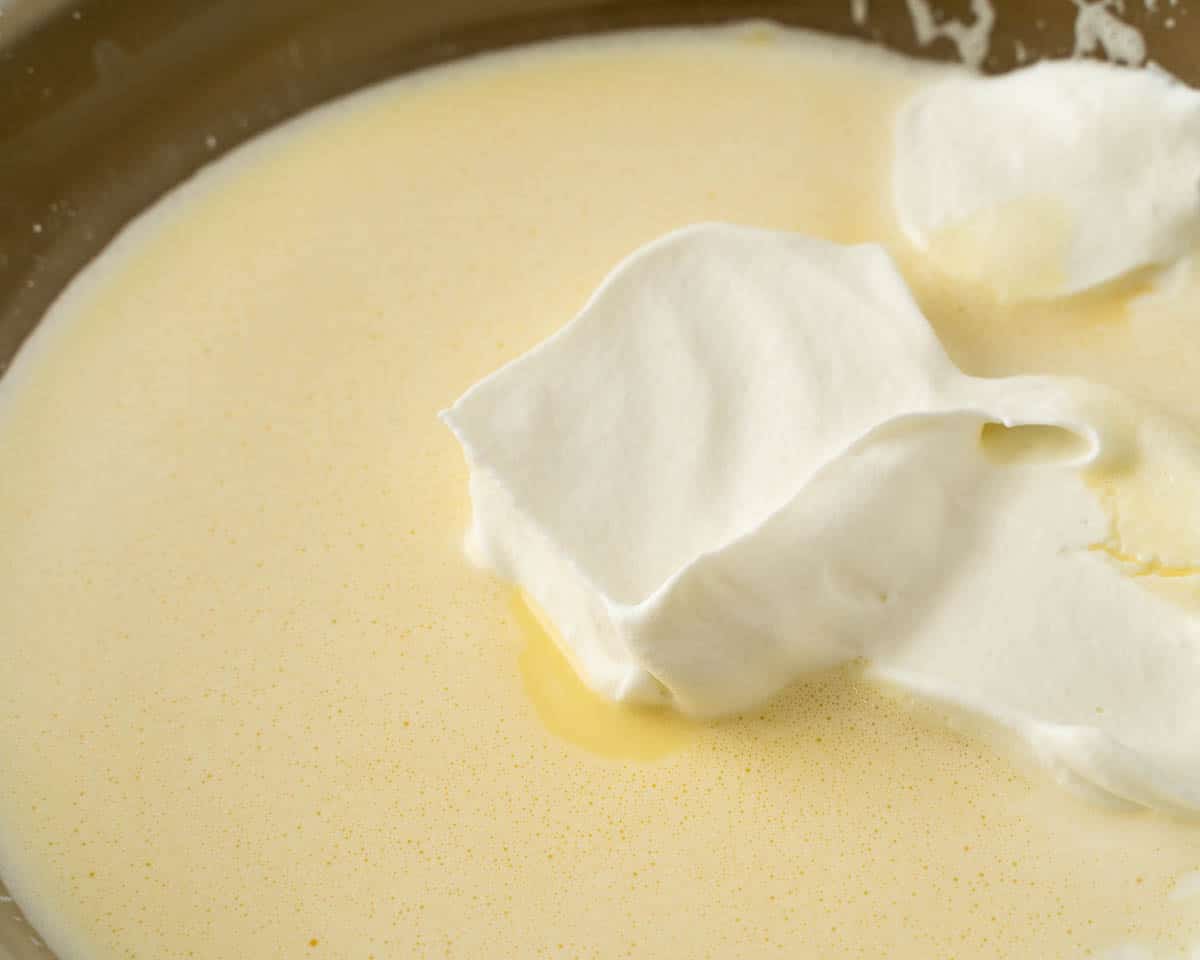 Assemble the eggnog: Whisk the reserved ½ cup of whipped cream into the eggnog mixture until smooth. Pour the creamy eggnog into glasses and top with whipped cream and grated eggnog. Enjoy!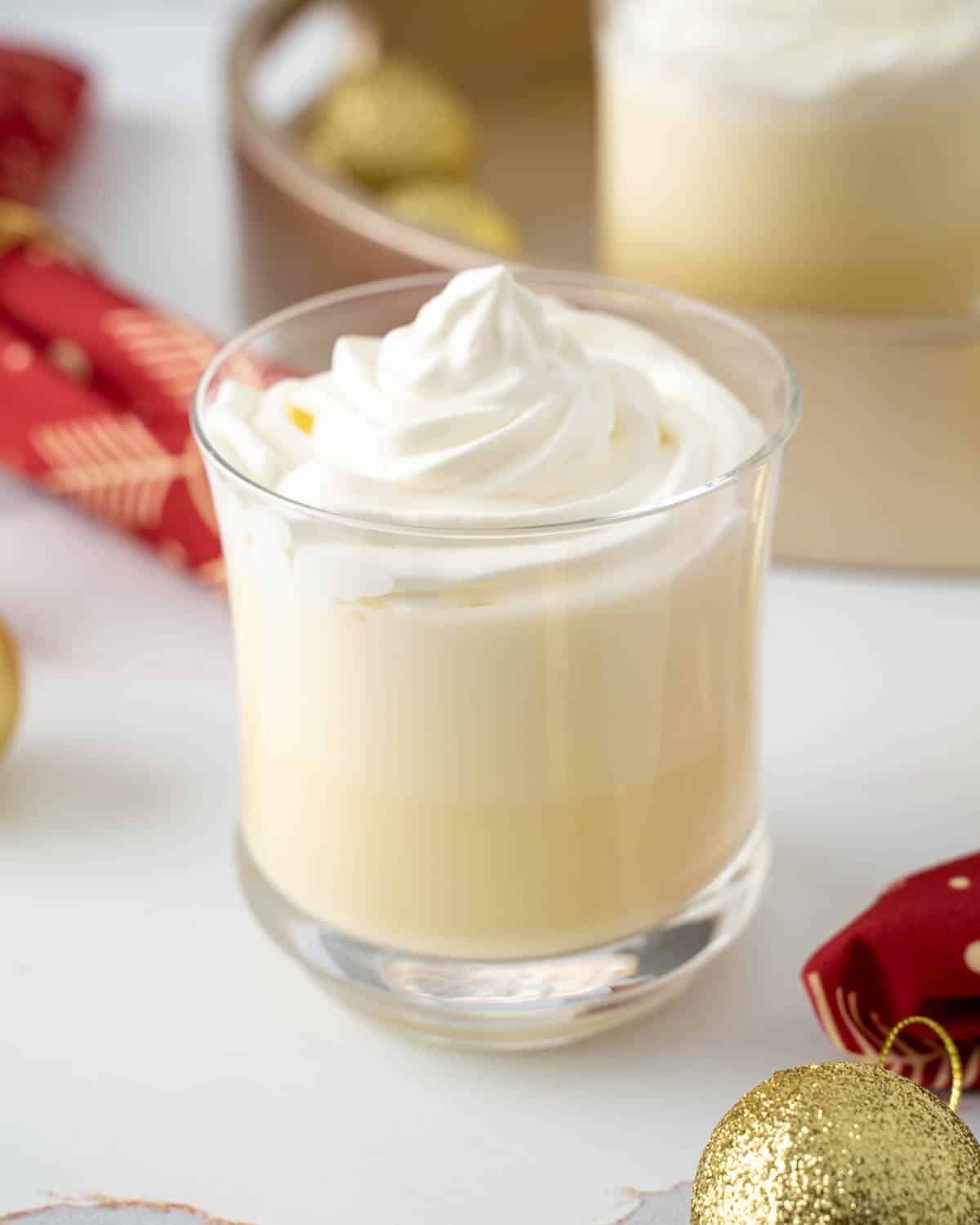 Recipe Tips
For the best consistency, use cold, leftover egg yolks straight from the fridge, much like you would with rice. The chill will help the yolks integrate smoothly into the eggnog.
When adding the hot milk to the egg yolks, pour the mixture in a slow stream while whisking to avoid cooking the eggs.
Before serving, whisk the eggnog one more time for a creamy and smooth texture.
Storage & Reheating
This homemade eggnog can be stored in the fridge for up to one week. Ensure it is kept in an airtight container to maintain freshness. If you'd like to enjoy your eggnog warm, gently heat it on the stove, making sure not to let it boil.
Additions & Substitutions
If you're a coffee lover, adding a shot of espresso or some coffee flavor to your pumpkin spice eggnog could make a great twist on a morning coffee. You can add maple syrup instead of granulated sugar for a different twist. For a chocolate version, try adding some cocoa powder to make a chocolate eggnog.
For a richer eggnog, replace some of the milk with additional heavy cream.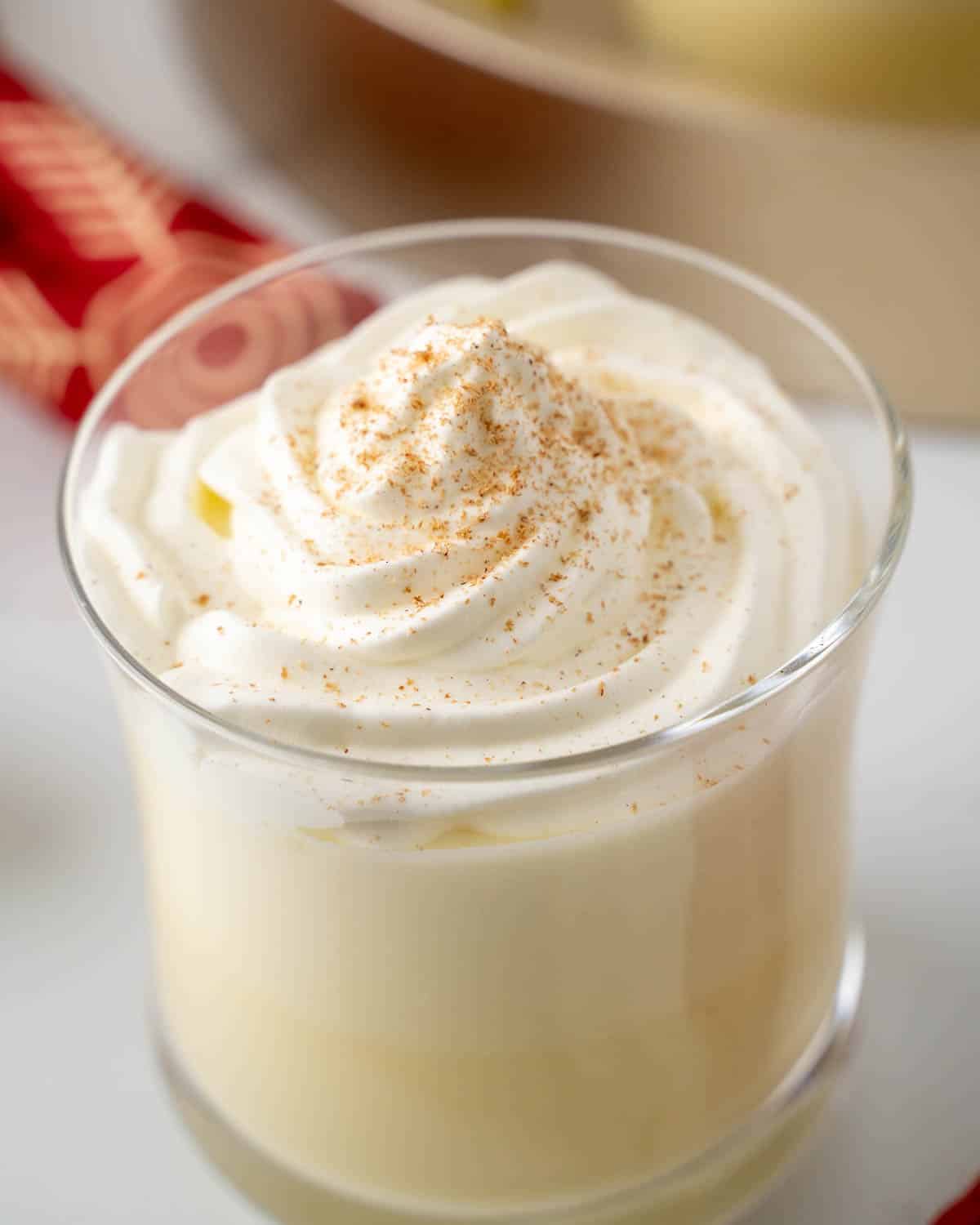 Recipe FAQs
What should I serve with this eggnog with pumpkin spice recipe?
This pumpkin spice eggnog pairs well with a variety of festive foods. Try serving it alongside warm, spiced pastries or as a special treat with breakfast items like French toast. It also complements dessert items like pumpkin pie or gingerbread cookies. For a savory twist, serve it alongside a cheese and charcuterie board to balance the rich, sweet flavors of the eggnog.
How far in advance can I make pumpkin spice eggnog?
You can make the eggnog several days in advance. I recommend making the whipped cream close to when you plan to use it. If you make it in advance, whip the cream up a little bit again to revive it before you use it.
I prefer my eggnog warm. What should I do?
If you prefer to enjoy your eggnog warm, you can skip the refrigeration step and go straight to drinking it once the mixture has cooked. If you do reheat it, you can put it back on the stove or use the microwave. Do not allow the mixture to boil, however.
Can I use other spices?
You can use other spices if you prefer. I like to use just the pumpkin spices of cinnamon and nutmeg because these flavors are bright and light, and I think go well with the delicate flavors in the eggnog. The rum also adds a rich depth. However, if you want a deeper flavor, try adding a little allspice or cloves.
What can I do with the extra egg whites?
You will have several egg whites left over in this recipe. You can use them to foam cocktails, make meringues, cook egg white omelets and more!
---
Here are a few other beverage recipes you might enjoy!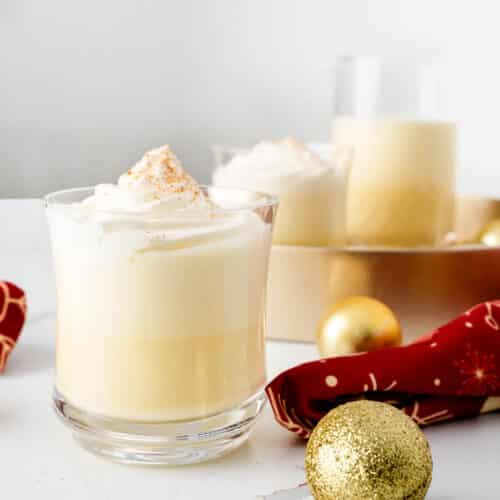 Pumpkin Spice Eggnog
Pumpkin spice eggnog is a festive twist on traditional eggnog with a big punch of cinnamon and nutmeg. Served boozy or not, this impressive drink is easy to make at home and can be made up to several days in advance. Serve it at your next holiday brunch for a thick, luscious, and silky treat.
Ingredients
¼

cup

granulated sugar

1

cup

heavy cream

2

cups

whole milk

1

tsp

grated nutmeg

plus more for garnish

3

large egg yolks

pinch of salt

1

tsp

cinnamon

¼

cup

golden or dark rum

optional
Instructions
In a small saucepan, whisk together 2 cups of whole milk, ½ cup of heavy cream, ¼ cup of granulated sugar, a pinch of salt, 1 teaspoon cinnamon, and 1 teaspoon grated nutmeg. Heat over medium heat until hot.

Separate three large eggs. Place the yolks in a bowl and whisk.

Once the milk mixture is hot, very slowly pour the milk into the yolks, whisking continuously.

Once the eggs and milk are combined, return everything to the saucepan, and cook over a medium heat until the mixture thickens and/or is 160 ºF.

Remove from the heat and chill for 3 hours up to several days.

In a chilled bowl, whisk ½ cup of heavy cream until stiff peaks form. This will create roughly 1 cup of whipped cream. Reserve ½ cup.

Place ½ cup of whipped cream into the eggnog and whisk until smooth.

Pour the eggnog into glasses. Top with reserved whipped cream and grated eggnog. Enjoy!
Notes
When you go to separate the egg whites from the yolks, I find cold eggs work best. If you don't plan on using the egg whites again, you don't have to worry about perfectly separating the eggs and egg yolks, either. It's ok if a little egg white gets into your yolks.
Also, when you top the eggnog with whipped cream, you can spoon the whipped cream on top of the eggnog. But for a fancier finish, try using a pastry bag or plastic bag with a fun piping tip.
You will want to make this dish in advance so that the eggnog can have time to chill in the fridge for a few hours.
Nutrition
Calories:
311
kcal
Carbohydrates:
11.23
g
Protein:
6.86
g
Fat:
20.33
g
Saturated Fat:
10.29
g
Fiber:
0.8
g
Sugar:
10.1
g
Arielle is a food and drink photographer based in Washington, D.C. She was previously a social science researcher before she fell in love with photography.