On those crisp mornings when you want to wrap your hands around a warm, steaming mug, this apple cider latte will warm your body and spirit.
This easy recipe turns apple cider into a creamy, warm treat full of warm spices and soft flavors. And it's not just an alternative to a pumpkin spice latte—you might even find you like it better! In this recipe, apple cider is warmed with spices and sugar, spiked with a shot of espresso, and topped with foamy milk.
If you're looking for other fall-inspired recipes, check out these recipes for Apple Cider Martini, Pumpkin Cream Cheese Coffee Cake, Pumpkin Nut Bread, and Cranberry Lemon Bars.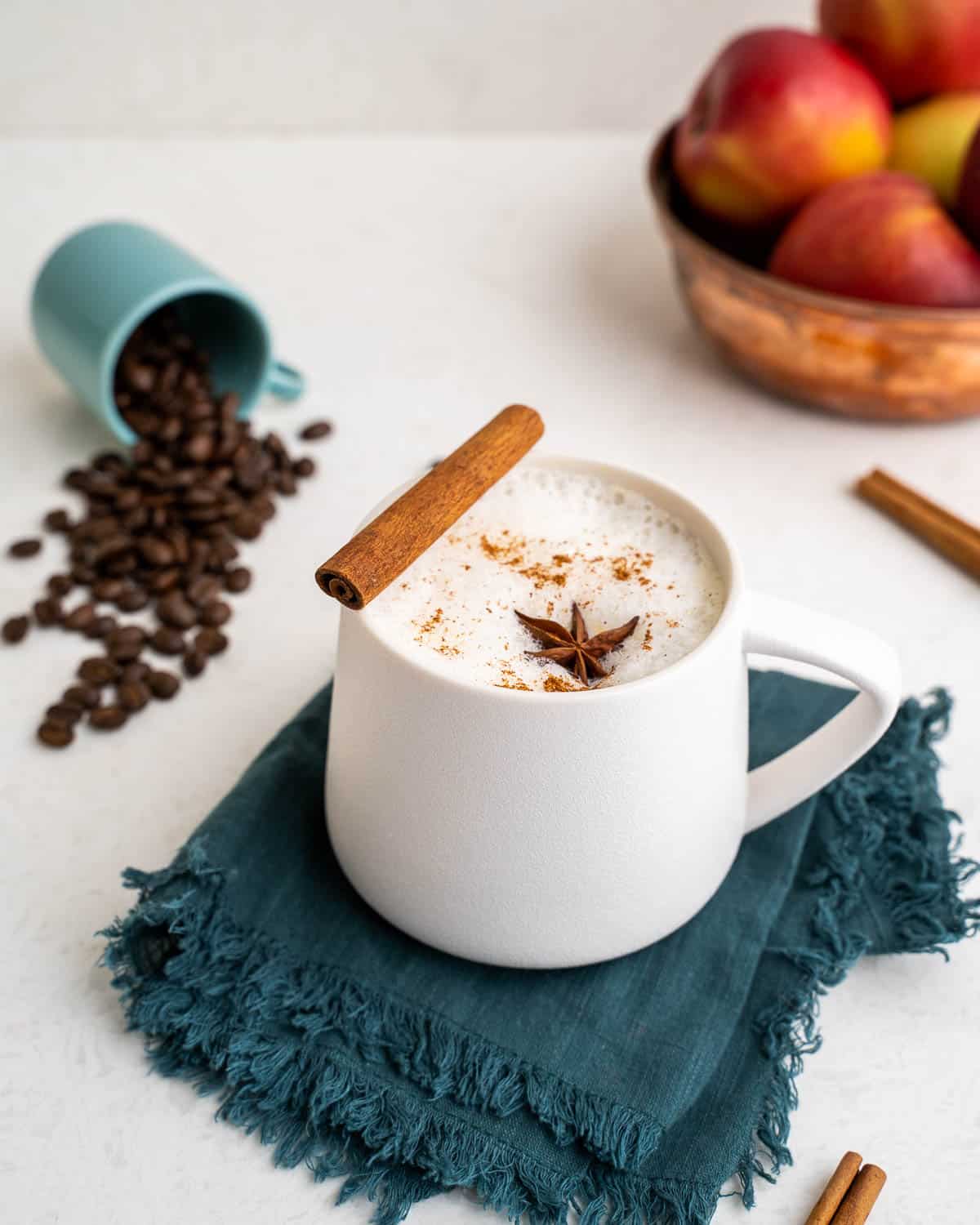 Why You'll Love This Recipe
Unique Blend of Flavors: This apple cider latte takes the tart sweetness of the apple and the robust intensity of coffee to deliver a truly unique blend of flavors, creating an iconic fall favorite.
Easy to Make: The ease of this recipe allows anyone to recreate their favorite coffee shop experience right at home, perfect for the fall season.
Comfort in a Cup: The spiced apple cider in this recipe combined with the velvety texture of steamed milk offers a comforting, warm drink for those chilly autumn mornings.
Recipe Ingredients
Here's what you'll need to make this incredible latte: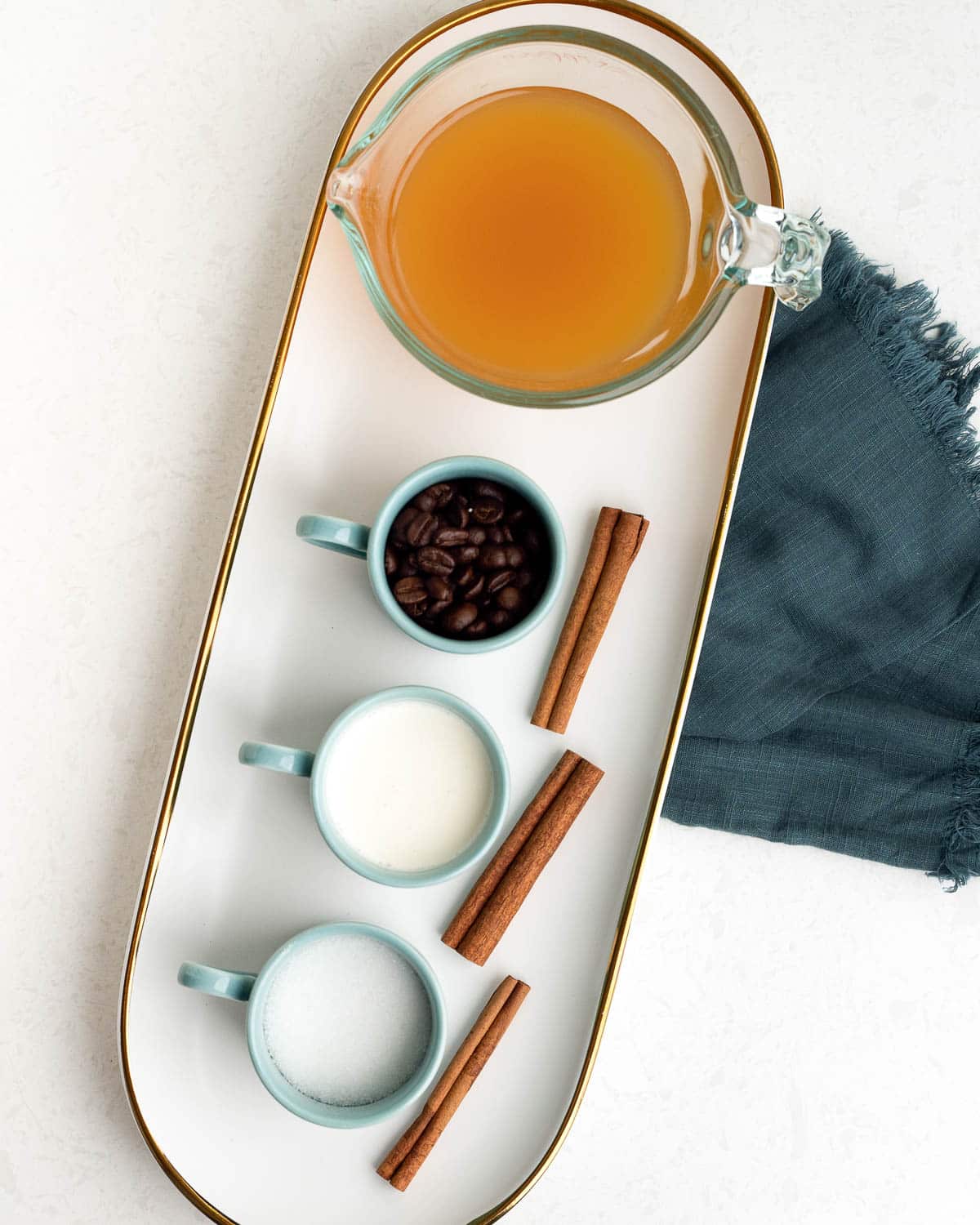 Ingredient Notes
Apple Cider: In this fall drink recipe, homemade apple cider or store-bought will do the trick, providing the tart, fruity flavor. Heating it up with a few spices creates a hot apple cider base for the latte.
Heavy Cream: For an indulgent, rich texture, you can add a dollop of heavy cream to your latte. It elevates the overall creaminess and adds a hint of luxury to this simple homemade beverage.
Sweetener: As per your preference, choose a sweetener of choice. Granulated sugar works well, but if you prefer, you can use brown sugar, honey or maple syrup which all add depth to the flavor profile.
How To Make an Apple Cider Latte
Make espresso: Using your favorite roast, make 2 shots of espresso with your espresso machine.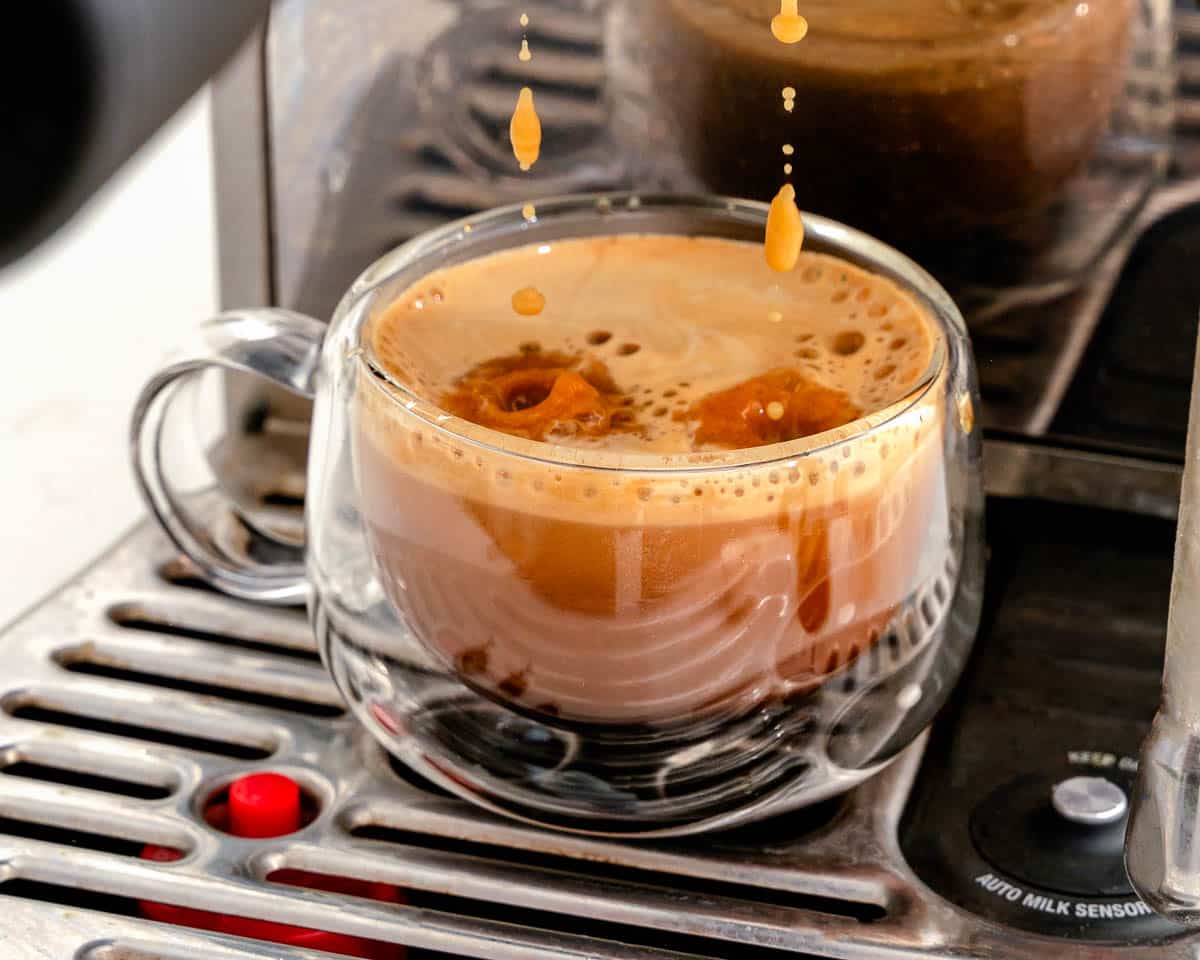 Make the apple cider base: In a small saucepan over medium heat, combine the espresso, sugar, apple cider and cinnamon, and warm until the sugar has dissolved and the mixture is hot. Remove from heat.
Make the steamed milk: Steam the whole milk using a steamer. If using another method, make sure to warm your milk before frothing it.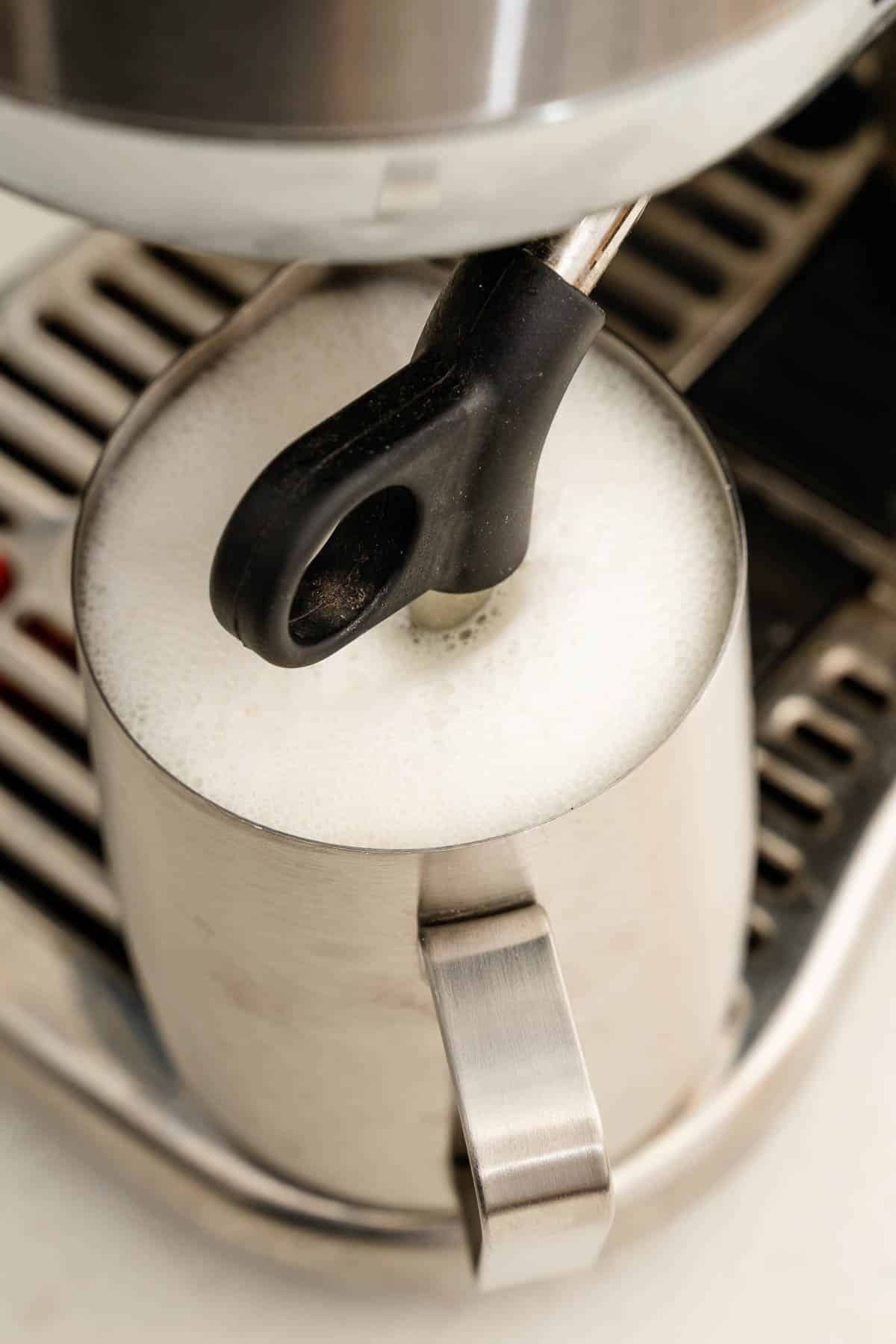 Assemble the latté: Pour coffee mixture into mugs. Add the steamed milk.
Add extra cinnamon or an anise star for decoration and enjoy!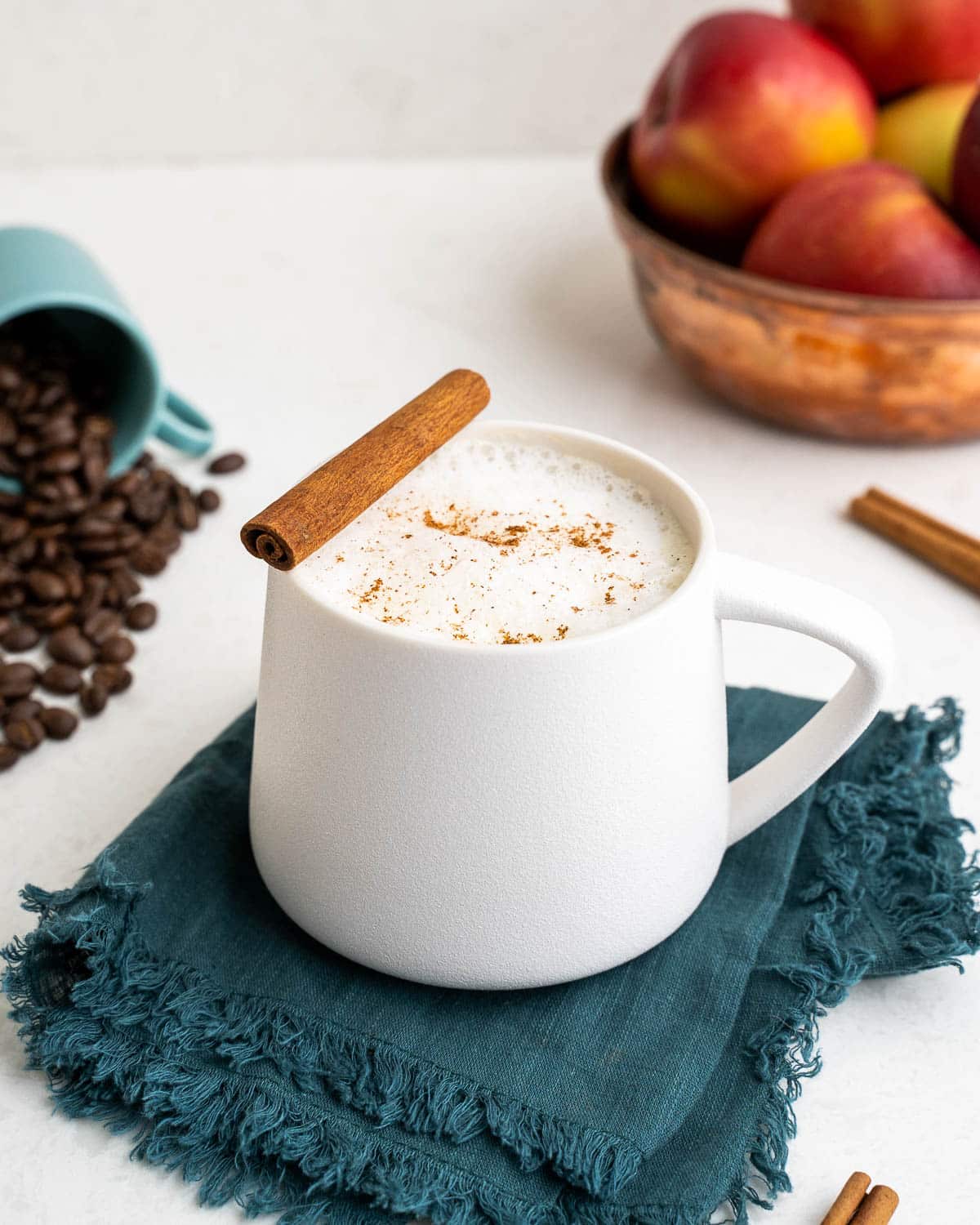 Recipe Tips
Cinnamon: Adding ground cinnamon into the apple cider while it's being warmed infuses the entire drink with a lovely spiced flavor. Don't hesitate to sprinkle a little extra on top for a beautiful presentation!
Espresso: Brewing a strong coffee will ensure your latte holds its own against the robust flavor of the apple cider.
Milk Frothing: Ensure your milk is warm before you froth it. This helps to create a smooth, creamy texture that's perfect for your latte.
Storage & Reheating
Since this drink is best enjoyed hot and fresh, it is not recommended to store or reheat the latte. However, the spiced apple cider base can be made in advance and stored in the fridge. When you're ready for your latte, simply heat the base, prepare your espresso, froth your milk, and assemble!
Additions & Substitutions
For a richer and more indulgent drink, consider topping your apple cider latte with a spiced whipped cream. This can be made easily by whipping heavy cream with a bit of sugar and a dash of cinnamon and nutmeg.
If you prefer a non-dairy option, replace the milk with your favorite plant-based milk. Almond milk or oat milk would work well.
Recipe FAQs
How can I make apple cider?
There are a few ways to make apple cider from scratch. The easiest and fastest way starts with apple juice. Add warm spices and orange peel and bring it to a simmer. Reduce the heat and continue to cook for 30 minutes or up to 1 hour. Remove from the heat and strain.
Can I make this vegan?
Yes! You can replace the milk with a nut milk alternative. Almond, soy, or oat milk would be tasty.
Can I use half and half?
You can replace some of the whole milk for half and half. You can also use lower-fat options, but the result will be less creamy.
What should I serve with this latte?
This apple cider latte is the perfect accompaniment to your favorite fall flavors. Consider serving it with a warm slice of pumpkin bread or apple pie. It's also great with a bowl of yogurt and granola for a wholesome breakfast. This warm, inviting drink would be the perfect addition to any brunch or coffee break during the crisp fall season.
---
Here are some other coffee recipes you might enjoy!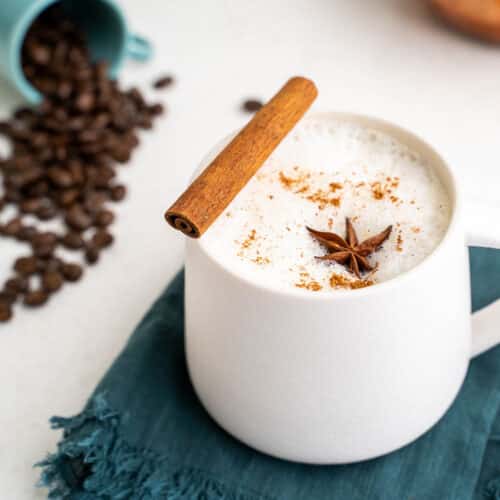 Apple Cider Latte
On a morning when you want to put your hands around a warm mug and let your senses become enveloped in sweet, warm spices, try an apple cider latte. This latte is the light, sweet and warm alternative to a pumpkin spice latte! Apple cider is warmed with spices, sugar, and a shot of espresso, then topped with foamed milk and a sprinkling of cinnamon. Make this recipe the next time you need a pick-me-up that warms you from the inside out.
Ingredients
2

shots

espresso

1 ½

cups

apple cider

1 ½

cups

whole milk

1 ½

tsp

cinnamon

1

tbsp

granulated sugar
Instructions
Make 2 shots of espresso.

In a small saucepan, add the espresso, 1 tablespoon granulated sugar, 1 1/2 cups apple cider, and 1 teaspoon cinnamon, warm until the sugar has dissolved and the mixture is hot.

Using a steamer or other frothing method, steam 1 1/2 cups of whole milk.

Pour the warmed apple cider mixture into mugs.

Add the steamed milk and garnish. Enjoy!
Notes
For the steamed milk, if you don't have a steamer, you have options! My favorite technique to make frothy milk is to put the milk in a glass jar with a lid and shake it vigorously.
If you make lattes often, consider purchasing an inexpensive milk frother. I used a frother for years before I bought an espresso machine.
If you have a French press, you can use it to make frothy milk. Put the milk in the French press and pump the depressor up and down until a thick froth forms.
Nutrition
Calories:
316
kcal
Carbohydrates:
50.4
g
Protein:
8.1
g
Fat:
9.3
g
Saturated Fat:
5.9
g
Sugar:
50.4
g
Arielle is a food and drink photographer based in Washington, D.C. She was previously a social science researcher before she fell in love with photography.